Abstract
How do widespread public health crises affect political behavior? This article examines the impact of the 2014 West African Ebola outbreak on political participation in Sierra Leone. In addition to the effects observed following conflict and natural disasters, I present evidence that hardship brought on by the outbreak of Ebola virus disease (EVD) substantially decreased participation in civic affairs, measured in self-reported political activity using data from an Afrobarometer survey conducted near the end of the outbreak. To account for selection and endogeneity concerns, I undertake falsification and coefficient stability approaches in addition to controlling for levels of political activity in the 2012 national election. The negative effect seems driven in part by a reduction in trust and perceived performance of traditional institutions and not from an increase in economic insecurity, highlighting the role of external efficacy rather than resource-based mechanisms in mediating the relationship between exposure to the disease and participation.
Access options
Buy single article
Instant access to the full article PDF.
US$ 39.95
Tax calculation will be finalised during checkout.
Subscribe to journal
Immediate online access to all issues from 2019. Subscription will auto renew annually.
US$ 79
Tax calculation will be finalised during checkout.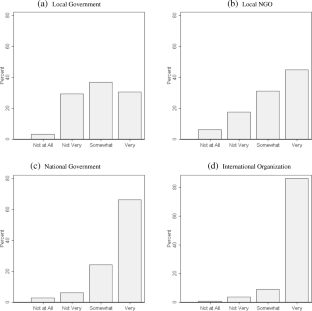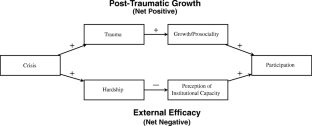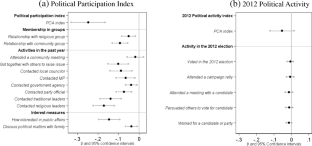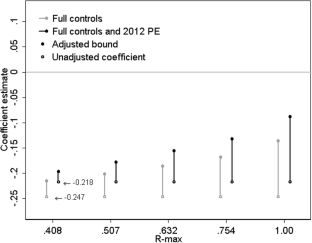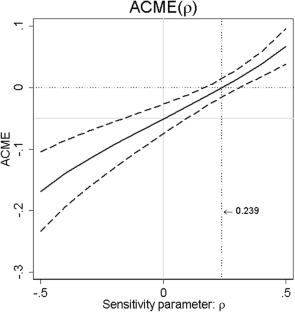 Notes
1.

Note that while much of the literature uses the terms "political participation" and "political engagement" interchangeably, I distinguish between the two here. Conceptually, I refer to participation as actual behaviors (e.g., voting, attending community meetings) and use engagement to refer to self-reported interest in political and public affairs.

2.

This particular definition corresponds to external efficacy rather than internal efficacy or the degree to which an individual feels that he or she is able to influence social change through participation in existing institutions. For an overview, see Craig and Maggiotto (1982).

3.

Although it would not be surprising to observe changes in educational choices of individuals moving forward.

4.

However, this does not appear to translate into reduced participation as they also find that exposure to the earthquake was associated with an increase in similar measures of participation to those I employ here. These divergent findings may be due to the fact that the proxy they use to measure exposure is likely correlated with traumatic experiences as well as hardship.

5.

This is based on chiefdom-level incidence date pulled from Fang et al. (2016) replication data.

6.

Regressions without survey weights and alternative standard errors are also presented in the appendix (Table B.3), though the results are qualitatively similar throughout; directionality and magnitude are consistent to approximately two decimal points in most regressions.

7.

It might be concerning that the inclusion of PSU fixed effects does not do more to diminish the coefficient, given that one might assume that levels of Ebola exposure are likely to be highly collinear within PSU. However, even within villages there was significant variation in exposure to the disease.

8.

Of course, we have relatively little literature to which we can compare; much of the existing literature examines outcomes several years or even decades after the initial shock. Bauer et al. (2016) find that the effects of conflict exposure on measures of altruism appear to be increasing over time, but their meta-analysis includes only two studies that are within 2 years of the initial conflict.

9.

I also employ a coarsened exact matching (CEM) approach (Iacus et al. 2012) using the package provided by Blackwell et al. (2009). These results are found in Table B.11. However measured, hardship remains statistically and negatively related to participation even in a sample matched on the relevant demographic characteristics.

10.

F = 2.23 for the measure of direct exposure, and F = 2.18 for the measure of hardship.
References
Achen CH. Let's put garbage-can regressions and garbage-can probits where they belong. Confl Manag Peace Sci. 2005;22(4):327–39.

Afrobarometer, Data, "Sierra Leone and Liberia, Round 6," available at http://www.afrobarometer.org, 2015.

Altizer S, Ostfeld RS, Johnson PTJ, Kutz S, Harvell CD. Climate change and infectious diseases: from evidence to a predictive framework. Science. 2013;341(6145):514–9.

Altonji JG, Elder TE, Taber CR. Selection on observed and unobserved variables: assessing the effectiveness of Catholic schools. J Polit Econ. 2005;113(1):151–84.

Baker WD, Oneal JR. Patriotism or opinion leadership? The nature and origins of the "rally 'round the flag" effect. J Confl Resolut. 2001;45(5):661–87.

Baldwin K. The paradox of traditional chiefs in democratic Africa: Cambridge University Press; 2016.

Bateson R. Crime victimization and political participation. Am Polit Sci Rev. 2012;106(3):570–87.

Bauer M, Blattman C, Chytilová J, Henrich J, Miguel E, Mitts T. Can war foster cooperation? J Econ Perspect. 2016;30(3):249–74.

BBC. (2014). Ebola crisis: Sierra Leone farmers urged back to work.

Bellows J, Miguel E. War and local collective action in Sierra Leone. J Public Econ. 2009;93(11):1144–57.

Berinsky AJ, Lenz GS. Education and political participation: exploring the causal link. Polit Behav. 2011;33(3):357–73.

Bermeo N. War and democratization: lessons from the Portuguese experience. Democratisation. 2007;14(3):388–406.

Blackwell M, Iacus S, King G, Porro G. Cem: coarsened exact matching in Stata. Stata J. 2009;9(4):524–46.

Blair RA, Morse BS, Tsai LL. Public health and public trust: survey evidence from the Ebola virus disease epidemic in Liberia. Soc Sci Med. 2017;172:89–97.

Blattman C. From violence to voting: war and political participation in Uganda. Am Polit Sci Rev. 2009;103(2):231–47.

Blocker TJ, Rochford EB, Sherkat DF. Political responses to natural hazards: social movement participation following a flood disaster. Int J Mass Emerg Disasters. 1991;9(3):367–82.

Boittin, M., Mo, C. H., & Utych, S. (2017). Can natural disasters have a rally 'round the flag effect? The political consequences of Nepal's 2015 earthquake. Manuscript under review.

Boscarino JA, Adams RE. Assessing community reactions to Ebola virus disease and other disasters: using social psychological research to enhance public health and disaster communications. International Journal of Emergency Mental Health. 2015;17(1):234–8.

Bowles J, Hjort J, Melvin T, Werker E. Ebola, jobs and economic activity in Liberia. J Epidemiol Community Health. 2016;70(3):271–7.

Brady HE, Verba S, Schlozman KL. Beyond SES: a resource model of political participation. Am Polit Sci Rev. 1995;89(2):271–94.

Cassar A, Healy A, von Kessler C. Trust, risk, and time preferences after a natural disaster: experimental evidence from Thailand. World Dev. 2017;94:90–105.

Cole S, Healy A, Werker E. Do voters demand responsive governments? Evidence from Indian disaster relief. J Dev Econ. 2012;97(2):167–81.

Craig SC, Maggiotto MA. Measuring political efficacy. Political Methodology. 1982:85–109.

De Moor J. External efficacy and political participation revisited: the role of perceived output structures for state-and non-state-oriented action forms. Parliam Aff. 2015;69(3):642–62.

Diehl WE, Lin AE, Grubaugh ND, Carvalho LM, Kim K, Kyawe PP, et al. Ebola virus glycoprotein with increased infectivity dominated the 2013-2016 epidemic. Cell. 2016;167(4):1088–98.

Fair CC, Kuhn PM, Malhotra N, Shapiro JN. How natural disasters affect political attitudes and behavior: evidence from the 2010-11 Pakistani floods. Quarterly Journal of Political Science. 2017;12(1):99–141.

Fang L-Q, Yang Y, Jiang JF, Yao HW, Kargbo D, Li XL, et al. Transmission dynamics of Ebola virus disease and intervention effectiveness in Sierra Leone. Proc Natl Acad Sci. 2016;113(16):4488–93.

Finkel SE. Reciprocal effects of participation and political efficacy: a panel analysis. Am J Polit Sci. 1985;29:891–913.

Frieden TR, Damon I, Bell BP, Kenyon T, Nichol S. Ebola 2014—new challenges, new global response and responsibility. N Engl J Med. 2014;371(13):1177–80.

Galston WA. Civic education and political participation. PS: Political Science & Politics. 2004;37(2):263–6.

Goenjian AK, Steinberg AM, Najarian LM, Fairbanks LA, Tashjian M, Pynoos RS. Prospective study of posttraumatic stress, anxiety, and depressive reactions after earthquake and political violence. Am J Psychiatr. 2000;157(6):911–6.

González F, Miguel E. War and local collective action in Sierra Leone: a comment on the use of coefficient stability approaches. J Public Econ. 2015;128:30–3.

Hicks R, Tingley D. Causal mediation analysis. Stata J. 2011;11(4):605–19.

Hugo M, Declerck H, Fitzpatrick G, Severy N, Gbabai OBM, Decroo T. Post-traumatic stress reactions in Ebola virus disease survivors in Sierra Leone. Emergency Medicine: Open Access. 2015;5(6):1–4.

Huntington SP, Nelson JM. No easy choice: political participation in developing countries, vol. 3. Cambridge, MA: Harvard University Press; 1976.

Iacus SM, King G, Porro G. Causal inference without balance checking: coarsened exact matching. Polit Anal. 2012;20(1):1–24.

Imai K, Keele L, Tingley D. A general approach to causal mediation analysis. Psychol Methods. 2010;15(4):309–34.

Jones KE, Patel NG, Levy MA, Storeygard A, Balk D, Gittleman JL, et al. Global trends in emerging infectious diseases. Nature. 2008;451(7181):990–3.

Kam CD, Palmer CL. Reconsidering the effects of education on political participation. J Polit. 2008;70(3):612–31.

Koenker R, Bassett G. Regression quantiles. Econometrica: Journal of the Econometric Society; 1978. p. 33–50.

Lenz, G., & Sahn, A. (2017). Achieving statistical significance with covariates. BITSS PrePrints. Retrieved from osf.Io/preprints/bitss/s42ba.

Lettinga KD, Verbon A, Nieuwkerk PT, Jonkers RE, Gersons NPR, Prins JM, et al. Health-related quality of life and posttraumatic stress disorder among survivors of an outbreak of legionnaires disease. Clin Infect Dis. 2002;35(1):11–7.

Maffioli EM. The political economy of health epidemics: evidence from the Ebola outbreak. Available at SSRN. 2018;3383187.

Mattes R. The material and political bases of lived poverty in Africa: insights from the Afrobarometer, In Barometers of quality of life around the globe (pp. 161–185). Dordrecht: Springer; 2008.

Mattes R, Bratton M. Learning about democracy in Africa: awareness, performance, and experience. Am J Polit Sci. 2007;51(1):192–217.

McKenzie D. Beyond baseline and follow-up: the case for more T in experiments. J Dev Econ. 2012;99(2):210–21.

Ojeda C. Depression and political participation. Soc Sci Q. 2015;96(5):1226–43.

Oneal JR, Bryan AL. The rally 'round the flag effect in US foreign policy crises, 1950–1985. Polit Behav. 1995;17(4):379–401.

Oster E. Unobservable selection and coefficient stability: theory and evidence. J Bus Econ Stat. 2016;37:187–204. https://doi.org/10.1080/07350015.2016.1227711.

Reardon S. Ebola's mental-health wounds linger in Africa: health-care workers struggle to help people who have been traumatized by the epidemic. Nature. 2015;519(7541):13–5.

Rodriguez H, Trainor J, Quarantelli EL. Rising to the challenges of a catastrophe: the emergent and prosocial behavior following hurricane Katrina. Annals of the American Academy of Political and Social Science. 2006;604(1):82–101.

Sachs J, Malaney P. The economic and social burden of malaria. Nature. 2002;415(6872):680–5.

Shultz JM, Baingana F, Neria Y. The 2014 Ebola outbreak and mental health: current status and recommended response. J Am Med Assoc. 2015;313(6):567–8.

Shultz JM, Espinel Z, Espinola M, Rechkemmer A. Distinguishing epidemiological features of the 2013-2016 West Africa Ebola virus disease outbreak. Disaster Health. 2016;3(3):78–88.

Smith KF, Goldberg M, Rosenthal S, Carlson L, Chen J, Chen C, et al. Global rise in human infectious disease outbreaks. J R Soc Interface. 2014;11(101):20140950.

Tedeschi RG, Calhoun LG. Posttraumatic growth: conceptual foundations and empirical evidence. Psychol Inq. 2004;15(1):1–18.

Thomas, M.R., Smith, G., Ferreira, F.H., Evans, D., Maliszewska, M., Cruz, M., Himelein, K. and Over, M. (2015. The economic impact of ebola on sub-Saharan Africa: updated estimates for 2015. World Bank Group.

van Bortel T, Basnayake A, Wurie F, Jambai M, Koroma AS, Muana AT, et al. Psychosocial effects of an Ebola outbreak at individual, community and international levels. Bull World Health Organ. 2016;94(3):210–4.

Voors MJ, Nillesen EEM, Verwimp P, Bulte EH, Lensink R, van Soest DP. Violent conflict and behavior: a field experiment in Burundi. Am Econ Rev. 2012;102(2):941–64.

Whiteside A. Poverty and HIV/AIDS in Africa. Third World Q. 2002;23(2):313–32.

Wilkinson A, Parker M, Martineau F, Leach M. Engaging 'communities': anthropological insights from the west African Ebola epidemic. Philosophical Transactions of the Royal Society B: Biological Sciences. 2017;372(1721):20160305.

Wolfe ND, Daszak P, Kilpatrick AM, Burke DS. Bushmeat hunting, deforestation, and prediction of zoonotic disease. Emerg Infect Dis. 2005;11(12):1822–7.

World Health Organization. (2016). Situation report–Ebola virus disease, 10 June 2016.

Yadav S, Rawal G. The current mental health status of Ebola survivors in Western Africa. J Clin Diagn Res. 2015;9(10):LA01–2.
Acknowledgments
Thanks to Jake Shapiro, Leonard Wantchekon, Saurabh Pant, Manu Singh, Zara Riaz, and Gus Shapiro for helpful comments during a presentation of early results. Additional thanks to Michael Bratton for helpful comments during revision for publication as part of Afrobarometer's Working Paper Series and three anonymous reviewers.
Additional information
Publisher's Note
Springer Nature remains neutral with regard to jurisdictional claims in published maps and institutional affiliations.
This draft: December 12, 2019
Electronic Supplementary Material
About this article
Cite this article
Crisman, B. Disease, Disaster, and Disengagement: Ebola and Political Participation in Sierra Leone. St Comp Int Dev 55, 328–353 (2020). https://doi.org/10.1007/s12116-020-09300-x
Keywords
Ebola

Political participation

Civic engagement

External efficacy