Abstract
Why is leadership succession highly institutionalized in some polities but not in others? We propose that the size of the polity constitutes a key explanatory factor. Specifically, we argue that an institutionalized process of succession is more likely to be adopted in larger polities because there are more elite actors vying for power, making it difficult for a single actor to consolidate power, hold it indefinitely, and pass it on to his heirs. To test this argument, we construct a global index centering on observable features of leadership succession. The index, drawing on data from the Archigos project, covers most sovereign countries from the mid-nineteenth century to the present. A battery of cross-national tests shows a positive and robust association between polity size and the institutionalization of leadership succession.
Access options
Buy single article
Instant access to the full article PDF.
US$ 39.95
Tax calculation will be finalised during checkout.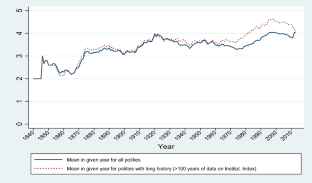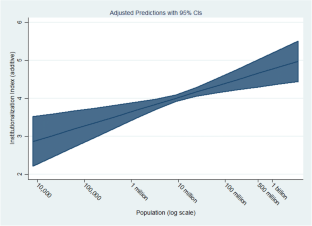 Notes
1.

2.

3.

Standard errors are much larger and the relationship between size and leader institutionalization insignificant at conventional levels when adding country-fixed-effects to our benchmark. This is despite the coefficient being substantially larger in size than in the benchmark.

4.

Variations in this GMM model—e.g., to controls included or number of lags used for instrumentation—do not affect the main result. The only exceptions we detected relate to altering the variables treated as endogenous, as, e.g., the model treating only population as endogenous returns a statistically insignificant result. However, the coefficient remains high (0.17), and the Sargan p value of 0.09 suggests that this specification may not satisfy the exclusion restriction.
References
Abramson S, Rivera CV. Time is power: the noninstitutional sources of stability in autocracies. J Polit. 2016;78(4):1279–95.

Alesina A, Devleeschauwer A, Easterly W, Kurlat S, Wacziarg R. Fractionalization. J Econ Growth. 2003;8(2):155–94.

Alvarez M, Cheibub JA, Limongi F, Przeworski A. Classifying political regimes. Stud Comp Int Dev. 1996;31(2):3–36.

Bienen H, Van de Walle N. Of time and power: leadership duration in the modern world. Stanford: Stanford University Press; 1991.

Black GS. Conflict in the community: a theory of the effects of community size. American Political Science Review. 1974;68(3):1245–61.

Blundell R, Bond S. Initial conditions and moment restrictions in dynamic panel data models. J Econ. 1998;87(1):115–43.

Boix C, Svolik MW. The foundations of limited authoritarian government: institutions, commitment, and power-sharing in dictatorships. J Polit. 2013;75(2):300–16.

Bolt J, Van Zanden JL. The Maddison project: collaborative research on historical national accounts. Econ Hist Rev. 2014;67(3):627–51.

Bratton M, Van de Walle N. Democratic experiments in Africa: regime transitions in comparative perspective. Cambridge: Cambridge University Press; 1997.

Bunce V. Do new leaders make a difference? Executive succession and public policy under capitalism and socialism. Princeton: Princeton University Press; 1981.

Burling, R. The Passage of Power: Studies in Political Succession. New York: Academic Press; 1974.

Calvert P, editor. The process of political succession. London: Macmillan; 1987.

Chenoweth E, Stephan MJ. Why civil resistance works: the strategic logic of nonviolent conflict. New York: Columbia University Press; 2011.

Collier RB. Paths toward democracy: the working class and elites in Western Europe and South America. Cambridge: Cambridge University Press; 1999.

Coppedge M, Gerring J, Lindberg S, Teorell J, Altman D, Bernhard M, Fish MS, Glynn A, Hicken A, Knutsen CH, McMann K, Pemstein D, Reif M, Skaaning S-E, Staton J, Tzelgov E, Wang Y-T, Zimmerman B. Varieties of Democracy (V-Dem) Dataset. v.5." Varieties of Democracy (V-Dem) Project; 2016.

Coser L. The functions of social conflict. New York: The Free Press; 1956.

Duindam J. Dynasties: a global history of power, 1300–1800. Cambridge: Cambridge University Press; 2015.

Ebrey P. Succession to High Office: The Chinese Case." In David R. Olson and Michael Cole (eds), Technology, Literacy, and the Evolution of Society: Implications of the Work of Jack Goody (Erlbaum) 2006; 49-71.

Ezrow NM, Frantz E. State institutions and the survival of dictatorships. J Int Aff. 2011;65(1):1–13.

Fearon JD. Ethnic and cultural diversity by country. J Econ Growth. 2003;8(2):195–222.

Frantz E, Stein EA. Countering coups: leadership succession rules in dictatorships. Comparative Political Studies. 2017;50(7):935–62.

Friedman, Stewart D. 2011. Leadership succession. Transaction.

Giambatista RC, Rowe WG, Riaz S. Nothing succeeds like succession: a critical review of leader succession literature since 1994. Leadersh Q. 2005;16(6):963–91.

Goemans, Hein E., Kristian Skrede Gleditsch, Giacomo Chiozza. 2016. ARCHIGOS A Data Set on Leaders 1875–2015, version 4.1. (February 28). Downloaded (2016 07 16): http://privatewww.essex.ac.uk/~ksg/papers/Archigos-27-Feb-2016.pdf

Goldewijk KK, Beusen AHW, Janssen P. Long term dynamic modeling of global population and built-up area in a spatially explicit way, HYDE 3 .1. The Holocene. 2010;20(4):565–73.

Goody J. Succession to high office. Cambridge: Cambridge University Press; 1966.

Govea RM, Holm JD. Crisis, violence and political succession in Africa. Third World Q. 1998;19:129–48.

Haber S, Menaldo V. Do natural resources fuel authoritarianism? A reappraisal of the resource curse. American Political Science Review. 2011;105(1):1–26.

Hadenius A, Teorell J. Pathways from authoritarianism. J Democr. 2007;18(1):143–56.

Hegre H, Sambanis N. Sensitivity analysis of empirical results on civil war onset. J Confl Resolut. 2006;50(4):508–35.

Holgado-Tello FP, Chacón–Moscoso S, Barbero–García I, Vila–Abad E. Polychoric versus Pearson correlations in exploratory and confirmatory factor analysis of ordinal variables. Qual Quant. 2010;44:153–66.

Honaker J, King G, Blackwell M. Amelia II: a program for missing data. J Stat Softw. 2011;45(1):1–47.

Houle C. Inequality and democracy: why inequality harms consolidation but does not affect democratization. World Polit. 2009;61(4):589–622.

Huang J. Institutionalization of Political Succession in China: Progress and Implications. In Li Cheng eds., China's Changing Political Landscape: Prospects for Democracy. Washington D.C.: Brookings Institution Press; 2008; 80-07.

Hwang S-S, Murdock SH. Residential segregation and ethnic identification among Hispanics in Texas. Urban Affairs Quarterly. 1988;23(3):329–45.

Jones BF, Olken BA. Do leaders matter? National leadership and growth since world war II. Q J Econ. 2005;120(3):835–64.

Jones BF, Olken BA. Hit or miss? The effect of assassinations on institutions and war. Am Econ J Macroecon. 2009;1(2):55–87.

Kesner IF, Sebora TC. Executive succession: past, present and future. J Manag. 1994;20(2):327–72.

Kokkonen A, Sundell A. Delivering stability: primogeniture and autocratic survival in European monarchies 1000-1800. American Political Science Review. 2014;108:2.

Kurrild-Klitgaard P. The constitutional economics of autocratic succession. Public Choice. 2000;103(1–2):63–84.

Kurrild-Klitgaard P. Autocratic succession. In: Rowley CK, Schneider F, editors. The encyclopedia of public choice. Boston: Springer; 2004. p. 358–62.

Kuznets S. Economic growth of small nations. In: Robinson EAG, editor. Economic consequences of the size of nations. London: Macmillan; 1963. p. 14–34.

Laing M, 't Hart P. Seeking and Keeping the Hot Seat: A Comparative Analysis of Party Leader Successions." In Paul 't Hart & John Uhr (eds), How Power Changes Hands: Transition and Succession in Government (Palgrave Macmillan) 2011;111-33.

Levendusky MS, Pope JC. Measuring aggregate-level ideological heterogeneity. Legis Stud Q. 2010;35(2):259–82.

Magaloni B. Voting for autocracy: hegemonic party survival and its demise in Mexico. New York: Cambridge University Press; 2006.

Marshall M, Gurr T, Jaggers K. Polity IV project: Dataset users' manual; 2014. Downloaded (2014) http://www.systemicpeace.org/inscr/p4manualv2013.pdf

Mendoza RU, Beja EL Jr, Venida VS, Yap DB. Inequality in democracy: insights from an empirical analysis of political dynasties in the 15th Philippine congress. Philippine Political Science Journal. 2012;33(2):132–45.

Michalopoulos S. The origins of ethnolinguistic diversity. Am Econ Rev. 2012;102:4,1508–39.

Milgram S. The experience of living in cities. Science. 1970;167(3924):1461–8.

Miller AL. Institutionalization and the changing dynamics of Chinese leadership politics. China's Changing political landscape: Prospects for democracy. Washington: Brookings; 2008. p. 61–79.

Miller MK. Economic development, violent leader removal, and democratization. Am J Polit Sci. 2012;56(4):1002–20.

Miller MK. Democratic pieces: autocratic elections and democratic development since 1815. Br J Polit Sci. 2015;45(3):501–30.

Ocasio W. Institutionalized action and corporate governance: the reliance on CEO rules of succession. Adm Sci Q. 1999;44(2):384–403.

Ogburn WF, Duncan OD. City size as a sociological variable. In: Burgess EW, Bogue DJ, editors. Contributions to urban sociology. Chicago: University of Chicago Press; 1964. p. 129–47.

Olson, M. The Logic of Collective Action: Public Goods and the Theory of Groups. Cambridge, MA.: Harvard University Press; 1965.

de Pina-Cabral J, de Lima AP, editors. Elites: choice, leadership and succession. Oxford: Berg; 2000.

Przeworski A. Democracy and the market: political and economic reforms in Eastern Europe and Latin America. Cambridge: Cambridge University Press; 1991.

Putterman L, Weil DN. Post-1500 population flows and the long-run determinants of economic growth and inequality. Q J Econ. 2010;125(4):1627–82.

Querubin P. Family and politics: dynastic persistence in the Philippines. Quarterly Journal of Political Science. 2016;11(2):151–81.

Roodman D. A note on the theme of too many instruments. Oxf Bull Econ Stat. 2009;71(1):135–58.

Sadalla EK. Population size, structural differentiation, and human behavior. Environ Behav. 1978;10(2):271–91.

Sarkees MR, Wayman F. Resort to War: 1816–2007. Washington D.C.: CQ Press; 2010.

Simmel G. The sociology of Georg Simmel. New York: The Free Press; 1950.

Skaaning S-E, Gerring J, Bartusevičius H. A Lexical Index of electoral democracy. Comparative Political Studies. 2015;48(12 (October)):1491–525.

Smith AD. The ethnic origins of nations. Oxford: Blackwell; 1988.

Stasavage D. When distance mattered: geographic scale and the development of European representative assemblies. American Political Science Review. 2010;104(4):625–43.

Stasavage D. States of credit: size, power, and the development of European polities. Princeton: Princeton University Press; 2011.

Svolik MW. The politics of authoritarian rule. Cambridge: Cambridge University Press; 2012.

Tilly C. Coercion, capital, and European states, AD 990–1992. Cambridge: Blackwell; 1992.

Teorell J, Coppedge M, Lindberg S, Skaaning S-E. Measuring Polyarchy Across the Globe, 1900–2017. Studies in Comparative International Development. 2019;54(1):71-95.

Treisman D. Income, democracy, and leader turnover. Am J Polit Sci. 2015;59(4):927–42.

Tullock G. Autocracy. Dordrecht: Kluwer; 1987.

Verba, S, Sclozman, KL, Brady, HE. Voice and Equality: Civic Voluntarism in American Politics. Cambridge, MA.: Harvard University Press; 1995.

Walter BF. Bargaining failures and civil war. Annu Rev Polit Sci. 2009;12:243–61.

Weber M. From Max Weber: Essays in Sociology, ed. Hans Gerth & C. Wright Mills. London: Routledge & Paul; 1961.

Weeks J. Strongmen and straw men: authoritarian regimes and the initiation of international conflict. American Political Science Review. 2012;106(2):326–47.

Weidmann NB, Kuse D, Gleditsch KS. The geography of the international system: the CShapes dataset. International Interactions. 2010;36(1):86–106.

Wilson TC. Community population size and social heterogeneity: an empirical test. Am J Sociol. 1986;91(5):1154–69.

Wirth L. Urbanism as a way of life. Am J Sociol. 1938;44(1):1–24.

Wolford S. Wars of Succession. International Interactions. 2017;44(1):173–187.

Zeng J. Institutionalization of the authoritarian leadership in China: a power succession system with Chinese characteristics? Contemp Polit. 2014;20(3):294–314.
Additional information
Publisher's Note
Springer Nature remains neutral with regard to jurisdictional claims in published maps and institutional affiliations.
Electronic supplementary material
About this article
Cite this article
Gerring, J., Knutsen, C.H. Polity Size and the Institutionalization of Leadership Succession. St Comp Int Dev 54, 451–472 (2019). https://doi.org/10.1007/s12116-019-09286-1
Keywords
Institutionalization

Leader succession

Democracy

Elites

Demography