Abstract
This paper argues that political brokers pay particular attention to household size, and the age distribution of its members, when allocating scarce indivisible social benefits. Because people usually share their income with other household members, allocating a social benefit to an individual member of a household with n voters is likely to bring more political support than allocating the same benefit to an individual member of a household with n-1 voters. Based on the main Argentine household survey and on personal interviews with 120 brokers, this paper shows that brokers effectively collect information on family size and age composition and allocate scarce temporary public works programs to families with more voters, unintentionally discriminating against families with children not old enough to vote.
Access options
Buy single article
Instant access to the full article PDF.
US$ 39.95
Tax calculation will be finalised during checkout.
Subscribe to journal
Immediate online access to all issues from 2019. Subscription will auto renew annually.
US$ 79
Tax calculation will be finalised during checkout.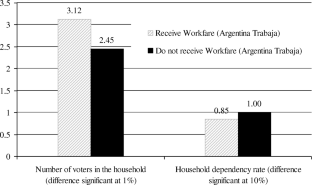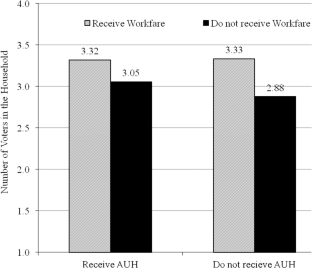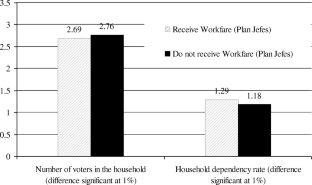 Notes
1.

Clientelism is usually defined as the personal and discretionary allocation of resources to individuals in exchange for their political support (e.g., vote buying, turnout buying, abstention buying, and double persuasion). It is the discretionary and conditional way in which goods and services are allocated what makes an exchange clientelistic rather than what is distributed. See Gans-Morse et al. (2014) for a formal model explaining diverse clientelistic strategies.

2.

3.

Two aspects of this claim deserve some discussion. First, as with any normative assessment, it could be criticized pointing out that it is based on a particular theory of justice. However, the fact that governments around the world declare that a key objective of social policy is to target vulnerable families indicates that it is a popular normative assessment. Second, there is no unique definition of vulnerability. It is usually understood that a household is more vulnerable the lower the level of income per capita, the higher the volatility of income, and the higher the dependency ratio. Therefore, ceteris paribus, households with more children (i.e., higher dependency ratio) are more vulnerable.

4.

5.

The Peronist Party is a working and lower class party founded by Juan D. Perón in 1947. While its origins are linked to the emergence of working classes, it shifted during the Presidency of Carlos Menem (1989–1999) from seeking the support of the lower classes through unions to courting their support with clientelistic appeals (Levitsky 2003). Since re-democratization in 1983, the PJ has won 5 out of 8 Presidential elections and has always controlled most Provincial and Municipal executives.

6.

7.

8.

9.

Schaffer and Baker (2015) constitute an exception. They argue and provide evidence from Mexico that brokers target citizens who are opinion-leading epicenters in informal conversation networks. Therefore, the political effect of a single handout can be magnified via the conversion of multiple voters.

10.

11.

12.

For example, according to the 2010 census, 48% of households have a personal computer in greater Buenos Aires, while the figures for the studied municipalities are 42% in La Matanza, 44% in Malvinas, 39% in Merlo, and 50% in San Miguel. La Matanza, with 834,000 voters has by itself a bigger electorate than 17 of the 24 Argentine provinces. Each of the other three municipalities in this study (Merlo 326,000, Malvinas Argentinas 203,000, and San Miguel 186,000 voters) has electorates equal or bigger than provinces like Formosa, Tierra del Fuego, and Santa Cruz.

13.

14.

15.

According to the EPH, only 3.5% of the poor population changed neighborhood during the last 5 years.

16.

The figures are based on what brokers report in the interview. We did not systematically collect information on voters to test the accuracy of brokers' reports. Schneider (2016) finds that brokers have little ability to identify the partisan preferences of non-core voters in rural India. We claim that brokers have fine-grained information about household size and age composition (two easily observable characteristics) in urban Argentina.

17.

18.

The program was launched in October 2009 and the majority of funds have been allocated to some municipalities located in greater Buenos Aires. Coincidentally, this is an area where the PJ usually wins elections, but suffered a defeat in the legislative elections of June 2009.

19.

20.

Which are running water, sewerage, town gas, without dirt floors, and not located in a shantytown.

21.

See Kramon and Posner (2013).

22.

The EPH survey does not directly ask about access to the AUH. But, there is information that allows building a reasonable proxy. First, the head of household reports in the survey whether she/he receives subsidies or aid in money from the government or from civil and religious organizations. Second, she/he reports the amount of money received last month. Because we know the number of children under 18 years of age in the household, we can estimate whether the subsidy received refers to the AUH or not. For example, until October 2010, the AUH monthly benefit was pesos 144 per month for each child under the age of 18. Therefore, if a household with two children under the age of 18 reports receiving pesos 288 on subsidies, it can be assumed that it receives AUH. That is how we create the variable AUH, which adopts a value equal to one if the amount of money reported is between 10% below or above the expected amount given the number of children 17 years or less in the household; and 0 otherwise.

23.

The coefficients for the other variables usually have the expected sign: Poorer people, with fewer years of schooling, and who have not recently move into the neighborhood, are more likely to receive a temporary public works program.

24.

We also run the model for each of six Argentine geographic regions separately, and find that in all regions temporary public works programs are more likely to be allocated to individuals who are members of families with more voting members (that is, the variable Voters is positive and statistically significant in all regions, while Non-voters is always insignificant). Results available upon request to the authors.

25.

People who met the eligibility conditions, and registered between April and May 2002, automatically entered into the program. From this perspective, JJHD was universal. However, some people who met the eligibility conditions missed the registration deadline. They applied late, and only some of them were admitted. Iturriza et al. (2011) suggest that those who applied late and did not enter the program represent 15% of program participants. From this other perspective, JJHD was quasi-universal.
References
Auyero J. Poor people's politics: peronist survival networks and the legacy of Evita. Durham: Duke University Press; 2001.

Becker G. Human capital: a theoretical and empirical analysis with special reference to education. New York: Columbia University Press; 1964.

Brusco V, Nazareno M, Stokes S. Vote buying in Argentina. Lat Am Res Rev. 2004;39:66–88.

Calvo E, Murillo MV. When parties meet voters: partisan networks and distributive expectations in Argentina and Chile. Comp Pol Stud. 2013;46:851–82.

Cox G, McCubbins M. Electoral politics as a redistributive game. J Polit. 1986;48:370–89.

Dixit A, Londregan J. The determinants of success of special interests in redistributive politics. J Polit. 1996;58:1132–55.

Finan F, Schechter L. Vote buying and reciprocity. Econometrica. 2012;80:863–81.

Fisman R, Golden M. Corruption: what everyone needs to know. New York: Oxford University Press; 2017.

Gans-Morse J, Mazzuca S, Nichter S. Varieties of clientelism: machine politics during elections. Am J Polit Sci. 2014;58(2):415–32.

Garay C. Social policy and collective action: unemployed workers, community associations, and protests in Argentina. Polit Soc. 2007;35:301–28.

Giraudy A. The distributive politics of emergency employment programs in Argentina (1993-2002). Lat Am Res Rev. 2007;42:33–55.

Iturriza, A, Bedi A, Sparrow R. Unemployment assistance and transition to employment in Argentina. Economic Development and Cultural Change 2011;59(4):811-37.

Jennings K, Niemi R. The transmission of political values from parent to child. Am Polit Sci Rev. 1968;62:169–84.

Keefer P, Vlaicu R. Democracy, credibility, and clientelism. J Law Econ Organ. 2007;24(2):371–406.

Kitschelt H, Wilkinson S. Patrons, clients, and policies: patterns of democratic accountability and political competition. Cambridge: Cambridge Univerisity Press; 2007.

Kramon E, Posner D. Who benefits from distributive politics? How the outcome one studies affects the answer one gets. Perspect Polit. 2013;11(2):461–74.

Lawson C, Greene K. Making clientelism work: how norms of reciprocity increase voter compliance. Comp Polit. 2014;47(1):61–85.

Levitsky S. Transforming labor-based parties in Latin America. Cambridge: Cambridge University Press; 2003.

Lindbeck A, Weibull J. Balanced budget redistribution as the outcome of political competition. Public Choice. 1987;52:273–97.

Lodola G. Protesta popular y redes clientelares en la Argentina: El reparto federal del Plan Trabajar (1996-2001). Desarrollo Económico. 2005;44:515–36.

Magaloni B. Voting for autocracy: hegemonic party survival and its demise in Mexico. New York: Cambridge University Press; 2006.

Nichter S. Vote buying or turnout buying? Machine politics and the secret ballot. Am Polit Sci Rev. 2008;102:19–31.

O'Donnell G. 1992. "Delegative Democracy," Notre Dame: University of Notre Dame, Hellen Kellog Institute for International Studies, Working paper 172.

Ollier M. Atrapada sin salida. Buenos Aires: UNSAM; 2010.

Piattoni S. Clientelism in historical and comparative perspective. In: Piattoni S, editor. Clientelism, interests, and democratic representation: the European experience in historical and comparative perspective. Cambridge: Cambridge University Press; 2001.

Rakove M. Don't back no losers: an insider's analysis of the Daley machine. Bloomington: Indiana University Press; 1975. Don't Make No Waves..

Ronconi L. Estimates of the benefit incidence of workfare. Economia J LACEA. 2009;9:129–45.

Ronconi L, Franceschelli I. Clientelism, public workfare, and the emergence of the Piqueteros in Argentina. In: Dinello N, Popov V, editors. Political institutions and development: failed expectations and renewed hopes. London: Edward Elgar; 2007.

Schaffer F. Why study vote buying? In: Schaffer F, editor. Elections for sale. London: Lynne Rienner Publishers; 2007.

Schaffer J, Baker A. Clientelism as persuasion-buying: evidence from Latin America. Comp Polit Stud. 2015;48(9):1093–126.

Schneider M 2016. "Do brokers know their voters? A test of Guessability in India". J Polit, Forthcoming.

Stokes S. Perverse accountability: a formal model of machine politics with evidence from Argentina. Am Polit Sci Rev. 2005;99:315–25.

Stokes S. Political clientelism. In: Goodin R, editor. The Oxford Handbook of Political Science. New York: Oxford University Press; 2011.

Stokes S, Dunning T, Nazareno M, Brusco V. Brokers, voters and clientelism. New York: Cambridge University Press; 2013.

Szwarcberg M. Uncertainty, political clientelism, and voter turnout in Latin America: why parties conduct rallies in Argentina. Comp Polit. 2012;45:88–106.

Wang C-S, Kurzman C. The logistics: how to buy votes. In: Schaffer F, editor. Elections for Sale. London: Lynne Rienner Publishers; 2007.

Zarazaga R. Brokers beyond clientelism: a new perspective on brokerage through the argentine case. Latin Am Polit Soc. 2014;56:23–45.

Zarazaga R. Instituciones, Política y Necesidad en los Programas de Transferencias Condicionadas: La Asignación Universal por Hijo y el Programa de Inclusión Social con Trabajo Argentina Trabaja. In: Acuña C, editor. Instituciones y políticas públicas en Argentina. Buenos Aires: Siglo; 2013. p. XXI.

Zarazaga R. Party machines and voter-customized rewards strategies. J Theor Polit. 2016;28(4):678–701.
Additional information
Publisher's Note
Springer Nature remains neutral with regard to jurisdictional claims in published maps and institutional affiliations.
About this article
Cite this article
Ronconi, L., Zarazaga, R. Household-Based Clientelism: Brokers' Allocation of Temporary Public Works Programs in Argentina. St Comp Int Dev 54, 365–380 (2019). https://doi.org/10.1007/s12116-019-09280-7
Keywords
Clientelism

Household

Discrimination

Social policy

Latin America

Argentina
JEL Codes