Abstract
The cohesion policy of the European Union has become its primary instrument promoting development in the peripheral member states. The enduring consequences of the 2007–2008 crisis and the economic governance agenda requiring fiscal discipline from the member states have raised the policy's significance further. However, similar economic inequalities characterize the EU nowadays as several decades ago. The cohesion policy is by no means alone responsible for this, but the reasons for its ambiguous performance deserve further scrutiny. Empirical studies explain variation in fund performance with domestic institutional quality and absorption capacity, but the member states' fund spending strategies have not been addressed so far. This is puzzling because they are important determinants of the economic effects of EU funds. The paper fills this gap by investigating the spending strategies of the Southern and the Eastern members in two recent programming cycles (2007–2013 and 2014–2020). Assessed on five expenditure categories, the paper reveals that physical infrastructure investments enjoyed priority over long-term growth-generating R&D and human capital projects and that the allocation of EU funds did not reflect domestic development needs.
This is a preview of subscription content, log in to check access.
Access options
Buy single article
Instant access to the full article PDF.
US$ 39.95
Price includes VAT for USA
Subscribe to journal
Immediate online access to all issues from 2019. Subscription will auto renew annually.
US$ 99
This is the net price. Taxes to be calculated in checkout.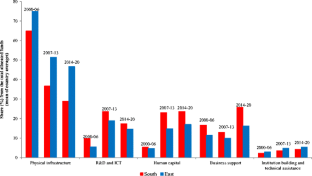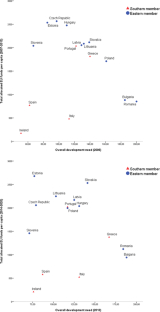 Notes
1.

Since the 2014–2020 programming period, the funds of the EU's cohesion policy are referred to as European Structural and Investment Funds (ESIF).

2.

Expressed in Purchasing Power Standards

3.

Austria, Belgium, Denmark, Finland, Germany, France, Netherlands, Sweden, and the UK. Luxemburg is excluded from the calculation because its extraordinarily high per capita GDP would lead to a misleading picture.

4.

Without Ireland. Source: the author's own calculation based on Eurostat data

5.

According to the 2016 Worldwide Governance Indicators, the mean score for regulatory quality was nearly identical in the Southern (0.89) and the Eastern periphery (0.92), whereas in the most advanced EU economies (Austria, Belgium, Denmark, Finland, Germany, Luxembourg, the Netherlands, Sweden and the UK), the average score was nearly twice as high (1.70). Source: the author's own calculation based on the WGI dataset (available at http://info.worldbank.org/governance/wgi/index.aspx#home).

6.

For instance, in the 2007–2013 programming period 60% of the funds spent in the eligible least developed regions (convergence regions) had to be spent on the so-called Lisbon objectives, while this share was 75% for funds spent in the more developed, yet eligible regions (regional competitiveness and employment objective). The Lisbon expenditures included investments into knowledge and innovation, energy efficiency, improving the business potential of small- and medium-sized enterprises, and improving employability.

7.

8.

Calculating Pearson's correlation coefficients for such a small number of observations (N = 15) would produce misleading results. For this reason, Kendall's tau-b, which is a non-parametric test of association and is much more reliable for small samples, is applied.

9.

Czech Republic, Estonia, Hungary, Latvia, Lithuania, Poland, Slovakia, Slovenia

10.

The figures were calculated as the averages of the country-level shares of each spending category; thus, they are not biased by the spending strategy of those member states that received the highest amount of EU funds.

11.

12.

The country-level variation in the proportion of the Cohesion Funds from the total EU funds was low within the two country groups. For the eligible Southern countries the share of CF from the total funds ranged between 19 and 30% in 2000–2006 and between 10 and 18% in 2007–2013, while in the case of the Eastern periphery, this figure varied between 53 and 65% in 2000–2006 and between 33 and 36% in 2007–2013. In 2014–2020, the share of Cohesion Fund from the total EU funds is the lowest in Hungary (23%) and the highest in Bulgaria (33%) among the Eastern members.
References
Allen D. Cohesion and the structural funds. In: Wallace H, Wallace W, Pollack M, editors. Policy-making in the European Union, Oxford: Oxford University Press; 2005. p. 213–42.

Bache I, Jones R. Has EU regional policy empowered the regions? A study of Spain and the United Kingdom. Reg Fed Stud. 2000;10(3):1–20.

Bachtler J, Mc Master I. EU cohesion policy and the role of the regions: investigating the influence of structural funds in the new member states. Environ Plan C: Gov Policy. 2007;26(2):398–427.

Bachtler J, Mendez C, Oraže H. From conditionality to Europeanization in Central and Eastern Europe: administrative performance and capacity in cohesion policy. Eur Plan Stud. 2014;22(4):735–57.

Bähr C. How does sub-national autonomy affect the effectiveness of structural funds? Kyklos. 2008;61(1):3–18.

Banister D, Berechman Y. Transport investment and the promotion of economic growth. J Transp Geogr. 2001;9(3):209–18.

Barro RJ. Human capital and growth. Am Econ Rev. 2001;91(2):12–7.

Baun M, Marek D. Regional policy and decentralization in the Czech Republic. Reg Fed Stud. 2006;16(4):409–28.

Becker SO, Egger PH, von Ehrlich M. Going NUTS: the effect of EU structural funds on regional performance. J Public Econ. 2010;94(9–10):578–90.

Begg I. Cohesion or confusion: a policy searching for objectives. J Eur Integr. 2010;32(1):77–96.

Bilbao-Osorio B, Rodríguez-Pose A. From R&D to innovation and economic growth in the EU. Growth Chang. 2004;35(4):434–55.

Bloom S, Petrova V. National subversion of supranational goals: 'pork-barrel' politics and EU regional aid. Europe-Asia Stud. 2013;65(8):1599–620.

Boldrin M, Canova F. Regional policies and EU enlargement. In: Funck B, Pizzati L, editors. European Integration, Regional Policy and Growth. The World Bank. Washington D.C.: 2003. pp. 33–94.

Börzel, TA. States and regions in the European Union: institutional adaptation in Germany and Spain. Cambridge: Cambridge University Press; 2002.

Bourne AK. The impact of European integration on regional power. JCMS: J Common Mark Stud. 2003;41(4):597–620.

Bouvet F, Dall'erba S. European regional structural funds: how large is the influence of politics on the allocation process? JCMS: J Common Mark Stud. 2010;48(3):501–28.

Bruszt L. Multi-level governance—the eastern versions emerging patterns of regional developmental governance in the new member states. Reg Fed Stud. 2008;18(5):607–28.

Bruszt L, McDermott GA. Introduction: the governance of transnational regulatory integration and development. In: Bruszt L, McDermott GA, editors. Leveling the playing field: transnational regulatory integration and development. Oxford: Oxford University Press; 2014.

Bruszt L, Vukov V. Transnationalizing states in Europe's peripheries: European integration and the evolution of economic state capacities in the southern and eastern peripheries of Europe. J Comp Econ Stud. 2015;10:69–92.

Cappelen A, Castellacci F, Fagerberg J, Verspagen B. The impact of EU regional support on growth and convergence in the European Union. JCMS: J Common Mark Stud. 2003;41(4):621–44.

Charron N. Explaining the allocation of regional structural funds: the conditional effect of governance and self-rule. Eur Union Polit. 2016;17(4):638–59.

Cosci S, Mirra L. A spatial analysis of growth and convergence in Italian provinces: the role of road infrastructure. Reg Stud. 2018;52(4):516–27.

Dellmuth LM. The cash divide: the allocation of European Union regional grants. J Eur Public Policy. 2011;18(7):1016–33.

Dellmuth LM, Stoffel MF. Distributive politics and intergovernmental transfers: the local allocation of European Union structural funds. Eur Union Polit. 2012;13(3):413–33.

Ederveen S, de Groot HLF, Nahuis R. Fertile soil for structural funds?A panel data analysis of the conditional effectiveness of European cohesion policy. Kyklos. 2006;59(1):17–42.

European Commission. Cohesion Policy 2007–2013. National Strategic Reference Frameworks. Luxembourg: Office for Official Publications of the European Communities. 2007. http://ec.europa.eu/regional_policy/sources/atlas2007/fiche/nsrf.pdf. Accessed 29 Mar 2018.

Fagerberg J, Verspagen B. Heading for divergence? Regional growth in Europe reconsidered. JCMS: J Common Mark Stud. 1996;34(3):431–48.

Ferry M, McMaster I. Cohesion policy and the evolution of regional policy in Central and Eastern Europe. Europe-Asia Studies. 2013;65(8):1502–28.

Frisina L. Understanding regional development: absorption, institutions and socio-economic growth in the regions of the European Union. Frankfurt am Main: Peter Lang; 2008.

Grabbe H. How does Europeanization affect CEE governance? Conditionality, diffusion and diversity. J Eur Public Policy. 2001;8(6):1013–31.

Griffith R, Redding S, Van Reenen J. Mapping the two faces of R&D: productivity growth in a panel of OECD industries. Rev Econ Stat. 2004;86(4):883–95.

Hooghe L. Cohesion policy and European integration: building multi-level governance: Oxford University Press; 1996.

Hughes J, Sasse G, Gordon C. Conditionality and compliance in the EU's eastward enlargement: regional policy and the reform of sub-national government. JCMS: J Common Market Stud. 2004a;42(3):523–51.

Hughes J, Sasse G, Gordon C. Europeanization and regionalization in the EU's enlargement to central and Eastern Europe: Palgrave Macmillan; 2004b.

Jacoby W. Managing globalization by managing central and Eastern Europe: the EU's backyard as threat and opportunity. J Eur Public Policy. 2010;17(3):416–32.

Jacoby W. The EU factor in fat times and in lean: did the EU amplify the boom and soften the bust? J Common Mark Stud. 2014;52:52–70.

Kemmerling A, Bodenstein T. Partisan politics in regional redistribution do parties affect the distribution of EU structural funds across regions? Eur Union Polit. 2006;7(3):373–92.

Kyriacou AP, Roca-Sagalés O. The impact of EU structural funds on regional disparities within member states. Environ Plan C: Gov Policy. 2012;30(2):267–81.

Lakshmanan TR. The broader economic consequences of transport infrastructure investments. J Transp Geogr. 2011;19(1):1–12.

Le Gallo J, Dall'erba S, Guillain R. The local versus global dilemma of the effects of structural funds. Growth Chang. 2011;42(4):466–90.

Leonardi R. Cohesion policy in the European Union: the building of Europe. New York: Palgrave Macmillan; 2005.

Lucas RE. On the mechanics of economic development. J Monet Econ. 1988;22(1):3–42.

Medve-Bálint G. Funds for the wealthy and the politically loyal? How EU funds may contribute to increasing regional disparities in East Central Europe. In: Bachtler J, Hardy S, Berkowitz P, Muravska T, editors. EU cohesion policy: reassessing performance and direction, regions and cities, London; New York: Routledge: 2017. pp. 220–240.

Mohl P, Hagen T. Do EU structural funds promote regional growth? New evidence from various panel data approaches. Reg Sci Urban Econ. 2010;40(5):353–65.

Nelson RR, Phelps ES. Investment in humans, technological diffusion, and economic growth. Am Econ Rev. 1966;56(1/2):69–75.

Paraskevopoulos CJ, Leonardi R. Introduction: adaptational pressures and social learning in European regional policy—cohesion (Greece, Ireland and Portugal) vs. CEE (Hungary, Poland) countries. Reg Fed Stud. 2004;14(3):315–54.

Richardson HW. Growth pole spillovers: the dynamics of backwash and spread. Reg Stud. 1976;10(1):1–9.

Rodriguez-Pose A, Garcilazo E. Quality of government and the returns of investment: examining the impact of cohesion expenditure in European regions. OECD Regional Development Working Papers. OECD Publishing; 2013.

Romer PM. Increasing returns and long-run growth. J Polit Econ. 1986;94:1002–37.

Scherpereel JA. EU cohesion policy and the Europeanization of Central and East European regions. Reg Fed Stud. 2010;20(1):45–62.

Sloboda BW, Yao VW. Interstate spillovers of private capital and public spending. Ann Reg Sci. 2008;42(3):505–18.

Spendzharova AB, Vachudova M. Catching up? Consolidating liberal democracy in Bulgaria and Romania after EU accession. West Eur Polit. 2012;35(1):39–58.

Straub S. Infrastructure and growth in developing countries: recent advances and research challenges. Policy Research Working Paper Series 4460. World Bank Development Research Department; 2008.

SWECO. Final report - ERDF and CF regional expenditure. Stockholm: SWECO International AB. Report prepared for the European Commission. 2008. http://ec.europa.eu/regional_policy/sources/docgener/evaluation/pdf/expost2006/expenditure_final.pdf. Accessed 29 Mar 2018.

Terracciano B, Graziano PR. EU cohesion policy implementation and administrative capacities: insights from Italian regions. Reg Fed Stud. 2016;26(3):293–320.

Tosun J. Absorption of regional funds: a comparative analysis. JCMS: J Common Mark Stud. 2014;52(2):371–87.
Acknowledgements
The author's research was supported by the MTA Post-Doctorate Research Program of the Hungarian Academy of Sciences.
Appendices
Appendix 1
Appendix 2
About this article
Cite this article
Medve-Bálint, G. The Cohesion Policy on the EU's Eastern and Southern Periphery: Misallocated Funds?. St Comp Int Dev 53, 218–238 (2018). https://doi.org/10.1007/s12116-018-9265-2
Keywords
EU cohesion policy

Spending strategy

Fund allocation

Southern Europe

Eastern Europe