Abstract
Research shows that violent and organized crime reduces foreign direct investment and that armed conflict lowers sovereign credit ratings. Building on these insights, I argue that violent crime reduces financial institutions' confidence in the capacity of governments to repay loans, raising the costs attached to loans, and reducing government debt through a "supply-side" logic. Yet, this logic is difficult to test. Governments can render lenders indifferent to violent crime by accepting higher borrowing costs, resulting in no observed relationship between them. It is for this reason that analysis of the effect of violent crime on government credit ratings alone cannot tell us much about its effect on actual government debt. In this study, I explain how analysis of subnational debt from welfare-minded public banks and profit-minded private lenders can distinguish the supply-side logic from the null hypothesis. Cross-sectional time-series analysis of homicide rates and municipal debt in Mexico demonstrates support for the supply-side logic. Evidence of the supply-side logic reveals that those governments most in need of cost-efficient financing are most likely to be charged higher prices for it or priced out of capital markets altogether, signaling the need for market intervention in these cases.
This is a preview of subscription content, log in to check access.
Access options
Buy single article
Instant access to the full article PDF.
US$ 39.95
Price includes VAT for USA
Subscribe to journal
Immediate online access to all issues from 2019. Subscription will auto renew annually.
US$ 99
This is the net price. Taxes to be calculated in checkout.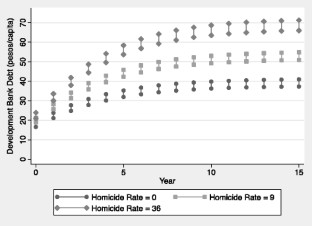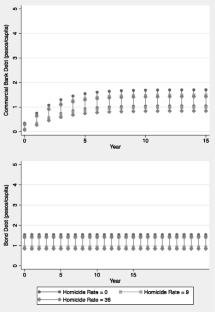 References
Alesina A, Roubini N, Cohen GD. Political cycles and the macroeconomy. Cambridge: The MIT Press; 1997.

Archer CC, Biglaiser G, DeRouen K. Sovereign bonds and the "democratic advantage": does regime type affect credit rating agency ratings in the developing world? Int Organ. 2007;61:341–65.

Ashby NJ, Ramos MA. Foreign direct investment and industry response to organized crime: the Mexican case. Europ J Polit Economy. 2013;30:80–91.

Avellaneda CN. Municipal performance: does mayoral quality matter? J Public Adm Res Theory. 2009;19:285–312.

Bechtel MM. The political sources of systematic investment risk: lessons from a consensus democracy. The Journal of Politics. 2009;71:661–77.

Benton AL. Bottom-up challenges to national democracy: Mexico's (legal) subnational authoritarian enclaves. Comparative Politics. 2012;44:253–71.

Benton AL, Smith HJM. The impact of parties and elections on municipal debt policy in Mexico. Governance. 2017;30:621–39.

Bernhard W, Leblang D. Pricing politics: democratic processes and financial markets. Cambridge: Cambridge University Press; 2006.

Biglaiser G, Hicks B, Huggins C. Sovereign bond ratings and the democratic advantage: portfolio investment in the developing world. Comparative Political Studies. 2008;41:1092–116.

Brewer TL, Rivoli P. Politics and perceived country creditworthiness in international banking. J Money Credit Bank. 1990;22:357–69.

Busse M, Hefeker C. Political risk, institutions and foreign direct investment. Europ J Polit Economy. 2007;23:397–415.

Cabrero ME. Capacidades institucionales en gobiernos subnacionales de México. Gestión y Política Pública. 2004;XIII:753984.

Calderón G, Robles G, Díaz-Cayeros A, Magaloni B. The beheading of criminal organizations and the dynamics of violence in Mexico. J Confl Resolut. 2015;59:1455–85.

Camacho A, Rodriguez C. Firm exit and armed conflict in Colombia. J Confl Resolut. 2013;57:89–116.

Cardenas M. Economic growth in Colombia: a reversal of "fortune"? Ensayos Sobre Política Económica. 2007;25:220–59.

Castañeda A, Vargas JF. Sovereign risk and armed conflict: an event-study for Colombia. Defence Peace Econ. 2012;23:185–201.

Chen AH, Siems TF. The effects of terrorism on global capital markets. Europ J Polit Economy. 2004;20:349–66.

Chuhan P, Claessens S, Mmingi N. Equity and bond flows to Latin America and Asia: the role of global and country factors. J Dev Econ. 1998;55:439–63.

Clark TS, Linzer DA. Should I use fixed or random effects? Political Science Reserach and Methods. 2015;3:299–408.

Collier P. On the economic consequences of civil war. Oxford Econ Pap. 1999;51:168–83.

Consejo Nacional de Población (CONAPO). (http://www.conapo.org.mx).

Daniele V, Marani U. Organized crime, the quality of local institutions and FDI in Italy: a panel data analysis. Europ J Polit Economy. 2011;27:132–42.

De Boef S, Keele L. Taking time seriously. Am J Polit Sci. 2008;52:184–200.

Detotto C, Otranto E. Does crime affect economic growth? Kyklos. 2010;63:330–45.

DiGiuseppe M. Guns, butter, and debt: sovereign creditworthiness and military expenditure. J Peace Res. 2015;52:680–93.

Drakos K, Konstantinou PT. Terrorism, crime and public spending: panel VAR evidence from Europe. Defence Peace Econ. 2014;25:349–61.

Duran-Martinez A. To kill and tell? State power, criminal competition, and drug violence. J Confl Resolut. 2015;59:1377–402.

Enders W, Olson E. Measuring the economic costs of terrorism. In the Oxford handbook of the economics of peace and conflict, edited by Garfinkel MR and Skaperdas S. Oxford: Oxford University Press; 2012.

Erb CB, Harvey CR, Viskanta TE. Understanding emerging market bonds. Emerg Mark Q. 2000;4:7–23.

Escobar Gamboa OR. Foreign direct investment (FDI) determinants and spatial spillovers across Mexico's states. The Journal of International Trade & Economic Development. 2013;22:993–1012.

Franzese R. Electoral and partisan cycles in economic policies and outcomes. Annual Review of Political Science. 2002;5:369–421.

Freire ME. Managing external resources. In municipal finances: a handbook for local governments, edited by Farvacque-Vitkovic C and Kopanyi M. Washington, DC: The World Bank; 2014.

Freire M, Petersen J, editors. Subnational capital markets in developing countries: from theory to practice. Washington, D.C.: World Bank and Oxford University Press; 2004.

Garrett G. Global markets and national politics: collision course or virtuous circle? Int Organ. 1998;52:787–824.

Gaviria A. Assessing the effects of corruption and crime on firm performance: evidence from Latin America. Emerg Mark Rev. 2002;3:245–68.

Gray J. International organization as a seal of approval: European union accession and investor risk. Am J Polit Sci. 2009;53:931–49.

Gupta S, Clements B, Bhattacharya R, Chakravarti S. Fiscal consequences of armed conflict and terrorism in low- and middle-income countries. Europ J Polit Economy. 2004;20:403–21.

Hernández-Trillo F, Smith-Ramírez R. Credit ratings in the presence of bailout: the case of Mexican subnational government debt. Economía: Journal of the Latin American and Caribbean Economic Association. 2009;10:45–79.

Hernández-Trillo F, Díaz-Cayeros A, Gamboa GA. Determinants and consequences of bailing out states in Mexico. East Econ J. 2002;28:365–80.

Hurtado C, and Zamarripa G. Deuda subnacional: Un análisis del caso mexicano. México, Distrito Federal: Fundación de Estudios Financieros (FUNDEF), A. C.; 2013.

Ibarra Salazar J, Sandoval Musi A, Sotres CL. Desempeño de los gobiernos estatales mexicanos. EGADE del ITESM: Monterrey, México; 2001.

Instituto Nacional de Estadística Geografía e Informática (INEGI). Sistema municipal de base de datos (simbad)." (http://www.inegi.gob.mx).

Ismail A, Amjad S. Cointegration-causality analysis between terrorism and key macroeconomic indicators: evidence from Pakistan. Int J Soc Econ. 2014;41:664–82.

Jensen NM. Democratic governance and multinational corporations: political regimes and inflows of foreign direct investment. Int Organ. 2003;57:587–616.

Jensen N. Political risk, democratic institutions, and foreign direct investment. The Journal of Politics. 2008;70:1040–52.

Jensen NM, Schmith S. Market responses to politics: the rise of Lula and the decline of the Brazilian stock market. Comparative Political Studies. 2005;38:1245–70.

Jensen NM, Young DJ. A violent future? Political risk insurance markets and violence forecasts. J Confl Resolut. 2008;52:527–47.

Jones MP, Sanguinetti P, Tommasi M. Politics, institutions, and fiscal performance in a federal system: an analysis of the argentine provinces. J Dev Econ. 2000;61:305–33.

Kerevel YP. (Sub)national principals, legislative agents: patronage and political careers in Mexico. Comparative Political Studies. 2015;48:1020–50.

Koremenos B, Lipson C, Snidal D. The rational design of international institutions. Int Organ. 2001;55:761–99.

Lee H, Staats JL, Biglaiser G. The importance of legal systems for portfolio investment in the developing world. International Area Studies Review. 2012;15:339–58.

Ley S. Electoral accountability in the midst of criminal violence: evidence from Mexico. Latin Amer Politics Society. 2017;59:3–27.

Li Q, Vashchilko T. Dyadic military conflict, security alliances, and bilateral FDI flows. J Int Bus Stud. 2010;41:765–82.

Mosley L. Global capital and national governments. New York: Cambridge University Press; 2003.

Olavarria-Gambi M. The economic cost of crime in Chile. Global Crime. 2007;8:287–310.

Osorio J. The contagion of drug violence: spatiotemporal dynamics of the Mexican war on drugs. J Confl Resolut. 2015;59:1403–32.

O'Toole LJ, Meier KJ. Modeling the impact of public management: implications of structural context. J Public Adm Res Theory. 1999;9:505–26.

Pan M, Widner B, Enomoto CE. Growth and crime in contiguous states of Mexico. Review of Urban & Regional Development Studies. 2012;24:51–64.

Peri G. Socio-cultural variables and economic success: evidence from italian provinces 1951–1991. BE J Macro-Econ. 2004; 4.

Phillips BJ. How does leadership decapitation affect violence? The case of drug trafficking organizations in Mexico. The Journal of Politics. 2015;77:324–36.

Procasky WJ, Ujah NU. Terrorism and its impact on the cost of debt. J Int Money Finance. 2016;60:253–66.

Pshisva R, Suárez FGA. Captive markets: the impact of kidnappings on corporate investment in Colombia. Coyuntura Económica. 2006;XXXVI:27–62.

Ratings F. Marco institucional de los gobiernos subnacionales en México. Reporte especial. Fitch Ratings: México, Distrito Federal; 2011.

Revilla E. Subnational debt management in Mexico: a tale of two crises. In until debt do us part: subnational debt, insolvency, and markets, edited by Canuto O and Liu L. Washington, DC: The World Bank; 2013.

Rodden J. Hamilton's paradox: the promise and peril of fiscal federalism. New York: Cambridge University Press; 2006.

Rodden J, Wibbels E. Beyond the fiction of federalism: macroeconomic management in multitiered systems. World Politics. 2002;54:494–531.

Sáez L. The political budget cycle and subnational debt expenditures in federations: panel data evidence from India. Governance. 2016;29:47–65.

Sakurai S, Menezes-Filho N. Fiscal policy and reelection in Brazilian municipalities. Public Choice. 2008;137:301–14.

Samford S, Ortega GP. Subnational politics and foreign direct investment in Mexico. Rev Int Polit Economy. 2014;21:467–96.

Secretaría de Hacienda y Crédito Pública (SHCP). (http://www.shcp.gob.mx).

Smith HJM, Benton AL. The role of metropolitan cooperation and administrative capacity in subnational debt dynamics: evidence from municipal Mexico. Public Budgeting & Finance. 2017;37:58–82.

Standard & Poor's Ratings Services. En México, los gobiernos locales recurren a la bursatilización de participaciones federales e impuestos locales para liberar recursos. Criterios. México, Distrito Federal: Standard & Poor's Rating Services; 2007.

Thau A. The bond book, third edition: everything investors need to know about treasuries, municipals, GNMAs, corporates, zeros, bond funds, money market funds, and more. New York: McGraw-Hill; 2011.

Trejo G, Ley S. Federalism, drugs, and violence: why intergovernmental partisan conflict stimulated inter-cartel violence in Mexico. Política y Gobierno. 2016;23:9–52.

Veiga LG, Veiga FJ. Political business cycles at the municipal level. Public Choice. 2007;131:45–64.

Vilalta C, Muggah R. What explains criminal violence in Mexico city? A test of two theories of crime. Stability: International Journal of Security and Development. 2016;5:1–22.

Williams LK, Whitten GD. But wait, there's more! Maximizing substantive inferences from TSCS models. The Journal of Politics. 2012;74:685–93.
Acknowledgements
I am very grateful to Carolina Garriga, Guy Whitten, Vidal Romero, Laura Flamand, and especially two anonymous reviewers for extremely helpful comments and guidance that greatly improved this study. I would also like to express my sincerest thanks to Heidi Jane M. Smith, whose collaboration on previous research on subnational debt in Mexico made this study possible. Previous versions were presented at the Midwest Political Science Association's annual meetings in Chicago, IL in April 2016 and at ITAM in Mexico City in May 2016. All errors are my own.
Electronic Supplementary Material
About this article
Cite this article
Benton, A.L. Violent Crime and Capital Market Punishment: How Violent Crime Affects the Supply of Debt to Municipal Mexico. St Comp Int Dev 52, 483–509 (2017). https://doi.org/10.1007/s12116-017-9256-8
Keywords
Criminal violence

Armed conflict

Sovereign debt

Subnational debt

Subnational capital markets

International capital markets

Mexico