Abstract
Development sociologists generally agree that states play a critical role in promoting, as well as in impeding, development. However, far less scholarly consensus exists on the precise historical processes that lead either to strong or to weak states. This paper investigates the factors that shape varied state capacities through a comparative-historical analysis of two similar countries with divergent development outcomes—Trinidad and Tobago and Gabon. In the 1960s, both countries had comparably large amounts of oil wealth, minimal state involvement in the economy, and low levels of development. In the 1970s, state capacity in Trinidad and Tobago dramatically increased and the country went on to achieve high levels of development. The Gabonese state, on the other hand, remained weak resulting in persistent low levels of development. This paper traces the divergence in state capacity to variations in working class mobilization, specifically the particular type of working class movements in each country and the political opportunity contexts. In doing so, this paper reveals new agents and contingencies producing state capacity that are not predominantly discussed in the contemporary development literature, and the meso-level mechanics by which these agents are successful or constrained in doing so.
This is a preview of subscription content, log in to check access.
Access options
Buy single article
Instant access to the full article PDF.
US$ 39.95
Price includes VAT for USA
Subscribe to journal
Immediate online access to all issues from 2019. Subscription will auto renew annually.
US$ 99
This is the net price. Taxes to be calculated in checkout.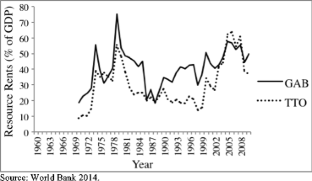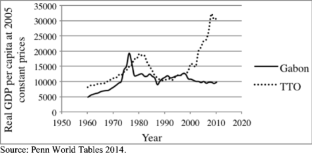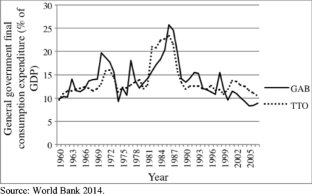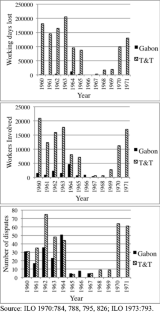 Notes
1.

2.

3.

4.

Some who distinguish between direct and indirect colonial rule (Lange 2009; Mamdani 1996) may argue that T&T outperformed Gabon because it experienced direct rule where the British established strong, centralized state institutions favorable to long-term development. Conversely, indirect rule in Gabon meant that French colonial officials collaborated with indigenous actors, which created a decentralized, weak, despotic state that impeded long-run development. While the direct/indirect distinction may accurately capture variations of rule within the British Empire where this difference was codified (Lange 2009), applying these categories to other European colonies proves difficult. Many argue that French rule in Africa was more direct because chiefs were more tightly integrated into the administrative apparatus (Crowder 1964) and still others find that Gabon experienced an entirely different form of rule that conformed to neither category (Coquery-Vidrovitch 1972). Even in T&T, the line between direct and indirect rule was blurred. The colonial state was nepotistic rather than meritocratic and many state structures were severely understaffed and under-resourced (Titus 2009; Trotman 1986). Moreover, unlike other directly ruled colonies (e.g., Mauritius), T&T inhabitants were not allowed to elect persons to legislative bodies (Ledgister 1998).

5.

By 1921, Indians comprised 33% of the T&T population. The other largest group was people of African descent, and the rest came from Europe, China, the Middle East, and the Mediterranean. Indians and Africans were 35 and 47% of the population in 1947, respectively (Harewood 1975; Ryan 1972). Of Gabon's present-day 52 ethnic groups, the Fang were the largest proportion of the population (about one third) (Jean-Baptiste 2014).

6.

A two-party system emerged in both countries in the post-war 1946–1962 period: the People's National Movement (PNM)—a middle-class nationalist party led by Eric Williams, with the unions' support, became the first government of independent T&T (Bolland 2001:457–461), and the Comité mixte gabonaise (CMG) party led by Leon Mba formed the first government of Gabon (Yates 1996:103–105).

7.

See Palmer (2006) for details.

8.

9.

By the mid-1980s, both Gabon and T&T succumbed to severe debt crises and underwent IMF-imposed structural adjustment. See Yates (1996) and Keily (1996) for details of each government's response to the subsequent public discontent, protests, and even attempted coup d'états.
References
Abraham S. Labor and the multiracial project in the Caribbean. Plymouth: Lexington Books; 2007.

Acemoglu D, Johnson S, Robinson JA. An African success story: Botswana. In: Rodrik D, editor. In search of prosperity: analytical narratives on economic growth. Princeton: Princeton University Press; 2003. p. 80–119.

Acemoglu D, Simon J, Robinson JA. Reversal of fortune: geography and institutions in the making of the modern world income distribution. Q J Econ. 2002;17(4):1231–94.

Acemoglu D, Simon J, Robinson JA. The colonial origins of comparative development: an empirical investigation. Am Econ Rev. 2001;91(5):1369–401.

Alam MS. Colonialism, decolonisation and growth rates: theory and empirical evidence. Camb J Econ. 1994;18:235–57.

Auty RM. Sustaining development in mineral economies: the resource curse thesis. London: Routledge; 1993.

Auty RM, Gelb A. Oil windfalls in a small parliamentary democracy: their impact on Trinidad and Tobago. World Dev. 1986;14(9):1161–75.

Barnes JF. Gabon: beyond the colonial legacy. Boulder: Westview Press; 1992.

Bergquist CW. Labor in Latin America: comparative essays on Chile, Argentina, Venezuela, and Colombia. Stanford: Stanford University Press; 1986.

Bernault F. Démocraties ambiguës en Afrique centrale: Congo-Brazzaville, Gabon, 1940–1965. Paris: Karthala; 1996.

Bolland ON. The politics of labor in the British Caribbean. Kingston: Ian Randle Publishers; 2001.

Bolland ON. On the march: labor rebellions in the British Caribbean, 1934–39. Kingston: Ian Randle Publishers; 1995.

Brereton B. Race relations in colonial Trinidad. Cambridge: Cambridge University Press; 1979.

Brollo F, Nannicini T, Perotti R, Tabellini G. The political resource curse. Am Econ Rev. 2013;103(5):1759–96.

Chartock S. How movement strength matters: social movement strength and the implementation of ethnodevelopment policy in Ecuador and Peru. Stud Comp Int Dev. 2011;46(3):298–320.

Collier R, Collier D. Shaping the political arena: critical junctures, the labor movement, and regime dynamics in Latin America. Princeton University Press: Princeton; 1991.

Cooper F. Decolonization and African society: the labor question in French and British Africa. Cambridge: Cambridge University Press; 1996.

Coquery-Vidrovitch C. Le Congo au temps des grandes companies concessionaries 1898–1930. Paris: Mouton; 1972.

Clawson D. The next upsurge: labor and the new social movements. Ithaca: Cornell University Press; 2003.

Crowder M. Indirect rule: French and British style. J Int Afr Inst. 1964;34(4):197–205.

Delacroix J. The distributive state in the world system. Stud Comp Int Dev. 1980;15(3):3–21.

Esping-Andersen G. Power and distributional regimes. Polit Soc. 1985;14(2):223–56.

Evans P. Embedded autonomy: states and industrial transformation. Princeton University Press: Princeton; 1995.

Evans P. Predatory developmental, and other apparatuses: a comparative political economy perspective on the Third World state. Soc Forum. 1989;4(4):561–587.

Farrell TW. The underachieving society: development strategy and policy in Trinidad and Tobago, 1958–2008. Kingston: University of the West Indies; 2012.

Freedom House. Freedom in the world. 2014. Can be accessed at: http://www.freedomhouse.org/report/freedom-world/freedom-world-2014#.U0tOWeZdX-Y. Accessed 15 Sep 2015.

Gamson WA. The strategy of social protest. Homewood: Dorsey Press;1975.

Government of Gabon (GOG). Economie et plan de développment: Republique Gabonaise. Paris: Minist. de la Coop; 1963.

GOG. Premier plan de développement economique et social de la République Gabonaise. Libreville: Ministère de l'Economie Nationale; 1966.

GOG. Deuxième plan de developpement économique et social 1971–1975. Libreville: Ministére du Plan; 1971.

GOG. 25 ans d'économie gabonaise 1960/1985. Ministère de l'Économie, des Finances et des Participations. Libreville: République Gabonaise; 1986.

Government of T&T (GOTT). Trinidad and Tobago five-year development plan. Port of Spain: Government Printing Office; 1958.

GOTT. Third five-year plan 1969–1973. Port of Spain: Government Printery; 1970a.

GOTT. Ministry of Petroleum and Mines annual report for the year 1970 and 1974. Port of Spain: Government Printery; 1970b. 1974

GOTT. Budget speech. Port of Spain: Government Printery; 1973. 1971

GOTT. Accounting for petrodollar. Port of Spain: Government Printery; 1984. 1980

GOTT. White paper on natural gas. Port of Spain: Government Printery; 1981.

Gray CJ. Colonial rule and crisis in equatorial Africa: Southern Gabon, c. 1850–1940. Rochester: University Rochester Press; 2002.

Gray CJ, Ngolet F. Lambaréné, okoumé and the transformation of labor along the Middle Ogooué (Gabon), 1870–1945. J Afr Hist. 1999;40(1):87–107.

Heller P. The labor of development: workers and the transformation of capitalism in Kerala, India. Ithaca: Cornell University Press; 1999.

Heston A, Summers R, Aten B. Penn World Table version 7.1. 2012. Can be accessed at: http://www.rug.nl/ggdc/productivity/pwt/pwt-releases/pwt-7.1. Accessed 14 Sep 2016.

Hosein R, Tewarie B. Dutch disease and deja vu: policy advice for the Trinidad and Tobago Economy in the wake of a second oil boom. West Ind J Eng 2004;26(2):1–21

Huber E, Stephens JD. Development and crisis of the welfare state: parties and policies in global markets. Chicago: University of Chicago Press; 2001.

ILO. Year book of labor statistics. Geneva: ILO; 1970. 1973

Isham J, Woolcock M, Pritchett L, Busby G. The varieties of resource experience. World Bank Econ Rev. 2005;19(2):141–74.

Jacobs R. Butler versus the King: riots and sedition in 1937. Port of Spain: Key Caribbean Publications; 1976.

Jacobs R. The politics of protest in Trinidad: the strikes and disturbances of 1937. Caribb Stud. 1977;17(1/2):5–54.

Jean-Baptiste R. Conjugal rights: marriage, sexuality, and urban life in colonial Libreville, Gabon. Athens: Ohio University Press; 2014.

Johnson H. Oil, imperial policy and the Trinidad disturbances, 1937. J Imp Commonw Hist. 1975;4(1):29–54.

Jung M. Interracialism: the ideological transformation of Hawaii's working class. Am Sociol Rev. 2003;68(3):373–400.

Kale SS, Mazaheri N. Natural Resources, development strategies, and lower caste empowerment in India's mineral belt: Bihar and Odisha during the 1990s. Stud Comp Int Dev. 2014;49(3):343–69.

Karl TL. The paradox of plenty: oil booms and petro-states. Berkeley: University of California Press; 1997.

Kiely R. The politics of labor and development in Trinidad. Kingston: Press University of the West Indies; 1996.

Kimeldorf H. Reds or rackets? the making of radical and conservative unions on the waterfront. Berkeley: Univ. Calif. Press;1989.

Kohli A. State-directed development: political power and industrialization in the global periphery. New York: Cambridge University Press; 2004.

Korpi W. The democratic class struggle. London: Routledge & Keagan Paul; 1983.

Kurtz MJ. The social foundations of institutional order: reconsidering war and the 'resource curse' in Third World state building. Polit Soc. 2009;37(4):479–520.

Leite C, Weidmann J. Does mother nature corrupt? Natural resources, corruption and economic growth. In: Abed G, Gupta S, editors. Governance, corruption, and economic performance. Washington DC: International Monetary Fund; 2002. p. 156–69.

Lieberman MB. Postentry investment and market structure in the chemical processing industries. RAND J Econ. 1987:533–49.

Lange M. Lineages of despotism and development: British colonialism and state power. Chicago: University Of Chicago Press; 2009.

Lee CS. Labor unions and good governance: a cross-national, comparative analysis. Am Sociol Rev. 2007;72(4):585–609.

Lopez SH. Reorganizing the rust belt. Berkeley: University of California Press; 2004.

MacDonald SB. T&T: democracy and development in the Caribbean. New York: Praeger; 1986.

Mahdavy H. The patterns and problems of economic development in rentier states: the case of Iran. In: Cook MA, editor. Studies in the economic history of the Middle East. London: Oxford University Press; 1970. p. 428–67.

Mahoney J. Colonialism and postcolonial development: Spanish America in comparative perspective. New York: Cambridge University Press; 2010.

Mahoney J. Path-dependent explanations of regime change: Central America in comparative perspective. Stud Comp Int Dev. 2001;36(1):111–41.

Mamdani M. Citizen and subject: contemporary Africa and the legacy of late colonialism. Princeton University Press: Princeton; 1996.

McAdam D, McCarthy JD, Zald M. Comparative perspectives on social movements. Cambridge: Cambridge University Press; 1996.

McAdam D, Tarrow S, Tilly C. Dynamics of contention. New York: Cambridge University Press; 2001.

McGuire G. Crisis and aftermath: an assessment of petroleum policy in Trinidad and Tobago 1973–1980. St. Augustine: University of the West Indies; 1981.

McNamara FT. France in black Africa. Washington, DC: National Defense University Press; 1989.

Melucci A. A strange kind of newness: what's new in new social movements? In: Larana E, Johnston H, Gusfield J, editors. New social movements: from ideology to identity. Philadelphia: Temple University Press; 1994. p. 101–30.

Migdal JS. Strong societies and weak states: state-society relations and state capabilities in the Third World. Princeton University Press: Princeton; 1988.

Ottley CR. A historical account of the Trinidad and Tobago police force from the earliest times. Ottley: Trinidad; 1964.

Pacheco-de-Almeida G, Henderson J, Cool K. Resolving the commitment versus flexibility trade-off: the role of resource accumulation lags. Acad Manag J. 2008;51(3):517–36.

Paige JM. Coffee and power: revolution and the rise of democracy in Central America. Cambridge, MA: Harvard Univ. Press;1997.

Palmer CA. Eric Williams and the making of the modern Caribbean. Chapel Hill: University of North Carolina Press; 2006.

Piven FF, Cloward RA. Poor people's movements. New York: Vintage; 1977.

Reddock R. Women, labor and politics in Trinidad and Tobago: a history. London: Zed Books; 1994.

Reed MC. Gabon: a neo-colonial enclave of enduring French interest. J Mod Afr Stud. 1987;25(2):283–320.

Rich J. Hunger and consumer protest in colonial Africa during the First World War: the case of the Gabon Estuary, 1914–1920. Food Cult Soc. 2007;10(2):239–59.

Ross ML. Does oil hinder democracy. World Polit. 2001;53(3):325–61.

Rosser A. Escaping the resource curse: the case of Indonesia. J Contem Asia. 2007;37(1):38–58.

Rueschemeyer D, Evans P. The state and economic transformation: toward an analysis of the conditions underlying effective intervention. In: Evans P, Reuschemeyer D, Skocpol T, editors. Bringing the state back in. New York: Cambridge University Press; 1985. p. 44–77.

Rueschemeyer D, Stephens EH, Stephens JD. Capitalist development and democracy. Chicago: University of Chicago Press; 1992.

Ryan SD. Race and nationalism in Trinidad and Tobago. Toronto: University of Toronto Press; 1972.

Sachs JD, Warner AM. Natural resource abundance and economic growth. National Bureau of Economic Research Working Paper 5398; 1995.

Scipes K. Social movement unionism and the Kilusang Mayo Uno. Kasarinlan Third World Studies Center: University of the Philippines. 1992;7(2/3):121–162. Can be accessed at: http://journals.upd.edu.ph/index.php/kasarinlan/article/view/1393/pdf_38. Accessed 30 Jun 2016.

Seidman G. Manufacturing militance: workers' movements in Brazil and South Africa, 1970–1985. Berkeley: University of California Press; 1994.

Sen A. Development as freedom. New York: Knopf; 1999.

Smith B. The wrong kind of crisis: why oil booms and busts rarely lead to authoritarian breakdown. Stud Comp Int Dev. 2006;40(4):55–76.

Snow DA, Benford RD. Ideology, frame resonance, and participant mobilization. Int Soc Mov Res. 1988;1(1):197–217.

Tarrow S. Power in movement: social movements and contentious politics. New York: Cambridge University Press; 1998.

The People Newspaper. Port of Spain: The National Archive; 1948.

Thomas M. Violence and colonial order. New York: Cambridge University Press; 2012.

Thompson VM, Adloff R. The emerging states of French Equatorial Africa. Stanford: Stanford University Press; 1960.

Titus N. The amelioration and abolition of slavery in Trinidad, 1812–1834. Bloomington: AuthorHouse; 2009.

Touraine A, Pecaut D. Working-class consciousness and economic development in Latin America. Stud Comp Int Dev. 1967;3(4):71–84.

Trotman DV. Crime in Trinidad: conflict and control in a plantation society, 1838–1900. Knoxville: University of Tennessee Press; 1986.

United Nations Development Program (UNDP) Human Development Index and its components. 2016. Can be accessed at: https://data.undp.org/dataset/Table-1-Human-Development-Index-and-its-components/wxub-qc5k. Accessed 5 Mar 2016.

U.S. Energy Information Administration (USEIA). T&T. 2014. Can be accessed at: http://www.eia.gov/cfapps/ipdbproject/IEDIndex3.cfm. Accessed 14 Mar 2014.

Vu T. State formation and the origins of developmental states in South Korea and Indonesia. Stud Comp Int Dev. 2007;41(4):27–56.

World Bank. Main Report. Western Africa Series; no. AW 29. 1971. Can be accessed at: http://documents.worldbank.org/curated/en/1971/12/724473/gaboncurrent-economic-situation-prospects-vol-1-3. Accessed 1 Jan 2015.

World Bank. Gabon Country Economic Memorandum. 1985. Can be accessed at: http://documents.worldbank.org/curated/en/1985/07/741404/gaboncountry-economic-memorandum. Accessed 1 Jan 2015.

World Bank. Gabon: poverty in a rent-based economy volume 1: summary. 1997. Can be accessed at: http://documents.worldbank.org/curated/en/202791468030270779/Resume. Accessed 1 Jan 2015.

World Bank. World development indicators. 2014. Can be accessed at: http://data.worldbank.org/data-catalog/world-development-indicators. Accessed 1 Mar 2014.

Yates DA. The rentier state in Africa: oil rent dependency and neocolonialism in the Republic of Gabon. Trenton: Africa World Press; 1996.

Yebe GZ. Comprendre la crise de l'économie Gabonaise. Paris: L'Harmattan; 1993.
Acknowledgements
I would like to thank Michael Biggs, Kara Cebulko, Samuel Cohn, Orly Clerge, Cedric de Leon, Susan Eckstein, Julian Go, Kim Scipes, James Mahoney, Sigrun Olafsdottir, Eniola Anuoluwapo Soyemi, Trina Vithayathil, and the reviewers for their critical feedback and helpful comments on various drafts of the article.
Appendix
Appendix
This study also provokes other questions related to the emergence of a strong/weak working class movement in T&T/Gabon, respectively, and direction of causality. First, one may wonder why a strong working class with these particular features developed in T&T in the first place, and why labor was weak in Gabon. While this is beyond the purview of this particular paper, some of these contextual factors shaping working class strength, such as extent of labor repression and timing of the oil industry's emergence, have been discussed.
The possibility of reverse causality in this study is another important question. After all, Rueschemeyer et al.'s (1992) study of the emergence of democracy (not development) argues that capitalist development—marked by increases in wealth, urbanization, communication and transport, and literacy—increases working class power (which, in turn, brings about democracy). Along these dimensions of capitalist development, it is difficult to assert definitively that T&T or Gabon was "more developed" than the other: both had similar levels of wealth, Gabon was more urbanized, and T&T had higher literacy. In addition, as many have shown, highly capitalistic economies do not always produce development in the sense of enhancing human capabilities (Sen 1999). This study is able to decisively show that the state, in T&T for instance, explicitly cited working class mobilization as the impetus and rationale for developmental state reforms.
About this article
Cite this article
Edwards, Z. No Colonial Working Class, No Post-Colonial Development: a Comparative-Historical Analysis of Two Oil-Rich Countries. St Comp Int Dev 53, 477–499 (2018). https://doi.org/10.1007/s12116-017-9255-9
Keywords
Development

State capacity

Working class

Resource curse

Colonialism