Abstract
This paper revisits the turn of the millennium feminist debates on international labor standards in the aftermath of the Rana Plaza factory collapse of 2013 that killed over 1100 garment workers in Bangladesh. Feminists were divided over the benefits of establishing internationally enforced labor standards and, more generally, on the usefulness of transnational activism and union organizing for garment workers. The arguments of some feminist opponents during and in the aftermath of the debate emphasized the relative advantages of garment jobs, dismissed the importance of union rights, and criticized the labor transnationalism. These arguments have left unchallenged the current regulatory regime in Bangladesh by allaying concerns about poor working conditions. Drawing upon new empirical evidence, the paper shows that export growth under the market regulatory regime has failed to improve labor conditions in the sector. The paper makes the case for the continuing relevance of feminist arguments that favor a more proactive stance to make job growth compatible with wage gains and improved labor conditions. As they argued, the scope of the response has to be international, including solidaristic activism supporting local worker organizations, and the use of wage increases to move Bangladesh on a development path toward a higher-productivity, higher-wage economy.
Access options
Buy single article
Instant access to the full article PDF.
US$ 39.95
Tax calculation will be finalised during checkout.
Subscribe to journal
Immediate online access to all issues from 2019. Subscription will auto renew annually.
US$ 79
Tax calculation will be finalised during checkout.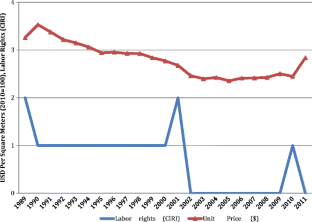 Notes
1.

The prediction was that greater competition among companies and countries will help wipe out discriminatory wages—those earned by men relative to women when both groups have the same set of skills (Bhagwati 2004).

2.

Sachs posits the working condition problems in the garment sector of Bangladesh as temporary, expecting that it too would follow the examples of the USA and Europe as it climbs the development ladder. However, improvement in wages and working conditions is neither automatic nor a guaranteed outcome of unregulated markets.

3.

4.

Kabeer and Mahmud report that in 2001, 72% of non-EPZ workers worked more than 10 h/day, while only 8% of other wageworkers (and 30% of EPZ workers) had such long working days.

5.

The focus group was part of a UNDP project. The meeting was held at night with 11 garment workers from the same neighborhood. The 3-h discussion in the single-room dwelling was facilitated by a female Bangladeshi university student, who served as a translator.

6.

These problems are endemic in garment sectors of many low-income countries.

7.

See Pun Ngai (2007) for how low wage rates create the incentive for workers to do overtime.

8.

I am grateful to Nilüfer Çağatay for raising this point.

9.

The living wage estimates are based on market research conducted by the WRC in the Dominican Republic in 2010. The study estimated the cost of a basket of goods typically consumed by a free-trade zone factory worker, who lives near the factory with an adult earner and supports two children in addition to herself. For details on the estimation methodology, see WRC (2013, pp. 13–16).

10.

BGMEA's goal of maintaining wages low was also clear when in July 2006, its representative expressed optimism to the author that Bangladesh will benefit from an expansion of low-wage jobs once China moves to higher-quality, higher-wage production (personal communication).

11.

As Kristof (2009) puts it, "the central challenge in the poorest countries is not that sweatshops exploit too many people, but that they don't exploit enough." For families who work "in the dump… a job in a sweatshop is a cherished dream, an escalator out of poverty."

12.

Author's calculations based on OTEXA, obtained by dividing the monetary value of imports by the import volume (in squared meters) and deflating by the US Consumer Price Index, downloaded from the World Bank's World Development Indicators.

13.

As of December 2015, among the top 20 apparel-exporting middle- and low-income countries, Sri Lanka had the lowest monthly minimum wage (66 USD), followed by Bangladesh (68 USD) (Cowgill et al. 2015). The lowest legal minimums in Bangladesh's main competitors were $155 in China, $100 in Vietnam, $128 in Cambodia, and $92 in Indonesia. After Sri Lanka raised its minimum wage in January 2016, Bangladesh once again has the lowest minimum wage (Emerging Textiles 2016).

14.

The top 20 countries accounted for between 83 and 95% of US apparel imports between 1989 and 2010.

15.

The CIRI Human Rights dataset is available for the 1981–2011 period, while the unit price data for US garment imports by country are available since 1989.

16.

The monthly legal minimum wage in Bangladesh rose from 930 Tk = 16 USD in 1994 to 1662 Tk = 24 USD in 2006 and from 3000 Tk = 43 USD in 2010 to 5300 Tk = 68 USD in 2013.

17.

Among 15 major apparel exporters to the USA, Bangladesh had the lowest monthly real wages in both 2001 and 2011 and the lowest prevailing wage as percentage of living wage in both years.

18.

Gender gap in noncompliance with minimum wage is widespread in other Asian garment producer countries (Cowgill and Huynh 2016). The largest gender gap (60.5 percentage points) was for Pakistan, where 87% of women and 26.5% of men were paid below the minimum wage, and Cambodia had the smallest gap of 4.4 percentage points. The sample size for Bangladesh was too small for Cowgill and Huynh (2016) to report the noncompliance information.
References
Accord on Fire and Building Safety in Bangladesh. 2016. http://bangladeshaccord.org/bangladesh/. Accessed October 8, 2016.

ActionAid. Diversify and conquer: transforming Bangladesh into an industrialized country, December 2015 https://www.actionaid.org.uk/sites/default/files/publications/diversify-and-conquer-transforming-bangladesh-into-an-industrialised-country.pdf.

Ahmed FZ, Greenleaf A, Sacks A. The paradox of export growth in areas of weak governance: the case of the ready made garment sector in Bangladesh. World Dev. 2014;56:258–71.

Alam SM, Natsuda K. The competitive factors of the Bangladeshi garment industry in the post-MFA era. Canadian Journal of Development Studies. 2016;37(3):316–36.

Anner M. Labor control regimes and worker resistance in global supply chains. Labor History. 2015;56(3):292–307.

Anner M, Bair J, Blasi J. Toward joint liability in global supply chains: addressing the root causes of labor violations in international subcontracting networks. Comparative Labor Law and Policy Journal. 2013;35(1):1–43.

Asia Floor Wage Alliance. 2015. Calculating a living wage. http://asia.floorwage.org/calculating-a-living-wage. Accessed October 12, 2016.

Ballinger J. The threat posed by 'corporate social responsibility' to trade union rights. In: Macdonald K, Marshall S, editors. Fair trade, corporate accountability and beyond: experiments in globalizing justice. Burlington: Ashgate; 2013. p. 223–44.

Bangladesh Garment Manufacturers and Exporters Association (BGMEA). Trade information. 2015. http://www.bgmea.com.bd/home/pages/TradeInformation#.VdS38DBViko. Accessed August 1, 2015.

Bangladesh Knitwear Manufacturers & Exporters Association (BKMEA). Dynamics of Bangladesh knitwear sector: contribution on socio-economic development. 2015. http://www.bkmea.com/contribution-knitwear.html. Accessed August 1, 2015

Barrientos S. Globalization and ethical trade: assessing the implications for development. J Int Dev. 2000;12:559–70.

Barry C, Reddy SG. International trade and labor standards: a proposal for linkage. New York: Columbia University Press; 2008.

Berik G, van der Meulen Rodgers Y. Options for enforcing labor standards: lessons from Bangladesh and Cambodia. J Int Dev. 2010;22(1):56–85.

Bhagwati J. In defense of globalization. New York: Oxford University Press; 2004.

Brooks E. Unraveling the garment industry: transnational organizing and women's work. University of Minnesota Press; 2007.

Çağatay N. Gender and international labor standards. Review of Radical Political Economics. 1996;28(3):92–101.

Cingranelli DL, Richards DL. CIRI (Cingranelli and Richards human rights dataset). 2014; http://www.humanrightsdata.com/. Accessed October 15, 2014.

Clean Clothes Campaign, SOMO. Fatal fashion: analysis of recent factory fires in Pakistan and Bangladesh: a call to protect and respect garment workers' lives. 2013; http://somo.nl/publications-en/Publication_3943.

Cowgill M, Huynh P. Weak minimum wage compliance in Asia's garment industry, Asia-Pacific garment and footwear sector research note, Issue 5, August, Bangkok, ILO 2016.

Cowgill M, Luebke M, Xia C. Minimum wages in the global garment industry: update for 2015. December, Bangkok: ILO; 2015.

Domínguez E, Icaza R, Quintero C, Lopez S, Stenman A. Women workers in the maquiladoras and the debate on global labor standards. Fem Econ. 2010;16(4):185–209.

Eisenstein H. Feminism seduced: how global elites use women's labor and ideas to exploit the world. Boulder: Paradigm; 2009.

Elliott KA, Freeman RB. Can labor standards improve under globalization? Washington D.C: Institute for International Economics; 2003.

Emerging Textiles. Minimum wages in apparel manufacturing countries, statistical report, September 29. 2016. http://emergingtextiles.com/?method=loginOK&p=&q=art&r=headlines&s=160929-emerging-countries-minimum-wages&t=.

Evans A. Patriarchal unions=weak unions? industrial relations in Asian garment industry. Third World Quarterly (2017) doi:10.1080/01436597.2017.1294981.

Fussell E. Making labor more flexible: the recomposition of Tijuana's maquiladora female labor force. Fem Econ. 2000;6(3):59–80.

Gunawardana S. Struggle, perseverance and organization in Sri Lanka's export processing zones. In: Bronfenbrenner K, editor. Global unions: challenging transnational capital through cross-border campaigns. Ithaca: Cornell University Press; 2007. p. 78–98.

Hale A. The deregulated global economy: women workers and strategies of resistance. Gend Dev. 1996;4(3):8–15.

Hossain N. Exports, equity, and empowerment: the effects of ready-made garments manufacturing employment on gender equality in Bangladesh. Background paper for World Development Report 2012, World Bank; 2011.

Hossain H, Jahan R, Sobhan S. Industrialization and women workers in Bangladesh: from home-based work to the factories. In: Heyzer N, editor. Daughters in industry: work, skills and consciousness of women workers in Asia. Kuala Lumpur: Asian and Pacific Development Centre; 1988. p. 107–35.

Human Rights Watch (HRW). Whoever raises their head suffers the most: 'workers' rights in Bangladesh's garment factories. 2015. https://www.hrw.org/report/2015/04/22/whoever-raises-their-head-suffers-most/workers-rights-bangladeshs-garment. Accessed April 20, 2015.

International Labor Rights Forum (ILRF). Our voices, our safety: Bangladeshi garment workers speak out. 2015. http://ilrf.org/publications/our-voices-our-safety-bangladeshi-garment-workers-speak-out. Accessed December 20, 2015.

International Labor Rights Forum, Clean Clothes Campaign, Maquila Solidarity Network, Worker Rights Consortium. Dangerous delays on worker safety. November. 2016. https://cleanclothes.org/resources/publications/dangerous-delays-on-worker-safety.

International Trade Union Confederation (ITUC). New Bangladesh law fails again to protect workers' rights, July 20. 2013. http://www.ituc-csi.org/new-bangladesh-law-fails-again-to. Accessed May 15, 2015.

Kabeer N. Globalization, labor standards, and women's rights: dilemmas of collective (in)action in an interdependent world. Fem Econ. 2004;10(1):3–35.

Kabeer N, Mahmud S. Globalization, gender and poverty: Bangladeshi women workers in export and local markets. J Int Dev. 2004;16(1):93–109.

Khan M R I, Wichterich C. Safety and labour conditions: the accord and the national tripartite plan of action for the garment industry of Bangladesh. ILO and GLU Geneva: ILO; 2015.

Khatun F, Rahman M, Bhattacharya D, Moazzem KG. Gender and trade liberalization in Bangladesh: the case of the ready-made garments. Centre for Policy Dialogue: Dhaka; 2008.

Kibria N. Culture, social class, and income control in the lives of garment workers in Bangladesh. Gend Soc. 1995;9(3):289–309.

Kristof N. Where sweatshops are a dream. New York Times, Op Ed. January 14, 2009.

Lim L. Women's work in export factories: the politics of a cause. In: Tinker I, editor. Persistent inequalities: women and world development. New York: Oxford University Press; 1990. p. 101–19.

Locke RM. The promise and limits of private power: promoting labor standards in a global economy. Cambridge: Cambridge University Press; 2013.

McKinsey & Company. Bangladesh's ready-made garments landscape: the challenge of growth. 2011. https://www.mckinsey.de/sites/mck_files/files/2011_McKinsey_Bangladesh.pdf. Accessed December 1, 2015.

Ngai P. Gendering the dormitory labor system: production, reproduction, and migrant labor in South China. Fem Econ. 2007;13(3–4):239–58.

Nolan Garcia KA. Transnational advocates and labor rights enforcement in the North American Free Trade Agreement. Latin American Politics and Society. 2011;53(2):29–60.

Office of Textiles and Apparel (OTEXA). U.S. imports of textiles and apparel. 2015. http://otexa.trade.gov/scripts/tqads2.exe. Accessed May 10, 2015.

Otobe N. The impact of globalization and macroeconomic change on employment in Mauritius: what next in the post-MFA era? No. 9. Geneva: Employment Policy Department; 2008.

Palley T. The economic case for international labour standards. Camb J Econ. 2004;28:21–36.

Paul-Majumder P, Begum A. Engendering garment industry: Bangladesh context. Dhaka: The University Press Limited; 2006.

Rahman Z, Langford T. Why labour unions have failed Bangladesh's garment workers. In: Mosoetsa S, Williams M, editors. Labour in the global south: challenges and alternatives for workers. Geneva: International Labour Office (ILO); 2012. p. 87–106.

Razavi S. Export-oriented employment, poverty and gender: contested accounts. Dev Chang. 1999;30(3):653–83.

Sachs J. The end of poverty: economic possibilities for our time. New York: Penguin; 2005.

Seguino S. Taking gender differences in bargaining power seriously: equity, labor standards, and living wages. In: Barker D, Kuiper E, editors. Feminist economics and the World Bank: history, theory and policy. Abingdon: Routledge; 2006. p. 94–116.

Siddiqi DM. Do Bangladeshi factory workers need saving? sisterhood in the post-sweatshop era. Fem Rev. 2009;91:154–74.

Singh A, Zammit A. Globalisation, labour standards and economic development. In: Michie J,editor. The handbook of globalisation. Cheltenham, UK; Northampton, MA: Edward Elgar; 2003. p. 191-215.

SweatFree Communities. Enemies of the nation or human rights defenders? fighting poverty wages in Bangladesh, International Labor Rights Forum. 2010. http://ilrf.org/sites/default/files/publications-and-resources/enemiesofthenation.pdf. Accessed December 20, 2015.

Wills J, Hale A. Threads of labour in the global garment industry. In: Hale A, Wills J, editors. Threads of labour: garment industry supply chains from the workers' perspective. Malden: Blackwell; 2005. p. 1–15.

Worker Rights Consortium (WRC). Global wage trends for apparel workers, 2001-2011. 2013. https://www.americanprogress.org/issues/labor/report/2013/07/11/69255/global-wage-trends-for-apparel-workers-2001-2011/. Accessed May 20, 2015.

World Bank. 2011. World Development Report 2012. Washington DC.

Zohir SC. Social impact of the growth of garment industry in Bangladesh. Bangladesh Development Studies. 2001;27(4):41–80.
Acknowledgments
I am grateful to Erin Beck, Alice Evans, Jane Jacquette, and the two anonymous reviewers for their useful comments. I thank Erin Beck for her unwavering encouragement. Any remaining errors or shortcomings are mine.
About this article
Cite this article
Berik, G. Revisiting the Feminist Debates on International Labor Standards in the Aftermath of Rana Plaza. St Comp Int Dev 52, 193–216 (2017). https://doi.org/10.1007/s12116-017-9246-x
Keywords
International labor standards

Women's work

Export manufacturing

Bangladesh