Abstract
Recent years have seen African militaries attempt coups in virtually every geographic region, from Egypt to Lesotho and Guinea to Madagascar. They have targeted established democracies, infantile democratic experiments, increasingly authoritarian executives, power vacuums brought on by leader death, and—most recently in Burundi—leaders attempting to circumvent constitutional limitations on their tenure. These continuing acts perpetrated against regimes with such varied backdrops suggests that coups still afflict a wide range of states and remain a continuing threat to leader tenure. This is in contrast to the African Union's emphasis on curbing the practice. This paper explores the African Union's effectiveness to combat military coups, primarily focusing on the potential for sanctions to act as a deterrent to would-be coup plotters. The paper also considers potential limitations on the African Union's (AU's) ability to project power against certain states. Analyses for the years 1950–2014 indicate Africa has in fact witnessed a meaningful decline in coup activity, an impact even more pronounced than the end of the Cold War. Results also indicate that the AU's effectiveness in deterring coups is not constrained in cases where they are expected to lack leverage.
Access options
Buy single article
Instant access to the full article PDF.
US$ 39.95
Tax calculation will be finalised during checkout.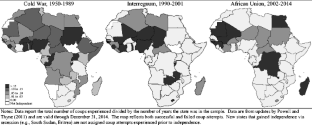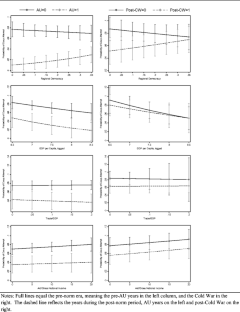 Notes
1.

France has been known to intervene to help prevent a coup or attempt reversal. However, these efforts were linked more to personal arrangements with the leader rather than a clear condemnation of anti-regime activity. Further, while French intervention has succeeded in some cases, such as in 1963 Gabon, implementation of such responses is historically inconsistent, as seen with inaction in 1974 Niger (see, for example, Higgot and Fuglestad 1975).

2.

Another criticism of Pape's is that economic sanctions rarely succeed in the absence of an accompanying threat or use of force. While we focus primarily on economic sanctions and believe Pape's concern is overstated, we consider both economic and military coercion to be mutual parts of an IO's anti-coup arsenal. Consequently, Pape's economic versus military sanction distinction is not problematic for our argument.

3.

The principles of the Lomé Declaration were reiterated in the Protocol Relating to the Establishment of the Peace and Security Council of the African Union, passed in 2003 and implemented in 2006. While it is not knowable if the Lomé Declaration could have successfully worked within the OAU apparatus to bring about changes in coup activity, it was one of the first clear signs that the regional organization was serious about curbing the practice.

4.

We also consider the sum of democracies within 1000 km, extend the range to 5000 km, all of Africa, and in line with prior efforts to assess the role of the global democratic community, the global proportion of democracies (e.g., Kadera et al. 2003). Substantive results for the variable do not change.

5.

Predicted probabilities are computed using Clarify (Tomz, Wittenberg, and King 2003).
References
Acemoglu A, Robinson J. A theory of political transitions. American Economic Review 2001;91(4):938–63.

Allen S. Political institutions and constrained response to economic sanctions. Foreign Policy Anal. 2008;4(3):255–74.

Bapat N, Morgan TC. Multilateral versus unilateral sanctions reconsidered: a test using new data. Int Stud Q. 2009;53(4):1075–94.

Bapat N, Heinrich T, Kobayashi Y, Morgan TC. Determinants of sanctions effectiveness: sensitivity analysis using new data. Int Interactions. 2013;39(1):79–98.

Barbieri K, Keshk O, Pollins B. Trading data: evaluating our assumptions and coding rules. Conflict Manage Peace Sci. 2009;26(5):471–91.

Barbieri K, Keshk O. Correlates of War Project Trade Data Set Codebook, Version 3.0. Online: http://correlatesofwar.org. 2012.

Boniface DS. Is there a democratic norm in the Americas? An analysis of the Organization of American States. Glob Gov. 2002;8(3):368–81.

Brambor T, Clark W, Golder M. Understanding interaction models: improving empirical analyses. Polit Anal. 2006;14(1):63–82.

Brambor T, Clark W, Golder M. Are African party systems different? Elect Stud. 2007;26(2):315–23.

Brinks D, Coppedge M. Diffusion is no illusion: neighbor emulation in the third wave of democracy. Comp Pol Stud. 2006;39(4):463–89.

Brooke J. A few potholes on the road to democracy. New York Times. 7 January 1995.

Buhaug H. Relative capability and rebel objective in civil war. J Peace Res. 2006;43(6):691–708.

Carothers T. The end of the transition paradigm. J Democr. 2002;13(1):5–21.

Carter D, Signorino C. Back to the future: modeling time dependence in binary data. Polit Anal. 2010;18(3):271–92.

Cheibub JA, Gandhi J, Vreeland JR. Democracy and dictatorship revisited. Publ Choice. 2010;143(1):67–101.

Clark JF. The decline of the African military coup. J Democr. 2007;18(3):141–55.

Collier P. The bottom billion: why the poorest countries are failing and what can be done about it. Oxford: Oxford University Press; 2007.

David S. Third World Coups d'état and International Security. Baltimore: Johns Hopkins University Press; 1987.

Decalo S. Coups and army rule in Africa: motivations and constraints. 2nd ed. New Haven: Yale University Press; 1990.

Doxey M. Economic sanctions and international enforcement. New York: Oxford University Press; 1980.

Drezner DW. Bargaining, enforcement, and multilateral economic sanctions. Int Organ. 2000;54(1):73–102.

Drezner DW. The hidden hand of economic coercion. Int Organ. 2003;57(3):643–59.

First R. The barrel of a gun: political power in Africa and the coup d'état. London: Penguin Press; 1970.

Galetovic A, Sanhueza R. Citizens, autocrats, and plotters: a new model and evidence on coups. Econ Polit. 2000;12(2):183–204.

Gleditsch K. Expanded trade and GDP data. J Confl Resolut. 2002;46(5):712–24.

Gleditsch K, Ward M. Diffusion and the international context of democratization. Int Organ. 2006;60(4):911–33.

Hakim P. Good news from Paraguay: a coup d'état falls flat. Christian Science Monitor. 30 May 1996.

Higgot R, Fuglestad F. The 1974 coup d'etat in Niger: towards an explanation. J Mod Afr Stud. 1975;13(3):383–98.

Jing C, Kaempfer W, Lowenberg A. Instrument choice and the effectiveness of international sanctions. J Peace Res. 2003;40(5):519–35.

Kadera K, Crescenzi M, Shannon M. Democratic survival, peace, and war in the international system. Am J Polit Sci. 2003;47(2):234–47.

Karns M, Mingst K. International organizations: the politics and processes of global governance. Lynne Rienner: Boulder; 2004.

Krustev V. Strategic demands, credible threats, and economic coercion outcomes. Int Stud Q. 2010;54(1):147–74.

Lam SL. Economic sanctions and the success of foreign policy goals: a critical evaluation. Japan World Econ. 1990;2(3):239–48.

Lebow R, Gross-Stein J. Deterrence: the elusive dependent variable. World Politics. 1990;42(3):336–69.

Leon G. Loyalty for sale? Military spending and coups d'état. Public Choice. 2014;159(3–4):363–83.

Levitsky S, Way L. Linkage versus leverage: rethinking the international dimension of regime change. Comparative Politics. 2006;38(4):379–400.

Levitsky S, Way L. Competitive authoritarianism: hybrid regimes after the Cold War. Cambridge: Cambridge University Press; 2010.

Li R, Thompson W. The Coup Contagion Hypothesis. J Confl Resolut. 1975;19(1):63–88.

Lindberg S, Clark J. Does democratization reduce the risk of military interventions in politics in Africa? Democratization. 2008;15(1):86–105.

Londregan J, Poole K. Poverty, the coup trap, and the seizure of executive power. World Politics. 1990;42(2):151–83.

Mansfield E, Pevehouse J. Democratization and international organizations. Int Organ. 2006;60(1):137–67.

Marinov N. Do economic sanctions destabilize country leaders? Am J Polit Sci. 2005;49(3):564–76.

Marinov N, Goemans H. Coups and democracy. Br J Polit Sci. 2014;40(4):799–825.

McLean E, Whang T. Friends or foes? Major trading partners and the success of economic sanctions. Int Stud Q. 2010;54(2):427–47.

Meldrume, A. Coups no longer acceptable: OAU. Africa Recovery 1997;11(1). http://www.un.org/en/africarenewal/subjindx/111gov.htm

Miers A, Morgan TC. Multilateral sanctions and foreign policy success: can too many cooks spoil the broth? Int Interactions. 2002;28(2):117–36.

Morgan TC, Schwebach V. Fools suffer gladly: the use of economic sanctions in international crises. Int Stud Q. 1997;41(1):27–50.

Morgan TC, Bapat N, Krustev V. The threat and imposition of economic sanctions, 1971–2000. Conflict Manage Peace Sci. 2009;26(1):92–110.

Nooruddin I. Modeling selection bias in studies of sanctions efficacy. Int Interactions. 2002;28(1):59–75.

Omorogbe EY. A club of incumbents? The African Union and coups d'état. Vanderbilt J Transnational Law. 2011;44:123–54.

Pape R. Why economic sanctions do not work. Int Secur. 1997;22(2):90–136.

Pevehouse J. With a little help from my friends? Regional organizations and the consolidation of democracy. Am J Polit Sci. 2002;46(3):611–26.

Piccone T. International mechanisms for protecting democracy. Washington, DC: Democracy Coalition Project; 2004.

Powell J. Determinants of the attempting and outcome of coups d'état. J Confl Resolut. 2012;56(6):1017–40.

Powell J. An assessment of the 'Democratic' Coup Theory: democratic trajectories in Africa, 1950–2012. Afr Secur Rev. 2014;23(3):329–38.

Powell J, Thyne C. Global instances of coups from 1950 to 2010: a new dataset. J Peace Res. 2011;48(2):249–59.

Ravenhill J. Regionalism. In: Ravenhill J, editor. Global political economy. Oxford: Oxford University Press; 2005. p. 116–47.

Shannon M, Thyne C, Dugan A, Hayden S. The international community's reactions to coups. Forthcoming: Foreign Policy Analysis; 2015.

Singer D. Reconstructing the correlates of war dataset on material capabilities of states, 1816–1985. Int Interactions. 1987;14(2):115–32.

SIPRI. Stockholm International Peace Research Institute. 2014.

Souaré I. The African Union as a norm entrepreneur on military coups d'état in Africa (1952–2012): an empirical assessment. J Modern Afr Stud. 2014;52(1):69–94.

Thyne C. Supporter of stability or agent of agitation? The effect of US foreign policy on coups in Latin America, 1960–1999. J Peace Res. 2010;47(4):1–13.

Thyne C, Powell J, Hayden S, VanMeter E. The influence of post-coup signals on regime survival. Manuscript. 2016.

Tomz M, Wittenberg J, King G. CLARIFY: software for interpreting and presenting statistical results. Version 2.1." Stanford University, University of Wisconsin, and Harvard University; 2003.

Valenzuela A. Paraguay: the coup that didn't happen. J Democr. 1997;8(1):43–55.

Wobig J. Defending democracy with international law: preventing coup attempts with democracy clauses. Forthcoming: Democratization; 2014.

World Bank. World development indicators. Available: www.worldbank.org 2014.

Wright J. How foreign aid can foster democratization in authoritarian regimes. Am J Polit Sci. 2009;53(3):552–71.
About this article
Cite this article
Powell, J., Lasley, T. & Schiel, R. Combating Coups d'état in Africa, 1950–2014. St Comp Int Dev 51, 482–502 (2016). https://doi.org/10.1007/s12116-015-9210-6
Keywords
Africa

Coups

African Union

Regional Organizations

Leverage