Abstract
Urban bias in government policy is a common phenomenon in many developing countries. Bates (1981) has famously argued that the wish to industrialize, paired with the political clout of urban residents, results in distinctly anti-rural policies. Empirically, however, the strength of urban bias varies substantially across countries and over time. This paper explains this variation by developing an argument about a countervailing force to urban bias: the threat of a rural insurgency. The direction of urban and rural bias is a function of the political threat that geographically distinct groups pose to the survival of the central government. When the rural periphery lacks collective action capacity, urban bias emerges, but if there exists a credible threat of rural violence, urban bias is diminished. I test this proposition and competing explanations using data on net taxation in the agricultural sector, covering up to 55 low- and middle-income countries from 1955 to 2007. The results show a strong relationship between past territorial conflict (which proxies for credible rural threats) and lower levels of urban bias in the developing world. The findings are robust to alternative model specifications, measures, and sensitivity analyses.
This is a preview of subscription content, log in to check access.
Access options
Buy single article
Instant access to the full article PDF.
US$ 39.95
Price includes VAT for USA
Subscribe to journal
Immediate online access to all issues from 2019. Subscription will auto renew annually.
US$ 99
This is the net price. Taxes to be calculated in checkout.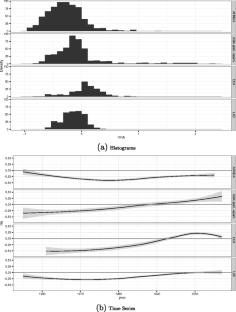 Notes
1.

Later work by Arthur Lewis recognized the importance of increasing agricultural productivity (Lewis 1978).

2.

In many high-income countries, support for the agricultural sector is also believed to emerge through the collective action potential of the shrunken farm sector (Swinnen 2010), but it is worth considering other threats to incumbent interests in the context of developing countries.

3.

See Jones and Corbridge (2010) for a useful summary of the overall debate.

4.

5.

It is formally defined as R R A = 100[(1 + N R A a g/100)/(1 + N R A n o n a g/100) − 1]. NRAag is the NRA to agricultural production, and NRAnonag is assistance to non-agricultural production (NRAnonag).

6.

Overall, high-income countries have the highest rates of rural support on this measure.

7.

It is unreasonable to think that a rural threat diminishes linearly over time.

8.

Measured in thousands of US dollars.

9.

See, for example, Krugman (Krugman 1991).

10.

A large industrial sector in terms of value added does not necessarily imply the same degree of collective action problems as in the agricultural sector, since the owners of capital are generally a smaller share of the population.
References
Acemoglu D, Ticchi D, Vindigni A. 2009. Persistence of civil wars. Working Paper.

Ades A, Glaeser EL. Trade and circuses: explaining urban giants. Q J Econ 1995;110(1):195–227.

Anderson K, (ed). 2009. Distortions to agricultural incentives. A global perspective, 1955-2007. World Bank.

Anderson K, (ed). 2010. The political economy of agricultural price distortions. Cambridge University Press.

Anderson K Masters, WA, (ed). 2009. Distortions to agricultural incentives in africa. World Bank.

Angrist, JD, Imbens G. Identification and estimation of local average treatment effects. Econometrica 1994;62(2):467–75.

Arezki R, Brückner M. 2011. Food prices and political instability. IMF Working Paper.

Baker A. Why is trade reform so popular in Latin America. World Polit 2003;55(3):423–55.

Basedau M, Lay J. Resource curse or rentier peace? The ambiguous effect of oil wealth and oil dependence on violent conflict. J Peace Res 2009;46(6):757–776.

Bates R. Urban Bias: A Fresh Look. In: Varshney A, editor. Beyond urban bias; 1993. Frank Cass.

Bates RH. Markets and states in tropical africa. The political basis of agricultural policies: University of California Press; 1981.

Bates RH, Block SA. Revisiting African agriculture: institutional change and productivity growth. J Polit 2013;75(2):372–384.

Bellemare MF. 2011. Rising food prices, food price volatility, and political unrest. Working Paper.

Bellows J, Miguel E. War and local collective action in Sierra Leone. J Public Econ 2009;93(11-12):1144–1157.

Bezemer D, Headey D. Agriculture, development and urban bias. World Dev 2008;36(8):1342–1364.

Binswanger HP, Deininger K. Explaining agricultural and agrarian policies in developing countries. J Econ Lit 1997;35(4):1958–2005.

Binswanger H. The policy response of agriculture. Proceedings of the World Bank Annual Conference on Development; 1989.

Bravo-Ortega C, Lederman D. 2005. Agriculture and national welfare around the world: Causality and international heterogeneity since 1960. World bank policy research working paper No. 3499.

Bruton HJ. A reconsideration of import substitution. J Econ Lit 1998;36(2): 903–36.

Buhaug H, Rød JK. Local determinants of African civil wars, 1970–2001. Polit Geogr 2006;25:315–335.

Buhaug H, Gates S, Lujala P. Geography, rebel capability, and the duration of civil conflict. J Confl Resolut 2009;53(4):544–569.

Campante FR, Do Q-A. Isolated capital cities, accountability and corruption: evidence from US States. Am Econ Rev 2014;104(8):2456–81.

Casper BA, Tyson SA. Popular Protest and Elite Coordination in a Coup d'état. J Polit 2014;76(2):548–564.

Chaloemtiarana T. Thailand. The politics of despotic paternalism: Cornell University Press; 2007.

Choeun H, Godo Y, Hayami Y. The economics and politics of rice export taxation in Thailand: A historical simulation analysis, 1950-1985. J Asian Eco 2006;17:103–125.

Christensen SR. 1993. Coalitons and collective action: the politics of institutional change in thai agriculture. Ph.D. thesis, University of Wisconsin-Madison.

Collier P, Elliott VL, Hegre H, Hoeffler A, Reynal-Querol M, Sambanis N. Breaking the conflict trap. Civil war and development policy: World Bank and Oxford University Press; 2003.

Danguilan M. 1999. Bullets and bandages: public health as a tool of engagement in the Philippines. Takemi program in international health research paper No. 161.

de Gorter H, Swinnen J. 2002. Handbook of agricultural economics. Vol. 2B. Chap. Political economy of agricultural Policy, pages 1893–1943.

Diao X, Hazell P, Resnick D, Thurlow J. 2006. The role of agriculture in development: implications for sub-sahara Africa. IFPRI development strategy and policy division discussion paper No. 29.

Dixon C. 1999. The thai economy. Uneven development and internationalisation. Routledge.

Do Q-A, Campante FR. 2007. Keeping dictators honest: the role of population concentration. Working Paper.

Doronila A. 1992. The state, economic transformation, and political change in the Philippines: Oxford University Press.

Dreher A. IMF and economic growth: the effects of programs, loans, and compliance with conditionality. World Dev 2006;34(5):769–788.

Eastwood R, Lipton M. Pro-poor Growth and Pro-growth Poverty Reduction: Meaning, evidence, and policy implications. Asian Dev Rev 2000;18:22–58.

Fearon JD. Ethnicity, insurgency, and civil war. Am Polit Sci Rev 2003;97(1):75–90.

Forssell S. 2009. Rice price policy in thailand. Policy making and recent developments. Working Paper.

Grossman GM, Helpman E. Special interest politics: The MIT Press; 2001.

Haber S, Menaldo V. Do natural resources fuel authoritarianism? a reappraisal of the resource curse. Am Polit Sci Rev 2011;105(1):1–26.

Haggard S, Kaufman RR. Development, democracy, and welfare states. latin america, east asia, and eastern Europe: Princeton University Press; 2008.

Hawes G. Theories of peasant revolution: a critique and contribution from the Philippines. World Polit 1990;42(2):261–298.

Henderson JV. The urbanization process and economic growth: the so-what question. J Econ Growth 2003;8(1):47–71.

Henderson JV. Cities and development. J Reg Sci 2010;50(1):515–540.

Henderson JV, Wang HG. Urbanization and city growth: The role of institutions. Reg Sci Urban Econ 2007;37:282–313.

Herbst J. States and power in africa: comparative lessons in authority and control. Princeton: NJ: Princeton University Press; 2000.

Heston A, Summers R, Aten B. 2011. Penn world table version 7.0. center for international comparisons of production, income and prices at the university of pennsylvania.

Hirschman AO. The political economy of import-substituting industrialization in latin america. Q J Econ 1968;82:1–32.

Isvilanonda S, Poapongsakorn N. 1995. Rice supply and demand in Thailand. The future outlook. TDRI research report.

Jones GA, Corbridge S. The continuing debate about urban bias: the thesis, its critics, its influence and its implications for poverty-reduction strategies. Prog Dev Stud 2010;10(1):1–18.

Jones GR. Red revolution. Inside the philippine guerrilla movement: Westview Press; 1989.

Kalyvas SN. The logic of violence in civil wars: Cambridge University Press; 2006.

Kay C. Why east asia overtook latin america: Agrarian reform, industrialization and development. Third World Q 2002;23(6):1073–1102.

Kerkvliet BJ. The huk rebellion: a study of peasant revolt in the philippines: University of California Press; 1977.

Khan MH. Agricultural taxation in developing countries: a survey of issues and policy. Agric Econ 2001;24:315–328.

Kriger NJ. Zimbabwe's guerilla war: Cambridge Univ Press; 1992.

Krugman P. Geography and trade: MIT Press; 1991.

Lewis Arthur. Economic development with unlimited supplies of labor. Manch Sch 1954;22(2):139–191.

Lewis A. The evolution of the international economic order: Princeton University Press; 1978.

Lipton M. Why poor people stay poor. A study of urban bias in world development: Harvard University Press; 1977.

Lipton M. 2005. The family farm in a globalizing world: The role of crop science in alleviating poverty. 2020 Discussion paper No. 40 international food policy research institute.

McGuire J. Social policy and mortality decline in east asia and latin america. World Dev 2001;29(10):1673–97.

McVey R, (ed). 2000. Money & power in provincial Thailand. University of Hawaii Press.

Migdal JS. Peasants, politics, and revolution. Pressure toward political and social change in the third world: Princeton University Press; 1974.

Moore B. Social origins of dictatorship and democracy: lord and peasant in the making of the modern world: Beacon Press; 1966.

Muscat RJ. Thailand and the United States. Development, Security, and Foreign Aid: Columbia University Press; 1990.

Myrdal G. Economic theory and underdeveloped regions: Duckworth; 1958.

Nolan P, White G. Urban bias, rural bias or state bias? Urban-rural relations in post-revolutionary China. J Dev Stud 1984;20(3):52–81.

Olson M. The logic of collective action. Public goods and the theory of groups: Harvard University Press; 1965.

Overman HG, Venables A. 2005. Cities in the developing world. CEP discussion paper No 695.

Paige JM. Agrarian revolution. Social movements and export agriculture in the underdeveloped world: The Free Press; 1975.

Pierskalla JH. Protest, deterrence, and escalation: the strategic calculus of government repression. J Confl Resolut 2010;54(1):117–145.

Ravaillon M, Chen S. 2004. China's (Uneven) progress against poverty. World bank policy research working paper No. 3408.

Ravaillon M, Datt G. Why has economic growth been more pro-poor in some states of India than others? J Dev Econ 2002;68(2):381–400.

Scott JC. Weapons of the weak. Everyday forms of peasant resistance: Yale University Press; 1985.

Simatupang P, Timmer CP. Indonesian rice production: policies and realities. Bull Indones Econ Stud 2008;44(1):65–79.

Swinnen J. The Political Economy of Agricultural Distortions: The Literature to Date. In: Anderson K, editor. The political economy of agricultural price distortions: Cambridge University Press; 2010.

Teorell J, Charron N, Samanni M, Holmberg S, Rothstein B. 2009. The quality of government dataset. University of gothenburg: the quality of government institute.

The World Bank. 2007. World development report 2008. Agriculture for development. The world bank.

Themnér L, Wallensteen P. Armed Conflict, 1946-2013. J Peace Res 2014; 51(4).

Varshney A, (ed). 1993. Beyond urban bias. Frank Cass.

Varshney A. Democracy, development, and the country. Urban-rural struggles in India: Cambridge Univ Press; 1994.

Wallace J. Cities, redistribution, and authoritarian regime survival. J of Politics. 2013;75(3):632–645.

Ward MD, Greenhill BD, Bakke KM. The perils of policy by p-value: predicting civil conflicts. J Peace Res 2010;47(4):363–375.

Waterbury J. The long gestation of brief triumph of import-substituting industrialization. World Dev 1999;27(2):323–341.

Wibbels E, Ahlquist JS. Development, trade, and social insurance. Int Stud Q 2011;55:125–149.

Wickham-Crowley TP. Guerrillas and revolution in latin America: Princeton University Press; 1991.

Wolf ER. 1969. Peasant wars of the twentieth century. Harper & Row.
About this article
Cite this article
Pierskalla, J.H. The Politics of Urban Bias: Rural Threats and the Dual Dilemma of Political Survival. St Comp Int Dev 51, 286–307 (2016). https://doi.org/10.1007/s12116-015-9194-2
Keywords
Urban bias

Political economy

Agricultural policy

Rural insurgency