Abstract
This paper explores the conditions under which democratic elections encourage citizens to identify with ethnicity. We argue that there are two mechanisms through which elections strengthen ethnic identification. First, the stronger ethnic parties are, the more intensive, ethnically exclusive political campaigns they carry out as an election approaches, resulting in strengthening citizens' ethnic identity. Second, ethnic party mobilization drives members of other ethnic groups to develop stronger identity to their own ethnicity because such mobilization poses a serious political threat to the out-group members. Data analysis of approximately 18,000 respondents in five waves of the New Baltic Barometer supports the hypotheses. A case study of Latvia follows to illustrate that ethnic party mobilization for elections creates ethnic cleavages among the public.
Access options
Buy single article
Instant access to the full article PDF.
US$ 39.95
Tax calculation will be finalised during checkout.
Subscribe to journal
Immediate online access to all issues from 2019. Subscription will auto renew annually.
US$ 79
Tax calculation will be finalised during checkout.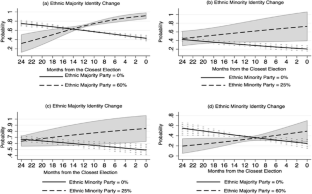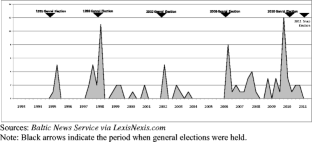 Notes
1.

2.

One may wonder that a strong ethnic party itself may be the result of strong, preexisting ethnic identities among citizens. Based on the established findings in extant work that political leaders manipulate identities of citizens, our theory focuses on the impact of ethnic party mobilization on people's identities. Empirically, we deal with this endogeneity concern.

3.

For instance, Rubin and Hewstone (1998: 45–47) extensively review the literature on empirical studies of Social Identity Theory.

4.

The dataset will be available upon request to the authors.

5.

Afrobarometer contains similar options in the question on primary group identity. For example, Bratton, Mattes, and Gyimah-Boadi (2005) and Eifert et al. (2010) use such a question to test causes and consequences of subjective cultural values. We follow their operationalization of ethnic identities by using the same question asking the "first and foremost" source of identity in the New Baltic Barometer.

6.

Also, in this respect, we follow statistical methodology adopted by Eifert, Miguel, and Posner (2010), who rigorously test the effect of electoral proximity on ethnic identification with country-level fixed effects model.

7.

We do not use questions which ask about voting behavior for the following two reasons. First, our primary interest is to explore determinants of ethnic identification, rather than voting behavior itself. As the extant literature uses questions asking about self-defined, subjective identities (Bratton, Mattes, and Gyimah-Boadi 2005; Eifert, Miguel, and Posner 2010), we also follow this tradition. Second, we think that using questions on voting behavior such as "if an election was held tomorrow, which party would you vote for?" may induce serious measurement errors and bias depending on the proximity of the elections. In a survey which is very distant from the closest election (for instance, the November 2004 election in Latvia), respondents may answer such a question with little consideration, whereas in a survey that was taken soon after an election (for example, the November 1996 election in Lithuania) they may take the question more seriously. Such possible differences in seriousness among respondents make it difficult to accurately measure ethnic identity. Yet, we do recognize citizens' voting behavior is deeply related to their identities. Our case study illustrates that citizens' voting for ethnic parties is at least partly driven by ethnic mobilization and subsequently activated ethnic identities among citizens.

8.

The following answer options are available to respondents: (1) City/Locality, (2) Region, (3) Baltic Nationality, (4) Polish, (5) Russian, (6) Belorussian, (7) Ukrainian, (8) European, (9) Soviet, (10) Other.

9.

The following answer options are available to respondents: (1) City/Locality, (2) Region, (3) Country, (4) Europe, (5) Other, (6) Polish, (7) Russian, (8) Belorussian, (9) Ukrainian, (10) Soviet.

10.

The responses are coded as follows: Region category = "City/Locality" and "Region"; Ethnic majority category = "Baltic Nationality" or "Country"; Minority category = "Polish," "Russian," "Belarusian," "Ukrainian"; International category = "Europe" and "Soviet"; Other category = others.

11.

For descriptive statistics, see Appendix Table 2. Appendix Table 3 also shows national-level aggregate average of national and ethnic minority identities. Although one may think that ethnic majority identity is different from attachment to a nation state, both overlap considerably in the contexts of the Baltic states, where titular ethnic groups dominate major political posts in the government and ethnic majority parties pursue ethnically exclusive, nationalistic policies.

12.

13.

For electoral proximity in each survey, see Appendix Table 3.

14.

We have created three dummy variables by recoding "social status:" employed = 1, pensioner = 2, student = 3, unemployed = 4, housewife = 5, others = 6, and "do not know" = 8. Combining the other categories, we set as the reference category.

15.

The education variable is coded as follows: 1 = primary education, 2 = secondary education, 3 = university.

16.

See Appendix A for descriptive statistics.

17.

To distinguish members of titular ethnic groups from others, we use a question asking in what language the respondents answer in survey interviews. What language people speak is a clear indicator of the nominal ethnic membership of a respondent, as we define in theory section based on Chandra (2012). However, such a distinction may induce selection bias because selecting a language in the survey may indicate that the respondent has already identified with the ethnic group of that language. We consider this possibility in robustness checks.

18.

More specifically, we exclude (1) the Popular Front in Estonia and Lithuania and (2) People's Party (TP) in Latvia from our list of nationalist parties.

19.

We include (1) the National Movement for Latvia (TKL) and (2) People Harmony Party (TSP) in Latvia as nationalist and ethnic minority parties, respectively.

20.

Here, only Hypothesis 2-a is not supported. This also suggests that the effect of ethnic minority parties' mobilization is weaker than ethnic majorities'.

21.

We also re-estimate all the models by trying other combinations of countries (Latvia and Lithuania and Lithuania and Estonia) only to find that the overall results do not change.

22.

We also examine whether ethnic party mobilization becomes intense under higher electoral competition by introducing three-way interaction models between electoral proximity, competitiveness, and seat shares of ethnic parties. Yet, we cannot find evidence suggesting such effects.

23.

See Appendix Table 4 for the seat shares of ethnic parties in Latvia.

24.

Even though general elections were also held in 2011, they were announced in July 2011, after the victory day event.
References
Anderson B. Imagined communities: reflections on the origin and spread of nationalism. London: Verso; 1983.

Baltic News Service. Complete switch to Latvian language at public schools not on education ministry's agenda – Minister. 2010.

Bates RH. Ethnic competition and modernization in contemporary Africa. Comp Polit Stud. 1974;6:457–84.

Bernauer J, Bochsler D. Electoral entry and success of ethnic minority parties in central and eastern Europe: a hierarchical selection model. Elect Stud. 2011;30(4):738–55.

Brass P. A theft of an idol. Calcutta: Seagull Books; 1997.

Bratton M, Mattes R, Gyimah-Boadi E. Public opinion, democracy and market reform in Africa. Cambridge: Cambridge University Press; 2005.

Bratton M, Kimenyi M. Voting in Kenya: putting ethnicity in perspective. J East Afr Stud. 2008;2–2:272–89.

Birnir JK. Ethnicity and electoral politics. New York: Cambridge University Press; 2007.

Brands-Kehre I, un Pūce I Politiskā nācija un pilsonība" In Juris Rozenvalds ed., Cik Demokrātiska ir Latvija: demokrātijas audits [How democratic is Latvia: audit of democracy]. Latvijas Universitātes Akadēmiskais Apgāds, Rīga. 2005.

Budge I, Klingemann HD, Volkens A, Bara J, Tanenbaum E, editors. Mapping policy preferences: estimates for parties, electors, and governments 1945–1998. Oxford: Oxford University Press; 2001.

Budryte D. Taming nationalism? Political community building in the post-Soviet Baltic states. Hampshire: Ashgate; 2005.

Bugajski J. Political parties of Eastern Europe: a guide to politics in the post-communist era. New York: M.E. Sharpe; 2002.

Chandra K. Why ethnic parties succeed: patronage and ethnic head counts in India. New York: Cambridge University Press; 2004.

Chandra K. What is an ethnic identity? Party Polit. 2011;17:151–69.

Chandra K, editor. Constructivist theories of ethnic politics. Oxford: Oxford University Press; 2012.

Cheeseman N, Ford R. Ethnicity as a political cleavage. Afrobarometer Working Paper, 2007; 83.

Conroy-Krutz J. Information and ethnic politics in Africa. Br J Polit Sci. 2012;43–2:345–73.

Council of Europe. Observation of parliamentary elections in Latvia (3 October 1998). No. 8255, November 3rd, 1998. http://assembly.coe.int/Mainf.asp?link=/Documents/WorkingDocs/Doc98/EDOC8255.htm. Accessed 12 July 2011.

Deutsch K. Nationalism and social communication. Cambridge: MIT Press; 1953.

Eifert B, Miguel E, Posner D. Political competition and ethnic identification in Africa. Am J Polit Sci. 2010;54:494–510.

Ferree K. The social origins of electoral volatility in Africa. Br J Polit Sci. 2010;40:759–79.

Ferree K. Framing the race in South Africa: the political origins of racial census elections. New York: Cambridge University Press; 2011.

Fearon J, Laitin D. Violence and the social construction of ethnic identity. Int Organ. 2000;54:845–77.

Franck R, Riner I. Does the Leader's ethnicity matter? Ethnic favoritism, education, and health in Sub-Saharan Africa. Am Polit Sci Rev. 2012;105–3:586–603.

Galbreath DJ. Nation-building and minority politics in post-socialist states: interests, influences and identities in Estonia and Latvia. Stuttgart: Ibidem; 2005.

Gelner E. Nations and nationalism. Ithaca: Cornell University Press; 1983.

Gibson J, Gouws A. Social identities and political intolerance: linkages within the South African mass public. Am J Polit Sci. 2000;44:272–86.

Habyarimana J, Humphreys M, Posner D, Weinstein J. Coethnicity: diversity and the dilemmas of collective action. New York: Russell Sage; 2009.

Hanley M. Victory Day passes smoothly, The Baltic Times, 2009.

Horowitz D. Ethnic groups in conflict. Berkeley: University of California Press; 1985.

Hechter, M. Internal Colonialism: The Celtic fringe in British national development, 1536-1966. Berkeley: University of California Press. 1975.

Ishiyama JT. Do ethnic parties promote minority ethnic conflict? Natl Ethn Polit. 2009;15:56–83.

Jansson, E., and Johnson, S.C. Bombs rattle shaky Latvian-Russian relations. The Baltic Times. 1998; 1, 8.

Jeffries I. The countries of the former soviet union at the turn of the twenty-first century: the Baltic and European states in transition. London: Routledge; 2004.

Johnson SC. Latvian SS veterans march, infuriate Russia. The Baltic Times. 1998; 1–2.

Johnson SC. Police actions strain Latvian-Russian relations. The Baltic Times. 1998; 1.

Laitin D. Hegemony and culture. Chicago: University of Chicago Press; 1986.

Laitin D. Identity information: the Russian speaking populations in the near abroad. Ithaca: Cornell University Press; 1998.

Ludmila. 2010. Nākamā pietura – Vēlēšanu iecirknis, Diena, Aug. 25, 2010. www.diena.lv/izklaide/maksla/nakama-pietura-velesanu-iecirknis-747778. Accessed 3 Jan 2013.

Madrid R. The rise of ethnic politics in Latin America. New York: Cambridge University Press; 2012.

Millard F. Elections, parties and representation in post-communist Europe. New York: Palgrave Macmillan; 2004.

Minorities at Risk. Chronology for Russians in Latvia. 2010. http://www.cidcm.umd.edu/mar/chronology.asp?groupId=36701. Accessed 1 July 2012.

Norgaard O, Johannsen L. The Baltic states after independence. 2nd ed. Cheltenham: Edward Elgar Publishing; 1999.

Olzak S. Contemporary ethnic mobilization. Annu Rev Sociol. 1983;9:355–74.

Plakans A. Democratization and political participation in postcommunist societies: the case of Latvia. In: Dawisha K, Parrott B, editors. The consolidation of democracy in East-Central Europe. New York.: Cambridge University Press; 1997.

Posner D. Institutions and ethnic politics in Africa. New York: Cambridge University Press; 2005.

Rabushka A, Shepsle K. Politics in plural societies: a theory of democratic instability. Charles E. Merrill, Ohio. 2008 [1972].

Rohschneider R, Whitefield S. Understanding cleavages in party systems: issue position and issue salience in 13 post-communist democracies. Comp Polit Stud. 2009;42:280–313.

Rose R, Munro N. Parties and elections in new European democracies. Colchester: ECPR Press; 2009.

Rubin M, Hewstone M. Social identity theory's self-esteem hypothesis: a review and some suggestions for clarification. Personal Soc Psychol Rev. 1998;2:40–62.

Tajfel H. Social categorization, social identity and social comparison. In: Tajfel H, editor. Differentiation between social group. New York: Academic; 1978.

Wilkinson S. Votes and violence: electoral competition and ethnic riots in India. New York: Cambridge University Press; 2004.

Wimmer A, Min B, Cederman LE. Ethnic politics and armed conflict: a configurational analysis of a new global data set. Am Soc Rev. 2009;74:316–37.

Wire Reports Riga. Large turnout for victory day celebration. The Baltic Times. 2010; 3.

Wire Reports Riga. Victory celebrations mark 1945 peace, The Baltic Times. 2011; 3.

Zepa B. Kas ir nacionālā identitāte? kā to skaidrot? in Brigita Zepa un Evija Kļave red., Latija, Pārskats par Tautas Attīstību, 2010/2011. Nacionanālā Identitāte, Mobilitāte un Rīcībspēja. Rīga: Socialo un Politisko Pētījumu Institūts. 2011.
Acknowledgments
We would like to thank Mike Bratton, Jeff Conroy-Krutz, Brian Kennedy, Ani Sarkissian, and two anonymous reviewers for their helpful feedback on the paper. We would also like to thank Richard Rose for kindly sharing raw data of the New Baltic Barometer with us. This research was funded by a Fulbright Fellowship, Tokyo Foundation, and JSPS Grants-in-Aids (#10546328).
Appendix
Appendix
About this article
Cite this article
Higashijima, M., Nakai, R. Elections, Ethnic Parties, and Ethnic Identification in New Democracies: Evidence from the Baltic States. St Comp Int Dev 51, 124–146 (2016). https://doi.org/10.1007/s12116-015-9187-1
Keywords
Elections

Ethnic identity

Ethnic parties

The Baltic states

Election campaigns