Abstract
When it comes to social welfare, we do not have clear understanding of whether it is more important to have democracy or a capable state. Specifically, most studies do not consider the possibility that effects of democracy are conditioned or obscured by differences in the capabilities of states to deliver services effectively. This article contends that better developmental outcomes can result from either democracy or state capacity, but the combination of high levels of both democracy and state capacity is not synergistic. Empirical evidence from a time-series-cross-sectional dataset covering up to 162 countries during the 1965–2010 time period supports the conclusion that these factors partially substitute for each other with respect to improving outcomes in school enrollment and infant mortality. These findings provide a more optimistic answer to the query of Ross (Am J Polit Sci 50(4): 860–874, 2006) as to whether democracy is good for the poor. Once accounting for state capacity, we find that democracy leads to better development outcomes.
Access options
Buy single article
Instant access to the full article PDF.
USD 39.95
Price excludes VAT (USA)
Tax calculation will be finalised during checkout.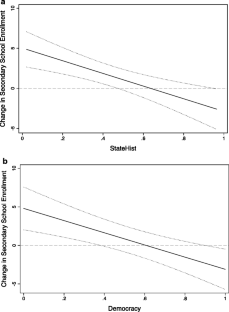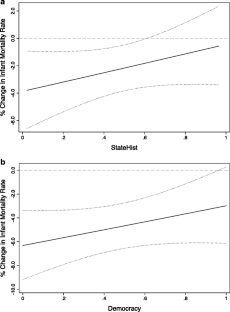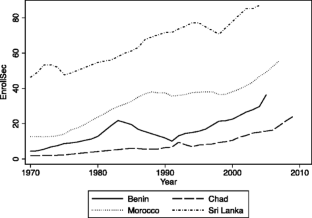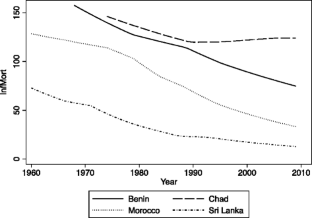 Notes
Thanks to a reviewer for help with framing this research.

With a larger sample obtained in part through data imputation, Ross finds that democracy has little effect on child mortality.

For example, public health professionals seek to improve public health outcomes due to training or professional norms.

Since the gross rate of secondary school enrollment is based upon the number of students enrolled in secondary school compared to the school-age population, it can exceed 100 %.

This makes it difficult to apply the Monte Carlo approach that involves using samples from the posterior distribution of the estimated democracy scores.

Using the procedures described in Bockstette et al. (2002), the value of StateHist was calculated for 14 additional countries.

The values are weighted such that more recent time periods count more heavily than more distant periods. I use their statehist05v3 index.

Augmented Dickey Fuller tests indicate the presence of a unit root in the case of InfMort. Although this is not the case for EnrollSec, tests using both ECM and non-ECM functional forms show little difference in the substantive results. The former approach is used for consistency.

In about half the cases, the value of Democracy does not change at all. When it does change, the magnitude of change is typically small. In only 4 % of cases does it change by more than .4. Alternative tests using the first differenced Democracy variable in addition to the lagged level produced no substantive difference in the results. DemocracyBMR is unchanged in about 75 % of cases, and StateHist is fixed by construction.

In robustness checks, I employed the fixed-effects vector decomposition (FEVD) introduced by Plümper and Troeger (2007), and updated in 2010, which implements a three-stage procedure to estimate fixed effects but de-compose them into portions explained and not-explained by the observed time-invariant country characteristics. This technique is the subject of significant discussion in the Spring 2011 edition of Political Analysis, volume 19:2. I use version 4.0 of the xtfevd estimation routine, which corrects earlier problems in the calculation of standard errors.

He was elected president once again in 1996.

The rate of decline of infant mortality slowed slightly, but did not reverse.

The next highest is Algeria, followed by Jordan, Tunisia, and Egypt.
References
Abeyratne S. Economic roots of political conflict: the case of Sri Lanka. World Econ. 2004;27(8):1295–314.

Acemoglu D, Robinson JA. Economic origins of dictatorship and democracy. Cambridge: Cambridge University Press; 2006.

Avelino G, Brown DS, Hunter W. The effects of capital mobility, trade openness, and democracy on social spending in Latin America, 1980–1999. Am J Polit Sci. 2005;49(3):625–41.

Bäck H, Hadenius A. Democracy and state capacity: exploring a J-shaped relationship. Gov Int J Policy Admin Inst. 2008;21(1):1–24.

Bierschenk T. Democratization without development: Benin 1989–2009. Int J Polit Cult Soc. 2009;22(3):337–57.

Björkman J. Health policy and politics in Sri Lanka: developments in the South Asian welfare state. Asian Surv. 1985;25(5):537–52.

Blaydes L, Kayser MA. Counting calories: democracy and distribution in the developing world. Int Stud Q. 2011;55(4):887–908.

Bockstette V, Chanda A, Putterman L. States and markets: the advantage of an early start. J Econ Growth. 2002;7:347–69.

Boix C, Miller M, Rosato S. A complete data set of political regimes, 1800–2007. Comp Polit Stud. 2013;46(12):1523–54.

Brambor T, Clark WR, Golder M. Understanding interaction models: improving empirical analyses. Polit Anal. 2006;14(1):63–82.

Bratton M, Chang EC. State building and democratization in sub-Saharan Africa: forwards, backwards, or together? Comp Polit Stud. 2006;39(9):1059–83.

Brehm J, Gates S. Working, shirking and sabotage: bureaucratic response to a democratic public. Ann Arbor: The University of Michigan Press; 1999.

Brown DS, Hunter W. Democracy and human capital formation: education spending in Latin America, 1980 to 1997. Comp Polit Stud. 2004;37(7):842–64.

Bueno de Mesquita B, Smith A, Siverson RM, Morrow JD. The logic of political survival. Cambridge: The MIT Press; 2003.

Caporaso JA. The state's role in third world economic growth. Ann Am Acad Polit Soc Sci. 1982;459:103–11.

Centeno M. Limited wars and limited states. In: Davis D, editor. Irregular armed forces and their role in politics and state formation. Cambridge: Cambridge University Press; 2002.

Chanda A, Putterman L. State effectiveness, economic growth, and the age of states. In: Lange M, Rueschemeyer D, editors. States and development: historical antecedents of stagnation and advance. New York: Palgrave Macmillan; 2005.

Dahl RA. Polyarchy: participation and opposition. New Haven: Yale University Press; 1971.

Deaton A. The great escape: health, wealth, and the origins of inequality. Princeton: Princeton University Press; 2013.

Diyen H. Reform of secondary education in Morocco: challenges and prospects. Prospects. 2004;34(2):211–22.

Dossou-Yovo N. The experience of Benin. Int J World Peace. 1999;16(3):59–74.

Engel J, Magloire Cossou E, Rose P. Benin's progress in education: expanding access and narrowing the gender gap. London: Overseas Development Institute; 2011.

Englebert P. Pre-colonial institutions, post-colonial states, and economic development in tropical Africa. Polit Res Q. 2000;53(1):7–36.

Franzese RJ. Macroeconomic policies of developed democracies. Cambridge: Cambridge University Press; 2002.

Frey R, Al-Roumi A. Political democracy and the physical quality of life: the cross-national evidence. Soc Indic Res. 1999;47(1):73–97.

Gains F, John P. What do bureaucrats like doing? Bureaucratic preferences in response to institutional reform. Public Adm Rev. 2010;70(3):455–63.

Gandhi J. Political institutions under dictatorship. Cambridge: Cambridge University Press; 2008.

Handy PS. Chad: wading through a domestic political crisis in a turbulent region. Situation Report: Institute for Security Studies; 2007.

Herbst J. States and power in Africa: comparative lessons in authority and control. Princeton: Princeton University Press; 2000.

Heston A, Summers R, Aten B. Penn world table version 6.3. University of Pennsylvania Center for International Comparisons of Production, Income and Prices; 2009.

Hicken A, Simmons JW. The personal vote and the efficacy of education spending. Am J Polit Sci. 2008;52(1):109–24.

House F. Freedom in the world country ratings: 1972 to 2007. Washington, DC: Freedom House; 2008.

Joffe G. Morocco: monarchy, legitimacy and succession. Third World Q. 1988;10(1):201–28.

Kagbe R. Education in Chad: in a state of decline. openDemocracy 2012.

Kaufman RR, Segura-Ubiergo A. Globalization, domestic politics and social spending in Latin America: a time-series cross-section analysis, 1973–97. World Polit. 2001;53(4):553–87.

Keefer P. The political economy of growth and diversification in Benin. Unpublished Manuscript. The World Bank: Development Research Group; 2008a.

Keefer P. Political market imperfections, clientelism and the quality of democracy. Working Paper 2008/3. Central European University: Center for the Study of Imperfections in Democracy (DISC); 2008b.

Kelegama S. Development in independent Sri Lanka: what went wrong? Econ Polit Wkly. 2000;35(17):1477–90.

Khaleghian P. Decentralization and public services: the case of immunization. Policy Research Working Paper 2989. The World Bank; 2003.

Lake DA, Baum MA. The invisible hand of democracy: political control and the provision of public services. Comp Polit Stud. 2001;34(6):587–621.

Linz JJ, Stepan A. Problems of democratic transition and consolidation: Southern Europe, South America, and post-communist Europe. Baltimore: Johns Hopkins University Press; 1996.

Magnusson BA. Democratization and domestic insecurity: navigating the transition in Benin. Comp Polit. 2001;33(2):211–30.

Mangla A. Bureaucratic norms and state capacity: implementing primary education in India's Himalayan region. Working Paper 14-099. Harvard Business School; 2014.

Mann M. The autonomous power of the state: its origins, mechanisms, and results. Eur J Sociol. 1984;25(2):185–213.

Marsh D, Smith MJ, Richards D. Bureaucrats, politicians and reform in Whitehall: analysing the bureau-shaping model. Br J Polit Sci. 2000;30(3):461–82.

Marshall MG, Jaggers K. (2009). Polity IV project: dataset users' manual. George Mason University: Center for Systemic Peace; 2009.

McGuire JW. Wealth, health, and democracy in East Asia and Latin America. Cambridge: Cambridge University Press; 2010.

Moon BE, Dixon WJ. Politics, the state, and basic human needs: a cross-national study. Am J Polit Sci. 1985;29(4):661–94.

Munck GL, Verkuilen J. Conceptualizing and measuring democracy: evaluating alternative indicies. Comp Polit Stud. 2002;35(1):5–34.

Nelson JM. Democratic politics and pro-poor social services: unpacking the concept of "reform". In: Devarajan S, Widlund I, editors. The politics of service delivery in democracies: better access for the poor. Stockholm: Expert Group on Development Issues, Ministry for Foreign Affairs of Sweden; 2007a.

Nelson JM. Elections, democracy, and social services. Stud Comp Int Dev. 2007b;41(4):79–97.

Niskanen WA. Bureaucracy and representative government. Atherton: Aldine; 1971.

Oberst RC. Federalism and ethnic conflict in Sri Lanka. Publius. 1988;18(3):175–93.

Pemstein D, Meserve SA, Melton J. Democratic compromise: a latent variable analysis of ten measures of regime type. Polit Anal. 2010;18(4):426–49.

Plümper T, Troeger VE. Efficient estimation of time-invariant and rarely changing variables in finite sample panel analyses with unit fixed effects. Polit Anal. 2007;15(2):124–39.

Rose R, Shin D. Democratization backwards: the problem of third-wave democracies. Br J Polit Sci. 2001;31(2):331–54.

Ross ML. Is democracy good for the poor? Am J Polit Sci. 2006;50(4):860–74.

Sandbrook R. The state and economic stagnation in tropical Africa. World Dev. 1986;14(3):319–32.

Sater JN. Parliamentary elections and authoritarian rule in Morocco. Middle East J. 2009;63(3):381–400.

Seely JC. The legacies of transition governments in Africa: the cases of Benin and Togo. New York: Palgrave Macmillan; 2009.

Sen A. Development as freedom. New York: Anchor; 1999.

Soifer HD. State power and the economic origins of democracy. Stud Comp Int Dev. 2013;48(1):1–22.

Soifer H, vom Hau M. Unpacking the strength of the state: the utility of state infrastructural power. Stud Comp Int Dev. 2008;43(3/4):219–30.

Stasavage D. Democracy and education spending in Africa. Am J Polit Sci. 2005;49(2):343–58.

Tendler J. Good government in the tropics. Baltimore: The Johns Hopkins University Press; 1997.

The Inter-agency Group for Child Mortality Estimation. CME Info Dataset. United Nations Children's Fund; 2010.

Tilly C. Western state-making and theories of political transformation. In: Tilly C, editor. The formation of national states in Western Europe. Princeton: Princeton University Press; 1975.

Wilson JW. Bureaucracy: what government agencies do and why they do it. New York: Basic Books; 1989.

Wintrobe R. The political economy of dictatorship. Cambridge: Cambridge University Press; 1998.

World Bank. Project appraisal document on a proposed credit in the amount of SDR 31 million to the Republic of Chad for a health sector support project. Technical Report No: 20189-CD, The World Bank: Africa Regional Office; 2000.

World Bank. World development report 2004: making services work for poor people. Washington, DC: World Bank and Oxford University Press; 2004.

World Bank. Kingdom of Morocco. Health policy note towards a more equitable and sustainable health care system: policy challenges and opportunities. Policy Note (P104274). Middle East and North Africa Social and Human Development Group; 2007.

World Bank. World development indicators (WDI Online). Washington, DC: The World Bank; 2010 and 2011.

World Bank. Project appraisal document on a proposed credit in the amount of SDR 10 million to the Republic of Chad for an education sector reform project phase ii. Report No: 77950-TD. International Development Association; 2013.

Ziblatt D. Why some cities provide more public goods than others: a subnational comparison of the provision of public goods in German cities in 1912. Stud Comp Int Dev. 2008;43(3–4):273–89.
Electronic supplementary material
Below is the link to the electronic supplementary material.
About this article
Cite this article
Hanson, J.K. Democracy and State Capacity: Complements or Substitutes?. St Comp Int Dev 50, 304–330 (2015). https://doi.org/10.1007/s12116-014-9173-z
Published:

Issue Date:

DOI: https://doi.org/10.1007/s12116-014-9173-z
Keywords
Democracy

State capacity

Public services

Development