Abstract
How and why do developmental state institutions persist? We address this conceptual question through an empirical puzzle: even though Pakistan and Turkey, like South Korea and Taiwan, constructed postwar developmental state institutions, the Pakistani and Turkish economies have been unable to upgrade to higher value-added production following the Korean and Taiwanese experience. If, as many scholars argue, the creation of developmental state institutions is necessary and sufficient for high growth outcomes, how can we understand the divergence between these two sets of cases? We argue that that the persistence of developmental state institutions is contingent on the absence of articulated opposition from agrarian actors and provincial capitalists against regimes of industrial promotion. While Korea and Taiwan suppressed or co-opted potential challengers from the countryside, such actors in Pakistan and Turkey effectively challenged the developmental state in the mid-1970s. We suggest that the politics of developmental state persistence are analytically distinct from the origins of developmental states, thus enabling a more dynamic understanding of the relationship between the politics of developmental state institutions and late industrialization.
Access options
Buy single article
Instant access to the full article PDF.
US$ 39.95
Tax calculation will be finalised during checkout.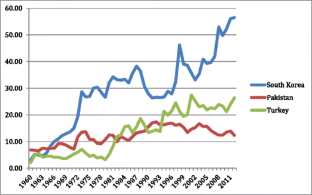 Notes
1.

For our purposes, we distinguish between developmental state institutions, which we describe in greater detail below, and the full blown "developmental state" as a concept, which has become inseparable from the outcome of successful industrialization.

2.

Two other cases, Hong Kong and Singapore, are city–state entrepots that, while successful industrializers, differ in crucial ways from states with significant land area and thus cannot be the basis for a comparison. We also follow standard practice of excluding Japan, an already industrialized nation at the beginning of the postwar period, from our analysis.

3.

Doner, Ritchie and Slater explicitly argue that the presence of such systemic vulnerability, consisting of broad coalitional commitments, scarce resource endowments, and severe security threats, to be necessary and sufficient for the production of developmental states (Doner et al. 2005, pp. 329–331).

4.

5.

Waldner characterizes the Turkish case differently than we do; he argues that low levels of elite conflict and the narrowness of coalitions in Korea relative to Turkey, and thus fewer resources devoted to particularistic concerns, led to the former's success (Waldner 1999, pp. 37–49). First, we argue that de facto elite conflict in Turkey was low; there was broad consensus over geopolitical threats and the need for development, so that disagreements, including those over economic policy, were minor (Türkeş 2001). Second, we believe that the political import of these coalitions is less their size and more their constituent elements; in this, we see little difference in the political support for developmental state institutions in all four cases.

6.

In fact, Korea's Second Five Year Plan (1967–1971) was modeled after Pakistan's. See Adelman 1969.

7.

It could be argued that the potential for provincial resistance was embedded in the origin of developmental state institutions, such that Pakistani and Turkish bureaucracies, by preserving traditional agrarian structures and sources of provincial power, sowed the seeds of their own destruction. In our view, this reading of the evidence assumes a much broader—and less coherent—understanding of the developmental state concept that does not distinguish between specific institutions and broader regime characteristics. While early studies of the East Asian cases emphasized land reform alongside developmental state institutions as part of a comprehensive explanation for their economic success, developmental state scholars, in general, have not argued that changes in agrarian or center-state relations were a self-conscious part of industrial development. Theories of the developmental state are thus relatively silent on the structures within the countryside because they focus largely on state-business interactions. Kohli's view is representative: "… on the whole, the landed agrarian classes turn out to be neither major political nor major economic actors in the drama of late-late industrialization" (Kohli 2004, p. 369).

8.

The post-Partition province of East Bengal became East Pakistan, and after 1971, the independent state of Bangladesh.

9.

While parallel data for Taiwan is unavailable due to the unique position of the Republic of China, Taiwan, while consistently more outward-oriented than the other countries, experienced a doubling of exports as a proportion of GDP in the early 1970s (Rodrik 1995, p. 63).

10.

World Development Indicators, World Bank. Databank.worldbank.org, August 7th, 2013.
References
Adelman I. Practical approaches to economic planning: Korea's second five year plan. Baltimore: Johns Hopkins University Press; 1969.

Alavi, H. The rural elite and agricultural development. In Stevens, Alavi and Bertocci, editors. Rural Development in Bangladesh and Pakistan. Honolulu: the University Press of Hawaii; 1976.

Alexander AP. Industrial entrepreneurship in Turkey: origins and growth. Econ Dev Cult Chang 1960;8:349–65.

Amjad R. Private industrial investment in Pakistan, 1960–1970. Cambridge: Cambridge University Press; 1982.

Amsden AH. Asia's next giant. New York: Oxford University Press; 1989.

Apthorpe R. The burden of land reform in Taiwan: an Asian model land reform reanalyzed. World Dev 1979;7:519–30.

Belassa B. Lessons of East Asian development: an overview. Econ Dev Cult Chang 1988;36:S273–90.

Bianchi R. Interest groups and political development in Turkey. Princeton: Princeton University Press; 1984.

Buğra A. State and business in modern Turkey. Albany: State University of New York Press; 1994.

Buğra A. Class, culture, and state: an analysis of interest representation by two Turkish business associations. Int J Mid East Stud 1998;30:521–39.

Burki SJ. Politics of economic decision-making during the Bhutto period. Asian Survey 1974;14:1126–40.

Chambers, RL. The civil bureaucracy: Turkey. In: Ward RE, Rustow, DA, editors. Political modernization in Japan and Turkey. Princeton: Princeton University Press; 1964. p. 301–327.

Chenery H. The semi-industrialized countries. Washington, DC: the World Bank. Unpublished: Manuscript; 1980.

Chibber V. Locked in place. Princeton, NJ: Princeton University Press; 2003.

Çinar A. National history as a contested site: the conquest of Istanbul and Islamist renegotiations of the nation. Comp Stud Soc Hist 2001;43:364–91.

Collier RB. Paths toward democracy. Cambridge: Cambridge University Press; 1999.

Collier D, Collier RB. Shaping the political arena. Princeton: Princeton University Press; 1991.

Cumings B. The origins of Northeast Asian political economy. Int Organ 1984;38:1–40.

Davis DE. Discipline and development. Cambridge: Cambridge University Press; 2004.

Deringil S. Turkish foreign policy during the Second World War. Cambridge: Cambridge University Press; 1989.

Deyo F. "Introduction". In Deyo, ed. The Political Economy of the New Asian Industrialism. Ithaca, NY: Cornell University Press; 1987.

Dicken P. Global shift: mapping the changing contours of the global economy. New York: Sage Publications; 2011.

Dodd CH. The social and educational backgrounds of Turkish officials. Mid East Stud 1965;1:26–276.

Doner RF. Politics of uneven development. Cambridge: Cambridge University Press; 2009.

Doner RF, Ritchie BK, Slater D. Systematic vulnerability and the origins of developmental states: Northeast and Southeast Asia in comparative perspective. Int Organ 2005;59:337–61.

Eckert C. Offspring of empire. Seattle: University of Washington Press; 1991.

Eralp A. The politics of Turkish development strategies. In: Finkel, A and Sirman, N. Turkish State, Turkish Society. New York: Routledge; 1990.

Erman T. The politics of squatter (Gecekondu) studies in Turkey: the changing representations of migrants in academic discourse. Urban Stud 2001;38:283–1002.

Evans PB. Dependent development. Princeton: Princeton University Press; 1979.

Evans PB. Embedded autonomy. Princeton: Princeton University Press; 1995.

Evans PB, Rauch J. Bureaucracy and Growth. Am Sociol Rev 1999;64:748–65.

Fenstra R, Hamilton G. Emergent economies, divergent paths. Cambridge: Cambridge University Press; 2006.

Fuller DB. Globalization for nation-building: Taiwan's industrial and technology policies for the high-technology sectors. J Interdiscip Econ 2007;18:203–24.

Fuller DB, Akinwande A, Sodini C. Leading, following or cooked goose? Innovation successes and failures in Taiwan's electronics industry. Industry and Innovation 2003;10:179–96.

Gereffi G, Korzeniewicz M. Commodity chains and global capitalism. Westport: Greenwood Press; 1994.

Gereffi G, Humphrey J, Sturgeon T. The governance of global value chains. Rev Int Polit Econ 2005;12:78–104.

Gerschenkron A. Economic backwardness in historical perspective. Cambridge: Harvard University Press; 1962.

Gold TB. State and society in the Taiwan miracle. Anronk, NY: ME Sharpe; 1986.

Gürsoy Y. The effects of the population exchange on the Greek and Turkish political regimes in the 1930s. E Eur Q 2008;42:95–128.

Haggard S. Pathways from the periphery. Ithaca: Cornell University Press; 1990.

Haggard S, Lim W, Kim E. Introduction. In: Haggard S, Lim W, Kim E, editors. Economic Crisis and Corporate Restructuring in Korea. Cambridge: Cambridge University Press; 2003.

Haqqani H. Pakistan: between mosque and military. Washington, DC: Carnegie Endowment; 2005.

Herring R. Zulfikar Ali Bhutto and 'the Eradication of Feudalism' in Pakistan. Comp Stud Soc Hist 1979;21:519–57.

Hershlag ZY. Turkey: the challenge of growth. Leiden: Brill Publications; 1968.

Hsieh M. Similar opportunities, different responses: explaining the divergent patterns of development between Taiwan and Korea. Int Sociol 2011;26:364–91.

Hughes H. Achieving industrialization in East Asia. Cambridge: Cambridge University Press; 1988.

Hussein A. Ethnicity, national identity and praetorianism: the case of Pakistan. Asian Sur 1976;16:918–30.

Jacobs B. Political opposition and Taiwan's political future. Aust J Chin Aff 1981;6:21–44.

Jalal A. The state of martial rule. Cambridge: Cambridge University Press; 1990.

Johnson C. MITI and the Japanese miracle. Stanford: Stanford University Press; 1982.

Johnson C. Japan: who governs? New York: WW Norton; 1995.

Karpat K. Turkey's politics: the transition to a multi-party system. Princeton, NJ: Princeton University Press; 1959.

Keyder C. State and class in Turkey. London: Verso; 1987.

Khan M. The political economy of industrial policy in Pakistan working paper. London: SOAS, University of London; n.d.

Khan T, Bergan A. Measurement of structural change in the Pakistani economy. Pak Dev Rev 1966;6(2):163–208.

Kim YI. Technology and productivity: the Korean way of learning and catching-up. Cambridge, MA: MIT Press; 1999.

Kohli A. State-directed development. New York: Cambridge University Press; 2004.

Lee E. Egalitarian peasant framing and rural development: the case of Korea. World Dev 1979;7:493–517.

Lin TC. The process of industrialization in Taiwan. J Dev Econ 1969;7:63–80.

Martin LR. Report of the land tenure situation in India and Pakistan. J Farm Econ 1956;38:438–47.

Mathews J, Cho DS. Tiger technology: the creation of a semiconductor industry in East Asia. Cambridge: Cambridge University Press; 2000.

McKendrick D, Doner R, Haggard S. From Silicon Valley to Singapore: location and competitive advantage in the hard disk drive industry. Palo Alto: Stanford University Press; 2000.

Milor V. The genesis of planning in Turkey. New Persp Turk 1990;4:1–30.

Mitchell C. Land reform in Korea. Pac Aff 1949;22:144–54.

O'Donnell G. Bureaucratic authoritarianism. Berkeley: University of California Press; 1988.

Papanek G. Pakistan's development: social goals and private incentives. Cambridge: Harvard University Press; 1967.

Pierson P. Politics in time. Princeton: Princeton University Press; 2004.

Ray R, Ray K. Zamindars and Jotedars: a study of rural politics in Bengal. Mod As Stud 1975;9:82–101.

Stern R. Democracy and dictatorship in South Asia. Westport, CT: Prager; 2004.

Szyliowicz J. Political participation and modernization in Turkey. W Pol Q 1966;19:266–84.

Tekeli I. The development of the Istanbul metropolitan area. Istanbul: International Union of Local Authorities; 1994.

Tuğal C. Passive revolution: absorbing the Islamic challenge to capitalism. Stanford: Stanford University Press; 2009.

Tümertekin E. An analysis of the location of industry in Istanbul. Istanbul: Istanbul University Geographical Institute; 1972.

Türkeş M. A patriotic leftist development-strategy proposal in Turkey in the 1930s: the case of the Kadro (Cadre) movement. Int J Mid East Stud 2001;33:91–114.

Vartiainen, J. (1999) The economics of successful state intervention in industrial transformation. In Woo-Cumings, editor. The developmental state. Ithaca: Cornell University Press.

Vernon R. International investment and international trade in the product cycle. Q J Econ 1966;80:190–207.

Vu T. Paths to development in Asia. Cambridge: Cambridge University Press; 2010.

Wade RH. Governing the market. Princeton: Princeton University Press; 1990.

Waldner D. State building and late development. Ithaca: Cornell University Press; 1999.

Weiss A. Culture, class and development in Pakistan. Lahore: Vangard Books; 1991.

White L. Pakistan's industrial families: the extent, causes, and effects of economic power. J Dev Stud 1974;10.

Woo-Cumings M. Race to the swift: state and finance in Korean industrialization. New York: Columbia University Press; 1991.

World Bank. (1997). World development report: the state in a changing world. Washington, DC: the World Bank.

WTO. (2012). Merchandise trade: key developments in 2012. Geneva: World Trade Organization. http://www.wto.org/english/res_e/statis_e/its2012_e/its12_merch_trade_product_e.htm, accessed November 11, 2012.

Wu Y. Rethinking the Taiwanese developmental state. China Q 2004;177:91–114.

Yong TT. The garrison state. New Delhi: Sage; 2005.
Acknowledgments
We would like to thank Pradeep Chhibber, Douglas Fuller, Peter Kingstone, Bill Kissane, Ken Shadlen, Pon Souvanneseng, participants in the South Asian Politics Colloquium at UC Berkeley and two anonymous reviewers for their comments and suggestions. Errors are entirely our own.
About this article
Cite this article
Naseemullah, A., Arnold, C.E. The Politics of Developmental State Persistence: Institutional Origins, Industrialization, and Provincial Challenge. St Comp Int Dev 50, 121–142 (2015). https://doi.org/10.1007/s12116-014-9164-0
Keywords
Developmental state

Late industrialization

Pakistan

Turkey

South Korea

Taiwan