Abstract
Canonical works and recent studies posit that authoritarian repression, like that targeting Social Democrats during the "Second Founding" of the German Empire, depends on structural factors such as landholding inequality. However, at this juncture, the role of these variables was more complex than that in the "grand sweep" of German history. Liberal support for the 1878 Antisocialist Law was the result of an interaction between the strategy of the government and structures in society at large. Public outcry surrounding an assassination attempt on the Kaiser was provoked by the Chancellor through the press, and utilized as a political instrument by calling new elections. Liberals contesting districts with high landholding inequality came under conservative pressure led by landed aristocrats, and were forced to take up stances supporting repression. This first step in the "Second Founding" of the Empire marked an important move away from liberal governance which precluded democratic reform in Imperial Germany.
Access options
Buy single article
Instant access to the full article PDF.
USD 39.95
Price excludes VAT (USA)
Tax calculation will be finalised during checkout.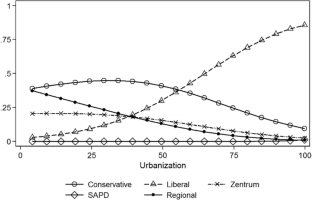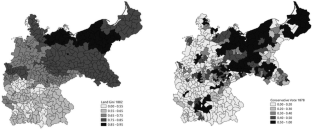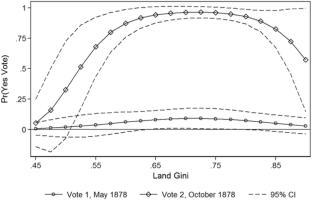 Notes
Of course, not all democratization scholars locate the determinants of regime change on the structural level, and would disagree with the structural interpretation of the German experience. For example, Gandhi and Przeworski (2007) and Svolik and Boix (2013) would emphasize the role of institutions such as political parties and the Reichstag in eliciting support of regime outsiders or sharing power with rival elites, respectively. Accounts such as those by O'Donnell and Schmitter (1986) and Przeworski (1991) would highlight the complex and uncertain nature of transitions to or away from democracy and the strategic choices of elites during these processes. In this paper, I analyze the impact of institutional dynamics, such as parliamentary elections and roll-call votes, along with elite strategies and structural forces on a concrete example of authoritarian repression.

Although they also include a brief discussion of the fragmentation of civil society in determining repression costs (ibid, pp. 191–192), they quickly move on to their primary point about the decisive role of economic factors.

By voting for the Antisocialist Law, liberals therefore decreased the "cost" of repression to the government, to use the language of Acemoglu and Robinson (2006).

Herbert Bismarck won 45.6 % of the vote to Hammacher's 50.1 %. His father was furious at the result (ibid).

This vote was characterized by a remarkably high number of liberal members reporting as "sick" or abstaining, however. Comparing this to the account given by Pack, I conclude that these members were part of a pro-government faction ("20 to 30 members" according to Pack (1961, p. 39)), within the right-leaning National Liberal party who were in favor of the bill but would not openly break party ranks. I count their votes as "yes" votes in the following statistical analysis to ensure the validity of my results. This is a similar problem to that encountered by Ziblatt (2008), and my solution is in line with his.

A robustness test which models party wins in the 1877 election gives substantively identical results.

Post-estimation analysis with SPost in Stata (Long and Freese 2006).

Interestingly, the predicted probability of a repressive vote decreases again above a landholding Gini of 0.72. Because the confidence intervals around these point estimates are very large, I do not place much emphasis on these results. However, an explanation lies in the nature of the landholding inequality data. Inequality is not only very high in areas dominated by landed Junkers, but also in large cities: Berlin and Hamburg have landholding Ginis of 0.88 and 0.85, respectively. Thus, the power of landed elites is captured perfectly only at moderately high levels of landholding inequality; at very high levels, the data could also be pointing to high population density in cities, where most people do not own any land, explaining the large confidence intervals around the predicted probabilities.
References
Acemoglu D, Robinson J. Economic origins of democracy and dictatorship. New York: Cambridge University Press; 2006.

Aghion P, Williamson JG. Growth, inequality, and globalization: theory, history and policy. Cambridge: Cambridge University Press; 1998.

Aldenhoff R. Schulze-Delitzsch: Ein Beitrag zur Geschichte des Liberalismus zwischen Revolution und Reichsgründung. Baden-Baden: Nomos Verlagsgesellschaft; 1984.

Anderson M. Practicing democracy: elections and political culture in Imperial Germany. Princeton: Princeton University Press; 2000.

Barkin KD. 1878–79: the second founding of the Reich, a perspective. Ger Hist Rev. 1989;10:219–35.

Bein A. Friedrich Hammacher: Lebensbild eines Parlamentariers und Wirtschaftsfuehrers, 1824–1904. Berlin: E.S. Mittler & Sohn; 1932.

Berman S. Modernization in historical perspective: the case of Imperial Germany. World Polit. 2001;53(3):431–62.

Blackbourn D. The German bourgeoisie: an introduction. In: Blackbourn D, Evans RJ, editors. The German bourgeoisie: Essays on the social history of the German middle class from the late nineteenth to the early twentieth century. London: Routledge; 1991. p. 1–45.

Capoccia G, Ziblatt D. The historical turn in democratization studies: a new research agenda for Europe and beyond. Comp Polit Stud. 2010;43:931–68.

Deutscher Reichstag. Stenographische Berichte über die Verhandlungen des Deutschen Reichtags 1878; Vol. 2, 3. Legislaturperiode, 55. Sitzung; Vol. 1, 4. Legislaturperiode, 1. Sitzung. Berlin: Pindter.

Eley G. Liberalism, Europe and the bourgeoisie. In: Blackbourn D, Evans RJ, editors. The German bourgeoisie: Essays on the social history of the German middle class from the late nineteenth to the early twentieth century. London: Routledge; 1991. p. 293–317.

Gandhi J, Przeworski A. Authoritarian institutions and the survival of autocrats. Comp Polit Stud. 2007;40(11):1279–301.

Gerschenkron A. Bread and democracy in Germany. Berkeley: University of California Press; 1943.

Grant O. Migration and inequality in Germany, 1870–1913. Oxford: Oxford University Press; 2005.

Haunfelder B. Die liberalen Abgeordneten des Deutschen Reichstags, 1871–1918: Ein biographisches Handbuch. Münster: Aschendorff; 2004.

Hoffmann WG. Das Wachstum der deutschen Wirtschaft seit der Mitte des 19. Jahrhunderts. Berlin: Springer; 1965.

Honaker J, Katz JN, King G. A fast, easy and efficient estimator for multiparty election data. Polit Anal. 2002;10(1):84–100.

Hunt J. Peasants, grain tariffs and meat quotas: Imperial German protectionism reexamined. Cent Eur Hist. 1974;7:311–31.

Kaudelka-Hanisch K. In: Blackbourn, Evans, editors. The titled businessman: Prussian commercial councilors in the Rhineland and Westphalia during the nineteenth century. 1991. p. 87–114.

Kuznets S. Economic growth and income inequality. Am Econ Rev. 1955;45:1–28.

Lepsius MR. Parteiensystem und Sozialstruktur: Zum Problem der Demokratisierung der deutschen Gesellschaft. In: Ritter GA, editor. Deutsche Parteien vor 1918. Cologne: Kiepenheuer and Witsch; 1973. p. 56–80.

Long JS, Freese J. Regression models for categorical dependent variables using Stata. 2nd ed. College Station: Stata Press; 2006.

Luebbert G. Liberalism, fascism or social democracy. New York: Oxford University Press; 1991.

Moore B. Social origins of dictatorship and democracy: lord and peasant in the making of the modern world. Boston: Beacon; 1966.

Nimtz A. Marx and Engels—the unsung heroes of the democratic breakthrough. Polit Soc. 1999;63:203–31.

O'Donnell, G, Schmitter PC, Whitehead L. Transitions from authoritarian rule: prospects for democracy. Baltimore: Johns Hopkins University Press; 1986.

Oncken H. Rudolf von Bennigsen: Ein deutscher liberaler Politiker, nach seinen Briefen und hinterlassenen Papieren. Vol. 2, Von 1867 bis 1902. Stuttgart and Leipzig: Deutsche Verlags-Anstalt; 1910.

Pack W. Das parlamentarische Ringen um das Sozialistengesetz Bismarcks, 1878–1890. Droste: Düsseldorf; 1961.

Pierson P. Politics in time: history, institutions, and social analysis. Princeton and Oxford: Princeton University Press; 2004.

Przeworski A. Democracy and the market. New York: Cambridge University Press; 1991.

Statistisches Reichsamt. Statistik des Deutschen Reichs. Vol. 37, Juni-Heft. Berlin: Puttkammer und Wühlbrecht; 1879.

Statistisches Reichsamt. Statistik des Deutschen Reichs. Vol. 57. Berlin: Puttkammer und Wühlbrecht; 1883.

Statistisches Reichsamt. Statistik des Deutschen Reichs. Vol. 2, N.F. Berlin: Puttkammer und Wühlbrecht; 1884.

Statistisches Reichsamt. Statistik des Deutschen Reichs. Vol. 5. N.F. Berlin: Puttkammer und Wühlbrecht; 1885.

Stürmer M. Regierung und Reichstag im Bismarckstaat 1871–1880. Droste: Düsseldorf; 1974.

Svolik M, Boix C. The foundations of limited authoritarian government: institutions, commitment, and power-sharing in dictatorships. J Polit. 2013;75(2):300–16.

Tipton FB. Farm labor and power politics: Germany, 1850–1914. J Econ Hist. 1974;34:951–79.

Tipton FB. A history of modern Germany since 1815. Berkeley: University of California Press; 2003.

Vollrath D. Land distribution and international agricultural productivity. Am J Agric Econ. 2007;89:202–16.

Williamson JG. Globalization and inequality, past and present. World Bank Res Obs. 1997;12:117–35.

Ziblatt D. Does landholding inequality block democratization? World Polit. 2008;60:610–41.

Ziblatt D. Shaping democratic practice and the causes of electoral fraud: the case of nineteenth-century Germany. Am Polit Sci Rev. 2009;103:1–21.

Ziblatt D. Electoral District Boundaries, Germany 1871–1918 [Computer file]. Retrieved from Harvard University Geospatial Library. http://hgl.harvard.edu (2007a).

Ziblatt D. Landholding inequality in Germany, at the Reichstag constituency level, and Prussian chamber of deputies constituency level, 1895 [Computer file]. Retrieved from Harvard University dataverse. http://scholar.harvard.edu/dziblatt/data (2007b).
Acknowledgments
This paper benefited greatly from input by Ben Ansell, John Freeman, Jane Gingrich, David Samuels and Dan Berliner. Jonas Bunte, Gary King, Lucas Lockhart, Andrew Lucius, August Nimtz, Adam Olson, W. Phillips Shively, Rafael Tarrago, Shawn Treier and Daniel Ziblatt all provided helpful comments and advice. Günter Hinkes at the Statistisches Bundesamt gave information on data availability. I also thank anonymous reviewers for their input.
Additional information
All remaining errors are my own.
About this article
Cite this article
Thomson, H. Landholding Inequality, Political Strategy, and Authoritarian Repression: Structure and Agency in Bismarck's "Second Founding" of the German Empire. St Comp Int Dev 50, 73–97 (2015). https://doi.org/10.1007/s12116-014-9159-x
Published:

Issue Date:

DOI: https://doi.org/10.1007/s12116-014-9159-x
Keywords