Abstract
It is now clear that the global shift toward democracy in recent decades has resulted in a highly uneven democratic landscape in which the quality and performance of democracies around the world vary greatly. In an era characterized by increasingly open borders to goods, services, information, and, at times, labor, we argue that poorly performing, uneven democracies have become an important, yet underexplored, component in one's emigration calculus. We test this argument through analysis of survey data across 22 Latin American countries and find strong and consistent evidence that both the quality of a democratic system and its ability to fulfill basic governance responsibilities influence the degree to which an individual considers emigration as a viable life strategy. These findings in turn have implications for the subsequent impact emigration may have on the democratic development of high migration communities.
Access options
Buy single article
Instant access to the full article PDF.
USD 39.95
Price excludes VAT (USA)
Tax calculation will be finalised during checkout.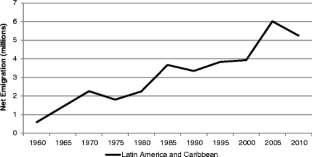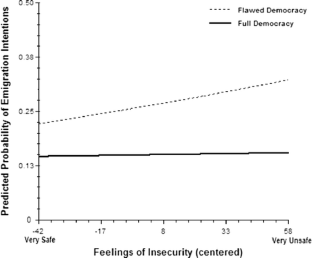 Notes
These data are also drawn from the World Bank's web source, "Migration and Remittances Factbook" compiled by Dilip Ratha and Zhimei Xu, Migration and Remittances Team, Development Prospects Group, World Bank. The Factbook's permanent URL address is: http://go.worldbank.org/U1S23A9QR0, last accessed July 23, 2013.

The AmericasBarometer is a product of the Latin American Public Opinion Project (LAPOP) at Vanderbilt University. For more information on the 2008 data used in subsequent analyses for this study, see footnote 6. Complete information on the survey instrument, methodology, and data is available at www.vanderbilt.edu/lapop/.

Data accessed at the United Nations Office on Drugs and Crime and Latin America and the Caribbean region of the World Bank's website (http://www.unodc.org), last accessed May 20, 2012.

The data analyzed in this paper were gathered through 36,501 face-to-face interviews in the following countries: Argentina, Belize, Bolivia, Brazil, Chile, Colombia, Costa Rica, Dominican Republic, Ecuador, El Salvador, Guatemala, Guyana, Haiti, Honduras, Jamaica, Mexico, Nicaragua, Panama, Paraguay, Peru, Uruguay, and Venezuela. To facilitate the data analysis, the number of cases per country was standardized to 1,500 by multiplying the original count by a weighted factor. Thus, the total number of cases was reduced to 30,000. The sample populations included all individuals eligible to vote in their respective countries and were selected based on a probabilistic and stratified sampling strategy—cases were randomly selected and stratified at two levels in each country through a multistage stratified sample design. The first stratification allowed for the inclusion of every region in each country. The second allowed for the inclusion of populations living in both urban and rural areas. Respondent households were selected based on a clustered sample design, with individuals within each household selected for interview based on the closest birthday technique, with up to three call-backs per household were carried out.

We also run separate models using 5- and 10-year averages for these measures and across all models find similar results.

The response was originally coded as 1 for those answering "yes" and 2 for "no." We subsequently recoded these values to 1 if yes and 0 otherwise, excluding missing values.

As measured by the percentage of AmericasBarometer respondents within each country reporting at least one experience with corruption in the previous 12 months (2005–2006).

The governance score reported in the table is for 2007 and is the average across the four governance indicators most relevant to our analysis: "voice and accountability," "government effectiveness," "rule of law," and "control of corruption". For more information on these measures, please see Kaufmann, et al. (1999) and the Bank's "Governance and Anti-Corruption" website at http://info.worldbank.org/governance/wgi/index.asp, last accessed July 23, 2013.

As measured by the average score from Freedom House (1994–2008) and (Polity 1994–2008).

The items include television set, refrigerator, conventional telephone, cellular telephone, vehicle, microwave oven, motorcycle, running water, indoor plumbing, and computer.

The index includes responses to a series of items asking respondents whether they have been asked for a bribe by a diverse group of public officials (e.g., teachers, police officers, health care officials). The reliability analysis for this index showed a Cronbach's Alpha of 0.669. For more information see www.lapopsurveys.org, last accessed May 20, 2012.

The contextual variable for emigration gauges the percentage of a country's population residing abroad, calculated by dividing the number of migrants abroad by each country's total population. For more information, see the United Nations Population Division Department of Economics and Social Affairs 2010 website at http://www.un.org/esa/population/migration/index.html#data, last accessed July 11, 2013.

Multilevel models presented in this paper were computed using the statistical package HLM 7. All variables were grand mean centered with the exception of "perception of insecurity," which was group-mean centered given our theoretical expectations regarding its varying effects across countries. Democracy measures by Freedom House and Polity as well as our emigration contextual variable were grand mean centered because of their continuous characteristic.

These time periods were 1999–2008 and 2004–2008.
References
Afolayan AA. Issues and challenges of emigration dynamics in developing countries. Int Migr. 2001;39(4).

Armony AC, Schamis HE. Babel in democratization studies. J Democr. 2005;16(14):114–28.

Borjas GJ. Economic theory and international migration. Int Migr Rev. 1989;23:457–85.

Clark, Ximena, Timothy J. Hatton, and Jeffery G. Williamson. 2003. What explains cross-border migration in Latin America? Discussion Paper 2012, Harvard Institute of Economic Research.

Diamond LJ. Consolidating democracy in the Americas. Ann Am Acad Polit Soc Sci. 1997;550:12–41.

Diamond LJ. Developing democracy: toward consolidation. Baltimore: Johns Hopkins University Press; 1999.

Durand J, Massey DS, Charvet F. The changing geography of Mexican immigration to the United States: 1910–1996. Soc Sci Q. 2000;81:1–15.

Fleck, Robert K. and Andrew F. Hanssen. 2005. "How bad can a government be? Neighborhood constraints and the quality of national governments." http://papers.ssrn.com/sol3/papers.cfm?abstract_id=718102. Accessed 18 Dec 2007.

Gersony R. Why Somalis flee: a synthesis of conflict experience in northern Somalia by Somali refugees, displaced person and others. Int J Refug Law. 1990;2(1):4–55.

Gervasoni C. A rentier theory of subnational regimes: fiscal federalism, democracy, and authoritarianism in the Argentine provinces. World Polit. 2010;62(2):302–40.

Gibney MJ. The ethics and politics of asylum: liberal democracy and the response to refugees. New York: Cambridge University Press; 2004.

Gibson EL. Boundary control: subnational authoritarianism in democratic countries. World Polit. 2005;58(1):101–32.

Goodman G, Hiskey J. Exit without leaving: political disengagement in high migration municipalities in Mexico. Comp Polit. 2008;40(2):169–88.

Hamilton N, Chinchilla NS. Central American migration: a framework for analysis. Lat Am Res Rev. 1991;26(1).

Helton AC. The price of indifference: refugees and humanitarian action in the new century. New York: Oxford University Press; 2002.

Herbst J. Migration, the politics of protest, and state consolidation in Africa. Afr Aff. 1990;89(355):183–203.

Hirschman AO. Exit, voice, and loyalty: responses to decline in firms, organizations, and states. Cambridge: Harvard University Press; 1970.

Hirschman A. Exit, voice and the state. World Polit. 1978;31(no. 1):17.

Hirschman AO. Exit, voice, and the fate of the German democratic republic: an essay in conceptual history. World Polit. 1993;45(2):173–202.

Hiskey JT. Demand-based development and local electoral environments in Mexico. Comp Polit. 2005;36(1):41–59.

Hoffman, Bert. 2005. Emigration and regime stability: explaining the persistence of Cuban socialism. Working Papers Global and Area Studies, No. 2. Hamburg: German Overseas Institute, Institute for Ibero-American Studies.

Huber E, Rueschemeyer D, Stephens JD. The paradoxes of contemporary democracy: formal, participatory, and social dimensions. Comp Polit. 1997;29(3):323–42.

Johnson GB, Crisp BF. Mandates, powers, and policies. Am J Polit Sci. 2003;47(1):128–42.

Kapur D. Diaspora, development, and democracy: the domestic impact of international migration from India. Princeton: Princeton University Press; 2010.

Kaufmann, Daniel, Aart Kraay, and Pablo Zoido-Lobatón. 1999. Governance matters. World Bank Policy Research Working Paper. No. 2196: 1–61.

Kaufmann, Daniel, Aart Kraay, and Massimo Mastruzzi. 2005. Governance matters IV: governance indicators for 1996–2004. World Bank Policy Research Paper, No. 3630: 1–60.

Kurtz MJ. The dilemmas of democracy in the open economy: lessons from Latin America. World Polit. 2004;56(1):262–302.

Lawson C. Mexico's unfinished transition: democratization and authoritarian enclaves in Mexico. Mex Stud/Estud Mex. 2000;16(2):267–87.

Levitsky, Steven and Lucan A. Way. The rise of competitive authoritarianism. J. Democ. 2002;13(2):51–65.

Lundquist JH, Massey DS. Politics or economics? International migration during the Nicaraguan Contra war. J Lat Am Stud. 2005;37:29–53.

Lustig, Nora. 2000. Crises and the poor: socially responsible macroeconomics. Sustainable Development Department Technical Papers Series, POV 108. Washington, DC: Inter-American Development Bank

Massey D. Social structure, household strategies, and the cumulative causation of migration. Popul Index. 1990;56:3–26.

Massey DS, Goldring LP, Durand J. Continuities in transnational migration: an analysis of nineteen communities. Am J Sociol. 1994;102:939–99.

Massey D, Arango J, Hugo G, Kouacouci A, Pellegrino A, Edward Taylor J. Worlds in motion: understanding international migration at the end of the millennium. Oxford: Clarendon; 1998.

Massey DS, Durand J, Malone NJ. Beyond smoke and mirrors: Mexican immigration in an era of economic integration. New York: Russell Sage; 2003.

McFaul M. The fourth wave of democracy and dictatorship: noncooperative transitions in the postcommunist world. World Polit. 2002;54(1):212–44.

Mishler W, Rose R. Political support for incomplete democracies: realist vs. idealist theories and measures. Int Polit Sci Rev. 2001;22(4):303–20.

O'Donnell G. Why the rule of law matters. J Democr. 2004;15(4):32–46.

Pérez-Liñán A. Presidential impeachment and the new political instability in Latin America. Cambridge: Cambridge University Press; 2007.

Pfaff S, Kim H. Exit-voice dynamics in collective action: an analysis of emigration and protest in the East German revolution. Am J Sociol. 2003;109(2):401–44.

Portes A, Hoffman K. Latin american class structures: their composition and change during the neoliberal era. Lat Am Res Rev. 2003;39.

Rodrik D. Participatory politics, social cooperation, and economic stability. Am Econ Rev. 2000;90(2):140–4.

Schedler A. "What is democratic consolidation? J Democr. 1998;9(2):91–107.

Seligson MA. The measurement and impact of corruption victimization: survey evidence from Latin America. World Dev. 2006;34(2):381–404.

Stanley WD. Economic migrants or refugees from violence? A time-series analysis of Salvadoran migration to the United States. Lat Am Res Rev. 1987;22(1):132–54.

Stark O. The migration of labor. Cambridge: Basil Blackwell; 1991.

Taylor JE. Undocumented Mexico–US migration and the returns to households in rural Mexico. Am J Agric Econ. 1987;69:626–38.

Tiebout CM. A pure theory of local expenditures. J Polit Econ. 1956;64(5):416–24.

Wood CH, Gibson CL, Ribeiro L, Hamsho-Diaz P. Crime victimization in Latin America and intentions to migrate to the United States. Am J Sociol. 2010;102:939–99.

World Bank. Global economic prospects: crisis, finance, and growth 2010. Washington, DC: The World Bank; 2010.
Acknowledgments
The authors would like to thank Javier Aparicio and Covadonga Meseguer for organizing and inviting us to be a part of the "Politics and Migration in Out-Migration Countries" workshop from which we received tremendous feedback on this work from all of the participants. We would also like to thank Katrina Burgess and Covadonga Meseguer for their tireless work as editors of this collection of works, as well as the anonymous reviewers for their insightful comments and suggestions.
Appendix 1: Principle Variables Used
Appendix 1: Principle Variables Used
Individual-Level
Socioeconomic
Years of Education: (0–18+)

Age: (16–99)

Gender: (1 = female) (0 = male)

Wealth: (0 = None of nine items) (9 = all nine items)

Size of city of residence:

Rural community (=0; reference category)

Small town (=1)

City (=1)

Big city (=1)

National capital (=1)
Economic Perceptions
Personal economic situation: "How would you describe your personal economic situation? Would you say that it is very bad, bad, neither good nor bad, good, very good?" (0 = very bad; 100 = very good)

Macroeconomic situation: "How would you describe your country's economic situation? Would you say that it is very bad, bad, neither good nor bad, good, very good?" (0 = very bad; 100 = very good)
Migration Networks
Remittances: "Do you or someone else living in your household receive remittances, that is, economic assistance from abroad?" (1 = yes; (0 = no)

Family members living abroad: "Do you have close relatives who lived before in this household and are now living abroad?

Does not have family member living abroad—reference category (=0)

Family member lives in USA (=1)

Family member lives/has lived in multiple countries (=1)

Communication with migrants: "How often do you communicate with them?

Does not have family member living abroad—reference category (=0)

Rarely or never (=1)

Frequently (=1)
Governance Indicators
Perception of insecurity: "Speaking of the neighborhood in which you live and thinking of the possibility of being assaulted or robbed, do you feel very safe, somewhat safe, somewhat unsafe or very unsafe?" (0 = "very safe"; 100 = "very unsafe")

Perception of corruption: "Taking into account your own experience or what you have heard, corruption among public officials is very common, common, uncommon or very uncommon?" (0 = very uncommon; 100 = very common)

Crime victimization: "Now, changing the subject, have you been a victim of any type of crime in the past 12 months?" (1 = yes; 0 = no)

Corruption victimization: "(1) Did any police officer ask you for bribe during the last year? (2) During the last year, did any public official ask you for a bribe? (3) During the last year, to process any kind of document (such as a license, for example) did you have to pay any money above that required by law? (4) At work, did anyone ask you for an inappropriate payment during the last year? (5) Did you have to pay a bribe in court during the last year? (6) In order to receive attention in a hospital or a clinic during the last year, did you have to pay a bribe? (7) Did you have to pay a bribe at school during the last year?" (1 = yes to any of the above questions; 0 = all others)

Government efficacy index: Comprised of the following items, (1) "To what extent do you think the courts of justice in [name of the country] guarantee a fair trial?" (2) "To what extent do you respect the political institutions?" (3) "To what extent do you think that citizens' basic rights are well protected by the political system in [name of the country]?" (4) "To what extent do you feel proud of living under the political system of (country)" (5) "To what extent do you think that citizens should support the political system of [name of the country]?" (0 = not at all; 100 = very much)

Satisfaction with democracy: "In general, would you say that you are very satisfied, satisfied, dissatisfied, or very dissatisfied with the way democracy works in [name of the country]?" (0 = very dissatisfied; 100 = very satisfied)
National Level
Average freedom House score, 1994–2008

Average polity score, 1994–2008

Relative size of migrant population: 2010 migrant population as percentage of 2010 country population.
About this article
Cite this article
Hiskey, J., Montalvo, J.D. & Orcés, D. Democracy, Governance, and Emigration Intentions in Latin America and the Caribbean. St Comp Int Dev 49, 89–111 (2014). https://doi.org/10.1007/s12116-014-9150-6
Published:

Issue Date:

DOI: https://doi.org/10.1007/s12116-014-9150-6
Keywords