Abstract
This article examines the interaction between politics and informal institutions of order in two of Africa's most violent and crime-ridden cities, Nairobi, Kenya and Lagos, Nigeria. In both cities, governments have failed to provide basic public services and security to citizens, especially to those who reside in informal settlements or slums. A variety of informal institutions, including ethnic militia and block-level vigilante groups, fulfill security and enforcement roles in these relatively ungoverned urban spaces. This article examines the differences in the character and organization of these "specialists in violence," and it argues that these differences are often integrally linked to the political strategies and aims of elites. The article makes two primary contributions to existing understandings of informal order in violent cities in the developing world. First, I find that organizations seemingly organically linked to local communities, such as ethnic militia, are strongly influenced by national-level political struggles. Violent organizations can gain a foothold and degree of legitimacy by appealing to traditional loyalties, including ethnicity, but organizations with these advantages are also attractive targets for cooptation by political actors. Secondly, both direct state repression and electoral use of militia lead to more predatory forms of interaction between these groups and local communities.
Access options
Buy single article
Instant access to the full article PDF.
USD 39.95
Price includes VAT (USA)
Tax calculation will be finalised during checkout.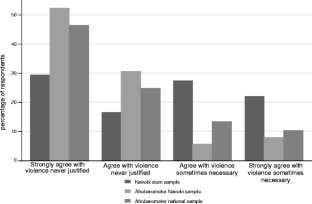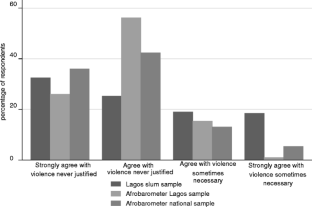 Notes
1.

In both countries, the term "vigilante" is sometimes used to refer to militia members, but it is important to keep these terms analytically distinct.

2.

Human Rights Watch (2003) contains the most detailed account of various OPC-initiated battles for the control of Lagos markets in 1999–2002. These incidents prompted the federal government's banning of the organization in 2000.

3.

4.

In this paper, the term slum is used to refer to urban communities that are characterized by poor sanitation, inadequate infrastructure, underprovision of state services (schools, police outposts, etc.), crowding and illegal subdivision of property, and high rates of poverty.

5.

Do these differences in urban geography matter for the dynamics of urban violence and order? Because slums are less clearly demarcated in Lagos, it might be marginally harder to organize the kind of targeted, large-scale state repression pursued by the Kenyan state. On the other hand, abuse and extortion by police forces remain endemic in Lagos, despite the slightly greater economic diversity of slum neighborhoods. Yet, it seems unlikely that more demarcated slums would have large effects on vigilante or militia organization.

6.

For more on the violence associated with the 1992 and subsequent elections, see Republic of Kenya (1999) and KHRC (1998).

7.

Interview with Oleng Sana, July 18, 2006; focus groups, Mukuru, May 30, 2008; Kisumu (III), June 6, 2008.

8.

Focus group, Huruma (I), June 3, 2008.

9.

Field notes, Mathare Valley, June 2008; field notes and conversations with survey enumerators, Kayole, July 2010.

10.

For the statement of the UN Special Rapporteur on extrajudicial and summary executions, see "UN condemns executions carried out by Kenyan police," The Guardian, February 25, 2009.

11.

For a discussion of Mungiki's organizational structure prior to repression, see Landinfo (2010). The major shift seems to have been in the direction of an increasingly cellular structure—with smaller platoons—at the local level.

12.

My material in this section is based to a great extent on an interview with one such "rotated" Mungiki member. Interview with M., Kayole (Nairobi), April 16, 2009. Readers should take this evidence as tentative, though it is consistent with other material collected during fieldwork.

13.

It is unclear whether this is a reference to the Mungiki Defence Council, an allegedly armed wing of the movement, which is occasionally mentioned in press accounts.

14.

Kibera is a predominantly Luo slum with no known Mungiki presence. There are two villages within Kibera that are predominantly Kikuyu, and these villages were targeted for attacks and property destruction.

15.

Indeed, in July 2010, Mungiki attempted to "tax" this researcher's survey enumerators at the entrance to Kayole, within full sight of the main road, and local residents reported that police did not enter the slum due to Mungiki presence.

16.

Workshop, "Improving Revenue Generation through Taxation in Nigeria." Convened by the author, CLEEN, and the Nigerian Governors Forum. Abuja, Nigeria. October 9, 2012.

17.

The Nairobi slums selected were Dandora, Githurai, Kangemi, Kawangware, Kayole, and Kibera. For more details on the organization of the survey, see LeBas (2010).

18.

The 5 slums included in the analysis (N = 480) are Agege, Ajegunle, Isale Eko, Makoko, and Mushin.

19.

For a crucial question regarding the acceptability of violence, I use round 3.5 of the Afrobarometer, as the question does not appear on round 4 of the survey. Round 3.5 was conducted in January of 2007, prior to the 2007 federal and state elections.

20.

In terms of the national political environment, riots broke out in the central Nigerian city of Jos in November 2008. The riots resulted in several hundred deaths and up to 10,000 displaced, and they may have activated religious and ethnic divisions across the country.

21.

For example, food insecurity in the Lagos slum sample is roughly equivalent to that in the Afrobarometer's overall Lagos sample.

22.

There is not a comparable question in the Afrobarometer round 4, which instead simply asks how often respondents feared crime in their homes. In Nairobi, 44.3 % of respondents said that they had felt this fear several times, many times, or always. In the slum sample, in a roughly comparable question, about 27 % reported that they felt either "very unsafe" or "somewhat unsafe" when sleeping at night.

23.

Focus group discussions, Makoko, July 22, 2010; Badia (Apapa), July 21, 2010. Field notes, July 2010. This level of associational life—and, especially, party activity—seems constant across Lagos State. Focus group, Ikorodu, July 14, 2010.

24.

Because this question was not asked in round 4 of the Afrobarometer, I have had to use data from the round 3.5 survey in Nigeria, which was completed in January 2007. It seems unlikely that differences could be due to the lag between these surveys.
References
Adebanwi W. The carpenter's revolt: youth, violence and the reinvention of culture in Nigeria. J Mod Afr Stud. 2005;43:339–66.

Akinyele RT. Ethnic militancy and national stability in Nigeria: a case study of the Oodua People's Congress. Afr Aff. 2001;100:623–40.

Akpan U. Baptizing the gun. The New Yorker; January 4, 2010; p. 56–65.

Alemika E, Chukwuma I. Criminal victimization and fear of crime in Lagos metropolis, Nigeria. CLEEN Foundation Monograph Series 2005; No. 1, Lagos, Nigeria.

Anderson D. Vigilantes, violence and the politics of public order in Kenya. Afr Aff. 2002;101:531–55.

Arias E. Drugs and democracy in Rio de Janeiro: trafficking, social networks, and public security. Chapel Hill: University of North Carolina Press; 2006.

Arias E. The impacts of differential armed dominance of politics in Rio de Janeiro, Brazil. Studies in Comparative International Development 2013;48(3). doi:10.1007/s12116-013-9137-8.

Bhavnani R, Backer D. Social capital and political violence in Sub-Saharan Africa. Afrobarometer Working Paper 2007; No. 90, East Lansing, MI.

Gambetta D. The Sicilian mafia: the business of private protection. Cambridge: Harvard University Press; 1996.

Guichaoua Y. Self-determination group or extra-legal governance agency? The multifaceted nature of the Oodua People's Congress in Nigeria. J Int Dev. 2009;21:520–33.

Guichaoua Y. How do ethnic militias perpetuate in Nigeria? A micro-level perspective on the Oodua People's Congress. World Dev. 2010;38:1657–66.

Harnischfeger J. The Bakassi boys: fighting crime in Nigeria. J Mod Afr Stud. 2003;41:23–49.

Human Rights Watch. The O'odua People's Congress: fighting violence with violence. Vol. 15. New York: Human Rights Watch; 2003.

Ikelegbe A. The perverse manifestation of civil society: evidence from Nigeria. J Mod Afr Stud. 2001;39:1–24.

International Crisis Group. Lessons from Nigeria's 2011 elections. Africa Briefing No. 81. Brussels: International Crisis Group; 2011.

Ismail O. The dialectic of "junctions" and "bases": youth, "securo-commerce" and the crises of order in downtown Lagos. Sec Dialogue. 2009;40:463–87.

Kagwanja P. Facing Mount Kenya or facing Mecca? The Mungiki, ethnic violence and the politics of the Moi succession in Kenya, 1987–2002. Afr Aff. 2003;102:25–49.

Kagwanja P. Power to Uhuru: youth identity and generational politics in Kenya's 2002 elections. Afr Aff. 2006;105:51–75.

Kanneworff A. "Those dread-locked gangsters": the Mungiki as dramatic actors in Kenya's public arena. In: Abbink J, van Dokkum A, editors. Dilemmas of development: conflicts of interest in modernizing Africa. Leiden: African Studies Centre; 2008.

Katumanga M. A city under siege: banditry & modes of accumulation in Nairobi, 1991–2004. Rev Afr Polit Econ. 2005;106:505–20.

Kenya Human Rights Commission. Killing the Vote: State Sponsored Violence and Flawed Elections in Kenya. Nairobi: Kenya Human Rights Commission; 1998.

Kirwin M, Cho W. Weak states and political violence in Sub-Saharan Africa. Afrobarometer Working Paper 2009; No. 111, East Lansing, MI.

Landinfo. Kenya: Mungiki—abusers or abused? Report of the Country of Origin Information Centre; 2010. Oslo, Norway.

LeBas A. From protest to parties: party-building and democratization in Africa. Oxford: Oxford University Press; 2011.

LeBas A. Ethnicity and the willingness to sanction violent politicians: evidence from Kenya. Afrobarometer Working Paper 2010; No. 125, East Lansing, MI.

Meagher K. Hijacking civil society: the inside story of the Bakassi Boys vigilante group of south-eastern Nigeria. J Mod Afr Stud. 2007;45:89–115.

Mkutu KA. Guns & governance in the Rift Valley: pastoralist conflict & small arms. London: James Currey; 2008.

Momoh A. Youth culture and area boys in Lagos. In: Jega A, editor. Identity transformation and identity politics under structural adjustment in Nigeria. Uppsala: Nordiska Afrikainstitutet; 2000.

Momoh A. The political dimension of urban youth crisis: the case of the area boys in Lagos. In: Fourchard L, editor. Sécurité, crime, et ségrégation dans les villes d'Afrique de l'Ouest du XIX siècle à nos jours. Paris: Karthala; 2003.

Moncada E. Introduction: the politics of urban violence: challenges to development in the Global South. Studies in Comparative International Development 2013;48(3). doi:10.1007/s12116-013-9133-z.

Mueller S. The political economy of Kenya's crisis. J E Afr Stud. 2008;2:185–210.

Mutahi P. Political violence in the elections. In: Maupeu H, Katumanga M, Mitullah W, editors. The Moi succession: the 2002 elections in Kenya. Nairobi: Transafrica Press & L'Institut français de recherche en Afrique; 2005.

Mwagiru M, Sana O, Njau K. Facts about Majeshi ya Wazee. Nairobi: Centre for Conflict Research & Friedrich Ebert Stiftung; 2002.

Olaniyi RO. Hisbah and Sharia law enforcement in metropolitan Kano. Afr Today. 2011;57:70–96.

Osborn M. Fuelling the flames: rumour and politics in Kibera. J E Afr Stud. 2008;2:315–27.

Posen B. The security dilemma and ethnic conflict. Survival. 1993;35:27–47.

Pratten D. The Agaba Boys: gang culture and radical insecurity in Nigeria. Working paper, University of Oxford; 2009.

Pratten D, Sen A. Global vigilantes. New York: Columbia University Press; 2008.

Rasmussen J. Mungiki as youth movement: revolution, gender and generational politics in Nairobi, Kenya. Young. 2010;18:301–19.

Rasmussen J. Inside the system, outside the law: operating the Matatu sector in Nairobi. Urb Forum. 2012;23:415–32.

Republic of Kenya. Report of the judicial commission appointed to inquire into tribal clashes in Kenya (Akiwumi report). Nairobi: Government Printers; 1999.

Smith D. The Bakassi Boys: vigilantism, violence, and political imagination in Nigeria. Cult Anthropol. 2004;19:429–55.

Smith D. A culture of corruption: everyday deception and popular discontent in Nigeria. Princeton: Princeton University Press; 2007.

Throup D, Hornsby C. Multi-party politics in Kenya: the Kenyatta and Moi States and the triumph of the system in the 1992 election. Athens: Ohio University Press; 1998.

Ukiwo U. Politics, ethno-religious conflicts and democratic consolidation in Nigeria. J Mod Afr Stud. 2003;41:115–38.

UN-HABITAT. Crime in Nairobi: results of a citywide victim survey. UN-HABITAT/Safer Cities Working Paper Series No. 4 (September 2002), Nairobi, Kenya; 2002.

Varese F. The Russian mafia: private protection in a new market economy. Oxford: Oxford University Press; 2001.

Vigil JD. Urban violence and street gangs. Ann Rev Anthropol. 2003;32:225–42.

Volkov V. Violent entrepreneurs: the use of force in the making of Russian capitalism. Ithaca: Cornell University Press; 2002.

Waki Report. Commission of Inquiry into the Post-Election Violence Final Report. Nairobi: Republic of Kenya; 2008.

Wamue G. Revisiting our indigenous shrines through Mungiki. Afr Affairs 2001;100:453–67.

Weinstein L. Demolition and dispossession: toward an understanding of state violence in Millennial Mumbai. Studies in Comparative International Development 2013;48(3). doi:10.1007/s12116-013-9136-9.

World Bank. Violence in the city: understanding and supporting community responses to urban violence [updated edition]. Washington, DC: World Bank; 2011.
Acknowledgments
The author thanks Eduardo Moncada, participants at the 2011 conference "Violent Cities" at Brown University, the journal editors, and two anonymous reviewers for their comments on an earlier version of this paper. The Nairobi and Lagos survey data mentioned in this paper were funded by grants from the John Fell Fund, the Centre for the Study of African Economies at Oxford University, and the Department for International Development (DFID, UK).
About this article
Cite this article
LeBas, A. Violence and Urban Order in Nairobi, Kenya and Lagos, Nigeria. St Comp Int Dev 48, 240–262 (2013). https://doi.org/10.1007/s12116-013-9134-y
Keywords
Violence

Urban governance

Ethnicity

Policing

State capacity

Militia