Abstract
The paper investigates the interplay of economic development and democratization in Russian regions. It introduces the new concept of a limiting factor, i.e., a particular resource with a highly localized source that is crucial for economic development. Based on both econometric analysis and detailed case studies, the paper shows that for a large subset of Russian regions, access to trade with the countries of the former Soviet Union constitutes a limiting factor, which on one hand is necessary to sustain economic growth but on the other strengthens the likelihood of a nondemocratic outcome in local regime transition. We also provide some tentative conjectures regarding other instances of a limiting factor that can be found worldwide both currently and historically.
Access options
Buy single article
Instant access to the full article PDF.
US$ 39.95
Tax calculation will be finalised during checkout.
Subscribe to journal
Immediate online access to all issues from 2019. Subscription will auto renew annually.
US$ 79
Tax calculation will be finalised during checkout.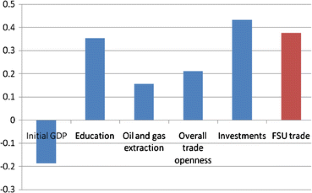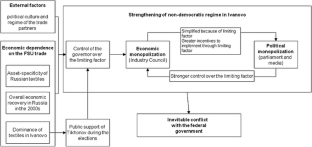 Notes
1.

The limiting factor concept was introduced in ecological economics to describe a case where productivity (e.g., a crop yield) is determined by the least available factor.

2.

For example, Teorell (2010) looks at how democratization is affected by trade with key democratic and hegemonic nondemocratic countries and, although establishes a negative effect of the overall trade openness on democratization, does not find a significant effect of trade with particular countries.

3.

Asset specificity has already been considered in studies on political regime transition, but in a context very different from that of this paper: to describe the extent of the "international" mobility of capital and labor (Boix 2003; Boix and Stokes 2003; Acemoglu and Robinson 2006; Ansell and Samuels 2010; Freeman and Quinn 2012).

4.

Whether this is feasible in the long run is subject to intensive scholarly debate (e.g., Gehlbach and Keefer 2011), but in the short run, it may be feasible and may discourage investments in alternative industries.

5.

Russian regions are relatively competitive internationally only if they possess substantial natural resources. If it is not the case, their machinery can typically be sold either to each other, due to technological complementarities, or to certain developing countries. The fact that uncompetitive manufacturing in conjunction with international trade can lead to autocratic consolidation has been explored, although from an entirely different view, by O'Donnell (1973).

6.

It is interesting to note that our argument bears some similarity to the theory of vertical integration in economics, which is used to explain the existence of firms and also relies on the notion of asset specificity (see, e.g., Rajan and Zingales 1998). For other papers establishing the parallels between this theory and the logic of politics, see Lake (2009) and Congleton (2010).

7.

The FSU countries are defined here as all former republics of the USSR with the exception of Latvia, Lithuania, and Estonia.

8.

Much more so than in any market economy, where companies would attempt to escape such a massive concentration on a particular buyer or supplier to avoid complete dependence—in the Soviet Union, where the entire economy worked as a single factory, the problem was not considered.

9.

10.

The annual variation in growth is generally considered to be strongly influenced by specific contemporaneous factors and is therefore not applicable for quantitative analysis. Because we are estimating the regressions for a relatively small sample, we checked the normality of the residuals using the Jarque–Bera test. The standard procedure is then to exclude observations until Jarque–Bera becomes insignificant and treat only the results robust to this procedure as being worth interpreting. In our case, our key findings passed this test in all cases.

11.

12.

Furthermore, we implement a set of further robustness checks, reported in the Appendices C (additional controls), E (an alternative measure of FSU trade) and F (an alternative timeframe) of the Electronic Supplementary Material, which entirely confirm the main findings reported above: we estimate regressions for the period of 2000–2004 (i.e., before the elections of governors were abolished); use FSU trade per unit of GDP as an explanatory variable; exclude outliers; control for the industrial structure of trade, location, and climatic conditions of the regions, as well as degree of industrial decline in the 1990s.

13.

14.

This information comes from an interview with Dr. Elena Kuzmina, a senior researcher at the Institute of Economics of the Russian Academy of Sciences and a recognized expert in Russia in the area of Russian Central Asian trade, conducted on 10 January 2011, Moscow. It was also verified by the mass media.

15.

16.

The interviews also stated that textile enterprises that could not access trade channels with the FSU became bankrupt, were shut down, and merged with larger enterprises.

17.

Left-wing parties are not necessarily associated with nondemocratic or authoritarian rule. However, in the case of post-Soviet Russia, the Communist Party is a direct descendent of the Communist Party of the Soviet Union with approximately the same set of goals, political priorities, ideology, and governing style (see for example Hutcheson 2003). The governing style was meant to be an imitation of the hierarchical and authoritarian Soviet style.

18.

19.

The interview was recorded via telephone on 23 July 2010 (Moscow–Ivanovo). The failure of negotiations was explained though the traditional cultural lens of the interviewee: the absence of an important political leader in a delegation from Ivanovo to Uzbekistan was perceived by the accepting side as a lack of respect and a lack of a serious attitude.

20.

Presumably, the interviewee meant the company was previously owned by the governor, Shuiskie Sitsy. However, we should be cautious because this statement represents an opinion rather than an unambiguous fact.

21.

This outcome is not particularly surprising. Because Uzbekistan remains a country where both the economy and society are under strict governmental control, the presence of public officials at trade negotiations is to be expected. Furthermore, because Ivanovo had a somewhat weaker position in the network of mutual dependence (as described above), this region had to adjust. The reviews of the media and the interviews confirm that the regional government was fully aware of this task and was actively engaged in negotiations.

22.

Interview held on 17 July 2009

23.

See, for example, Tikhonov's interview in the Communist newspaper Pravda, 27 July 2003: most of the text is devoted to textiles. Tikhonov even supervised individual exhibitions and fairs in the textile industry (see Shveinaya Promyshlennost 2003, p. 1).

24.

In a press interview after his resignation, Grishin openly stated that he believes Tikhonov to be supported by the powerful textile tycoons (literally, "people with big money"). Specifically, he mentioned Dmitriy Siganov and Arkadiy Zlatkin, as well as Yuriy Yablokov (Yakovlevskiy Textiles Plant). He also claimed that he expects that this alliance will not last long (Chastnki.ru, 2 February 2003). However, Grishin's prediction was not fulfilled; the textile industry seems to have continued to provide support to Tikhonov (Ivanovo-Voznesensk, 18 May 2004).

25.

26.

The Carnegie rating, which we will discuss below, places both of them among the top five Russian regions with respect to democracy.

27.

With some exceptions regarding commodity exports and trade ties to Central and Eastern Europe, which, however, turned out to be much less persistent than trade with the FSU.

28.

The role of trade with China, which is substantial for some Russian regions, also deserves attention. Similar to trade with the EU, it is not based on persistent technological complementarities and emerged only recently. In addition, a large portion of trade with China is informal cross-border transactions, which are difficult to monitor and control. In the case of Perm, this is unlikely to be the case: Chinese imports from Perm mostly consist of the products of the manufacturing and chemical industries. Nonetheless, the role played by China is by far less dominant for Perm than the role Uzbekistan plays for Ivanovo, and thus, no limiting factor effects are present.

29.

The Carnegie index includes ten components measuring political pluralism, the competitiveness of elections, freedom of the media, regional political organization, independence of municipalities, openness of regional political life, composition of regional elites, advancement of civil society, corruption, and economic liberalization. Seven components seem to fit any generally acceptable definition of democracy; the independence of municipalities is important for subnational democratization; finally, corruption and economic liberalization can be argued to be related rather to economic than to political reforms; however, after we drop these two components, our results remain the same. For details see Appendix B of the Electronic Supplementary Material.

30.

Appendix G of the Electronic Supplementary Material investigates the same problem using a different approach and comes to identical conclusions. As a further piece of evidence, we estimate a set of simultaneous equations explaining both economic growth and regime transitions in the Russian regions. The results are reported in Appendix D of the Electronic Supplementary Material and indicate that in Russia trade with the FSU simultaneously increases economic growth and reduces the level of democracy within individual regions, in line with our expectations. See also Obydenkova and Libman (2012).

31.

Control over limiting factors can serve as yet another strategy for territorial control (Gibson 2005).

32.

Thus, the dynamics of these regimes are influenced by (a) the ability of the political leaders to control the limiting factor and (b) the potential for economic growth driven by the limiting factor. In Belarus, in the same way, worsening political relations with Russia in the late 2000s contributed to a more cautious position on the part of Russia in terms of providing cheap energy (Moshes 2010) and the economic difficulties the country experienced in 2011, which could become a challenge for Lukashenka regime.

33.

Numerous studies have examined the causal link from democracy to economic growth (Sirowy and Inkeles 1990; Przeworski and Limongi 1993; Helliwell 1994; Feng 1997; Tavares and Wacziarg 2001; Doucouliagos and Ulubasoglu 2008; Sloan and Tedin 1987; Barro 1996; Persson and Tabellini 2006); from economic growth to democracy (Lipset 1959; Boix 2003; Inglehart and Welzel 2005; Acemoglu and Robinson 2006); from political transition to growth (Rodrik 2000; Fidrmuc 2003; Rodrik and Wacziarg 2005; Papaioannou and Siourouins 2008; Persson and Tabellini 2008; Giavazzi and Tabellini 2005); from growth to political transition (Przeworski et al. 2000; Boix and Stokes 2003; Epstein et al. 2006); and from growth to a public demand for democracy (Evans and Whitefield 1995; Duch 1995; Minier 2006).
References
Acemoglu D, Robinson J. Economic origin of dictatorship and democracy. Cambridge: Cambridge University Press; 2006.

Ahrend R. Speed of reform, initial conditions or political orientation? Explaining Russian regions' economic performance. Post-Comm Eco. 2005;17:289–317.

Ansell B, Samuels D. Inequality and democratization: a contractarian approach. Comp Political Stud. 2010;43:1543–74.

Bahry D. The new federalism and the paradoxes of regional sovereignty in Russia. Comp Politics. 2005;37:127–46.

Baldwin R. Hysteresis in trade. Empir Econ. 1990;15:127–42.

Barbalich K. Sugar and democracy in Fiji: the material foundations of post-colonial authoritarianism 1970–2005. Mimeo; 2009.

Barro RJ. Democracy and growth. J Econ Growth. 1996;1:1–27.

Bennett A, Elman C. Qualitative research: recent developments in case study method. Annu Rev Political Sc. 2006;9:455–76.

Berkowitz D, DeJong DN. Policy reform and growth in post-Soviet Russia. Eur Econ Rev. 2003;47:141–56.

Bhattacharjea A. Imperial legacy: the persistence of colonial trade patterns. Mimeo 2004.

Blanchard O, Kremer M. Disorganization. Q J Econ. 1997;112(1997):1091–126.

Boix C. Democracy and redistribution. Cambridge: Cambridge University Press; 2003.

Boix C, Stokes SC. Endogenous democratization. World Politics. 2003;55:517–49.

Brady HE, Collier D, Seawright J. Towards a pluralistic vision of methodology. Polit Anal. 2006;14:363–58.

Cai H, Treisman D. State corroding federalism. J Public Econ. 2004;88:819–43.

Cao X, Greenhill B, Prakash A. Where is the tipping point? Bilateral trade and the diffusion of human rights. Br J Political Sci. 2013;43:133–56.

Chebankova E. The limitations of central authority in the regions and the implications for the evolution of Russia's federal system. Europe-Asia Stud. 2005;57:933–49.

Collins K. Economic and security regionalism among patrimonial authoritarian regimes: the case of Central Asia. Europe-Asia Stud. 2009;61(2).

Congleton RD. Perfecting parliament. Cambridge: Cambridge University Press; 2010.

Dimitrov MK. Popular autocrats. J Democr. 2009;20:78–21.

Dininio P, Orttung RW. Explaining patterns of corruption in the Russian regions. World Politics. 2005;57:500–29.

Doorenspleet R, Kopecky P. Against the odds: deviant cases of democratization. Democratization. 2008;15:697–713.

Doucouliagos C, Ulubasoglu M. Democracy and economic growth: a meta-analysis. Am J Political Sci. 2008;52:61–83.

Duch RM. Economic chaos and the fragility of democratic transition in former communist regimes. J Politics. 1995;57:121–58.

Egorov G, Guriev S, Sonin K. Why resource-poor dictators allow freer media: a theory and evidence from panel data. Am Political Sci Rev. 2009;103:645–68.

Epstein DL, Bates R, Goldstone J, Kirstensen I, O'Halloran S. Democratic transitions. Am J Political Sci. 2006;50:551–69.

Evans G, Whitefield S. The politics and economics of democratic commitment: support for democracy in transition societies. Br J Political Sci. 1995;25:485–514.

Feng Y. Democracy, political stability and economic growth. Br J Pol Sci. 1997;27:391–418.

Fidrmuc J. Economic reform, democracy and growth during post-communist transition. Eur J Polit Econ. 2003;19:583–604.

Fish MS. The Inner Asian anomaly: Mongolia's democratization in comparative perspective. Communist and Post-Communist Stud. 2001;34:323–38.

Frankel JA. Regional trading blocs in the world economic system. Washington: Petersen Institute for International Economics; 1997.

Freeman JR, Quinn DP. The economic origins of democracy reconsidered. Am Political Sci Rev. 2012;106:58–80.

Frye TJ. Building states and markets after communism: the perils of polarized democracy. Cambridge: Cambridge University Press; 2010.

Frye T. In from the cold: institutions and causal inference in postcommunist studies. Annu Rev Pol Sci. 2012;15:245–63.

Gaddy CG, Barry WI. Russia's virtual economy. Washington: Brookings Institute Press; 2002.

Gehlbach S, Keefer P. Investment without democracy: ruling-party institutionalization and credible commitment in autocracies. J Comp Econ. 2011;39:123–39.

Gel'man V. Regime transition, uncertainty, and prospects for democratization: the politics of Russia's regions in comparative perspective. Europe-Asia Stud. 1999;51:939–656.

Gel'man V, Lankina T. Authoritarian versus democratic diffusions: explaining institutional choices in Russia's local government. Post-Soviet Affairs. 2008;24:40–62.

Gel'man V, Senatova O. Political dynamics in Russian province: trends since October 1993. Contemporary Political Stud. 1995;1:435–44.

Gervasoni C. A rentier theory of subnational regimes: fiscal federalism, democracy, and authoritarianism in the Argentine provinces. World Politics. 2010;62:302–40.

Giavazzi F, Tabellini G. Economic and political liberalization. J Monet Econ. 2005;52:1297–330.

Gibson EL. Boundary control: subnational authoritarianism in democratic countries. World Politics. 2005;58:101–32.

Haber S, Melando V. Do natural resources fuel authoritarianism? A reappraisal of the resource curse. Am Political Sci Rev. 2011;105:1–26.

Helliwell JF. Empirical linkages between democracy and economic growth. Br Pol Sci. 1994;24:225–48.

Hellman JS. Winners take all: the politics of partial reform in postcommunist transition. World Politics. 1998;50:203–34.

Hutcheson DS. Political parties in the Russian regions. London: Routledge; 2003.

Inglehart R, Welzel C. Modernization, cultural change, and democracy. The human development sequence. Cambridge: Cambridge University Press; 2005.

Kryshtanovskaya O, White S. The rise of Russian business elite. Communist and Post-Communist Stud. 2005;38:293–307.

Lake DE. Hobbesian hierarchy: the political economy of political organization. Annu Rev Political Sci. 2009;12:263–84.

Lankina T. Explaining European Union aid to Russia. Post-Soviet Affairs. 2005;21:309–34.

Lankina T, Getachew L. A geographic incremental theory of democratization: territory, aid, and democracy in postcommunist regions. World Politics. 2006;58:536–82.

Libman A. Democracy, size of bureaucracy, and economic growth: evidence from Russian regions. Empir Econ. 2012;43:1321–52.

Lieberman ES. Nested analysis as a mixed-method strategy for comparative research. Am Political Sci Rev. 2005;99:435–52.

Lipovsky I. The central Asian cotton epic. Cent Asian Sur. 1995;14:529–42.

Lipset SM. Some social requisites of democracy: economic development and political legitimacy. Am Political Sci Rev. 1959;53:69–105.

Mahoney J. After KKV: the new methodology of qualitative research. World Politics. 2010;62:120–47.

McMann K. Economic autonomy and democracy: hybrid regimes in Russia and Kyrgyzstan. Cambridge: Cambridge University Press; 2006.

Melvin NJ. Uzbekistan: transition to authoritarianism on the silk road. Amsterdam: Harwood Academic Publishers; 2000.

Milner HV, Mukherjee B. Democratization and economic globalization. Annu Rev Political Sci. 2010;12:163–81.

Minier JA. Is democracy a normal good? Evidence from democratic movements. South Econ J. 2006;67:996–1009.

Morrison C. Ownership and management in holding companies and the future of the Russian textile industry. Post-Communist Economies. 2007;19:167–87.

Morrison KM. What can we learn about the "resource curse" from foreign aid? World Bank Res Observer. 2012;27:52–73.

Moses JC. Political-economic elites and Russian regional elections 1999–2000: democratic tendencies in Kaliningrad, Perm and Volgograd. Europe-Asia Stud. 2002;54:905–31.

Moshes A. Avenue of independence. Russia in Global Affairs. 2010;2:97–110.

Nygren B. The rebuilding of Greater Russia: Putin's foreign policy towards the CIS countries. Abingdon: Routledge; 2008.

Obydenkova A. Regime transition in the regions of Russia: the freedom of mass media: transnational impact on sub-national democratization? Eur J Political Res. 2008;47:221–16.

Obydenkova A. Democratization at the grassroots: the European Union's external impact. Democratization. 2012;19:230–57.

Obydenkova A, Libman A. The impact of external factors on regime transition: lessons from the Russian regions. Post-Soviet Affairs. 2012;28:346–401.

O'Donnell G. Modernization and bureaucratic authoritarianism. Berkeley: UC Berkeley Press; 1973.

Orttung RW. Business and politics in the Russian regions. Problems of Post-Communism. 2004;51:48–60.

Papaioannou E, Siourouins G. Democratization and growth. Econ J. 2008;118:1520–51.

Persson T, Guido T. The growth effects of democracy: is it heterogenous and how can it be estimated? In: Helpman E, editor. Institutions and economic performance. Cambridge: Harvard University Press; 2008.

Persson T, Tabellini G. Democracy and development: the devil in the details. Am Econ Rev. 2006;96:319–24.

Popov V. Reform strategies and economic performance of Russia's regions. World Dev. 2001;29:865–86.

Przeworski A, Limongi F. Political regimes and economic growth. J Econ Perspect. 1993;7:51–69.

Przeworski AM, Alvarez E, Cheibub JA, Limongi F. Democracy and development: political institutions and well-being in the world, 1950–1990. Cambridge: Cambridge University Press; 2000.

Rajan RG, Zingales L. Power in a theory of the firm. Q J Econ. 1998;113:387–432.

Remington TF. The politics of inequality in Russia. Cambridge: Cambridge University Press; 2011.

Rodrik D. Institutions for high-quality growth: what they are and how to acquire them. Stud Comp Int Dev. 2000;35:3–31.

Rodrik D, Wacziarg R. Do democratic transitions produce bad economic outcomes? Am Econ Rev. 2005;95:50–5.

Ross ML. Does oil hinder democracy? World Politics. 2001;53:325–61.

Sandberg H., Mikael. The impact of historical and regional networks on trade volumes within the Western hemisphere: a gravity analysis across sectors. Mimeo. 2012

Shleifer A, Vishny R. Politicians and firms. Q J Econ. 1993;109:995–1025.

Silitski V. Preempting democracy: the case of Belarus. J Democr. 2005;16:83–97.

Sirowy L, Inkeles A. The effects of democracy on economic growth and inequality: a review. Stud Comp Int Dev. 1990;25:126–57.

Sloan J, Tedin KL. The consequences of regimes type for public policy output. Comp Political Stud. 1987;20:98–124.

Small ML. How to conduct a mixed methods study: recent trends in a rapidly growing literature. Annu Rev Sociol. 2011;37:57–86.

Snyder R. Scaling down: the subnational comparative method. Stud Comp Int Dev. 2001;36:93–110.

Spechler MC. The political economy or reform in Central Asia: Uzbekistan under authoritarianism. Abingdon: Routledge; 2008.

Stoner-Weiss K. Foreign direct investment and democratic development in the Russian provinces: a preliminary analysis. Policy Studies J. 2000;28:96–113.

Stoner-Weiss K. Resisting the state: reforms and retrenchment in post-Soviet Russia. Cambridge: Cambridge University Press; 2006.

Tavares J, Wacziarg R. How democracy affects growth. Eur Econ Rev. 2001;45:1341–87.

Teorell J. Determinants of democratization: explaining regime change in the world, 1972–2006. Cambridge: Cambridge University Press; 2010.

Treisman D. Russia's ethnic 'revival'—the separatist activism of regional leaders in a postcommunist order. World Politics. 2007;49:212–49.

Van Selm B. Economic performance in Russia's regions. Europe-Asia Stud. 1998;50:603–18.

Verwimp P. The political economy of coffee, dictatorship, and genocide. Eur J Polit Econ. 2003;19:161–81.

Wiig A, Kolstad I. If diversification is good, why don't countries diversify more? Energy Policy. 2012;40:126–203.

Williamson O. Markets and hierarchies: analysis and antitrust implications: a study in the economics of internal organization. London: Collier–MacMillan; 1975.

Wittfogel KA. Oriental despotism—a comparative study of total power. Yale: Yale University Press; 1957.

Zabello, Yaroslava, and Alexander Sobyanin (2004). Regiony Rossii v Kazakhstane i Srednei Asii: Pravila Effektivnogo Sotrudnichestva. Transkaspiyskiy Proekt, April
Acknowledgments
The authors are grateful to the editors and two anonymous referees for very helpful comments and feedback on our paper. We also appreciate the insightful feedback from Carles Boix, Kathleen Collins, Stephen E. Hanson, Konstantin Sonin, and Nikolay Marinov. The paper had been presented at the conferences of the International Political Science Association (Madrid 2012), American Political Science Association (Seattle, September 2011), and the Council for European Studies (Boston, March 2012). We also acknowledge the financial support of the Ministry of Innovation and Science of Spain (Ramon y Cajal Programme) and Universitat Pompeu Fabra of Barcelona provided for this project.
Electronic Supplementary Material
About this article
Cite this article
Libman, A., Obydenkova, A. International Trade as a Limiting Factor in Democratization: an Analysis of Subnational Regions in Post-Communist Russia. St Comp Int Dev 49, 168–196 (2014). https://doi.org/10.1007/s12116-013-9130-2
Keywords
Limiting factor

Democratization

International trade

Nested analysis

Russian regions