Abstract
Neither the ECOWAS Common approach nor single-country unilateralism offers consistent and dependable systems for effective migration governance in West Africa. Both approaches derive from neo-realist and neo-liberal frameworks and produce incoherent, contradictory, and conflicting migration systems which adversely affect the quality of transborder mobility, governance, and security. Using the case of Nigeria and the Republic of Benin, this article applies social constructivism to argue for a third approach to migration governance: one in which neighboring or bordering states implement flexible, coherent, and hybrid migration systems based on the specificities of their cultural, political, and economic needs, while adapting to the common regional approach and foregoing their distinct unilateralism. The constructivism-based approach focuses on four dimensions underpinning exclusively flexible and mutually acceptable migration standards: (i) joint transborder security and policing, (ii) joint rehabilitation of dilapidated and porous transboundary areas, (iii) bilateral harmonization of immigration laws and policies, and (iv) protection of immigrants' social rights.
Access options
Buy single article
Instant access to the full article PDF.
USD 39.95
Price includes VAT (USA)
Tax calculation will be finalised during checkout.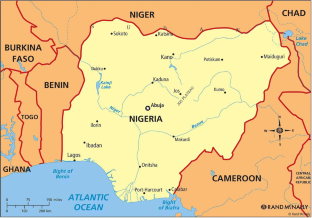 References
Abegunrin, Olayiwola. 2003. Nigerian Foreign Policy under Military Rule, 1966 – 1999. WestPort: Paeger Publishers.

Acharya, Amitav. 1999. "International relations theory and cross border relations." Paper presented to the International Forum on Peace and Security in the Taiwan Strait, Taipei, Taiwan, July 26-28.

Adeola, Gabriel L. and Oyenike Oluyemi Fayomi. 2012. The political and security implications of cross border migration between Nigeria and her francophone neighbours. International Journal of Social Science Tomorrow, 1 (3). pp. 1-9.

Adepoju, Aderanti. 2002. "Fostering free movement of persons in West Africa: Achievements, constraints, and prospects for international migration." International Migration 40(2): 3–28.

Adepoju, Aderanti. 2005. "Review of research and data on human trafficking in sub-Saharan Africa". International Migration 43, 1&2: 75–98.

Adetula, Victor. 2015. "Nigeria's response to transnational organized crime and jihadist activities in West Africa". Discussion Paper: No. X Friedrich Ebert Stiftung West Africa Office Abuja, Nigeria.

Adler, Emanuel and Michael Barnett. 1998. Security communities. Cambridge: Cambridge University Press.

Afolayan, Adejumoke A and Labo Abdulahi. 2013. Trans-border studies: The motivation and integration of immigrations in the Nigeria-Niger border area/trans-border movement and trading: A case study of a borderland in Southwestern Nigeria. IFRA-Nigeria (E-edition). Retrieved from https://books.openedition.org/ifra/973?lang=en on 12 August 2020.

Afrika, Jean-Guy K, Gerald Ajumbo. 2012. "Informal cross border trade in Africa: Implications and policy recommendations". Africa Economic Brief, 3(10):1-13.

Akhigbe, Mike O. 1991. The challenge of parallel administration along the borders: The Lagos state viewpoint. In Asiwaju A. I. & Igue, O. J. (Eds.). Nigeria – Benin trans-border cooperation. (Pp. 10 – 11) University of Lagos Press.

Alexandre, Devillard, Bacchi Alessia and Noack Marion. 2015. "A survey on migration policies in West Africa." International Centre for Migration Policy Development, Vienna – Austria and the International Organization for Migration (Regional Office for West and Central Africa), Dakar – Senegal.

Aluede, Jackson A. (2017). Border relations in Africa and the Impact on Nation-Building: A study of Nigeria and Her Limitrophe Neighbours Since the 1960s. African Journal of Governance and Development, 6 (1):1-26.

Amahowé, Isidore O, Laurent Houessou G, Soulemane Ashanti and Aristide Tehou C. 2013. "Transboundary protected areas management: experiences from W-Arlypendjari parks in West Africa." PARKS-The International Journal of Protected Areas and Conservation, 19 (2): 95-105.

Asiwaju, Anthony I. 1992. "West African history: The significance for the consolidation of ECOWAS." In: National Seminar on Research Priorities and Integration in ECOWAS, Nigerian Institute of International Affairs, Lagos, February, 27–28.

Asobele, Timothy S. J. 2003. The economics of Nigerian borderlands. Lagos, Nigeria: Upper Standard Publication.

Asobele, Timothy S. J. and Remi Medupin. 2003. The economics of Nigerian borderland: What revenue generation prospects for the Nigeria Customs Service? Lagos: Upper Standard Publication.

Bisong, Amanda. 2019. "Trans-regional institutional cooperation as multilevel governance: ECOWAS migration policy and the EU." Journal of Ethnic and Migration Studies 45(8):1294-1309.

Blum, Constanze. 2014. Cross-border flows between Nigeria and Benin: What is the challenge for (human) security? Abuja, Nigeria: Friedrich-Ebert-Stiftung.

Borzel, Tanja A. and Thomas Risse. 2009. "Diffusing (inter-) regionalism," KFG Working Paper Series Kolleg-Forschergruppe (KFG) "The Transformative Power of Europe" (No. 7).

Bradbury, Jonathan. 2010. "Jim Bulpitt's territory and power in the United Kingdom and interpreting political development: bringing the state and temporal analysis back." Government and Opposition 45 (3): 318–44.

Bulpitt, Jim. 1983. Territory and Power in the United Kingdom: An Interpretation. Manchester University Press.

Busse, Nikolas. 1999. "Constructivism and Southeast Asian security." The Pacific Review 12(1):39-60.

Buzan, Barry and Ole Waever. 2003. Regions and powers: The structure of international security. Cambridge University Press, Cambridge, MA.

Buzan, Barry, Ole Wæver and Jaap Wilde. 1998. Security: A new framework for analysis. Lynne Rienner, Boulder.

Chalfin, Brenda. 2001. "Border zone trade and the economic boundaries of the state in North-East Ghana." Africa: Journal of the International African Institute 7(1): 202–24.

Charrie're, Florianne, and Marion Fre'sia. 2009. "West Africa as a migration and protection area." UN High Commissioner for Refugees (UNHCR). Retrieved 10/12/2019 from https://www.unhcr.org/49e479c311.pdf.

Deutsch, Karl W. 1954. Political community at the international level: Problems of definitions and measurement. New York: Doubleday & Company.

Deutsch, Karl W. 1961. "Security communities." In: Rosenau J. N. (ed.) International politics and foreign policy: A reader in research and theory. New York: Free Press.

Dina, D. 2009. "Reportorial skills, and specifications for print media practitioners in facilitating the implementation of the protocol on free movement." ECOWAS Free Movement Journal.

Dongxiao, Chen. 2002. "The constructivist challenge to the debate on East Asian security in the new century." Available at: http://press-files.anu.edu.au/downloads/press/p239321/pdf/ch133.pdf

Dunin-Wasowicz, Roch. 2017. "Theory and Brexit: Can theoretical approaches help us understand Brexit?" LSE, 14 March. Available at: https://blogs.lse.ac.uk/brexit/2017/03/14/theory-and-brexit-can-theoretical-approaches-help-us-understand-brexit/

ECDPM. 2016. "Political economy of regional integration in Africa." Edited by J. Vanheukelom, B. Byiers, S. Bilal, and S. Woolfrey. Maastricht: European Centre for Development Policy Management.

ECOWAS. 2008. ECOWAS Common Approach on Migration. Abuja: ECOWAS.

Efobi, Uchenna. 2019. "Cross-border trade and infrastructure: A gender analysis of welfare outcomes in Nigeria." Sage Open https://doi.org/10.1177/2158244019844076

Ekanade Israel. 2020. "The political economy of state-sponsored repatriation of economic migrants in Africa." In: Oloruntoba S., Falola T. (eds) The Palgrave handbook of African political economy. Palgrave Handbooks in IPE. Palgrave Macmillan, Cham. https://doi.org/10.1007/978-3-030-38922-2_55

Faleye, Olukayode A. 2016. "Regional integration from "below" in West Africa: A study of transboundary town-twinning of Idiroko (Nigeria) and Igolo (Benin)." Regions & Cohesion 6 (3): 1–19.doi: https://doi.org/10.3167/reco.2016.060301.

Faleye, Olukayode A. 2018. "Border securitization and politics of state policy in Nigeria, 2014–2017." Insight on Africa, https://doi.org/10.1177/0975087818805887

Fayomi, Oluyemi Oyenike, Esther Olu-Owolabi Fadeke, G. T. Adebayo and Uchechukwu Emenas Okorie 2017. "Cross-border informal trade mobility of women in Nigeria-Benin relations: Implications for their quality of life.' IPSA-AISP Conference, 8-10 August, Stellenbosch, University of South Africa.

Flynn, Donna K. 1997. "We are the border': Identity, exchange, and the state along the Benin-Nigeria border." American Ethnologist, 24(2):311-330.

Gamble, Andrew. 1974. The conservative nation. UK: Routledge & Kegan Paul.

Gamble, Andrew. 1994. The free economy and the strong state: the politics of Thatcherism. UK: Macmillan Education.

Golub, Stephen S. and Ahmadou Aly Mbaye. 2019. Benin's informal trading with Nigeria. Oxford: Economic Development Institution.

Gupta, Manoj. 2010. Indian ocean region: Maritime regimes for regional cooperation. London: Springer.

Hall, Peter A. 1993. "Policy paradigms, social learning, and the state: The case of economic policymaking in Britain." Comparative Politics 25 (3): 275–96.

Hlovor, Ishmael Kwabla. 2019. "Inclusion of borderlanders in border management in Africa: Toward an emancipatory framework for the study and management of African borders." International Studies Perspectives, doi: https://doi.org/10.1093/isp/ekz022

Hopf, Ted. 1998. "The promise of constructivism in international relational theory." International Security, 23: 1.

Ibeanu, Okechukwu. 2007. "Beyond declarations: law enforcement officials and ECOWAS Protocols on Free Movement of Persons and Goods in West Africa." CLEEN Foundation. Available at: www.cleen.org

Igué, John O. and Bio G. Soule 1992. L'état entrepôt au Benin: Commerce Informel ou solution a la crise? Paris: Editions Karthala.

Iwuoha, Victor C. 2019. "United States' security governance in Nigeria: Implications on counterterrorism strategies against Boko Haram." Journal of Asian and African Studies 54(8): 1175–1194.

Iwuoha, Victor C. 2020. "Street-hawking in a Foreign Land: Social dynamics of migrant petty traders' livelihoods in Nigeria." Journal of Asian and African Studies, 55(8):1209-1229.

James, Ibrahim. 1989. Lake Chad as an instrument of international co-operation. borderlands in Africa: A multidisciplinary and comparative focus on Nigeria and West Africa. Lagos: University of Lagos Press, 309–311.

John, Peter. 2018. "Theories of British politics post-Brexit." Available at: https://papers.ssrn.com/sol3/papers.cfm?abstract_id=3185193

Kakaī, Clement G. et al. 2020. "Improving cross-border preparedness and response: lessons learned from 3 Lassa fever outbreaks across Benin, Nigeria, and Togo, 2017-2019." Health Security 18, S1:105-112.

Kehinde, Michael Olujimi. 2010. "Implications of colonially determined boundaries in (West) Africa: The Yoruba of Nigeria and Benin in perspective." Durham theses, Durham University. Available at Durham E-Theses Online: http://etheses.dur.ac.uk/496/.

Kilroy, Richard J. 2018. "Securitization". In: Handbook of security science. Masys A. (eds). Springer, Cham. https://doi.org/10.1007/978-3-319-51761-2_11-1

Kilroy, Richard J., Abelardo Sumano Rodriguez and Todd Hataley 2017. "Security inequalities in North America: Reassessing Regional Security Complex Theory and the role of identity politics." Journal of Strategy and Security 10(4):1–28.

Knill, Christoph and Lehmkuhl Dirk. 2002. "The National impact of European Union regulatory policy: Three Europeanization mechanisms." European Journal of Political Research 41 (2): 255–80.

Koschut, Simon. 2014. "Regional order and peaceful change: Security communities as a via media in international relations theory." Cooperation and Conflict 49(4) 519–535.

Lahav, Gallya and Sandra Lavenex. 2012. "International migration". In Handbook of International Relations, edited by T. Risse, W. Carlsnaes, and B. Simmons, 746–773. London: Sage.

Lentz, Carola. 2003. "This is Ghanaian territory: Land conflicts on a West Africa border." American Ethnologist 30: 273–89.

Mbaegbu, Casmir C. 2020. Migration governance and trans-border security in West African states, 2008-2018. A Thesis presented to the Department of Political Science, University of Nigeria, Nsukka.

McEwen, Alec C. 1991. "The establishment of the Nigeria/Benin boundary, 1889-1989." The Geographical Journal, 157:62-70.

Minter, William. 2011. African migration, global inequalities, and human rights: Connecting the dots. Uppsala: Nordiska Afrika institutet.

Nathan, Laurie. 2006. "Domestic instability and security communities". European Journal of International Relations 12(2): 275–299.

Newman, Edward. 2001. "Human security and constructivism." International Studies Perspective 2(3):239-251.

Nshimbi, Christopher Changwe. 2020. "Life in the fringes: Informality, African migrants' perception of the border and attitudes towards migrating to Europe." In: Moyo I., Nshimbi C., Laine J. (eds) Migration conundrums, regional integration and development. Africa's global engagement: Perspectives from emerging countries. Palgrave Macmillan, Singapore. https://doi.org/10.1007/978-981-15-2478-3_7

Nugent, Paul and Anthony I Asiwaju. 1996. African boundaries, barriers, conduits and opportunities. London: Frances Pinter Publishers Ltd.

Nugent, Paul. 2002. Smugglers, secessionists, and loyal citizens on the Ghana-Togo frontier. Athens, OH: Ohio University Press.

Nugent, Paul. 2011. "Bourdieu and De Certeau at the border post: trans-boundary communities, government officials, and everyday life in West Africa." In Auf dem Boden der Tatsachen: Festschriftfur Thomas Bierschenk, edited by Nikolaus Schareika, Eva Spies and Pierre-Yves Le Meur, 361–76. Koln: Rudiger Koeppe Verlag.

Okunade, Samuel Kehinde. 2017. "Perspectives on illegal routes in Nigeria." African Research Review 11, 2: 14–24.

Okunade, Samuel Kehinde and Olusola Ogunnubi. 2018. "A 'Schengen' agreement in Africa?" African agency and the ECOWAS Protocol on Free Movement." Journal of Borderlands Studies, https://doi.org/10.1080/08865655.2018.1530128

Olaifa, Temitope Abimbola. 2017. "Conflict monitoring and security risk assessment of Seme border of Nigeria and Republic of Benin." Journal of Humanities, Social Sciences and Creative Arts, 12, 82-91.

Omenma, Tochukwu J., Ike E. Onyishi. and Aloysius-Michaels Okolie. 2020. "A decade of Boko Haram activities: The attacks, responses and challenges ahead." Security Journal,Doi: https://doi.org/10.1057/s41284-020-00231-9

Onuf, Nicholas. 1989. World of our making: rules and rule in social theory and international relations. Charleston: University of South Carolina Press.

Pablo, Ceriani Cernadas and Laura Finkelstein. 2013. "El miedo a la igualdad: prejuicios y argumentossobre el derecho a la salud de las personas migrantes", in Clérico et al. (coord.), Tratado de Derecho a la Salud, Perrot, Abeledo (ed.) Buenos Aires, Tomo I: pp. 627-655.

Pablo, Ceriani Cernadas, Michele LeVoy and Lilana Keith. 2015. "Human rights indicators for migrants and their families." The KNOMAD Working Paper Series under the Global Knowledge Partnership on Migration and Development.

Popa, Cristina Elena. 2016. "The challenges of the Schengen area." Expert Journal of Economics 4(3): 96–104.

Rasaki, Raji A. 1991. The challenge of parallel administration along borders. The Ogun state view-point. In Asiwaju A. I. &Igue, O. J. (Eds.). Nigeria – Benin transborder cooperation. (Pp. 98 – 107) University of Lagos Press.

Reslow, Natasja and Maarten Vink. 2015. "Three-level games in EU external migration policy: Negotiating mobility partnerships in West Africa." Jcms-Journal of Common Market Studies 53 (4): 857–874.

Ribeiro-Hoffmann, Andrea. 2016. "Inter- and transregionalism." In: The Oxford Handbook on Comparative Regionalism, Borzel, T & Risse, T (eds). London:Oxford University Press.

Roe, Paul. 1999. "The intrastate security dilemma: ethnic conflict as a 'tragedy?" Journal of Peace Research 36(2): 183–202.

Ruggie, John Gerard. 1998. "What makes the world hang together? Neo-utilitarianism and the social constructivist challenge." International Organization 52(4):855–885.

Sandwith, Trevor, Clare Shine, Lawrence Hamilton, David Sheppard and Adrian Phillips. 2001. 'Transboundary protected areas for peace and cooperation.' The World Conservation Union, UICN Gland. Switzerland.

Tahar, Benattia, Florence Armitano, Robinson Holly and Malakoot Arezo. 2015. Irregular migration between West Africa, North Africa and the Mediterranean. Abuja: Prepared by Altai Consulting for IOM Nigeria.

The Africa report (2020). Nigeria: President Buhari opens land border at Seme, Illela, Maigatari, and Mfun. Retrieved from https://www.theafricareport.com/55542/nigeria-president-buhari-opens-land-border-at-seme-illela-maigatari-and-mfun/ on 6th June, 2021.

Tsai, Yu-tai. 2009. "The emergence of human security: A constructivist view." International Journal of Peace Studies 14(2):2-17.

Tusicisny, Andrej. 2007. "Security communities and their values: Taking masses seriously." International Political Science Review 28(4): 425–449.

UNICEF, Special Rapporteur on the Human Rights of Migrants. 2011. 'Bustamante, Jorge: Recapitulation of main thematic issues (irregular migration and criminalization of migrants; protection of children in the migration process; The Right to Housing and Health of Migrants. A/HRC/17/33.

UNICEF, Special Rapporteur on the Human Rights of Migrants. 2012. Crépeau, François: Detention of migrants in an irregular situation. A/HRC/20/24.

Walther, Olivier J. 2015. "Business, brokers and borders: The structure of West African trade networks." Journal of Development Studies, 51(5): 603-620.

Wendt, Alexander. 1992. "Anarchy is what states make of it: The social construction of power politics." International Organization 46(2):391–425.

Wendt, Alexander. 1999. Social theory of international relations. Cambridge University Press, Cambridge, MA.

Wolmer, William. 2003. 'Transboundary conservation: The politics of ecological integrity in the great Limpopo transfrontier park', Sustainable Livelihoods in Southern Africa, Research Paper no. 4, Institute of Development Studies, Brighton.

World Bank. 2018. The World Bank in Benin. The World Bank Group.
Additional information
Publisher's Note
Springer Nature remains neutral with regard to jurisdictional claims in published maps and institutional affiliations.
About this article
Cite this article
Iwuoha, V.C., Mbaegbu, C.C. Border Governance and Its Complications in West Africa: What Can Be Learned from Constructivism?. Soc 58, 269–281 (2021). https://doi.org/10.1007/s12115-021-00622-7
Accepted:

Published:

Issue Date:
Keywords
Migration governance

Social constructivism

ECOWAS

West Africa

Nigeria and the Republic of Benin