Abstract
Iain McGilchrist richly explains the right and left hemispheres of the brain, how each functions and what each tends to do. This paper serves, firstly, as a primer to McGilchrist's fascinating exposition. Second, it offers a formulation that uses a spiral to structure the iterative and layered relationship. Third, it presents McGilchrist's concerns about how modernity has enfeebled the right hemisphere, and how the left hemisphere is, at it were, running amok. Fourth, it considers some of McGilchrist's political overtones. Sharing McGilchrist's concerns, finally, I elaborate why they might lead us to look to classical liberalism as the best way to avoid the traps of the left hemisphere, to invigorate the health of the right hemisphere, and to cope with modernity.
This is a preview of subscription content,
to check access.
Access this article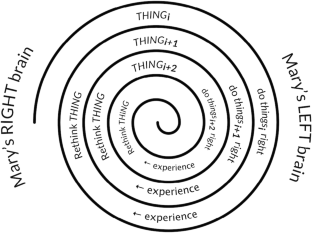 Similar content being viewed by others
Notes
This quotation is found, as a quotation, in Seven Habits of Highly Effective People: Powerful Lessons in Person Change (New York: Free Press, 2004), p. 101, by Stephen R. Covey, who attributes the formulation to both Peter Drucker and Warren Bennis. Hat tip to Frederic Sautet (link).

The publisher is Yale University Press. For a brief overview, see McGilchrist, How Our Brains Make the World, American Enterprise Institute, January 2019 (link).

Daniel B. Klein, Knowledge and Coordination: A Liberal Interpretation (New York: Oxford University Press, 2012), chapters 2 & 7–10, and p. 271.

Such moment of regret or self-reproach may subsequently accede to sadness or melancholy in thinking back on the whole matter.

Kenneth Burke, Towards a Better Life (Berkeley: University of California Press, 1966[1932]), 215

Such terminology does not always fit common usage, as when we speak of a baseball player making a fielding error, or when we speak of a typographical error. Still, I think there is merit to this distinction between error and mistake. It is elaborated in my book Knowledge and Coordination, pp. 101–106.

I thank John Stephens for making the figure.

I borrow alluding to Emerson, who discusses Man Thinking in his 1837 address "The American Scholar," from Deirdre McCloskey, who also exemplifies it.

2009, 178. Likewise: 126, 131, 195, 203, 206, 207.

Friedrich Hayek, p. 27 of his 1933 lecture: "The Trend of Economic Thinking." In Hayek, The Trend of

Economic Thinking: Essays on Political Economists and Economic History, edited by W.W. Bartley III and S. Kresge: 17–34 (Chicago: University of Chicago Press, 1991). See also Hayek, Counter-Revolution of Science: Studies in the Abuse of Reason (New York: Free Press, 1955), 81–82.

"Narrative forms of thought are associated with the right hemisphere" (McGilchrist 2009, 191; see also 59).

See McGilchrist's treatment of longing and belonging pp. 390, 308, 367, 171–2.

New York: Crown Publishers, 2013.

McGilchrist (2009) says that "empathetic connection" is made possible by the right hemisphere (66); "Empathy is intrinsic to morality" (86).

"[O]ur sense of justice is underwritten by the right hemisphere" (86); on metaphor see pp. 115, 118; on humor p. 59.

2009, 57. Incidentally, McGilchrist touches on an important linkage between Adam Smith and Isaac Newton: "[T]his attractive power (in the literal sense of the word) is as mysterious and fundamental as the attractive power of gravity in the physical universe" (159).

On exemplars, see 2009, 433, 329.

2009 on the corpus callosum: 198, 210–13.

Adam Smith, The Wealth of Nations, eds. R.H. Campbell and A.S. Skinner (Oxford: Oxford University Press, 1976), 783.

Abraham Maslow, The Psychology of Science (New York: Harper & Row, 1966), 15.

Brent Orrell, "Crossing the STEM Divide," American Enterprise Institute, 31 January 2019. Link

Adam Smith, The Wealth of Nations (Oxford University Press, 1976), 17–18, 19.

2009, 404, italics added.

WN, 783. Indeed, Smith often suggests that wisdom and virtue are lonely and largely unheeded; see also WN 265–267.8-10, 651.24; The Theory of Moral Sentiments, eds. D.D. Raphael and A.L. Macfie (Oxford: Oxford University Press, 1976), 62.2, 77.8, 155.43, 162–63.1, 192.11, 253.30–31, 285.31, 335–36.23.

2009, 235; for other passages on correction and negative feedback, see 231, 194, 244, 390, 426.

Alexis de Tocqueville, Democracy in America (New York: Vintage Books, 1945), pp. II: 111–119; see also I: 68, 95.

Alan Macfarlane, The Invention of the Modern World (Les Brouzils: Odd Volumes, 2014), pp. 152ff.

McGilchrist offers nice etymological remarks on "invention" at 230, explaining that it originally connoted dis-covering, or un-covering something that had already had existence.

Adam Smith, The Theory of Moral Sentiments (Oxford University Press, 1976), 234.17. Incidentally, I fully accept that Smith's man of system critique is also intended as a critique of libertarian men of system.

Erik Matson and I endorse David Hume on liberty and authority here.

If you're not already acquainted with the pinky-earthquake passage, see here.

Friedrich A. Hayek, The Constitution of Liberty (Chicago: University of Chicago Press, 1960), 291.

Ronald H. Coase, "The Problem of Social Cost," Journal of Law and Economics 3 (October): 1–44, quote pp. 43 and 44.

McGilchrist (2009, 85): "Denial is a left-hemisphere speciality." See also pp. 84, 235.

McGilchrist (2009, 234): "Although the left hemisphere does not see and cannot understand what the right hemisphere understands, it is expert at pretending that it does, at finding quite plausible, but bogus, explanations for the evidence that does not fit its version of events." "A sort of stuffing of the ears with sealing wax appears to be part of the normal left-hemisphere mode. It does not want to hear what it takes to be the siren songs of the right hemisphere" (235).

McGilchrist does not highlight complaining, griping, and protesting as a left-hemisphere speciality, but if one considers the negative sentiments I offer in the table above, it makes sense that frustration and disappointment would generate such noise-making, whereas anguish, regret, and self-reproach do not. While McGilchrist associates sadness and melancholy with the right hemisphere (2009, 54, 85), regret and remorse are mentioned only in relation to literature, not brain research (233, 301, 367). I speculate that it is difficult to evoke regret and remorse in brain research because those are phase sentiments, emerging when one realizes one's erring in life and then acceding to sadness and melancholy. So even if researchers evoke one's past erring, the sentiment now is sadness or melancholy, and no longer regret, remorse, or self-reproach.

McGilchrist (2009, 336): "The connection with the left hemisphere is again apparent in the relationship between boredom and the experience of time: no longer a lived narrative, it is static, eternal, unchanging." See also p. 400 for the link to sensationalism.

McGilchrist (2009, 432): "The left hemisphere [is] not quick to take responsibility, and sees itself as the passive victim of whatever it is not conscious of having willed." See also p. 235.

Karl Polanyi, The Great Transformation (New York: Farrer & Rhinehart, 1944).

James Buchanan, Property as a Guarantor of Liberty (Cheltenham: Edward Elgar, 1993).
Acknowledgments
I thank Jacob Hall, Erik Matson, and Dominic Pino for valuable comments, Brent Orrell for introducing me to McGilchrist's works and supporting this project, and Iain McGilchrist for generous engagement including his kind Foreword here.
Additional information
Publisher's Note
Springer Nature remains neutral with regard to jurisdictional claims in published maps and institutional affiliations.
Foreword by Iain McGilchrist
About this article
Cite this article
Klein, D.B. Think Spiral: the Divided Brain and Classical Liberalism. Soc 57, 614–626 (2020). https://doi.org/10.1007/s12115-020-00550-y
Accepted:

Published:

Issue Date:

DOI: https://doi.org/10.1007/s12115-020-00550-y
Keywords