Abstract
The article examines the body of literature on Leonardo da Vinci using bibliometric methods. The questions of whether Leonardo can be called a "sleeping beauty" in science and what "awakened" him for public attention are addressed. We argue that the first paper that "awakened" a large body of citations for Leonardo's work is in physics (optics), published more than 300 years after his death, and until today physics remains the most cited field of Leonardo's interests in science (based on Scopus database), even though da Vinci left an enormous heritage in different fields due to his versatile interests and insatiate curiosity. However, the Google Scholar search engine shows a different result. Whereas the academic world finds more interest in Leonardo as a physician, popular interest focuses on Leonardo as an artist. The holistic approach that da Vinci adhered to in studying the world makes any attempt to define him in specific terms doomed to failure.
Access options
Buy single article
Instant access to the full article PDF.
US$ 39.95
Tax calculation will be finalised during checkout.
Subscribe to journal
Immediate online access to all issues from 2019. Subscription will auto renew annually.
US$ 79
Tax calculation will be finalised during checkout.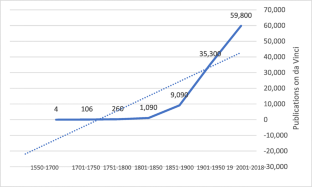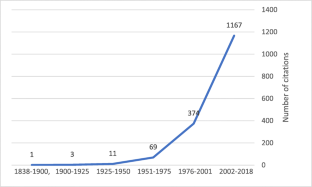 Further Reading
Andersen, H. 2013. The second essential tension: On tradition and innovation in interdisciplinary research. Topoi, 32, 3–8.

Bornmann, L., & Daniel, H. D. 2010. Citation speed as a measure to predict the attention an article receives: An investigation of the validity of editorial decisions at Angewandte Chemie. Journal of Informetrics, 4(1), 83–88.

Bromham, L., Dinnage, R., & Hua, X. 2016. Interdisciplinary research has consistently lower funding success. Nature, 534(7609), 684–687.

Campanario, J. M. 1996. Have referees rejected some of the most-cited articles of all times? Journal of the American Society for Information Science, 47(4), 302–310.

Cole, S. 1970. Professional standing and the reception of Scientific discoveries. American Journal of Sociology, 76(2), 286–306.

Comroe, J. H. 1976. How to succeed in failing without really trying. American Review of Respiratory Diseases, 114, 629–634.

Dogan, M., & Pahre, R. 1989. Fragmentation and recombination of the social sciences. Studies in Comparative International Development, 24(2), 56–73.

Fiorentino, F. 2015. Late medieval science and modern science: Two culture options? Viator, 46(3), 219–234.

Galton, D. 2009. Did Darwin read Mendel? Quarterly Journal of Medicine, 102, 587–589.

Garfield, E. 1980. Premature discovery or delayed recognition – Why? Essays of an Information Scientist, 4, 488–493.

Giovio, P. 1970. Leonardo Vincii Vita. In J. P. Richter (Ed.), The literary works of Leonardo da Vinci (vol. 1, 3rd ed., pp. 1–544). London: Phaidon.

Haskins, C. H. 1957. The rise of universities. Ithaca:Ballow Press.

Huggett, S. 2013. Journal Bibliometrics indicators and citation ethics: A discussion of current issues. J. P. Richter (Ed.), The Literary Works of Leonardo da Vinci, 3rd ed. Atherosclerosis, 230(2), 275–277.

Jiang, L., & Dongbo, S. 2016. Sleeping beauties in genius work: When were they awakened? Journal of the association for information science and technology, 67(2), 432–440.

Ke, Q., Ferrara, E., Radicchi, F., & Flammini, A. 2015. Defining and identifying sleeping beauties in science. Proceedings of the National Academy of Sciences, 112(24), 7426–7431.

Kuhn, T. S. 1959. The essential tension: tradition and innovation in scientific research. In C. W. Taylor, & F. Barron (Eds.), Scientific creativity: its recognition and development (pp. 341–354). New York: Wiley, New York.

Lewens, T. 2015. The nature of philosophy and the philosophy of nature (book review). Biology & Philosophy, 30(4), 587–596.

Livio, M. 2017. Why? What makes us curious. New York:Simon and Schuster.

Merton, R. K. 1968. The Matthew effect in science. Science, 159(3810), 56–63.

Nissani, M. 1997. Ten cheers for Interdisciplinarity: The case for interdisciplinary knowledge and research. The Social Science Journal, 34(2), 201–216.

Price, D. J. D. 1976. Telephone communication. A general theory of bibliometrics and other cumulative advantage processes. Journal of the American Society for Information Science, 27, 292–306.

Schubert, A., & Glanzel, W. 2006. Cross-national preference in co-authorship, references and citations. Scientometrics, 69(2), 409–428.

Sclater, A. 2006. The extent of Charles Darwin's knowledge of Mendel. Journal of Biosciences, 31(2), 192–193.

Sharma, H. P., & Sen, S. K. 2006. Shubnikov: A case of non-recognition in superconductivity research. Current Science, 91(11), 1576–1578.

Tal, D., & Gordon, A. 2017. Sleeping beauties of political science: The case of AF Bentley. Society, 54(4), 355–361.

van Raan, A. F. J. 2004. Sleeping beauties in science. Scientometrics, 59(3), 467–472.

Wheatstone, C. 1838. Contributions to the physiology of vision. --part the first. On some remarkable, and hitherto unobserved, phenomena of binocular vision. Philosophical Transactions of the Royal Society of London, 128, 371–394 Retrieved from http://www.jstor.org/stable/108203.

Wyatt, H. V. 1961. Knowledge and prematurity – Journey from transformation to DNA. Perspectives in Biology and Medicine, 18, 596–602.
Additional information
Publisher's Note
Springer Nature remains neutral with regard to jurisdictional claims in published maps and institutional affiliations.
About this article
Cite this article
Tal, D., Gordon, A. Leonardo da Vinci: The Archetype of Sleeping Beauty in Science. Soc 57, 71–76 (2020). https://doi.org/10.1007/s12115-019-00442-w
Keywords
Premature discovery

Delayed recognition

Sleeping beauty

Leonardo da Vinci

Bibliometrics