Abstract
The generation one comes of age politically is an important determinant in one's political identity. As a result, there is the potential for a disparity of the vote choice among different generations. Today, the youngest generation of American adults—the so-called Millennial Generation—have developed distinct political leanings that are significantly to the left of older generations Since Millennials have achieved adulthood and gained the right to vote the generation has consistently been a generational outlier. The strong pro-Democratic vote of the Millennials has its roots in the generation being both very pro-Obama and very anti-Bush. The Millennials support for the Democratic Party, however, is also due to the generation's liberal views on policy that are a product of Millennials' relative diversity, high education levels, global perspective on politics, and lack of religiosity. The huge generation gap that has emerged since Millennials have entered the electorate suggests that there is an emerging realignment of the electorate along generational lines. With generational replacement, Millennials thus have the potential to alter the direction of American politics.
Access options
Buy single article
Instant access to the full article PDF.
US$ 39.95
Tax calculation will be finalised during checkout.
Subscribe to journal
Immediate online access to all issues from 2019. Subscription will auto renew annually.
US$ 79
Tax calculation will be finalised during checkout.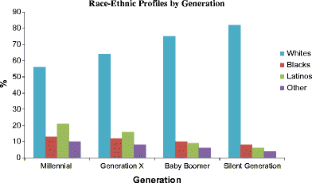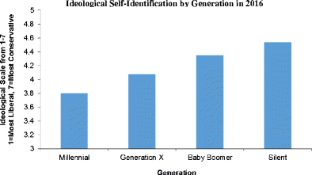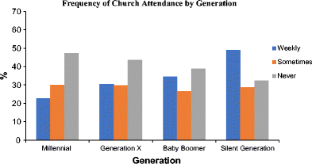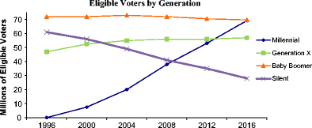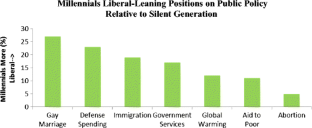 Notes
1.

Gabriel Almond and Sidney Verba, The Civic Culture (Boston: Little, Brown, 1965).

2.

Ronald Inglehart, Cultural Shift in Advanced Industrial Societies (Princeton, NJ: Princeton University Press, 1990).

3.

Patrick Fisher, "The Emerging Age Gap in U.S. Politics," Society 45 (2008): 504–511.

4.

Gary C. Jacobson, "The Effects of the George W. Bush Presidency on Partisan Attitudes," Presidential Studies Quarterly 39 (2009): 172–209.

5.

Robert D. Putnam, Bowling Alone (New York: Simon and Schuster, 2000), 257–261.

6.

The generational names we have chosen are the handiwork of popular culture, with some being drawn from a historic event, others from social or demographic change, and others from a turn in the calendar. Generational analysis in not an exact science and the years and terms that are used to define generations will vary from study to study. This study thus utilizes those generational boundaries and conceptions that are widely—though not universally—accepted. According to our definitions, each generation is similar in its longevity, ranging from 16 to 19 years in length. From oldest to youngest the generations will be defined by the following parameters:

1)

The Greatest Generation: those born from 1910 through 1927.

2)

The Silent Generation: those born from 1928 through 1945.

3)

The Baby Boomers: those born from 1946 through 1964.

4)

Generation X: those born from 1965 through 1980.

5)

The Millennial Generation: adults born after 1981.

7.

Warren E. Miller, "Generational Changes and Party Identification," Political Behavior 14 (1992): 333–352.

8.

Pew Research Center, "A Different Look at Generations and Partisanship," April 30, 2015.

9.

Frank Newport, "Democrats Do Best among Generation Y and Baby Boomers," Gallup May 8, 2009.

10.

Patrick Fisher, "The Gapology of the Obama Vote in the 2008 Democratic Presidential Primaries," Society 48 (2011): 502–509.

11.

Patrick Fisher, Demographic Gaps in American Political Behavior (Boulder, CO: Westview Press), chapter 6.

12.

Thomas E. Mann and Norman J. Ornstein, It's even Worse Than it Looks: How the American Constitutional System Collided with the New Politics of Extremism (New York: Basic Books, 2012).
About this article
Cite this article
Fisher, P. A Political Outlier: the Distinct Politics of the Millennial Generation. Soc 55, 35–40 (2018). https://doi.org/10.1007/s12115-017-0209-7
Keywords
Millennials

Generations

Democratic party

Republican party