Abstract
The article reviews and evaluates major categories of propaganda research as they have been classified by Jacques Ellul, using for the first time bibliometric methods. Jacques Ellul is a unique thinker who is expert in history, sociology, law, and political science who lived through the most pervasive propaganda periods of the 20th century. His classification of propaganda types is one of his most important contributions to the study of propaganda; it is not what most people typically think about propaganda, but relates to much more complicated phenomena. The question of what the most researched propaganda category is today is addressed. Our findings lead to the conclusion that although Ellul identified 8 categories of propaganda, political propaganda was and still remains the most studied category. This leads to the conclusion that in spite of the social and political impact of Ellul's works on propaganda, his theoretical definitions and classifications have much less influence on academic research in this field.
This is a preview of subscription content, log in to check access.
Access options
Buy single article
Instant access to the full article PDF.
US$ 39.95
Price includes VAT for USA
Subscribe to journal
Immediate online access to all issues from 2019. Subscription will auto renew annually.
US$ 99
This is the net price. Taxes to be calculated in checkout.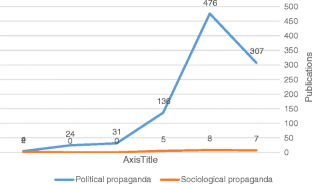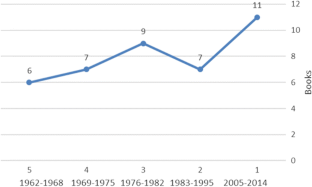 Further Reading
Bartlett, F. 1940. Political Propaganda. Cambridge: Cambridge University Press.

Bernays, E. 2005, [1928]. Propaganda. New York: IG Publishing.

Chomsky, N. 2002. Media Control. The Spectacular Achievements of Propaganda. New York: Seven Stories Press.

Ellul, J. 1954. La technique ou l'enjeu du siècle. Paris: Armand Colin.

Ellul, J. 1973. Propaganda. The Formation of Men's Attitudes. New York: Vintage Books.

Ellul, J., & Wilkinson, J. 1964. The Technological Society. New York: Knopf.

Fraser, L. 1957. Propaganda. Oxford: Oxford University Press.

Huxley, A. 1936. Notes on Propaganda. Harper's Magazine, Vol. 174.

Jowett, G., & O'Donnell, V. 2006. Readings in Propaganda and Persuasion. New and Classic Essays. London: Sage Publications.

Lasswell, H. 1935. The Person: Subject and Object of Propaganda. Annals of the American Academy of Political and Social Science, 179.

Marlin, R. 2002. Propaganda and the Ethics of Propaganda. New York: Broadview Press.

Martin, E. D. 1932. The Conflict of the Individual and the Mass in the Modern World. New York: Henry Holt.

Qualter, T. 1965. Propaganda and Psychological Warfare. New York: Random House.

Social Science Citation Index 2015, of the World of Science

Taylor, P. 1995. Munitions of the Mind: A History of Propaganda from the Ancient World to the Present Day. Manchester: Manchester University Press.

Welch, D. 2013. Propaganda. Power and Persuasion. London: I.B. Tauris & Co., Ltd.
About this article
Cite this article
Tal, D., Gordon, A. Jacques Ellul Revisited: 55 Years of Propaganda Study. Soc 53, 182–187 (2016). https://doi.org/10.1007/s12115-016-9994-7
Keywords
Propaganda

Political propaganda

Sociological propaganda

Bibliometrics

Jacques Ellul