Abstract
In public and popular discourse Berlin is often ascribed a particular atmosphere, sometimes depicted in the idea of "Berliner Luft." At the same time, people living and working and visiting Berlin are still aware of the city's recent history. This history is embodied in the city's architecture as well as in the discourse about the need to remove "the wall in people's heads." This article is based on a study that has been conducted at the techno club Berghain, which has become a symbol for 'the Berlin spirit,' being embedded in the social and historical tradition of the formerly divided and radical Berlin that is celebrated in popular media. The club stands in a historic tradition of techno music in Berlin that once helped the process of joining two parts of the divided city together, and that today, about 25 years after the fall of the wall, is a reference for a wave of publications on the techno scene. The article examines how this discourse is kept alive by aesthetic practices of interaction in contemporary Berlin techno clubs, which are jointly performed through the intertwining of architecture, DJing, dance, and music. This aesthetic work creates an experience that exists in disembodied form and instantiates "Berliner Luft," keeping the discourse going, in the media and in the clubs.
Access options
Buy single article
Instant access to the full article PDF.
USD 39.95
Price excludes VAT (USA)
Tax calculation will be finalised during checkout.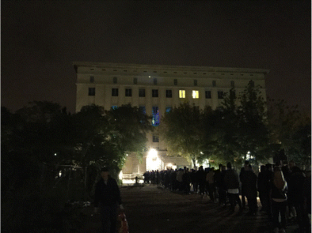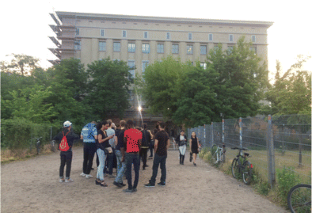 Further Reading
Assmann, J. 2008. Communicative and cultural memory. In A. Erll, & A. Nünning (Eds.), Cultural Memory Studies. An International and Interdisciplinary Handbook (pp. 109–118). Berlin: de Gruyter.

Bennett, T. 1995. The birth of the modern museum. History, theory, politics. London:Routledge.

Bell, E., & Taylor, S. 2011. Beyond letting go and moving on: new perspectives on organizational death, loss and grief. Scandinavian Journal of Management, 27(1), 1–10.

Berghain Ostgut, G. H. (Ed.) 2015. Berghain: Kunst im Klub. Berlin:Hatje Cantz Verlag.

Biehl-Missal, B. 2011. Wirtschaftsästhetik. Wie Unternehmen die Kunst als Inspiration und Werkzeug nutzen. Gabler:Wiesbaden.

Biehl-Missal, B. 2016. Filling the 'empty space': Site-specific dance in a techno club. Culture and Organisation DOI 10.1080/14759551.2016.1206547)

Böhme, G. 1993. Atmosphere as the fundamental concept of a new aesthetics. Thesis Eleven, 36, 113–126.

Biehl-Missal, B., & vom Lehn, D. 2015. Aesthetic Atmospheres in Museums. A Critical Marketing Perspective. In S. Macdonald, & H. Rees-Leahy (Eds.), Museum Media. International Handbook of Museum Studies (pp. 235–258). Hoboken: Wiley-Blackwell.

Böhme, G. 2006. Architektur und Atmosphäre. Munich:Wilhelm Fink.

Butler, J. 2004. Precarious life: the powers of mourning and violence. London:Verso.

Craig, G. A. 1997. Theodor Fontane. Literature and history in the Bismarck Reich. Oxford:Oxford University Press.

D'Andrea, A. 2004. Global nomads. Techno and new ages as transnational countercultures in Ibiza and Goa. In G. S. John (Ed.), Rave culture and religion (pp. 236–255). London: Routledge.

The Ellen Show. 2015. 'Claire danes loves techno', 28. Sept. Online: https://www.youtube.com/watch?v=cy9GregPIA4

Denk, F., & von Thülen, S. 2012. Der Klang der Familie: Berlin, Techno und die Wende. Berlin:Surkamp.

Gerard, M. 2004. Selecting ritual: DJs, dancers and liminality in underground dance music. In G. S. John (Ed.), Rave culture and religion (pp. 167–184). London: Routledge.

Fact Team. 2015. 'Felix Da housecat denied entry at berghain, accuses club of racism', FactMag, 21. Feb. Online: http://www.factmag.com/2015/02/21/felix-da-housecat-denied-entry-berghain-unleashes-rant-twitter/

Farkas, W., Seidl, S., & Zwirner, H. 2013. Nachtleben Berlin. 1974 bis heute. Berlin:Metrolit Verlag.

Foster, S. L. 2011. Choreographing empathy. Kinesthesia in performance. London and New York:Routledge.

Garnier, L., & Brun-Lambert, D. 2013. Elektroschock. 4ed. Höfen:Hannibal.

Halbwachs, M. 1991. Das kollektive Gedächtnis. Frankfurt:Fischer.

Henning, M. 2006. Museums, media and cultural theory. Maidenhead:Open University Press.

Hitzler, R., & Pfadenhauer, M. 2002. Existential strategies: the making of community and politics in the techno/rave scene. In J. Kotarba, & J. Johnson (Eds.), Postmodern existential sociology (pp. 87–101). Walnut Creek: Alta Mira.

Hitzler, R., & Pfadenhauer, M. (Eds.) 2001. Techno-Soziologie. Erkundungen einer Jugendkultur. Opladen:Leske + Budrich.

Ingenhoff, S. and Venker, T. 2011. '48 Stunden Raven. Unterwegs mit Marcel Dettmann', Available at: http://www.intro.de/kuenstler/interviews/23063659/48-stunden-ravenunterwegs-mit-marcel-dettmann (Accessed 20 May 2014).

Isherwood, C. 1935. The Berlin Novels. Mr. Norris Changes Trains. Goodbye to Berlin. London:Vintage Books.

D'Orazio, J. 2015. 'The secret, sex-fuelled world of Berlin's Berghain nightclub', http://www.news.com.au/travel/travel-ideas/the-secret-sex-fuelled-world-of-berlins-berghain-nightclub/story-e6frfqer-1227518477094

Klein, G. 2004. Electronic vibration. Pop Kultur Theorie. Wiesbaden:VS Verlag.

Kolmstett, U. 1995. All wrapped up: Christo and Jeanne-Claude conquer the Reichstag. Stanford presidential lectures and symposia in the humanities and arts. http://prelectur.stanford.edu/lecturers/christo/kolmstetter.html [accessed 28.9.2015]

Marquardt, S. 2014. Die Nacht ist Leben. Autobiographie. Berlin:Ullstein.

Nicholson, E. (2014) 'In Berlin, A Beat That Bloomed From Rubble', npr music. Available at: http://www.npr.org/2014/11/09/362060168/in-berlin-a-beat-that-bloomed-from-rubble (accessed 27 November 2014).

Nodge, N. 2014. 'Crate Diggin': Sounds from East Germany', Available at www.fabriclondon.com (Accessed 20 May 2014).

O'Brien, M. 2011. Sacred Sound. Does Berlin's Techno and rave culture, as epitomised by the Berghain nightclub, offer a sustainable sonic representation of the city? Available at: http://www.michelleobrien.net/wp-content/uploads/2011/10/Sacred-Sound.pdf (Accessed 15 May 2014)

Ostgut. 2014. Booking. Artists. Available at: http://ostgut.de/booking/ (Accessed 15 May 2014)

Paumgarten, N. 2014. 'Berlin Nights. The Thrall of Techno', The New Yorker, 24 March: 64–73.

Pfadenhauer, M. 2009. The Lord of the Loops. Observations at the Club Culture DJ-Desk. Forum: Qualitative Social Research, 10(3) Art, 17.

Rapp, T. 2009. Lost and Sound: Berlin, Techno und der Easyjetset. Frankfurt:Suhrkamp.

Reynolds, S. 2013. Energy flash (revised ed., ). London:Faber and Faber.

Rogers, T. 2014. 'Berghain: the secretive, Sex-fueled world of Techno's coolest Club', Available at http://www.rollingstone.co.za/opinion/item/3102-berghain-the-secretive-sex-fueled-world-of-techno-s-coolest-club (Accessed March 1, 2014)

Rüb, C. and Ngo, A-L. 2011. 'Das Berghain – Eine Ermöglichungsarchitektur', Arch+. Zeitschrift für Architektur und Städtebau 201/202 (March): 146–51.

vom Lehn, D. 2006. Embodying experience: a video-based examination of visitors' conduct and interaction in museums. European Journal of Marketing, 40(11/12), 1340–1359.

St John, G. 2012. Global tribe. Technology, spirituality and Psytrance. London:Equinox.

Teipl, J. 2013. Mehr als laut. Berlin:Surkamp.
About this article
Cite this article
Biehl, B., vom Lehn, D. Four-to-the-Floor: The Techno Discourse and Aesthetic Work in Berlin. Soc 53, 608–613 (2016). https://doi.org/10.1007/s12115-016-0083-8
Published:

Issue Date:

DOI: https://doi.org/10.1007/s12115-016-0083-8
Keywords
Atmosphere

Berlin

Dance

Discourse

Germany

Techno music