Abstract
The topic of this paper is the social and normative conditions for exercising the freedom of speech in Norway. Based on a representative survey of the population, the authors ask which types of utterances are seen as acceptable on different arenas in Norway, and whether certain groups are more likely to withhold their own opinion, out of fear of offending others or of being exposed to ridicule. The analysis shows that the Norwegian population has a balanced view of the freedom of speech as weighed against other social values, such as the value of protecting vulnerable groups and not offending or harming particular groups or religions. There is a high degree of consensus on the balance of values: a majority chooses the middle standpoints. Furthermore, the analysis shows that many would limit their expressions when presented with the risk of offending or hurting others, a process that we term "self-limitation". Depending on the perspective on freedom of speech, such self-limitation will be interpreted differently. One important point however, is that self-limitation may lead to spirals of silence, where certain voices are less heard.
Access options
Buy single article
Instant access to the full article PDF.
USD 39.95
Price includes VAT (USA)
Tax calculation will be finalised during checkout.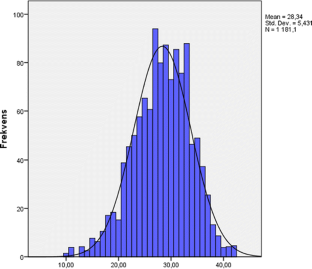 Notes
1.

In this chapter, we use the term "normative" in a sociological, not legal, sense, and define it as the social conditions that are directed toward people and situations , and which influence action (Østerberg 2012).

2.

The survey was part of a large scale project, the Status of Free Speech in Norway, funded by the Fritt Ord Foundation. All publications and documentation (mostly in Norwegian) may be found at www.ytringsfrihet.no.

3.

This assumption was confirmed in a follow-up study that was carried out in 2015. Here, 70 % accepted speech that was critical of religion (Steen-Johnsen et al. 2016).

4.

5.

The reliability is good in our data (Cronbach's Alpha for Q 4 is 0.795).

6.

In Staksrud et al. (2014), we also found that ethnic minorities differed from the majority in terms of the content of their comments and in that they to a greater extent were more cautious about making statements after unpleasant experiences. We have not analysed data from this study on minorities in the present paper.
Further Reading
Davis, J. A. 1990. Attitudes towards free speech in six countries in the mid-1980: Australia, Austria, Great Britain, Italy, the United States and West Germany. European Sociological Review, 6, 1–14.

Enjolras, B., Karlsen, R., Steen-Johnsen, K., & Wollebæk, D. 2013. Liker-liker ikke. Sosiale medier, samfunnsengasjement og offentlighet. Oslo:Cappelen Damm.

Filak, V. F., Reinardy, S., & Maksl, A. 2009. Controversial Topics Scale: Self-Censorship and Media Advisers' Comfort Level with Expanding and Validating Applications of the Willingness to Self-Censor. Journalism & Mass Communication Quarterly, 86(2), 368–382.

Gibson, J. L. 2006. Enigmas of intolerance: Fifty years after Stouffer's communism, conformity, and civil liberties. Perspectives on Politics, 4(1), 21–34. doi:10.1017/S153759270606004X.

Hayes, A. F., Glynn, C. J., & Shanahan 2005. Validating the Willingness to Self-Censor Scale: Individual Differences in the Effect of the Climate of Opinion Expression. International Journal of Public Opinion Research, 17(4), 443–455.

Hayes, A. F., Scheufele, D. A., & Huge, M. 2006. Nonparticipation as self-censorship: Publiclyobservable political activity in a polarized opinion climate. Political Behavior, 28, 259–283.

Hurwitz, J., & Mondak, J. J. 2002. Democratic principles, discrimination and political intolerance. British Journal of Political Science, 32(1), 93–118. doi:10.1017/S0007123402000042.

Ihlebæk, Karoline Andrea 2014. Ytringsfrihet og den offentlige debatten, I: Status for ytringsfriheten i Norge. Hovedrapport fra prosjektet. Institutt for samfunnsforskning. Kap. 7. s 153–165

Lambe, J. L. 2002. Dimensions of censorship: Reconceptualizing public willingness to censor. Communication Law & Policy, 7(2), 187–235. doi:10.1207/S15326926CLP0702_05.

Lambe, J. L. 2004. Who wants to censor pornography and hate speech? Mass Communication and Society, 7(3), 279–299. doi:10.1207/s15327825mcs0703_2.

Lipschultz, Jeremy Harris 2000. Free Expression in the Age of the Internet. Colorado:Westview Press.

Marcus, G. E., Sullivan, J. L., Theiss-Morse, E., & Wood, S. L. 1995. With malice toward some: How people make civil liberties judgments. Cambridge, England:Cambridge University Press.

McLeod, D. M., Detenber, B. H., & Eveland, W. P. 2001. Behind the third-person effect: Differentiating perceptual processes for self and other. Journal of Communication, 51(4), 678–695. doi:10.1111/j.1460-2466.2001.tb02902.x.

Mill, J. S. 2010. On liberty and other writings. New York:Classic Books International.

Mutz, D. 1998. The social psychology of impersonal influence from collective opinion. In D. Mutz (Ed.), Impersonal influence: How perceptions of mass collectives affect political attitudes (pp. 197–217). Cambridge, UK: Cambridge University Press.

Naab, T. K. 2012. The Relevance of People's Attitudes Towards Freedom of Expression in a Changing Media Environment. Journal for Communication Studies, vol. 5, no. 1(9), 45–67

Noelle-Neumann, E. 1974. The Spiral of Silence A Theory of Public Opinion. Journal of Communication, 24(2), 43–51. doi:10.1111/j.1460-2466.1974.tb00367.x.

Østerberg, D. 2012. Sosiologiens nøkkelbegreper – og deres opprinnelse. Oslo:Cappelen Damm Akademisk.

Paek, H.-J., Lambe, J. L., & McLeod, D. M. 2008. Antecedents to support for content restrictions. Journalism and Mass Communication Quarterly, 85(2), 273–290. doi:10.1177/107769900808500204.

Peffley, M., Knigge, P., & Hurwitz, J. 2001. A multiple values model of political tolerance. Political Research Quarterly, 54(2), 379–406. doi:10.1177/106591290105400207.

Peffley, M., & Rohrschneider, R. 2003. Democratization and Political Tolerance in Seventeen Countries: A Multi-level Model of Democratic Learning. Political Research Quarterly, 56(3), 243–257.

Staksrud, E., Steen-Johnsen, K., Enjolras, B.., Gustafsson, M. H., Ihlebæk K. A, Midtbøen, A., Sætrang, S., Trygstad, S. C., Utheim, M. 2014. Status for ytringsfriheten i Norge. Resultater fra befolkningsundersøkelsen 2014. Oslo.

Staksrud, Steen-Johnsen et al. 2013. Ytringsfrihet i Norge. Holdninger og erfaringer i befolkningen. Oslo: Fritt Ord.

Steen-Johnsen, K., Fladmoe, A., & Midtbøen, A. H. 2016. Ytringsfrihetens grenser. Sosiale normer og politisk toleranse. Oslo:Fritt Ord.

Smolla, R. A. 1992. Free speech in an open society. New York:Vintage Books.

Sullivan, J. L., Piereson, J. E., & Marcus, G. E. 1982. Political tolerance and American democracy. Chicago, IL:University of Chicago Press.

Sunstein, C. 2003. Why societies need dissent. Cambridge:Harvard University Press.

Tourangeau, R., & Galessic, M. 2013. Conceptions of attitudes and opinions. In W. Donsbach, & M. W. Traugott (Eds.), The Sage handbook of public opinion research. London: Sage.

Verba & Nie. 1972. Participation in America: Political democracy and social equality. New York: Harper and Row.

Waldron, J. 2012. The harm in hate speech. Cambridge:Harvard University Press.

Wessel-Aas, J. 2011. Kan ideen om den liberale demokratiske rettsstat overleve hvis samfunnsvern blir politikkens overordnede mål? Tidsskrift for strafferett. Jubileumsnummer. Mars, 2011.
About this article
Cite this article
Steen-Johnsen, K., Enjolras, B. The Fear of Offending: Social Norms and Freedom of Expression. Soc 53, 352–362 (2016). https://doi.org/10.1007/s12115-016-0044-2
Keywords
Freedom of speech

Self censorship

Spirals of silence