Abstract
The Southern Homestead Act of 1866 was a large-scale effort by Congress to make land ownership accessible for recently freed slaves by opening 46 million acres of public land exclusively for homesteading. Using new micro-data from Louisiana, we examine the factors that led to successful homesteading. We compare homesteaders to the agricultural population, finding few differences other than wealth. A disproportionate percentage of homesteaders were white. We substantiate some of the claims put forth in the earlier literature, such as large amounts of fraud. Further, we present a more nuanced interpretation of a greater success rate for African-Americans. Being local or non-local had no meaningful impact on white success rates but had a large impact on African-Americans. Local African-Americans were more likely to obtain title to their land while non-local African-Americans were less likely to succeed. We hypothesize that regional knowledge, kinship networks, and white resistance to non-local African-Americans are possible explanations for this racial difference.
This is a preview of subscription content, log in to check access.
Access options
Buy single article
Instant access to the full article PDF.
US$ 39.95
Price includes VAT for USA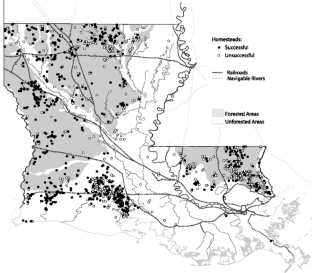 Notes
1.

United States Congress. Statutes at Large 14 (1865–1867), p. 67.

2.

3.

Lanza sampled 640 records from the 8797 homestead applications from Mississippi, but could determine the race of only 367 homesteaders.

4.

See Oubre (1976) for more on the turmoil hampering homesteading in Louisiana during the first few years of the SHA. In our Louisiana dataset, the earliest entry year is 1867. Furthermore, in 1867 there are only 63 entries, or less than 4 % of the total observations, and only nine with black homesteaders.

5.

Hoffnagle (1970) provides more information about the Freedman's Bureau's activities to assist freed people homestead.

6.

See Oubre (1976) for more details about the correspondence between Sheridan and Howard.

7.

Gates (1940, 1979) discusses the activities of timber interests under the SHA. Millet (1966) discusses conflicts between federal agents and loggers in Louisiana. Timber reserves in the Great Lakes region were being depleted and northern lumber syndicates came to Louisiana in the 1870's. Claims could be entered for 3.25 cents per acre (160 acres tract for $5 filing fee) to harvest timber worth $25 per acre (Pope 1970, p. 209). Timber interests were also involved in fraudulent activity in parts of the western U.S. See Robbins (1939), Gates and Swenson (1968) and Libecap and Johnson (1979).

8.

The GLO database contains land patents (titles) and has information such as name of patentee, state, issue date, number of acres, and cadastral coordinates. The SLO database includes the above information plus entry date and fees paid.

9.

The GLO database holds 2513 records matching our criteria, but includes multiple records for homestead certificates listing more than one name, such as for a husband and a wife. In our sampling, we ignored draws of homestead certificate numbers already pulled. It is difficult to obtain the exact number of unsuccessful entries in the Louisiana SLO database. We identified 5551 unique records in the SLO that appeared to meet our criteria. At first appearance it seemed as though the SLO records differ from Donaldson's estimate of 4079. Upon visual examination of the SLO ledger books many of these records were not for unsuccessful entries but rather were entries begun by land officials but crossed out (and usually completed elsewhere in the ledger books). Our sample does not include crossed-out entry records.

10.

Other databases used to help identify homesteaders include ship passenger lists, personal genealogies, and military, birth, death, and marriage records. The non-census databases were sometimes useful for tracking homesteader migration between 1870 and 1880.

11.

We found several people in the 1860 and 1880 censuses in a particular parish, but were unable to find them anywhere in 1870. In those instances we used information from the 1880 census.

12.

Socio-economic information was merged with the homestead records by matching first and last names and when provided middle initials. For cases where the homestead records provided middle initials of homesteaders but the 1870 or 1880 population censuses did not, we tracked the individuals over time or used their ages and family members to complete the matches. Additionally, some liberties were taken for name variations and spelling. For example, an "Emanuel Jones" would be matched to a "Manuel Jones" if no residents were listed as "Emanuel Jones."

13.

African Americans are people classified by census enumerators as "black" or "mulatto." We do not make the distinction between these two groups, as the number of people classified "mulatto" is small in our sample and distinguishing blacks from mulattos in the empirical analysis does not change the main findings.

14.

Even if every homesteader whose race we were unable to identify had been African American, the percentage of black homesteaders increases to only 26.6 %.

15.

By comparison, Lanza (1990) found that 12 % of the homesteaders were women. Our lower share of women homesteading is largely due to our attributing entries with female names to their husbands if they lived together in the homestead parish at the time of entry, as we often found these women were widows within a decade of entry. We suspect the husbands were the original homesteaders of record, but died after filing the claim but before receiving the patent. Female claimants were also slightly more prevalent among the fraudulent group.

16.

Wealth comparisons are made only for people aged 18 and older in 1870. In 1870 the SHA had not been in operation long enough for any claimants to obtain title to their land, so reported wealth figures should exclude the value of the homestead.

17.

Among whites, the greater mean wealth of successful homesteaders may result from some wealthy individuals having filed homesteading claims to clear timber with no intentions to homestead.

18.

Since about 30 % of observations were not matched to the 1870 census, the sample may be biased. We do not believe this bias to be large, however, as we suspect that many of these unmatched homesteaders also lived near their homesteads prior to filing. Furthermore, the matched and unmatched groups have a similar racial composition, with comparable characteristics for age, success, and literacy in each group.

19.

Not shown in Table 4, applicants who filed in the first few and the latter years of the Act tended to have lower probabilities of success, although the differences are usually statistically insignificant.

20.

Too few entries were made in some parishes to include all parish effects in the models without losing observations. Although we do not report the results, we examined a version of model (3), which included interaction terms between African-American and all other independent variables. Including the interaction terms did not alter the overall results of the model nor did it significantly affect coefficients on other variables. The only interaction terms which were statistically significant were Farming*African-American, Delta parishes*African-American, and Cajun*African-American.

21.

Maximum acreages were also halved for homesteads located within six miles of rail or waterways.

22.

Including a race-literacy interaction term does not alter the results of the models.

23.

In a version of model (4) which excludes the interaction term, African-American is statistically insignificant while 1870 same parish becomes significant and positive.

24.

25.

Nationwide, a total of 285,272 entries were filed from 1867 to 1876. 197,621 homestead patents were awarded from 1872 to 1883, a success rate of 69.3 %. See Shanks (2005, p 27–29).
References
Asher & Adams' new commercial, topographical, and statistical atlas and gazetteer of the United States. New York: Asher & Adams; 1874.

Deverell WF. To loosen the safety valve: Eastern workers and Western lands. West Hist Q. 1988;19:269–85.

Donaldson TC. The public domain: its history with statistics. Washington D.C.; 1884.

Gates PW. Federal land policy in the South 1866–1888. J South Hist. 1940;6:303–30.

Gates PW. Federal land policies in the southern public land states. Agric Hist. 1979;53:206–27.

Gates PW, Swenson R. History of public land law development. Washington, D.C.: GPO; 1968.

Hoffnagle W. The Southern Homestead Act: its origins and operations. Historian. 1970;32:612–29.

Lanza ML. Agrarianism and reconstruction politics: the Southern Homestead Act. Baton Rouge: Louisiana State University Press; 1990.

Libecap GD, Hansen ZK. 'Rain follows the plow' and dryfarming doctrine: the climate information problem and homestead failure in the Upper Great Plains, 1880–1925. J Econ Hist. 2002;62:86–120.

Libecap GD, Johnson RN. Property rights, Nineteenth-Century federal timber policy, and the conservation movement. J Econ Hist. 1979;39:129–42.

Lockett SH. In: Post LC, editor. Louisiana as it is, a geographical and topographical description of the state. Baton Rouge: Louisiana State University Press; 1970.

Millet DJ. The lumber industry of 'imperial' Calcasieu: 1865–1900. La Hist. 1966;7:51–69.

Oubre CF. Forty acres and a mule: Louisiana and the Southern Homestead Act. La Hist. 1976;17:143–57.

Oubre CF. Forty acres and a mule: the Freedmen's Bureau and Black Land ownership. Baton Rouge: Louisiana State University Press; 1978.

Pope CF. Homesteads for negroes. Agric Hist. 1970;44:201–12.

Robbins RM. The public domain in the era of exploitation, 1862–1901. Agric Hist. 1939;2:97–108.

Robbins RM. Our landed heritage: the public domain 1776–1970. 2nd ed. Lincoln: University of Nebraska Press; 1976.

Ruggles S, Alexander JT, Genadek K, Goeken R, Schroeder MB, Sobek M. Integrated public use microdata series: version 5.0 [machine-readable database]. Minneapolis: University of Minnesota; 2010.

Shanks TW. In: Sherraden M, editor. Inclusion in the American dream: assets, poverty, and public policy. Oxford: Oxford UP; 2005.

State of Louisiana. State Land Office. Homestead Entry Records. Manuscripts. Various years. 1866–1886.

United States. Bureau of the Census. Census of Population. Manuscripts. Various years. 1870–1880

United States. General Land Office. Patented Homesteading Records. Manuscripts. Various years. 1796–1907

United States. Bureau of the Census. Map of Louisiana showing the distribution of pine forest with special reference to the lumber industry, compiled for the Tenth Census of the United States; 1881.

United States. Congress. Statutes at Large 14 (1865–1867).

Vandal G. 'Bloody Caddo': White violence against Blacks in a Louisiana Parish, 1865–1876. J Soc Hist. 1991;25:373–88.

Vandal G. Black violence in Post-Civil War Louisiana. J Interdiscip Hist. 1994;25:45–64.
Acknowledgments
We thank several anonymous reviewers and the participants of the 2010 Agricultural History Society Conference at Rollins College for their helpful comments. We are greatful to Elbie Bentley for excellent research assistance. Partial support for this research came from Teaching and Productive Scholarship Grants from USC Upstate.
About this article
Cite this article
Canaday, N., Reback, C. & Stowe, K. Race and Local Knowledge: New Evidence from the Southern Homestead Act. Rev Black Polit Econ 42, 399–413 (2015). https://doi.org/10.1007/s12114-015-9212-7
Keywords
JEL Classification