Abstract
This paper analyzes the impact of the 2007 recession on the incarceration of African–Americans. It begins with a brief examination of incarceration, followed by a look at the literature on the relationship between work, crime, and incarceration. Finally, it concludes with the implications of these findings for African–Americans as it relates to the current economic crisis.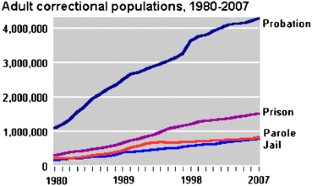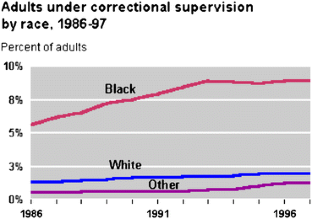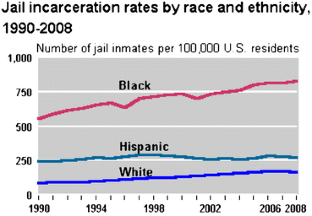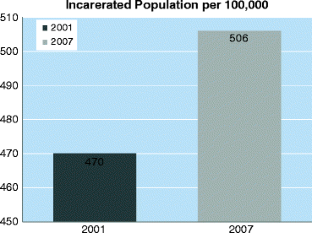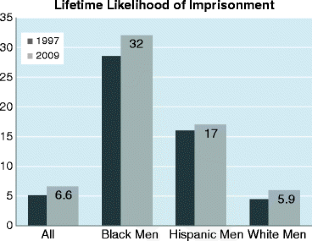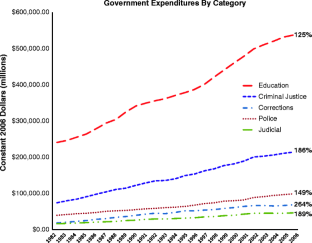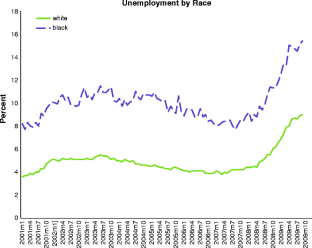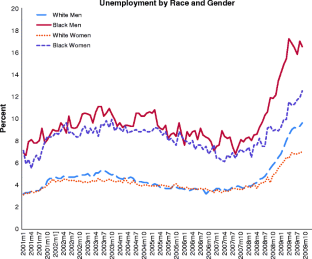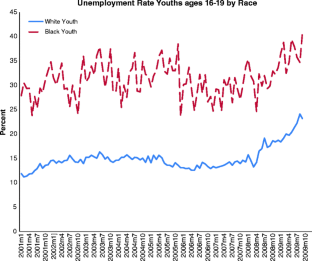 Notes
1.

This is also supported by findings in Raphael and Winter-Ebmer (2001).

2.

Please see Holzer et al. (2006).

3.

For example, Mustard (2001) finds that there is still racial inequality in sentencing even after the enactment of the Sentencing Reform Act: blacks, males, and individuals with low socioeconomic status receive much longer sentences.
References
Bonczar TP, Beck AJ. Lifetime likelihood of going to gtate or federal prison. 1997. Retrieved. from http://www.ojp.usdoj.gov/bjs/pub/pdf/llgsfp.pdf.

Bureau of Justice Statistics. 2009. Retrieved October, 2009, from http://www.ojp.usdoj.gov/bjs/crimoff.htm.

Bureau of Justice Statistics. 2010. Retrieved September, 2010, from http://bjs.ojp.usdoj.gov/index.cfm?ty=pbdetail&iid=2200.

Bushway S, Reuter P. Labor markets and crime risk factors. In: Farrington DP, McKenzie DL, Sherman L, Welsh BC, editors. Evidenced-based crime prevention. London: Routledge; 2002. p. 198–240.

Cox RJA. An economic analysis of prison labor. Doctoral Dissertation, Georgia State University, Atlanta; 2009.

DiIulio Jr JJ. Help wanted: economists, crime and public policy. J Econ Perspect. 1996;10:3–24.

Donohue JJ, Siegelman P. Allocating resources among prisons and social programs in the battle against crime. J Leg Stud. 1998;27(1):1–43.

Freeman RB. Why do so many young american men commit crimes and what might we do about it? J Econ Perspect. 1996;10(1):25–42.

Gould ED, Weinberg BA, Mustard DB. Crime rates and local labor market opportunities in the United States: 1979–1997. Rev Econ Stat. 2002;84(1):45–61.

Grogger J. Certainty vs. severity of punishment. Econ Inq. 1991;29(2):297–310.

Grogger J. Market wages and youth crime. J Labor Econ. 1998;16(4):756–91.

Holzer H, Raphael S, Stoll M. Perceived criminality, criminal background checks, and the racial hiring practices of employers. J Law Econ. 2006;XLIX:451–80.

Lochner L, Moretti E. The effect of education on crime: evidence from prison inmates, arrests, and self-reports. Am Econ Rev. 2004;94(1):155–89.

Mustard DB. Racial, ethnic, and gender disparities in sentencing: evidence from the U.S. Federal Courts. J Law Econ. 2001;XLIV:285–314.

Myers Jr SL. Estimating the economic model of crime: employment versus punishment effects. Q J Econ. 1983;98(1):157–66.

Pager D, Western B, Suggie N. Sequencing disadvantage: barriers to employment facing young black and white men with criminal records. ANNALS AAPSS. 2009a;623:195–213.

Pager D, Western B, Suggie N, Bonikowski B. Discrimination in a low wage labor market: a field experiment. Am Sociol Rev. 2009b;74:777–99.

Piehl A. Crime, work, and reentry. Paper presented at the Employment Dimensions of Reentry: Understanding the Nexus between Prisoner Reentry and Work. 2003. From www.urban.org/UploadedPDF/410856_Piehl.pdf.

Raphael S, Winter-Ebmer R. Identifying the effect of unemployment on crime. J Law Econ. 2001;44(1):259–83.

Tonry M. Malign neglect: race, crime, and punishment in America. New York: Oxford University Press, Inc.; 1995.

Tonry M. Why are U.S. incarceration rates so high? Crime Delinquency. 1999;45(4):419–37.

Western B. Punishment and inequality in America. Ind Labor Relat Rev. 2007;60(4):594–6.

Western B, Pettit B. Incarceration and racial inequality in men's employment. Ind Labor Relat Rev. 2000;54(1):3–16.

Western B, Pettit B. Black–white wage inequality, employment rates, and incarceration. Am J Sociol. 2005;111(2):553–78.

Western B, Kling J, Weiman DF. The labor market consequences of incarceration. Crime Delinquency. 2001;47(3):410–27.

Witte AD, Tauchen H. Work and crime: an exploration using panel data. National Bureau of Economic Research. 1994.

Witte AD, Witt R. Crime causation: economic theories. National Bureau of Economic Research. 2000.
About this article
Cite this article
Cox, R. Crime, Incarceration, and Employment in Light of the Great Recession. Rev Black Polit Econ 37, 283–294 (2010). https://doi.org/10.1007/s12114-010-9079-6
Keywords
Recession

Incarceration

Employment

African–Americans

Labor market

Unemployment

Low-skilled