Abstract
In this paper drawing on a study about school dress code policies and related issues—such as multiculturalism, racism, sexism, and homophobia, in the professional discourse—I show how similar the two patriarchal and White supremacist structures of education (school) and law enforcement (police) work. I argue that sexism, racism, homophobia, and classism in formal and hidden curriculum could be as mortal and brutal as it happened in cases of Tamir Rice, Michael Brown, Trayvon Martin, and others. Dress codes convey sexism with a male center gaze and racism with White middle-class norms that serve as a hidden curriculum with inherent biases. That is, not acting White, not being lady-like, wearing butch-tomboy or ragged clothing, is disruptive to academic success. Discussing a dress code in a high school in a working-class Black community, I argue that like police officers, educators tend to make dangerous judgments about bodies. Finally, to stop the harmful reproduction of such judgments, I suggest what Judith Butler calls "subversive repetition" and "subversive citation" (Butler 1990, p. 147) which allows resisting the everyday experiences that produce oneself to address the question that how can we, as teachers, school administrations, and teacher educators, resist those practices that produce our bodies as vulnerable and potential victims and others' bodies as dangerous and potential violators. To problematize, to conceptualize, and to enhance the above-mentioned argument, I will draw on several feminist frameworks such as performativity (Butler 1990), intersectionality (Crenshaw 1989), and objectification (Fredrickson and Roberts 1997).
Access options
Buy single article
Instant access to the full article PDF.
US$ 39.95
Tax calculation will be finalised during checkout.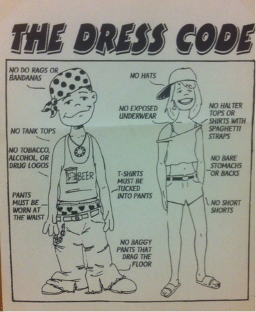 Notes
1.

2.

Rivera twitted "Trayvon killed by a jerk w a gun but Black & Latino parents have to drill into kids heads: a hoodie is like a sign: shoot or stop & frisk me".

3.

Kenneth and Mamie Clark conducted a landmark study using White and Black dolls to examine Black children's view of skin tones (Clark and Clark 1939). The overall results of the studies conducted by the Clarks illustrated that young Black children raised in the 1930s preferred White dolls and judged the White dolls as superior to duplicate dolls of Black skin color. Replication studies in the decades that followed revealed that White children identified with their skin tone more often than Black children (Goodman 1952). In contrast, Black children were inclined to reject their own ethnic group and had greater preferences for White skin tone (Greenwald and Oppenheim 1968; Lewis and Biber 1951).
References
Anderson, W. (2002). School dress codes and uniform policies. Policy Report. 4. ERIC ED-99-CO-0011 

Aued, B. (2013). UGA students protest racist Facebook post. Flagpole. Retrieved May 19, 2015, from http://flagpole.com/news/in-the-loop/uga-students-protest-racist-facebook-post.

Bernauer, J. W., & Rasmussen, D. M. (Eds.). (1988). The Final Foucault. MIT Press.

Blickenstaff, C. J. (2005). Women and science careers: leaky pipeline or gender filter? Gender and Education, 17(4), 369–386.

Brownmiller, S. (1975). Against our will: men, women, and rape. New York: Simon and Schuster.

Burt, M. R. (1980). Cultural myths and supports for rape. Journal of Personality and Social Psychology, 38, 217–230.

Butler, J. (1990). Gender trouble: feminism and the subversion of identity. New York: Routledge.

Cheng, A. (2010). Second skin Josephine Baker & the modern surface. Oxford: Oxford University Press.

Clark, K. B., & Clark, M. K. (1939). The development of consciousness of self and the emergence of racial identification in Negro preschool children. The Journal of Social Psychology, 10(4), 591–599.

Collins, P. H. (1986). Learning from the outsider within: the sociological significance of Black feminist thought. Social Problems, (6), S14–S32.

Collins, P. H. (1991). Black feminist thought: knowledge, consciousness, and the politics of empowerment. New York: Routledge.

Crenshaw, K. W. (1989). Demarginalizing the intersection of race and sex: a Black feminist critique of antidiscrimination doctrine, feminist theory and antiracist politics. University Of Chicago Legal Forum, 139–167.

Crockett, D., & Wallendorf, M. (1998). Sociological perspectives on imposed school dress codes: consumption as attempted suppression of class and group symbolism. Journal of Macromarketing, 18(2), 115–131.

Davis, A. Y. (1981). Rape, racism and the myth of the Black rapist. In A. Y. Davis (Ed.), Women, race, & class (p. 1981). New York: Random House.

DeMitchell, T. A., Fossey, R., & Cobb, C. (2000). Dress codes in the public schools: principals, policies, and precepts. Journal of Law Education, 29(1), 31–50.

Duits, L. & van Zoonen, L. (2006). Headscarves and porno-chic: disciplining girls' bodies in the European multicultural society. European Journal of Women's Studies, 103–117.

Dworkin, A. (1976). Our blood: prophecies and discourses on sexual politics. New York: Harper & Row.

Estrich, S. (1987). Real rape. Cambridge: Harvard University Press.

Foucault, M. (1975/1977). Discipline and punish: the birth of the prison. (A. Sheridan, Trans.). New York: Vintage Books. (Original work published 1975).

Foucault, M. (1978). The history of sexuality: An introduction, volume I. Trans. Robert Hurley. New York: Vintage.

Foucault, M. (1984/1988). The history of sexuality, vol. 3: The Care of the Self (R. Hurley, Trans.). New York: Vintage Books. (Original work published 1984).

Foucault, M. (1984/1990). The History of Sexuality, vol. 2: The Use of Pleasure [by] Michel Foucault and translated by Robert Hurley: New York, NY. (Original work published 1984).

Foucault, M. (1984/2004). The ethics of the concern of the self as a practice of freedom in Baker, B and Katharina, E. (Eds.). Dangerous Coagulations? The Uses of Foucault in the Study of Education (vol. 9). New York: Peter Lang. Speech Originally given in 1984.

Fredrickson, B. L., & Roberts, T. A. (1997). Objectification theory. Psychology of Women Quarterly, 21(2), 173–206.

Frye, M. (1983). The politics of reality: essays in feminist theory. Trumansburg: Crossing Press.

Gabrielson, R., Sagara, E. (2014). Deadly force, in black and white. ProPublica. Retrieved from http://www.propublica.org/article/deadly-force-in-Black-and-White , 13 May 2015.

Garot, R., & Katz, J. (2003). Provocative looks: gang appearance and dress codes in an inner-city alternative school. Ethnography, 4(3), 421–454.

Gay, R. (2012, March 23). A place where we are everything. Retrieved July 3, 2015, from http://therumpus.net/2012/03/a-place-where-we-are-everything/

George, W., & Martinez, L. (2002). Victim blaming in rape: effects of victim and perpetrator race, type of rape, and participant racism. Psychology of Women Quarterly, 110–119.

Goodman, M. E. (1952). Race awareness in young children. Cambridge: Addison-Wesley.

Greenwald, H. J., & Oppenheim, D. B. (1968). Reported magnitude of self-misidentification among Negro children: Artifact? Journal of Personality and Social Psychology, 8(1p1), 49.

Harraway, D. (1991). A cyborg manifesto: science, technology, and socialist-feminism in the late twentieth century. Simians, cyborgs and women: the reinvention of Nature, 149–82.

Heath, B. (2014). Racial gap in U.S. arrest rates: 'Staggering disparity' Retrieved May 13, 2015, from http://www.usatoday.com/story/news/nation/2014/11/18/ferguson-Black-arrest-rates/19043207/.

Kosciw, J. G., Greytak, E. A., Giga, N. M., Villenas, C., & Danischewski, D. J. (2016). The 2015 national school climate survey: the experiences of lesbian, gay, bisexual, transgender, and queer youth in our nation's schools. Gay, Lesbian and Straight Education Network (GLSEN). 121 West 27th Street Suite 804, New York, NY 10001.

Kuperinsky, A. (2012). Hoodies: danger or fashion? NJ.com, Retrieved May 19, 2015 from http://www.nj.com/entertainment/index.ssf/2012/04/trayvon_martin_hoodie_march.html.

Lerner, G. (1973). Black women in White America: a documentary history. New York: Vintage Books.

Lewis, C., & Biber, B. (1951). Reactions of negro children toward negro and White teachers. The Journal of Experimental Education, 20(1), 97–104.

Lorde, A. (1984). Sister outsider: essays and speeches. Trumansburg: Crossing Press.

MacKinnon, C. (1987). Feminism unmodified: discourses on life and law. Cambridge: Harvard University Press.

Murray, S. J. (2007). Care and the self: biotechnology, reproduction, and the good life. Philosophy, Ethics, and Humanities in Medicine, 2(6), 1–15.

Myhra, A. G. (1999). No shoes, no shirt, no education: dress codes and freedom of expression behind the postmodern schoolhouse gates. Seton Hall Constitutional Law Journal 9(2), 337–400.

National Center for Education Statistics (2015). Percentage of high school dropouts among persons 16 through 24 years old (status dropout rate), by sex and race/ethnicity: selected years, 1960 through 2013. Retrieved May 19, 2015, from https://nces.ed.gov/programs/digest/d14/tables/dt14_219.70.asp?current=yes

NBC News. 2012. Geraldo Rivera blames hoodie for Trayvon Martin's death: critics tell him to zip it up. NBC News, March 23. Retrieved May 20, 2015 from http://usnews.nbcnews.com/_news/2012/03/23/10830530-geraldo-rivera-blames-hoodie-for-trayvons-death-critics-tell-him-to-zip-it-up?lite

Nguyen, M. T. (2015). The hoodie as sign, screen, expectation, and force. Signs, 40(4), 791–816.

Noguera, P. (2008). The trouble with black boys: and other reflections on race, equity, and the future of public education. San Francisco: Jossey-Bass.

Palmer, B. (2012). When did hoodlums start wearing hoods? A history of the controversial head covering. Slate, March 22. Retrieved May 19, 2015 from http://www.slate.com/articles/news_and_politics/explainer/2012/03/trayvon_martin_killing_when_did_hoods_become_associated_with_illicit_activity_.html

Pomerantz, S. (2007). Cleavage in a tank top: bodily prohibition and the discourses of school dress codes. Alberta Journal of Educational Research, 53(4), 373–386.

Raby, R. (2010). "Tank tops are ok but I Don't want to see her thong" Girls' Engagements With Secondary School Dress Codes. Youth & Society, 41(3), 333–356.

Rajchman, J. (1985). Michel Foucault: the freedom of philosophy. New York: Columbia University Press.

Retallack, H., Ringrose, J., & Lawrence, E. (2016). "Fuck your body image": teen girls' Twitter and Instagram feminism in and around school. In J. Coffey, S. Budgeon, & H. Cahill (Eds.), Learning Bodies. Perspectives on Children and Young People (Vol. 2). Singapore: Springer.

Ritzer, G., & Stepnisky, J. (2013). Contemporary sociological theory and its classical roots: the basics (4th ed.). New York: McGraw-Hill.

Schneider, L. J. (1992). Perceptions of single and multiple incident rape. Sex Roles, 26, 97–100.

Seymour, E. (1995). Why undergraduates leave the sciences. American Journal of Physics, 63(3), 199–202.

Sonnert, G., & Holton, G. (1995). Gender differences in science careers: the project access study. New Brunswick: Rutgers University Press.

Symes, C., & Meadmore, D. (1996). Force of habit: The school uniform as a body of knowledge. Pedagogy, technology, and the body, 171–191.

The Sentencing Project (2013). Report of the sentencing project to the United Nations Human Rights Committee Regarding Racial Disparities in the United States Criminal Justice System. Washington DC: The Sentencing Project, 2013. Retrieved from http://sentencingproject.org/doc/publications/rd_ICCPR%20Race%20and%20Justice%20Shadow%20Report.pdf, 13 May 2015.

Ward, C. A. (1995). Attitudes toward rape: feminist and social psychological perspectives. London: Sage.

Weinburgh, M. (1995). Gender differences in student attitudes toward science: a meta-analysis of the literature from 1970 to 1991. Journal of Research in Science Teaching, 32(4), 387–398.

Wilson, D. (2012). The history of the hoodie. Rolling Stone, April 3. Retrieved May 19, 2015 from http://www.rollingstone.com/culture/news/the-history-of-the-hoodie-20120403
Ethics declarations
Conflict of Interest
The authors declare that they have no conflict of interest.
About this article
Cite this article
Aghasaleh, R. Oppressive Curriculum: Sexist, Racist, Classist, and Homophobic Practice of Dress Codes in Schooling. J Afr Am St 22, 94–108 (2018). https://doi.org/10.1007/s12111-018-9397-5
Keywords
White supremacy

Racism

Sexism

Dress codes

Public school

Body

Surveillance

Policing

Care of self

Intersectionality