Abstract
A central hypothesis to account for the ubiquity of rituals across cultures is their supposed anxiolytic effects: rituals being maintained because they reduce existential anxiety and uncertainty. We aimed to test the anxiolytic effects of rituals by investigating two possible underlying mechanisms for it: cognitive load and repetitive movement. In our pre-registered experiment (osf.io/rsu9x), 180 undergraduates took part in either a stress or a control condition and were subsequently assigned to either control, cognitive load, undirected movement, a combination of undirected movement and cognitive load, or a ritualistic intervention. Using both repeated self-report measures and continuous physiological indicators of anxiety, we failed to find direct support for a cognitive suppression effect of anxiety through ritualistic behavior. Nevertheless, we found that induced stress increased participants' subsequent repetitive behavior, which in turn reduced physiological arousal. This study provides novel evidence for plausible underlying effects of the proposed anxiolytic effect of rituals: repetitive behavior but not cognitive load may decrease physiological stress responses during ritual.
Access options
Buy single article
Instant access to the full article PDF.
USD 39.95
Price includes VAT (USA)
Tax calculation will be finalised during checkout.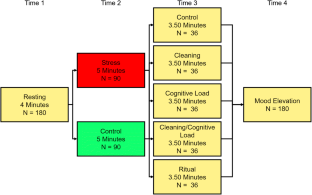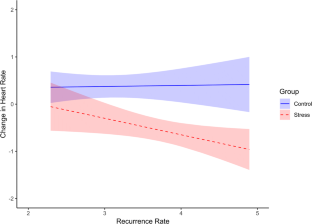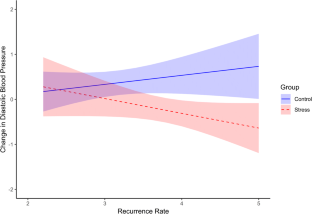 Notes
1.

To increase readability, some of our hypothesis have been renumbered; no changes were made to proposed methods or analysis.
References
Alcorta, C. S., & Sosis, R. (2005). Ritual, emotion, and sacred symbols. Human Nature, 16(4), 323–359.

Anastasi, M. W., & Newberg, A. B. (2008). A preliminary study of the acute effects of religious ritual on anxiety. The Journal of Alternative and Complementary Medicine, 14(2), 163–165.

Anderson, E., & Shivakumar, G. (2013). Effects of exercise and physical activity on anxiety. Frontiers in Psychiatry, 4. https://doi.org/10.3389/fpsyt.2013.00027.

Bell, C. (2009). Ritual: Perspective and dimensions. New York: Oxford University Press.

Boyer, P., & Liénard, P. (2006). Why ritualized behavior? Precaution systems and action parsing in developmental, pathological and cultural rituals. Behavioral and Brain Sciences, 29(6), 595–613.

Boyer, P., & Liénard, P. (2008). Ritual behavior in obsessive and normal individuals. Current Directions in Psychological Science, 17(4), 291–294.

Brooks, A. W., Schroeder, J., Risen, J. L., Gino, F., Galinsky, A. D., Norton, M. I., & Schweitzer, M. E. (2016). Don't stop believing: Rituals improve performance by decreasing anxiety. Organizational Behavior and Human Decision Processes, 137, 71–85.

Burdwood, E. N., Infantolino, Z. P., Crocker, L. D., Spielberg, J. M., Banich, M. T., Miller, G. A., & Heller, W. (2016). Resting-state functional connectivity differentiates anxious apprehension and anxious arousal. Psychophysiology, 53, 1451–1459.

Causer, J., Holmes, P. S., Smith, N. C., & Williams, A. M. (2011). Anxiety, movement kinematics, and visual attention in elite-level performers. Emotion, 11(3), 595–602.

Clark, A. (2013). Whatever next? Predictive brains, situated agents, and the future of cognitive science. Behavioral and Brain Sciences, 36(3), 181–204.

Clark, L. A., & Watson, D. (1991). Tripartite model of anxiety and depression: Psychometric evidence and taxonomic implications. Journal of Abnormal Psychology, 100(3), 316–336.

Cluff, T., Boulet, J., & Balasubramaniam, R. (2011). Learning a stick-balancing task involves task-specific coupling between posture and hand displacements. Experimental Brain Research, 213, 15–25.

Coco, M. I., & Dale, R. (2014). Cross-recurrence quantification analysis of categorical and continuous time series: An R package. Frontiers in Psychology, 5, 510.

Faul, F., Erdfelder, E., Lang, A.-G., & Buchner, A. (2007). G*power 3: A flexible statistical power analysis program for the social, behavioral, and biomedical sciences. Behavior Research Methods, 39, 175–191.

Fischer, R., Callander, R., Reddish, P., & Bulbulia, J. (2013). How do rituals affect cooperation? Human Nature, 24(2), 115–125.

Fischer, R., Xygalatas, D., Mitkidis, P., Reddish, P., Tok, P., Konvalinka, I., & Bulbulia, J. (2014). The fire-walkers' high: Affect and physiological responses in an extreme collective ritual. PLoS One, 9(2), e88355.

Fowles, D. C., Christie, M. J., Edelberg, R., Grings, W. W., Lykken, D. T., & Venables, P. H. (1981). Publication recommendations for electrodermal measurements. Psychophysiology, 18(3), 232–239.

Fux, M., Eilam, D., Mort, J., Keren, H., & Lawson, E. T. (2013). Are motor collective rituals as rigid as they seem? A test case of a Zulu wedding dance. Journal of Cognition and Culture, 13(1–2), 17–32.

Hembree, R. (1988). Correlates, causes, effects, and treatment of test anxiety. Review of Educational Research, 58(1), 47–77.

Higuchia, T., Imanakab, K., & Hatayamac, T. (2002). Freezing degrees of freedom under stress: Kinematic evidence of constrained movement strategies. Human Movement Science, 21, 831–846.

Hirsh, J. B., Mar, R. A., & Peterson, J. B. (2012). Psychological entropy: A framework for understanding uncertainty-related anxiety. Psychological Review, 119(2), 304–320.

Hobson, N. M., Bonk, D., & Inzlicht, M. (2017a). Rituals decrease the neural response to performance failure. PeerJ, 5, e3363. https://doi.org/10.7717/peerj.3363.

Hobson, N. M., Schroeder, J., Risen, J. L., Xygalatas, D., & Inzlicht, M. (2017b). The psychology of rituals: An integrative review and process-based framework. Personality and Social Psychology Review., 22, 260–284.

Irons, W. (1996). Morality, religion, and human nature. In W. M. Richardson & W. Wildman (Eds.), Religion and science: History, method, dialogue (pp. 375–399). New York: Routledge.

Kim, S. H., & Rocklin, T. (1994). The temporal patterns of worry and emotionality and their differential effects on test performance. Anxiety, Stress & Coping, 7(2), 117–130.

Kirschbaum, C., Pirke, K. M., & Hellhammer, D. H. (1993). The Trier Social Stress Test: A tool for investigating psychobiological stress responses in a laboratory setting. Neuropsychobiology, 28(1–2), 76–81.

Kowalski, R. M. (2000). Anxiety In Encyclopaedia of Psychology. American Psychological Association.

Krátký, J., Lang, M., Shaver, J. H., Jerotijević, D., & Xygalatas, D. (2016). Anxiety and ritualization: Can attention discriminate compulsion from routine? Communicative & Integrative Biology, 9(3), e1174799.

Lang, P. J., Bradley, M. M., & Cuthbert, B. N. (2008). International affective picture system (IAPS): Affective ratings of pictures and instruction manual. Technical Report A-8. Gainesville, FL: NIMH Center for Emotion and Attention (CSEA) at the University of Florida.

Lang, M., Krátký, J., Shaver, J. H., Jerotijević, D., & Xygalatas, D. (2015). Effects of anxiety on spontaneous ritualized behavior. Current Biology, 25, 1892–1897.

Legare, C. H., & Souza, A. L. (2012). Evaluating ritual efficacy: Evidence from the supernatural. Cognition, 124(1), 1–15.

Malinowski, A. W. (1954). Argonauts of the western Pacific. An account of native enterprise and adventure in the archipelagoes of Melanesian New Guinea. London: George Routledge & Sons.

Marteau, T. M., & Bekker, H. (1992). The development of a six-item short-form of the state scale of the Spielberger State-trait Anxiety Inventory (STAI). British Journal of Clinical Psychology, 31(3), 301–306.

Marwan, N., Carmen Romano, M., Thiel, M., & Kurths, J. (2007). Recurrence plots for the analysis of complex systems. Physics Reports, 438, 237–329.

Meyer, T. J., Miller, M. L., Metzger, R. L., & Borkovec, T. D. (1990). Development and validation of the Penn State worry questionnaire. Behaviour Research and Therapy, 28(6), 487–495.

Mogan, R., Fischer, R., & Bulbulia, J. A. (2017). To be in synchrony or not? A meta-analysis of synchrony's effects on behavior, perception, cognition and affect. Journal of Experimental Social Psychology, 72, 13–20.

Molina, S., & Borkovec, T. D. (1994). The Penn State worry questionnaire: Psychometric properties and associated characteristics. New York: John Wiley & Sons.

Nitschke, J. B., Heller, W., Palmieri, P. A., & Miller, G. A. (1999). Contrasting patterns of brain activity in anxious apprehension and anxious arousal. Psychophysiology, 36(5), 628–637.

Norton, M. I., & Gino, F. (2013). Rituals alleviate grieving for loved ones, lovers, and lotteries. Journal of Experimental Psychology: General, 143(1), 266–272.

Pfeiffer, J. E. (1982). The creative explosion: An inquiry into the origins of art and religion. New York: Harper & Row.

Rappaport, R. (1999). Ritual and religion in the making of humanity. Cambridge: Cambridge University Press.

Renner, K.-H., Hock, M., Bergner-Köther, R., & Laux, L. (2016). Differentiating anxiety and depression: The state-trait anxiety-depression inventory. Cognition and Emotion. https://doi.org/10.1080/02699931.2016.1266306.

Ruffle, B. J., & Sosis, R. (2007). Does it pay to pray? Costly ritual and cooperation. The B.E. Journal of Economic Analysis & Policy, 7(1), 1–35.

Salmon, P. (2001). Effects of physical exercise on anxiety, depression, and sensitivity to stress: A unifying theory. Clinical Psychology Review, 21(1), 33–61.

Seipp, B. (1991). Anxiety and academic performance: A meta-analysis of findings. Anxiety Research, 4(1), 27–41.

Sosis, R., & Handwerker, W. P. (2011). Psalms and coping with uncertainty: Religious Israeli women's responses to the 2006 Lebanon war. American Anthropologist, 113(1), 40–55.

Sosis, R., & Ruffle, B. J. (2003). Religious ritual and cooperation: Testing for a relationship on Israeli religious and secular kibbutzim. Current Anthropology, 44, 713–722.

Vytal, K. E., Cornwell, B., Arkin, N., & Grillon, C. (2012). Describing the interplay between anxiety and cognition: From impaired performance under low cognitive load to reduced anxiety under high load. Psychophysiology, 49, 842–852.

Vytal, K. E., Cornwell, B. R., Letkiewicz, A. M., Arkin, N. E., & Grillon, C. (2013). The complex interaction between anxiety and cognition: Insight from spatial and verbal working memory. Frontiers in Human Neuroscience, 7. https://doi.org/10.3389/fnhum.2013.00093.

Watson, D., Clark, L. A., & Tellegen, A. (1988). Development and validation of brief measures of positive and negative affect: The PANAS scales. Journal of Personality and Social Psychology, 54(6), 1063–1070.

Wen, N. J., Herrmann, P. A., & Legare, C. H. (2016). Ritual increases children's affiliation with in-group members. Evolution and Human Behavior, 37(1), 54–60.

Whitehouse, H. (1995). Inside the cult: Religious innovation and transmission in Papua New Guinea. Oxford: Oxford University Press.

Xygalatas, D., Schjoedt, U., Bulbulia, J., Konvalinka, I., Jegindø, E.-M., Reddish, P., et al. (2013). Autobiographical memory in a fire-walking ritual. Journal of Cognition and Culture, 13(1–2), 1–16.
Electronic supplementary material
About this article
Cite this article
Karl, J.A., Fischer, R. Rituals, Repetitiveness and Cognitive Load. Hum Nat 29, 418–441 (2018). https://doi.org/10.1007/s12110-018-9325-3
Keywords
Ritual

Stress

Cognitive load

Behavioral rigidity

Anxiety

Cultural evolution