Abstract
Women often experience novel food aversions and cravings during pregnancy. These appetite changes have been hypothesized to work alongside cultural strategies as adaptive responses to the challenges posed by pregnancy (e.g., maternal immune suppression). Here, we report a study that assessed whether data from an indigenous population in Fiji are consistent with the predictions of this hypothesis. We found that aversions focus predominantly on foods expected to exacerbate the challenges of pregnancy. Cravings focus on foods that provide calories and micronutrients while posing few threats to mothers and fetuses. We also found that women who experience aversions to specific foods are more likely to crave foods that meet nutritional needs similar to those provided by the aversive foods. These findings are in line with the predictions of the hypothesis. This adds further weight to the argument that appetite changes may function in parallel with cultural mechanisms to solve pregnancy challenges.
This is a preview of subscription content, log in to check access.
Access options
Buy single article
Instant access to the full article PDF.
US$ 39.95
Price includes VAT for USA
Subscribe to journal
Immediate online access to all issues from 2019. Subscription will auto renew annually.
US$ 99
This is the net price. Taxes to be calculated in checkout.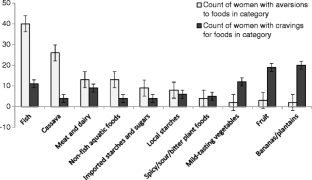 References
Anderson, A., Campbell, D., & Shepherd, R. (1993). Nutrition knowledge, attitude to healthier eating and dietary intake in pregnant compared to non-pregnant women. Journal of Human Nutrition and Dietetics, 6, 335–353.

Atkinson, F. S., Foster-Powell, K., & Brand-Miller, J. C. (2008). International tables of glycemic index and glycemic load values: 2008. Diabetes Care, 31, 2281–2283.

Bath, S. C., Steer, C. D., Golding, J., Emmet, P., & Rayman, M. P. (2013). Effect of inadequate iodine status on UK pregnant women on cognitive outcomes in their children: results from the Avon Longitudinal Study of Parents and Children (ALSPAC). The Lancet, 382, 331–338.

Biesalski, H. K. (2005). Meat as a component of a healthy diet – are there any risks or benefits if meat is avoided in the diet? Meat Science, 70, 509–524.

Billing, J., & Sherman, P. W. (1998). Antimicrobial functions of spices: why some like it hot. Quarterly Review of Biology, 73, 3–49.

Bonham, M. P., Duffy, E. M., Robson, P. J., Wallace, J. M., Myers, G. J., Davidson, P. W., et al. (2008). Contributions of fish to micronutrient intakes important for fetal development: a dietary survey of pregnant women in the Republic of Seychelles. Public Health Nutrition, 12, 1312–1320.

Bradbury, E. J., Duputie, A., Deletre, M., Roullier, C., Narvaez-Trujillo, A., Manu-Aduening, J. A., et al. (2013). Geographic differences in patterns of genetic variation among bitter and sweet manioc (Manihot esculenta subsp. esculenta; Euphorbiacea). American Journal of Botany, 100, 857–866.

Broesch, J., Barrett, H. C., & Henrich, J. (2014). Adaptive content biases in learning about animals across the life course. Human Nature, 25, 181–199.

Brown, J. E., Kahn, E. S., & Hartman, T. J. (1997). Profet, profits, and proof: do nausea and vomiting of early pregnancy protect women from "harmful" vegetables? American Journal of Obstetrics and Gynecology, 176, 179–181.

Brown, E. A., Ruvolo, M., & Sabeti, P. C. (2013). Many ways to die, one way to arrive: how selection acts through pregnancy. Trends in Genetics, 29, 585–592.

Cadavid, L., El-Sharkawy, M. A., Acosta, A., & Sánchez, T. (1998). Long-term effects of mulch, fertilization and tillage on cassava grown in sandy soils in northern Colombia. Field Crops Research, 57, 45–56.

Chanda, S., Sharper, V., Hoberman, A., & Bley, K. (2006). Developmental toxicity study of pure trans-capsaicin in rats and rabbits. International Journal of Toxicology, 25, 205–217.

Christian, M. S., & Brent, R. L. (2001). Teratogen update: evaluation of the reproductive and developmental risks of caffeine. Teratology, 64, 51–78.

Crespi, B. J. (2010). The origins and evolution of genetic disease risk in modern humans. Annals of the New York Academy of Sciences, 1206, 80–109.

Crespi, B. J. (2011). The strategies of genes: Genomic conflicts, attachment theory, and the development of the social brain. In A. Petronis & J. Mill (Eds.), Brain, behavior, and epigenetics (pp. 143–167). Berlin: Springer.

Crespi, B., & Badcock, C. (2008). Psychosis and autism as diametrical disorders of the social brain. Behavioral and Brain Sciences, 31, 241–260.

Das, R., Hampton, D. D., & Jirtle, R. L. (2009). Imprinting evolution and human health. Mammalian Genome, 20, 563–572.

Drewnowski, A. (1997). Taste preferences and food intake. Annual Review of Nutrition, 17, 237–253.

Dufour, D. L., & Sauther, M. L. (2002). Comparative and evolutionary dimensions of the energetics of human pregnancy and lactation. American Journal of Human Biology, 14, 585–602.

Dulloo, A. G., Jacquet, J., Seydoux, J., & Montani, J. (2006). The thrifty 'catch-up fat' phenotype: its impact on insulin sensitivity during growth trajectories to obesity and metabolic syndrome. International Journal of Obesity, 30, S23–S35.

Eaton, B., & Konner, M. (1985). Paleolithic nutrition. A consideration of its nature and current implications. New England Journal of Medicine, 312, 283–289.

El-Sharkawy, M. (2006). International research on cassava photosynthesis, productivity, eco-physiology, and responses to environmental stresses in the tropics. Photosynthetica, 44, 481–512.

Fessler, D. M. T. (2002). Reproductive immunosuppression and diet: an evolutionary perspective on pregnancy sickness and meat consumption. Current Anthropology, 43, 19–61.

Fessler, D. M. T., & Navarrete, C. D. (2003). Meat is good to taboo: dietary proscriptions as a product of the interaction of psychological mechanisms and social processes. Journal of Cognition and Culture, 3, 1–40.

Fessler, D. M. T., Eng, S. J., & Navarrete, C. D. (2005). Elevated disgust sensitivity in the first trimester of pregnancy. Evolution and Human Behavior, 26, 344–351.

Flaxman, S. M., & Sherman, P. W. (2000). Morning sickness: a mechanism for protecting mother and embryo. Quarterly Review of Biology, 75, 113–148.

Flaxman, S. M., & Sherman, P. W. (2008). Morning sickness: adaptive cause or nonadaptive consequence of embryo viability? American Naturalist, 172, 54–62.

Forbes, S. (2014). Pregnancy sickness and parent-offspring conflict over thyroid function. Journal of Theoretical Biology, 355, 61–67.

Gardner, B., Croker, H., Barr, S., Briley, A., Poston, L., & Wardle, J. (2012). Psychological predictors of dietary intentions in pregnancy. Journal of Human Nutrition and Dietetics, 25, 345–353.

Gerber, L. M., Williams, G. C., & Gray, S. J. (1999). The nutrient-toxin dosage continuum in human evolution and modern health. Quarterly Review of Biology, 74, 273–289.

Gluckman, P. D., & Hanson, M. A. (2004). Living with the past: evolution, development, and patterns of disease. Science, 305, 1733–1736.

Godfrey, K. M., Gluckman, P. D., & Hanson, M. A. (2010). Developmental origins of metabolic disease: life course and intergenerational perspectives. Trends in Endocrinology and Metabolism, 21, 199–205.

Haig, D. (1993). Genetic conflicts in human pregnancy. Quarterly Review of Biology, 68, 495–532.

Haig, D. (1999). Genetic conflicts of pregnancy and childhood. In S. C. Stearns & J. C. Koella (Eds.), Evolution in health and disease (pp. 77–90). Oxford: Oxford University Press.

Hales, C. N., & Barker, D. J. (1992). Type 2 (non-insulin-dependent) diabetes mellitus: the thrifty phenotype hypothesis. Diabetologia, 35, 595–601.

Henrich, J., & Broesch, J. (2011). On the nature of cultural transmission networks: evidence from Fijian villages for adaptive learning biases. Philosophical Transactions of the Royal Society, B: Biological Sciences, 366, 1139–1148.

Henrich, J., & Henrich, N. (2010). The evolution of cultural adaptations: Fijian food taboos protect against dangerous marine toxins. Proceedings of the Royal Society B: Biological Sciences, 277, 3715.

Holland, T. D., & O'Brien, M. J. (2003). On morning sickness and the Neolithic revolution. Current Anthropology, 44, 707–711.

Hook, E. B. (1978). Dietary cravings and aversions during pregnancy. American Journal of Clinical Nutrition, 31, 1355–1362.

Hook, E. B. (1980). Influence of pregnancy on dietary selection. International Journal of Obesity, 4, 338–340.

Huxley, R. R. (2000). Nausea and vomiting in early pregnancy: its role in placental development. Obstetrics & Gynecology, 95, 779–782.

Kline, M. A., Boyd, R., & Henrich, J. (2013). Teaching and the life history of cultural transmission in Fijian villages. Human Nature, 24, 351–374.

Lancaster, P., Ingram, J., Lim, M., & Coursey, D. (1982). Traditional cassava-based foods: survey of processing techniques. Economic Botany, 36, 12–45.

Langley-Evans, S. C. (2006). Developmental programming of health and disease. Proceedings of the Nutrition Society, 65, 97–105.

Langley-Evans, S. C., & McMullen, S. (2010). Developmental origins of adult disease. Medical Principles and Practice, 19, 87–98.

Lee, J.-I., Lee, J.-L., & Lim, H.-S. (2004). Morning sickness reduces dietary diversity, nutrient intakes, and infant outcome of pregnant women. Nutrition Research, 24, 531–540.

Lozano, R., Naghavi, M., Foreman, K., Lim, S., Shibuya, K., Aboyans, V., et al. (2013). Global and regional mortality from 235 causes of death for 20 age groups in 1990 and 2010: a systematic analysis for the global burden of disease study 2010. The Lancet, 380, 2095–2128.

Maconochie, N., Doyle, P., Prior, S., & Simmons, R. (2007). Risk factors for first trimester miscarriage – results from a UK-population-based case-control study. Epidemiology, 114, 170–186.

McKerracher, L., Collard, M., & Henrich, J. (2015). The expression and adaptive significance of pregnancy-related nausea, vomiting, and aversions on Yasawa Island, Fiji. Evolution and Human Behavior, 36, 95–102.

Myatt, L. (2006). Placental adaptive responses and fetal programming. Journal of Physiology, 572, 25–30.

Nepomnaschy, P. A., Welch, K. B., McConnell, D. S., Low, B. S., Strassmann, B. I., & England, B. G. (2006). Cortisol levels and very early pregnancy loss in humans. Proceedings of the National Academy of Sciences of the United States of America, 103, 3938–3942.

Nhassico, D., Muquingue, H., Cliff, J., Cumbana, A., & Bradbury, J. H. (2008). Rising African cassava production, diseases due to high cyanide intake and control measures. Journal of the Science of Food and Agriculture, 88, 2043–2049.

Olusanya, J. O., & Ogundipe, F. O. (2009). Food aversion and craving among pregnant women in Akure, Ondo State, Nigeria. International Journal of Tropical Medicine, 4, 100–103.

Patil, C. L., & Young, S. L. (2012). Biocultural considerations of food cravings and aversions: an introduction. Ecology of Food and Nutrition, 51, 365–373.

Patil, C. L., Abrams, E. T., Steinmetz, A. R., & Young, S. L. (2012). Appetite sensations and nausea and vomiting in pregnancy: An overview of the explanations. Ecology of Food and Nutrition, 51, 394–417.

Patti, M. (2013). Intergenerational programming of metabolic disease: evidence from human populations and experimental animal models. Cellular and Molecular Life Sciences, 70, 1–12.

Pearn, J., Harvey, P., De Ambrosis, W., Lewis, R., & McKay, R. (1982). Ciguatera and pregnancy. Medical Journal of Australia, 1, 57–58.

Pike, I. L. (2000). The nutritional consequences of pregnancy sickness: a critique of a hypothesis. Human Nature, 11, 207–232.

Placek, C. D., & Hagen, E. H. (2015). Fetal protection: the roles of social learning and innate food aversions in South India. Human Nature, 26, 255–276.

Profet, M. (1988). The evolution of pregnancy sickness as protection to the embryo against Pleistocene teratogens. Evolutionary Theory, 8, 177–190.

Profet, M. (1992). Pregnancy sickness as adaptation: A deterrent to maternal ingestion of teratogens. In J. H. Barkow, L. E. Cosmides, & J. E. Tooby (Eds.), The adapted mind (pp. 327–366). New York: Oxford University Press.

R Development Core Team. (2008). R: A language and environment for statistical computing. R Foundation for Statistical Computing, Vienna, Austria. http://www.R-project.org.

Richerson, P., & Boyd, R. (2005). Not by genes alone: How culture transformed human evolution. Chicago: University of Chicago Press.

Rillamas-Sun, E. (2010) The developmental origins of health and disease in women from the Michigan Bone Health Study: An examination with longitudinal and intergenerational data. PhD Dissertation, University of Michigan.

Rozin, P., & Vollmecke, T. A. (1986). Food likes and dislikes. Annual Review of Nutrition, 6, 433–456.

Sclafani, A. (1997). Learned controls of ingestive behaviour. Appetite, 29, 153–158.

Ségurel, L., Austerlitz, F., Toupance, B., Gautier, M., Kelley, J. L., Pasquet, P., et al. (2013). Positive selection for protective variants for type 2 diabetes from the Neolithic onward: a case study in Central Asia. European Journal of Human Genetics, 21, 1146–1151.

Sherman, P. W., & Flaxman, S. M. (2001). Protecting ourselves from food. American Scientist, 89, 142–151.

Sherman, P. W., & Flaxman, S. M. (2002). Nausea and vomiting of pregnancy in an evolutionary perspective. American Journal of Obstetrics and Gynecology, 186, 190–197.

Sherman, P. W., & Hash, G. A. (2001). Why vegetable recipes are not very spicy. Evolution and Human Behavior, 22, 147–163.

Steinmetz, A. R., Abrams, E. T., & Young, S. L. (2012). Patterns of nausea, vomiting, aversions, and cravings during pregnancy on Pemba Island, Zanzibar, Tanzania. Ecology of Food and Nutrition, 51, 418–430.

Svensson-Arvelund, J., Ernerudh, J., Buse, E., Cline, J. M., Haeger, J., Dixon, D., et al. (2013). The placenta in toxicology, part II: systemic and local immune adaptations in pregnancy. Toxicologic Pathology, 42, 327–339.

Thaman, R. R. (1990). Evolution of the Fiji food system. In A. A. J. Jansen, S. Parkinson, & A. F. S. Robertson (Eds.), Food and nutrition in Fiji (pp. 23–107). Suva: Institute of Pacific Studies.

Tierson, F. D., Olsen, C. L., & Hook, E. B. (1985). Influence of cravings and aversions on diet in pregnancy. Ecology of Food and Nutrition, 17, 117–129.

Trivers, R. L. (1974). Parent-offspring conflict. American Zoologist, 14, 249–264.

Weigel, M. M., Coe, K., Castro, N. P., Caiza, E., Tello, N., & Reyes, M. (2011). Food aversions and cravings during early pregnancy: association with nausea and vomiting. Ecology of Food and Nutrition, 50, 197–214.

Wells, J. (2009). Thrift: a guide to thrifty genes, thrifty phenotypes and thrifty norms. International Journal of Obesity, 33, 1331–1338.

Williams, G. C., & Nesse, R. M. (1991). The dawn of Darwinian medicine. Quarterly Review of Biology, 66, 1–22.

Wood-Bradley, R. J., Henry, S. L., Vrselja, A., Newman, V., & Armitage, J. A. (2013). Maternal dietary intake during pregnancy has longstanding consequences for the health of her offspring. Canadian Journal of Physiology and Pharmacology, 91, 412–420.

Young, A. G., & Pike, I. L. (2012). A biocultural framework for examining maternal cravings and aversions among pastoral women in East Africa. Ecology of Food and Nutrition, 51, 444–462.
Acknowledgments
We gratefully acknowledge that financial support for this research was provided by Simon Fraser University (SFU), the University of British Columbia, the Social Sciences and Humanities Research Council of Canada, the Canada Foundation for Innovation, and the Canada Research Chairs program. Additionally, we are thankful to the Fijian research assistants whose diligent and meticulous fieldwork made this study possible. We also thank the members of SFU's Human Evolutionary Studies Program, SFU's FAB* lab, Aarhus University's Centre for Biocultural History, and four anonymous reviewers for thoughtful comments during the development of this manuscript. Lastly, we would like to express our deepest gratitude to the women of Yasawa Island for their willingness to share information about their personal histories. Without their assistance, this project and several others would have been impossible.
Electronic supplementary material
About this article
Cite this article
McKerracher, L., Collard, M. & Henrich, J. Food Aversions and Cravings during Pregnancy on Yasawa Island, Fiji. Hum Nat 27, 296–315 (2016). https://doi.org/10.1007/s12110-016-9262-y
Keywords
Pregnancy

Diet

Aversions

Cravings

Behavioral ecology

Fiji