Abstract
Anthropologists have documented substantial cross-society variation in people's willingness to treat strangers with impartial, universal norms versus favoring members of their local community. Researchers have proposed several adaptive accounts for these differences. One variant of the pathogen stress hypothesis predicts that people will be more likely to favor local in-group members when they are under greater infectious disease threat. The material security hypothesis instead proposes that institutions that permit people to meet their basic needs through impartial interactions with strangers reinforce a tendency toward impartiality, whereas people lacking such institutions must rely on local community members to meet their basic needs. Some studies have examined these hypotheses using self-reported preferences, but not with behavioral measures. We conducted behavioral experiments in eight diverse societies that measure individuals' willingness to favor in-group members by ignoring an impartial rule. Consistent with the material security hypothesis, members of societies enjoying better-quality government services and food security show a stronger preference for following an impartial rule over investing in their local in-group. Our data show no support for the pathogen stress hypothesis as applied to favoring in-groups and instead suggest that favoring in-group members more closely reflects a general adaptive fit with social institutions that have arisen in each society.
This is a preview of subscription content, log in to check access.
Access options
Buy single article
Instant access to the full article PDF.
US$ 39.95
Price includes VAT for USA
Subscribe to journal
Immediate online access to all issues from 2019. Subscription will auto renew annually.
US$ 99
This is the net price. Taxes to be calculated in checkout.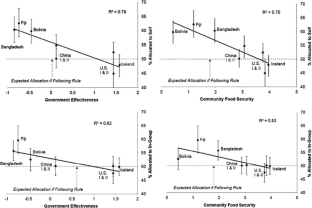 References
Alesina, A., Devleeschauwer, A., Easterly, W., Kurlat, S., & Wacziarg, R. (2003). Fractionalization. Journal of Economic Growth, 8, 155–194.

Aron, A., Aron, E. N., & Smollan, D. (1992). Inclusion of other in the self scale and the structure of interpersonal closeness. Journal of Personality and Social Psychology, 63, 596.

Banfield, E. C. (1958). The moral basis of a backward society. Glencoe: Free Press.

Bateson, M., Nettle, D., & Roberts, G. (2006). Cues of being watched enhance cooperation in a real-world setting. Biology Letters, 2, 412–414.

Bowles, S. (1998). Endogenous preferences: the cultural consequences of markets and other economic institutions. Journal of Economic Literature, 36, 75–111.

Bowles, S. (2011). Is liberal society a parasite on tradition? Philosophy and Public Affairs, 39, 46–81.

Bowles, S., & Gintis, H. (2004). Persistent parochialism: trust and exclusion in ethnic networks. Journal of Economic Behavior and Organization, 55, 1–23.

Buchan, N. R., Grimalda, G., Wilson, R., Brewer, M., Fatas, E., & Foddy, M. (2009). Globalization and human cooperation. Proceedings of the National Academy of Sciences, 106, 4138–4142.

Cashdan, E., and Steele, M. (2013). Pathogen prevalence, group bias, and collectivism in the standard cross-cultural sample. Human Nature:1–17.

Dunbar, R. (2008). Cognitive constraints on the structure and dynamics of social networks. Group Dynamics: Theory, Research, and Practice, 12, 7.

Fershtman, C., Gneezy, U., & Verboven, F. (2005). Discrimination and nepotism: the efficiency of the anonymity rule. The Journal of Legal Studies, 34, 371–396.

Fincher, C. L., & Thornhill, R. (2012). Parasite-stress promotes in-group assortative sociality: the cases of strong family ties and heightened religiosity. Behavioral and Brain Sciences, 35, 61–79.

Fincher, C. L., Thornhill, R., Murray, D. R., & Schaller, M. (2008). Pathogen prevalence predicts human cross-cultural variability in individualism/collectivism. Proceedings of the Royal Society B, 275, 1279–1285.

Fukuyama, F. (1995). Trust: The social virtues and the creation of prosperity. Chicago: Free Press.

Gelfand, M. J. (2011). Differences between tight and loose cultures: a 33-nation study. Science, 32, 1100–1104.

Giuliano, P., & Alesina, A. (2010). The power of family. Journal of Economic Growth, 15, 93–125.

Greene, J. D., & Paxton, J. M. (2009). Patterns of neural activity associated with honest and dishonest moral decisions. Proceedings of the National Academy of Sciences, 106, 12506–12511.

Greif, A. (1994). Cultural beliefs and the organization of society. The Journal of Political Economy, 102, 912–950.

Heine, S. J., Proulx, T., & Vohs, K. D. (2006). The meaning maintenance model: on the coherence of social motivations. Personality and Social Psychology Review, 10, 88–110.

Henrich, J., Ensminger, J., McElreath, R., Barr, A., Barrett, C., Bolyanatz, A., Cardenas, J. C., Gurven, M., Gwako, E., Henrich, N., Lesorogol, C., Marlowe, F., Tracer, D., & Ziker, J. (2010). Markets, religion, community size, and the evolution of fairness and punishment. Science, 327, 1480–1484.

Hruschka, D. J. (2010). Friendship: Development, ecology and evolution of a relationship. Berkeley: University of California Press.

Hruschka, D. J., & Henrich, J. (2013). Institutions, parasites and the persistence of in-group preferences. PLoS ONE, 8, e63642.

Inglehart, R., & Welzel, C. (2005). Modernization, cultural change, and democracy: The human development sequence. Cambridge: Cambridge University Press.

Jiang, T. (2013). Cheating in mind games: the subtlety of rules matters. Journal of Economic Behavior & Organization, 93, 328–336.

Kaplan, H., Gurven, M., & Hill, K. (2005). A natural history of food sharing and cooperation: a review and a new multi-individual approach to the negotiation of norms. In H. Gintis, S. Bowles, R. Boyd, & E. Fehr (Eds.), Moral sentiments and material interests (pp. 75–113). Cambridge: MIT Press.

Kranton, R. E. (1996). Reciprocal exchange: a self-sustaining system. The American Economic Review, 86, 830–851.

Mathew, S., & Boyd, R. (2011). Punishment sustains large-scale cooperation in prestate warfare. Proceedings of the National Academy of Sciences, 108, 11375–11380.

Mikulincer, M., & Shaver, P. R. (2001). Attachment theory and intergroup bias: evidence that priming the secure base schema attenuates negative reactions to out-groups. Journal of Personality and Social Psychology, 81, 97–115.

Navarrete, C. D., & Fessler, D. M. T. (2005). Normative bias and adaptive challenges: a relational approach to coalitional psychology and a critique of terror management theory. Evolutionary Psychology, 3, 297–325.

Navarrete, C. D., Kurzban, R., Fessler, D. M. T., & Kirkpatrick, L. A. (2004). Anxiety and intergroup bias: terror management or coalitional psychology? Group Processes and Intergroup Relations, 7, 370–379.

Newson, L., & Richerson, P. J. (2009). Why do people become modern? A Darwinian explanation. Population and Development Review, 35, 117–158.

Parsons, T., & Shils, E. (1951). Toward a general theory of action. Cambridge: Harvard University Press.

Richerson, P. J., & Boyd, R. (2001). Institutional evolution in the Holocene: the rise of complex societies. Proceedings of the British Academcy, 110, 197–234.

Schaller, M. (2011). The behavioural immune system and the psychology of human sociality. Philosophical Transactions of the Royal Society B, 366, 3418–3426.

Sugiyama, L. S. (2004). Illness, injury and disability among Shiwiar forager-horticulturalists: implications of health-risk buffering for the evolution of human life history. American Journal of Physical Anthropology, 123, 371–389.

Treisman, D. (2000). The causes of corruption: a cross-national study. Journal of Public Economics, 76, 399–457.

Triandis, H. C. (1995). Individualism and collectivism. Boulder: Westview.

Van de Vliert, E. (2011). Climato-economic origins of variation in ingroup favoritism. Journal of Cross-Cultural Psychology, 42, 494–515.

World Bank. 2011. World Bank indicators. Accessed online at http://data.worldbank.org/indicator.
Acknowledgments
DJH acknowledges support from the University of Chicago and Templeton Foundation New Science of Virtues Grant as well as support from the National Science Foundation grant BCS-1150813, jointly funded by the Programs in Cultural Anthropology, Social Psychology Program and Decision, Risk, and Management Sciences. JH acknowledges support from the Canadian Institute for Advanced Research (CIFAR). CE acknowledges the support of the Swiss National Science Foundation (Grant no. 100014_130127/1 on the Social Dynamics of Normative Behavior). TJ acknowledges the financial support of the Mozaiek grant from the Netherlands Organization for Scientific Research (NWO) and financial support of the Goldstone Research Fund.
Electronic supplementary material
Below is the link to the electronic supplementary material.
About this article
Cite this article
Hruschka, D., Efferson, C., Jiang, T. et al. Impartial Institutions, Pathogen Stress and the Expanding Social Network. Hum Nat 25, 567–579 (2014). https://doi.org/10.1007/s12110-014-9217-0
Keywords
Institutions

Parochialism

Insecurity

Parasite

Pathogen

Cross-cultural analysis