Abstract
This paper tests the Trivers-Willard hypothesis that high-status individuals will invest more in sons and low-status individuals will invest more in daughters using data from the 2000 to 2010 General Social Survey and the 1979 National Longitudinal Survey of Youth. We argue that the primary investment U.S. parents make in their children is in their children's education, and this investment is facilitated by a diverse market of educational choices at every educational level. We examine two measures of this investment: children's years of education and the highest degree attained. Results show that sons of high-status fathers receive more years of education and higher degrees than daughters, whereas daughters of low-status fathers receive more years of education and higher degrees than sons. Further analyses of possible mechanisms for these findings yield null results. We also find that males are more likely to have high-status fathers than females.
Access options
Buy single article
Instant access to the full article PDF.
US$ 39.95
Tax calculation will be finalised during checkout.
Subscribe to journal
Immediate online access to all issues from 2019. Subscription will auto renew annually.
US$ 79
Tax calculation will be finalised during checkout.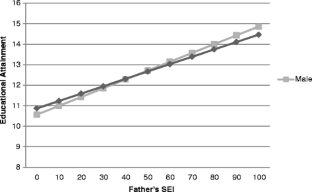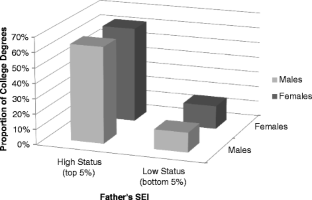 References
Almond, D., & Edlund, L. (2007). Trivers–Willard at birth and one year: evidence from US natality data 1983-2001. Proceedings of the Royal Society B, 274, 2491–2496.

Barthold, J. A., Myrskylä, M., & Jones, O. R. (2012). Childlessness drives the sex difference in the association between income and reproductive success of modern Europeans. Evolution and Human Behavior, 33, 628–638.

Beaulieu, D. A., & Bugental, D. (2008). Contingent parental investment: an evolutionary framework for understanding early interaction between mothers and children. Evolution and Human Behavior, 29(4), 249–255.

Betzig, L. (2012). Means, variances, and ranges in reproductive success: comparative evidence. Evolution and Human Behavior, 33(4), 309–317.

Blau, P. M., & Duncan, O. D. In collaboration with Andrea Tyree. (1967). The American occupational structure. New York: Wiley.

Cameron, E. Z., Dalerum, F., & Reby, D. (2009). A Trivers-Willard effect in contemporary humans: male-biased sex ratios among billionaires. PloS ONE, 4(1), e4195.

Catalano, R. A. (2003). Sex ratios in the two Germanies: a test of the economic stress hypothesis. Human Reproduction, 18(9), 1972–1975.

Catalano, R. A., & Bruckner, T. (2005). Economic antecedents of the Swedish sex ratio. Social Science & Medicine, 60, 537–543.

Cox, D. (2003). Private transfers within the family: Mothers, fathers, sons, and daughters. In A. Munnell & A. Sundén (Eds.), Death and dollars: The role of gifts and bequests in America (pp. 168–217). Washington, DC: Brookings Institution Press.

Cronk, L. (2007). Boy or girl: gender preferences from a Darwinian point of view. Ethics, Bioscience, and Life, 2(3), 23–32.

Davis, J. A., & Smith, T. W. (1998). General social surveys 1972–1998. Chicago: National Opinion Research Center, producer; Storrs, CT: The Roper Center for Public Opinion Research, University of Connecticut, distributor.

Downey, D. B. (1995). When bigger is not better: family size, parental resources, and children's educational performance. American Sociological Review, 60, 746–761.

Fieder, M., & Huber, S. (2007). The effects of sex and childlessness on the association between status and reproductive output in modern society. Evolution and Human Behavior, 28, 392–398.

Freese, J., & Powell, B. (1999). Sociobiology, status and parental investment in sons and daughters: testing the Trivers-Willard hypothesis. American Journal of Sociology, 104(6), 1704–1743.

Fukuda, M., Fukuda, K., Shimizu, T., & Møller, H. (1998). Decline in sex ratio at birth after Kobe earthquake. Human Reproduction, 13(8), 2321–2322.

Goldin, C., Katz, L. F., & Kuziemko, I. (2006). The homecoming of American College Women: the reversal of the college gender gap. Journal of Economic Perspectives, 20(4), 133–156.

Greene, W. H. (2000). Econometric analysis (4th ed.). Englewood Cliffs: Prentice Hall.

Hansen, D., Møller, H., & Olsen, J. (1999). Severe periconceptional life events and the sex ratio in offspring: follow-up study based on five national registers. British Medical Journal, 28(319), 548–549.

Hopcroft, R. L. (2005). Parental status and differential investment in sons and daughters: Trivers-Willard revisited. Social Forces, 83(3), 1111–1136.

Hout, M. (2012). Social and economic returns to college education in the United States. Annual Review of Sociology, 38, 379–400.

Julian, T. A., & Kominski, R. A. (2011). Education and synthetic work-life earnings estimates. American community survey reports, ACS-14. Washington, DC: U.S. Census Bureau.

Kalmijn, M. (1998). Homogamy: causes, patterns, trends. Annual Review of Sociology, 24, 395.

Keller, M. C., Nesse, R. M., & Hofferth, S. (2001). The Trivers-Willard hypothesis of parental investment. no effect in the contemporary United States. Evolution and Human Behavior, 22, 343–360.

Kerckhoff, A. C. (1995). Institutional arrangements and stratification processes in industrial societies. Annual Review of Sociology, 21, 323–347.

Khashan, A. S., Mortensen, P. B., McNamee, R., Baker, P. N., & Abel, K. M. (2009). Sex ratio at birth following prenatal maternal exposure to severe life events: a population-based cohort study. Human Reproduction, 24(7), 1754–1757.

Lazarus, J. (2002). Human sex ratios: Adaptations and mechanisms, problems and prospects. In I. C. W. Hardy (Ed.), Sex ratios: Concepts and research methods (pp. 287–311). Cambridge: Cambridge University Press.

Nettle, D. (2010). Dying young and living fast: variation in life history across English neighborhoods. Behavioral Ecology, 21(2), 387–395.

Nettle, D., & Pollet, T. V. (2008). Natural selection on male wealth in humans. American Naturalist, 172(5), 658–666.

Oppenheimer, V. K. (2000). The continuing importance of men's economic position in marriage formation. In L. Waite, C. Bachrach, M. Hindin, E. Thomson, & A. Thornton (Eds.), Ties that bind: Perspectives on marriage and cohabitation (pp. 283–301). Hawthorne, NY: Aldine de Gruyter.

Schnettler, S. (2011). Nature plus nurture equals love? A test of the Trivers-Willard hypothesis of differential parental investment on the basis of sociological and biological explanations. Dissertation Abstracts International, A: The Humanities and Social Sciences, 71(8), 3069.

Schwartz, C. R. (2010). Pathways to educational homogamy in marital and cohabiting unions. Demography, 47(3), 735–753.

Steelman, L. C., & Powell, B. (1989). Acquiring capital for college: the constraints of family configuration. American Sociological Review, 54(5), 844–855.

Subbaraman, M., Goldman-Mellor, S., Anderson, E., LeWinn, K., Saxton, L., & Shumway, M. (2010). An exploration of secondary sex ratios among women diagnosed with anxiety disorders. Human Reproduction, 25, 2084–2091.

Torche, F., & Kleinhaus, K. (2012). Prenatal stress, gestational age and secondary sex ratio: the sex-specific effects of exposure to a natural disaster in early pregnancy. Human Reproduction, 27(2), 558–567.

Trivers, R. L. (1972). Parental investment and sexual selection. In B. Campbell (Ed.), Sexual selection and the descent of man, 1871–1971 (pp. 136–179). Chicago: Aldine.

Trivers, R. L., & Willard, D. E. (1973). Natural selection of parental ability to vary the sex ratio of offspring. Science, 179(4068), 90–92.

U.S. Bureau of Labor Statistics. (2012). Employment and earnings online, data available from http://www.bls.gov/cps/cpsaat22.htm. Accessed 2/14/2014.
Acknowledgments
The authors would like to acknowledge the helpful comments of Joseph Whitmeyer, Yang Cao, Daniel Nettle and Lee Cronk on previous drafts of this paper
Appendix
Appendix
About this article
Cite this article
Hopcroft, R.L., Martin, D.O. The Primary Parental Investment in Children in the Contemporary USA is Education. Hum Nat 25, 235–250 (2014). https://doi.org/10.1007/s12110-014-9197-0
Keywords
Trivers-Willard

Parental investment

Education

Biosocial