Abstract
Cooperation requires that individuals are able to identify, and preferentially associate with, others who have compatible preferences and the shared background knowledge needed to solve interpersonal coordination problems. The present study investigates the nature of such similarity within social networks, asking: What do friends have in common? And what is the relationship between similarity and altruism? The results show that similarity declines with frequency of contact; similarity in general is a significant predictor of altruism and emotional closeness; and, specifically, sharing a sense of humor, hobbies and interests, moral beliefs, and being from the same area are the best predictors. These results shed light on the structure of relationships within networks and provide a possible checklist for predicting attitudes toward strangers, and in-group identification.
Access options
Buy single article
Instant access to the full article PDF.
USD 39.95
Price excludes VAT (USA)
Tax calculation will be finalised during checkout.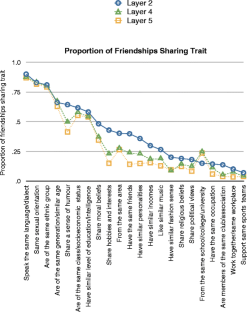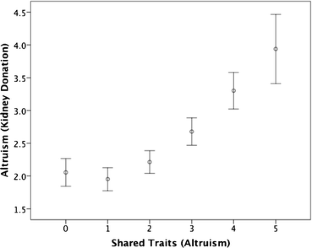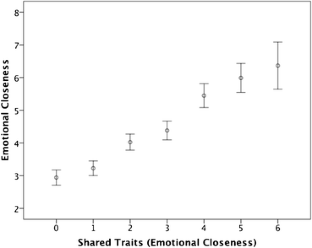 References
Antala, T., Ohtsuki, H., Wakeley, J., Taylor, P. D., & Nowak, M. A. (2009). Evolution of cooperation by phenotypic similarity. PNAS, 106(21), 8597–8600.

Arrow, H. (2009). Cliques, coalitions, comrades and colleagues: Sources of cohesion in groups. In R. I. M. Dunbar, C. Gamble, & J. A. J. Gowlett (Eds.), Social brain, distributed mind (pp. 273–286). Oxford: Oxford University Press.

Axelrod, R. (1984). The evolution of cooperation. New York: Basic Books.

Berger, P. L., & Luckmann, T. (1966). The social construction of reality. London: Allen Lane The Penguin Press.

Bryk, A. S., & Raudenbush, S. W. (1992). Hierarchical linear models. Newbury Park: Sage.

Burnham, K. P., & Anderson, D. R. (2002). Model selection and multimodel inference: A practical information-theoretic approach (2nd ed.). New York: Springer.

Curry, O., Roberts, S. G. B., & Dunbar, R. I. M. (2012). Altruism in social networks: Evidence for a 'kinship premium'. British Journal of Psychology. doi:10.1111/j.2044-8295.2012.02119.x.

Delton, A. W., Krasnow, M. M., Tooby, J., & Cosmides, L. (2009). Combining Ancestral Cue Structure with Direct Reciprocity Explains One-Shot Cooperation. Paper presented at the Human Behavior and Evolution Society Annual Meeting, California State University, Fullerton, 28 May

Dunbar, R. I. M. (2004). Language, music and laughter in evolutionary perspective. In D. K. Oller (Ed.), Evolution of communication systems: A comparative approach (pp. 257–274). Cambridge: MIT Press.

Dunbar, R. I. M. (2007). The social brain and the cultural explosion of the human revolution. In P. Mellars & C. Stringer (Eds.), Rethinking the human revolution (pp. 91–98). Cambridge: McDonald Institute.

Dunbar, R. I. M. (2008). Mind the gap: Or why humans aren't just great apes. Proceedings of the British Academy, 154, 403–423.

Dunbar, R. I. M. (2012). Bridging the bonding gap: the transition from primates to humans. Phil. Trans. R. Soc. B

Dunbar, R. I. M., & Spoors, M. (1995). Social networks, support cliques and kinship. Human Nature, 6, 273–290.

Flamson, T., & Barrett, H. C. (2008). The encryption theory of humor: A knowledge-based mechanism of honest signaling. Journal of Evolutionary Psychology, 6(4), 261–281.

Hammond, R. A., & Axelrod, R. (2006). The evolution of ethnocentrism. Journal of Conflict Resolution, 50(926), 926–936.

Hill, R. A., & Dunbar, R. I. M. (2003). Social network size in humans. Human Nature-An Interdisciplinary Biosocial Perspective, 14(1), 53–72.

Ip, G. W.-M., Chiu, C.-Y., & Wan, C. (2006). Birds of a feather and birds flocking together: Physical versus behavioral cues may lead to trait- versus goal-based group perception. Journal of Personality and Social Psychology, 90(3), 368–381.

Korchmaros, J. D., & Kenny, D. A. (2001). Emotional closeness as a mediator of the effect of genetic relatedness on altruism. Psychological Science, 12(3), 262–265.

Kurzban, R., Tooby, J., & Cosmides, L. (2001). Can race be erased? Coalitional computation and social categorization. Proceedings of the National Academy of Sciences, 98(26), 15387–15392.

Lewis, D. K. (1969). Convention: A philosophical study. Cambridge: Harvard University Press.

Lieberman, D., Tooby, J., & Cosmides, L. (2007). The architecture of human kin detection. Nature, 445(7129), 727–731. doi:10.1038/Nature05510.

Marsden, P. V., & Campbell, K. E. (1984). Measuring tie strength. Social Forces, 63(2), 482–501.

McElreath, R., Boyd, R., & Richerson, P. J. (2003). Shared norms and the evolution of ethnic markers. Current Anthropology, 44(1), 122–129.

McPherson, M., Smith-Lovin, L., & Cook, J. M. (2001). Birds of a feather: Homophily in social networks. Annual Review of Sociology, 27(1), 415–444. doi:10.1146/annurev.soc.27.1.415.

Mok, D., Wellman, B., & Basu, R. (2007). Did distance matter before the internet? interpersonal contact and support in the 1970s. Social Networks, 29(3), 430–461. doi:10.1016/j.socnet.2007.01.009|ISSN0378–8733.

Platten, L., Hernik, M., Fonagy, P., & Fearon, R. P. (2010). Knowing who likes who: The early developmental basis of coalition understanding. European Journal of Social Psychology, 40(4), 569–580.

Provine, R. R. (2000). Laughter: A scientific investigation. London: Faber & Faber.

Riolo, R. L., Cohen, M. D., & Axelrod, R. (2001). Evolution of cooperation without reciprocity. Nature, 414, 441–443.

Roberts, S. G. B., & Dunbar, R. I. M. (2011). Communication in social networks: Effects of kinship, network size, and emotional closeness. Personal Relationships, 18(3), 439–452. doi:10.1111/J.1475-6811.2010.01310.X.

Roberts, S. G. B., Dunbar, R. I. M., Pollet, T. V., & Kuppens, T. (2009). Exploring variation in active network size: Constraints and ego characteristics. Social Networks, 31(2), 138–146. doi:10.1016/j.socnet.2008.12.002.

Roberts, S. G. B., Wilson, R., Fedurek, P., & Dunbar, R. I. M. (2008). Individual differences and personal social network size and structure. Personality and Individual Differences, 44(4), 954–964.

Schelling, T. C. (1960). The strategy of conflict. Cambridge: Harvard University Press.

Sherif, M., Harvey, O. J., White, B. J., Hood, W. R., & Sherif, C. W. (1961). Intergroup conflict and cooperation: The robbers cave experiment (rev. ed.). Norman: University of Oklahoma Book Exchange. (Originally published in 1954)

Tabachnick, B. G., & Fidell, L. S. (2007). Using multivariate statistics. Boston: Pearson/A&B.

Tajfel, H., Billig, M. G., Bundy, R. P., & Flament, C. (1971). Social categorization and intergroup behaviour. European Journal of Social Psychology, 1(2), 149–178.

Tooby, J., & Cosmides, L. (1996). Friendship and the banker's paradox: other pathways to the evolution of adaptations for altruism. In W. G. Runciman, J. Maynard Smith, & R. I. M. Dunbar (Eds.), Evolution of Social Behaviour Patterns in Primates and Man (pp. 119–143): British Academy/Oxford University Press.

Trivers, R. L. (1971). The evolution of reciprocal altruism. The Quarterly Review of Biology, 46(1), 35–57.

Verbrugge, L. M. (1977). The structure of adult friendship choices. Social Forces, 56(2), 576–597.

Yamagishi, T., & Mifune, N. (2008). Does shared group membership promote altruism? Fear, greed, and reputation. Rationality and Society, 20(5), doi:10.1177/1043463107085442

Zhou, W. X., Sornette, D., Hill, R. A., & Dunbar, R. I. M. (2005). Discrete hierarchical organisation of social group sizes. Proceedings of the Royal Society of London Series B, 272, 439–444. doi:10.1098/rspb.2004.2970.
Acknowledgments
This research is supported by the SOCIALNETS Project, funded by an EU-FP7 grant. RD's research is also supported by the British Academy Centenary Research Project and by an ERC Advanced Grant. Thanks also to Susanne Shultz, and Thomas Pollett for statistical advice.
About this article
Cite this article
Curry, O., Dunbar, R.I.M. Do Birds of a Feather Flock Together?. Hum Nat 24, 336–347 (2013). https://doi.org/10.1007/s12110-013-9174-z
Published:

Issue Date:

DOI: https://doi.org/10.1007/s12110-013-9174-z
Keywords
Cooperation

Altruism

Emotional closeness

Similarity

Homophily

Social networks