Abstract
Collective rituals have long puzzled anthropologists, yet little is known about how rituals affect participants. Our study investigated the effects of nine naturally occurring rituals on prosociality. We operationalized prosociality as (1) attitudes about fellow ritual participants and (2) decisions in a public goods game. The nine rituals varied in levels of synchrony and levels of sacred attribution. We found that rituals with synchronous body movements were more likely to enhance prosocial attitudes. We also found that rituals judged to be sacred were associated with the largest contributions in the public goods game. Path analysis favored a model in which sacred values mediate the effects of synchronous movements on prosocial behaviors. Our analysis offers the first quantitative evidence for the long-standing anthropological conjecture that rituals orchestrate body motions and sacred values to support prosociality. Our analysis, moreover, adds precision to this old conjecture with evidence of a specific mechanism: ritual synchrony increases perceptions of oneness with others, which increases sacred values to intensify prosocial behaviors.
Access options
Buy single article
Instant access to the full article PDF.
USD 39.95
Price excludes VAT (USA)
Tax calculation will be finalised during checkout.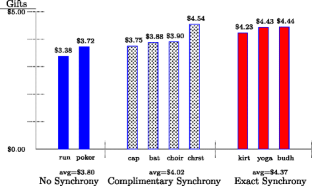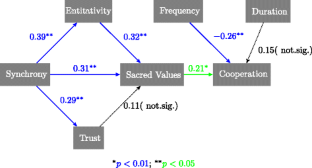 Similar content being viewed by others
References
Aron, A., Aron, E., & Smollan, D. (1992). Inclusion of other in the self scale and the structure of interpersonal closeness. Journal of Personality and Social Psychology, 63(4), 596–612.

Atran, S. (2002). In Gods we trust: The evolutionary landscape of religion. New York: Oxford University Press.

Atran, S., Axelrod, R., & Davis, R. (2007). Sacred barriers to conflict resolution. Science, 317, 1039–1140.

Alvard, M. S., & Nolin, D. A. (2002). Rousseau's whale hunt? Coordination among big-game hunters. Current Anthropology, 43(4), 533–559.

Bulbulia, J. (2012). Spreading order: religion, cooperative niche construction, and risky coordination problems. Biology and Philosophy, 27(1), 1–27.

Campbell, D. T. (1958). Common fate, similarity, and other indices of the status of aggregates of persons as social entities. Behavioral Science, 3, 14–25.

Denson, T. F., Lickel, B., Curtis, M., Stenstrom, D. M., & Ames, D. R. (2006). The roles of entitativity and essentiality in judgments of collective responsibility. Group Processes Intergroup Relations., 9(43), 41–61.

Durkheim, E. (1995). The elementary forms of the religious life. New York: Free Press. Originally published in 1912.

Ehrenreich, B. (2006). Dancing in the Streets. New York: Metropolitan.

Fetterman, D. M. (1998). Ethnography (2nd ed.). Thousand Oaks: Sage.

Ginges, J., Hansen, I., & Norenzayan, A. (2009). Religion and support for suicide attacks. Psychological Science, 20(2), 224–230. doi:10.1111/j.1467-9280.2009.02270.x.

Haidt, J., Patrick Seder, J., & Kesebir, S. (2008). Hive psychology, happiness, and public policy. The Journal of Legal Studies, 37, S153–S156.

Hagen, E., & Bryant, G. (2003). Music and dance as a coalition signaling system. Human Nature, 14(1), 21–51.

Hove, M., & Risen, J. (2009). It's all in the timing: interpersonal synchrony increases affiliation. Social Cognition, 27(6), 949–960.

Irons, W. (2001). Religion as hard-to-fake sign of commitment (pp. 292–309). New York: Russell Sage.

Jarvenpaa, S., Knoll, K., & Leidner, D. (1998). Is anybody out there? Antecedents of trust in global virtual teams. Journal of Management Information Systems, 14, 29–64.

Konvalinka, I., Xygalatas, D., Bulbulia, J., Schjodt, U., Jegindo, E. M., Wallot, S., et al. (2011). Synchronized arousal between performers and related spectators in a fire-walking ritual. Proceedings of the National Academy of Sciences, 108(20), 8514–8519. doi:10.1073/pnas.1016955108.

Lakens, D. (2010). Movement synchrony and perceived entitativity. Journal of Experimental Psychology, 46, 701–708.

Levitin, D. J. (2008). The world in six songs: How the musical brain created human nature. New York: Dutton.

Lickel, B., Hamilton, D. L., Wieczorkowska, G., Lewis, A., Sherman, S. J., & Uhles, N. (2000). Varieties of groups and the perception of group entitativity. Journal of Personality and Social Psychology, 78, 223–246.

McNeill, W. H. (1995). Keeping together in time: Dance and drill in human history. Cambridge: Harvard University Press.

Miles, L. K., Nind, L. K., & Macrae, C. N. (2009). The rhythm of rapport: interpersonal synchrony and social perception. Cognition, 190, 585–589.

Muthén, L. K., & Muthén, B. (1998–2010). Mplus User's Guide, version 6. Los Angeles: Muthén & Muthén.

Pearce, J. L., Branyiczki, I., & Bakacsi, G. (1994). Person-based reward systems: a theory of organizational reward practices in reform-communist organizations. Journal of Organizational Behavior, 15, 261–282.

Radcliffe-Brown, A. R. (1922). The andaman islanders. New York: Free Press.

Reddish, P., Bulbulia, J., & Fischer, R. (2013). Does synchrony promote generalized prosociality? Religion, Brain and Behavior Science.. doi:10.1080/2153599X.2013.764545.

Schelling, T. (2006). Micromotives and Macrobehavior (Kindle edition). New York: W. W. Norton. Originally published in 1978.

Skitka, L. J. (2010). The psychology of moral conviction. Social and Personality Psychology Compass, 4, 267–281.

Sosis, R. (2003). Why aren't we all Hutterites? Human Nature, 14(2), 91–127.

Sosis, R., & Ruffle, B. (2004). Religious ritual and cooperation: testing for a relationship on Israeli Religious and Secular Kibbutzim. Current Anthropology, 44(5), 713–722.

Tanner, C., Ryf, B., & Hanselmann, M. (2009). Geschuetzte Werte Skala (GWS): Konstruktion und Validierung eines Messinstrumentes (Sacred value scale: construction and validation of a measurement scale). Diagnostica, 55, 174–183.

Tetlock, P. E. (2003). Thinking the unthinkable: sacred values and taboo cognitions. Trends in Cognitive Sciences, 7, 320–324.

Valdesolo, P., & DeSteno, D. (2011). Synchrony and the social tuning of compassion. Emotion, 11, 262–266.

van Baaren, R. B., Holland, R. W., & Kawakami, K. (2004). Mimicry and prosocial behavior. Psychological Science, 15(1), 71–74.

van Baaren, R. B., Holland, R. W., & Steenaert, B. (2003). Mimicry for money: behavioral consequences of imitation. Journal of Experimental Social Psychology, 39(4), 393–398. doi:10.1016/S0022-1031(03)00014-3.

Whitehouse, H. (2004). Modes of religiosity: A cognitive theory of religious transmission. Lanham: AltaMira Press.

Wiltermuth, S. S., & Heath, C. (2009). Synchrony and cooperation. Psychological Science, 20(1), 1–5.
Acknowledgments
We are grateful to Diana Boer for her helpful comments. We are grateful to the editor of Human Nature, Jane Lancaster, and to four anonymous referees for their helpful comments and encouragement. For financial support, we are grateful to a Victoria University URF Grant 8-3046-108855.
About this article
Cite this article
Fischer, R., Callander, R., Reddish, P. et al. How Do Rituals Affect Cooperation?. Hum Nat 24, 115–125 (2013). https://doi.org/10.1007/s12110-013-9167-y
Published:

Issue Date:

DOI: https://doi.org/10.1007/s12110-013-9167-y
Keywords