Abstract
There is substantial evidence that in human mate choice, females directly select males based on male display of both physical and behavioral traits. In non-humans, there is additionally a growing literature on indirect mate choice, such as choice through observing and subsequently copying the mating preferences of conspecifics (mate choice copying). Given that humans are a social species with a high degree of sharing information, long-term pair bonds, and high parental care, it is likely that human females could avoid substantial costs associated with directly searching for information about potential males by mate choice copying. The present study was a test of whether women perceived men to be more attractive when men were presented with a female date or consort than when they were presented alone, and whether the physical attractiveness of the female consort affected women's copying decisions. The results suggested that women's mate choice decision rule is to copy only if a man's female consort is physically attractive. Further analyses implied that copying may be a conditional female mating tactic aimed at solving the problem of informational constraints on assessing male suitability for long-term sexual relationships, and that lack of mate choice experience, measured as reported lifetime number of sex partners, is also an important determinant of copying.
Access options
Buy single article
Instant access to the full article PDF.
USD 39.95
Price includes VAT (USA)
Tax calculation will be finalised during checkout.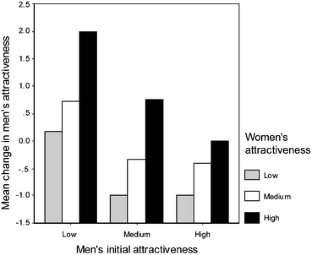 References
Agrawal, A. (2001). The evolutionary consequences of mate copying on male traits. Behavioral Ecology and Sociobiology, 51, 33–40.

Bereczkei, T., Voros, S., Gal, A., & Bernath, L. (1997). Resources, attractiveness, family commitment: Reproductive decisions in human mate choice. Ethology, 103, 681–699.

Bikhchandani, S., Hirshleifer, D., & Welch, I. (1998). Learning from the behavior of others: Conformity, fads, and informational cascades. Journal of Economic Perspectives, 12, 151–170.

Booth, A., & Dabbs, J. (1993). Testosterone and men's marriages. Social Forces, 72, 463–477.

Brase, G., & Walker, G. (2004). Male sexual strategies modify ratings of female models with specific waist-to-hip ratios. Human Nature, 15, 209–224.

Burley, N. (1988). The differential-allocation hypothesis: An experimental test. American Naturalist, 132, 611–628.

Buss, D. (1994). The strategies of human mating. American Scientist, 82, 238–249.

Buss, D., & Schmidt, D. (1993). Sexual strategies theory: An evolutionary perspective on human mating. Psychological Review, 100, 204–232.

Dabbs, J., & Morris, R. (1990). Testosterone, social class and antisocial behavior in a sample of 4,462 men. Psychological Science, 1, 209–211.

Dugatkin, L. (2000) The imitation factor. New York: Free Press.

Dugatkin, L., & Godin, J. (1992). Reversal of female mate choice by copying in the guppy. Proceedings of the Royal Society of London B, 249, 179–184.

Dugatkin, L., & Godin, J. (1993). Female mate copying in the guppy (Poecilia reticulata): Age-dependent effects. Behavioral Ecology, 4, 289–292.

Eva, K., & Wood, T. (2006). Are all the taken men good? An indirect examination of mate-choice copying in humans. Canadian Medical Association Journal, 175, 1573–1574.

Furlow, B., Gangestad, S., & Armijo-Prewitt, T. (1998). Developmental stability and human violence. Proceedings of the Royal Society of London B, 265, 1–6.

Gangestad, S., & Simpson, J. (2000). The evolution of human mating: Trade-offs and strategic pluralism. Behavioral and Brain Sciences, 23, 573–587.

Gangestad, S., & Thornhill, R. (1997). The evolutionary psychology of extrapair sex: The role of fluctuating asymmetry. Evolution and Human Behavior, 18, 69–88.

Grant, J., & Green, L. (1996). Mate copying versus preference for actively courting males by female Japanese Medaka. Behavioral Ecology, 7, 165–167.

Graziano, W., Jensen-Campbell, L., Shebilske, L., & Lundgren, S. (1993). Social influence, sex differences, and judgments of beauty: Putting the Interpersonal back in interpersonal attraction. Journal of Personality and Social Psychology, 65, 522–531.

Johnston, V., Hagel, R., Franklin, M., Fink, B., & Grammer, K. (2001). Male facial attractiveness: Evidence for hormone-mediated adaptive design. Evolution and Human Behavior, 22, 251–267.

Jones, D., & Hill, K. (1993). Criteria of facial attractiveness in five populations. Human Nature, 4, 271–296.

Kirmani, A., & Rao, A. (2000). No pain, no gain: A critical review of the literature on signaling unobservable product quality. Journal of Marketing, 64, 66–79.

Linville, S., Breitwisch, R., & Schilling, A. (1998). Plumage brightness as an indicator of parental care in Northern Cardinals. Animal Behavior, 55, 119–127.

Mikach, S., & Bailey, J. M. (1999). What distinguishes women with unusually high numbers of sex partners? Evolution and Human Behavior, 20, 141–150.

Munger, L., Cruz, A., & Applebaum, S. (2004). Mate choice copying in female humpback limia. Ethology, 110, 563–573.

Ostovich, J., & Sabini, J. (2004). How are sociosexuality, sex drive, and lifetime number of sexual partners related? Personality and Social Psychology Bulletin, 30, 1255–1266.

Penton-Voak, I. S., & Perrett, D. I. (2000). Female preference for male faces changes cyclically: Further evidence. Evolution and Human Behavior, 21, 39–48.

Qvarnstrom, A. (1997). Experimentally increased badge size increases male competition and reduces male parental care in the collared flycatcher. Proceedings of the Royal Society of London B, 264, 1225–1231.

Simpson, J., & Gangestad, S. (1991). Individual differences in sociosexuality: Evidence for convergent and discriminant validity. Journal of Personality and Social Psychology, 60, 870–883.

Sundberg, J., & Larsson, D. (1994). Male coloration as an indicator of parental quality in the yellowhammer Emberiza citrinella. Animal Behavior, 48, 885–892.

Swaddle, J. P., & Reierson, G. W. (2002). Testosterone increases perceived dominance but not facial attractiveness in human males. Proceedings of the Royal Society of London B, 269, 2285–2289.

Udry, R. (1988). Biological predispositions and social control in adolescent sexual behavior. American Sociological Review, 53, 709–722.

Uller, T., & Johansson, L. (2003). Human mate choice and the wedding ring effect: Are married men more attractive? Human Nature, 14, 267–276.

Verdonck, A., Gaethofs, M., Carels, C., & de Zegher, F. (1999). Effects of low dose testosterone treatment on craniofacial growth in boys with delayed puberty. European Journal of Orthodontics, 21, 137–143.

Waynforth, D. (1999). Differences in time use for mating and nepotistic effort as a function of male attractiveness in Rural Belize. Evolution and Human Behavior, 20, 19–28.

Waynforth, D., & Dunbar, R. I. M. (1995). Conditional mate-choice strategies in humans: Evidence from lonely hearts advertisements. Behaviour, 132, 755–779.

Waynforth, D., Delwadia, S., & Camm, M. (2005). The influence of women's mating strategies on preference for masculine facial architecture. Evolution and Human Behavior, 26, 409–416.

Wiehn, J. (1997). Plumage characteristics as an indicator of male parental quality in the American Kestrel. Journal of Avian Biology, 28, 47–55.

Witte, K., & Ueding, K. (2003). Sailfin molly females copy the rejection of a male. Behavioral Ecology, 14, 389–395.

Yu, D., & Shepard, G. (1998). Is beauty in the eye of the beholder? Nature, 396, 321–322.
Acknowledgements
I thank Geoffrey Miller and three anonymous reviewers for very helpful comments on earlier versions of this manuscript, and Bob Williams at Durham University for statistical advice.
About this article
Cite this article
Waynforth, D. Mate Choice Copying in Humans. Hum Nat 18, 264–271 (2007). https://doi.org/10.1007/s12110-007-9004-2
Keywords
Cultural transmission

Facial attractiveness

Facial masculinity

Mate choice

Reproductive strategies

Sexual selection