Abstract
Historians of higher education need to consider publishing in non-education history journals [NEHJ's] to place scholarship, especially for visibility for their research, or remain an isolated research specialization. This examination focuses on the landscape of history journals that publish history of education topics, specifically [NEHJ's], on an international basis. A case study approach yielded data and, discussion revolves on history of higher education publication uses in four representative case studies: colleges and universities, professors, science, and medicine, to illustrate NEHJ's and their contribution to history of higher education. Publishing considerations of this scholarly landscape, based on data gathered from various databases will provide the baseline for exploratory discussion of disciplinary cultures as they inform or deform history of higher education published within NEHJ literature. Animated by historiographic, subject, and methodological concerns, this discussion meshes histories of higher education vis-à-vis globalization within the publishing landscape and the transnational turn in scholarship. Journals, geographical and linguistic dispersion, articles and book reviews, are examined, revealing a larger publishing topography for NEHJ journals.
Access options
Buy single article
Instant access to the full article PDF.
US$ 39.95
Tax calculation will be finalised during checkout.
Subscribe to journal
Immediate online access to all issues from 2019. Subscription will auto renew annually.
US$ 79
Tax calculation will be finalised during checkout.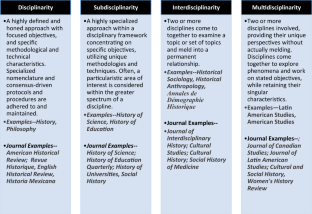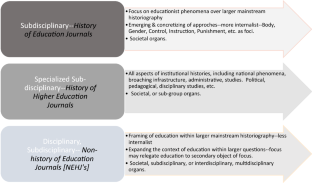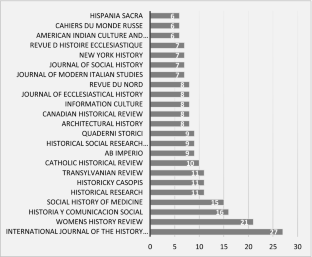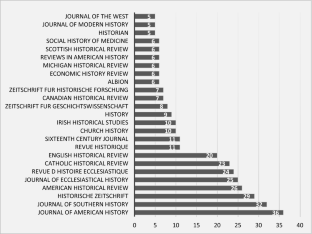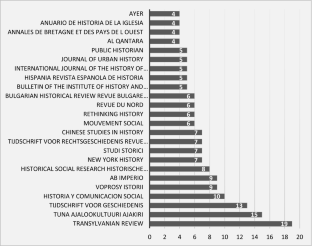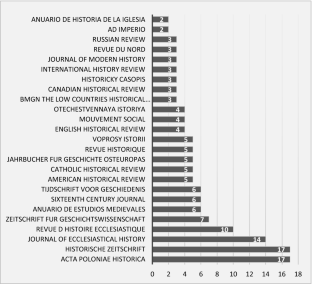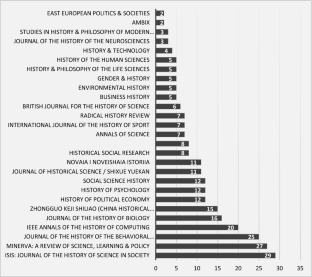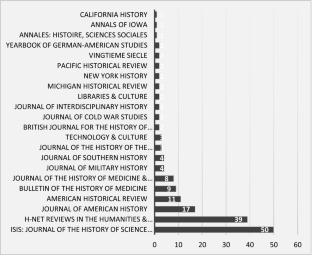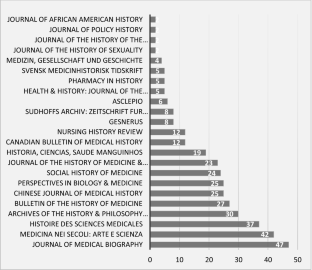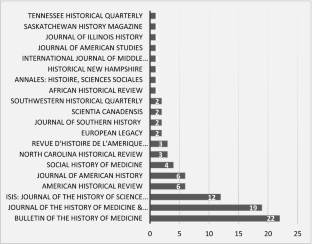 Notes
1.

"There is a tendency of historians of education to confine themselves overly to specialized journals and a pre-determined audience; and finally, the readiness of educational researchers who are not historians of education to adopt an historical dimension in their work." J. Goodman & I. Grosvenor (2009) "Educational Research—History of Education a Curious Case?" Oxford Review of Education, 35, (2009): 601–616.

2.

Jean-Pierre V. M. Hérubel, "Clio's Presence, or where is History of Education to be found?" ISCHE Chicago August 18–19, 2016; for definitional approach, see Jean-Pierre V.M. Hérubel. "Being Undisciplined; or, Traversing Disciplinary Configurations in Social Science and Humanities Databases: Conceptual Considerations for Interdisciplinarity and Multidisciplinarity," in Steven W. Witt and Lynne M. Rudasill, eds. Social science Libraries: Interdisciplinary Collections, Services, Networks (Berlin: De Gruyter Saur, IFLA Publications, c2010): 25–39; Jean-Pierre V.M. Hérubel. "Disciplinary Morphologies, Interdisciplinarities: Conceptualizations and Implications for Academic Libraries," In Daniel C. Mack and Craig Gibson, Interdisciplinarity and Academic Libraries: ACRL Librarianship No. 66 (Chicago: ACRL, 2012): 17–53.

3.

For discussion of bibliometric analysis, consult Jean-Pierre V.M. Hérubel, Anne L. Buchanan, "Citation Studies in the Humanities and Social Sciences." A Selective and Annotatated Bibliography." Collection Management 18 (1994): 89–137. For an example of this bibliometric approach, consult Anne L Buchanan, Jean-Pierre V.M. Hérubel, "Tracing Interdisciplinarity in Contemporary Historiography Using SSCI: The Case of Toynbee, McNeil, and Braudel." Collection Building 13 (Fall 1993): 1–5; Jean-Pierre V. M. Hérubel, and Anne L. Buchanan, "Disciplinary, Interdisciplinary, and Subdisciplinary Linkages in Studies Journals." Science and Science of Science 3 (1994): 15–24. Anne L. Buchanan, Jean-Pierre V. M. Hérubel, "Disciplinary Culture, Bibliometrics, and Historical Studies: Preliminary Observations," Behavioral & Social Sciences Librarian 15 (1997): 37–53.

4.

For insightful observations, see Frederick Potter Gardner, Institutional Histories: Their Contribution to Understanding the American College and University (Ph.D. dissertstion, State University of New York at Buffalo, 1976); consult also, John Henry Newman, The Idea of a University (Notre Dame: University of Notre Dame Press, 1982); William Clark, Academic Charisma and the Origins of the Research University (Chicago: University of Chicago Press, 2006); Hanna Holborn Gray, Searching for Utopia: Universities and Their Histories (Berkeley: University of California Press, 2012).

5.

For an informative entrée to history of higher education, especially universities, see Carol J Summerfield; Mary Elizabeth Devine; Anthony Levi. International Dictionary of University Histories (Chicago: Fitzroy Dearborn Publishers, 1998).

6.

7.

For a sound introduction to these historiographic approaches, see Steven Shapin, "Discipline and Bounding: The History and Sociology of Science as Seen through the Externalism-Internalism Debate," History of Science 30 (1992): 333–369; Donald R Kelley, "Intellectual History and Cultural History: The Inside and the Outside," History of the Human Sciences 15 (2002): 1–19.

8.

For an interesting discussion of academic scientific disciplines consult, Elinor S. Shaffer, "Romantic Philosophy and the Organization of the Disciplines: The Founding of the Humboldt University of Berlin," in Andrew Cunningham and Nicholas Jardine, eds. Romanticism and the Sciences (Cambridge: Cambridge University Press, 1990). For insightful approaches to academic culture, consult Ana Simões, Maria Paula Diogo, Kostas Gavroglu, eds., Sciences in the Universities of Europe, Nineteenth and Twentieth Centuries, Boston Studies in the Philosophy and History of Science 309 (Springer Science+Business Media Dordrecht, 2015).

9.

See Jean-Pierre V. M. Hérubel, "Acknowledging Clio's Lesser Children: The Importance of Journals for Historical Research and Scholarship." Journal of Scholarly Publishing 39 (2008): 241–256.

10.

See Jean-Pierre V. M. Hérubel, "Tradition and Protean Nature—Journals and Scholarly Communication: A Review Essay." Libraries & Culture 41 (2006): 233–257.

11.

For further insight, see Tony Becher, Academic Tribes and Territories: intellectual enquiry and the cultures of disciplines (Milton Keynes: OUP, 1989).

12.

See Jean-Pierre V. M. Hérubel, "Historical Bibliometrics: Its Purpose and Significance to the History of Disciplines." Libraries & Culture 34 (Fall 1999): 380–388; Jean-Pierre V.M. Hérubel, Goedeken, Edward A. "Identifying the Intellectual Contours of a Historical Specialty: Geographical, Temporal, and Subject Emphases of the Journal of the History of Ideas." Serials Librarian 55 (2008): 276–295. For an illustrative example, see Fritz Ringer, "A Sociography of German Academics, 1863–1938." Central European History 25 (September 1992): 251–280.

13.

For locating academic communities via bibliometric approaches, Jean-Pierre V. M. Hérubel, and Edward A. Goedeken, "Using the Arts and Humanities Citation Index to Identify a Community Interdisciplinary Historians: An Exploratory Bibliometric Study." The Serials Librarian 41 (2001): 85–98. see Gómez Morales, Yuri Jack; Jaraba-Barrios, Bruno; Guerrero-Castro, Javier; López-López, Wilson. "Entre Internacionalización y Consolidación de Comunidades Académicas Locales. Sobre la Revista Latinoamericana de Psicología." Revista Colombiana de Psicología 21 (2012): 97–110.

14.

See Marco Beretta; Claudio Pogliano; Pietro Redondi. Journals and History of Science (Firenze: L.S. Olschki, 1998).

15.

For an illustrative example, see "Trading Zones or Citadels? Professionalization and Intellectual Change in the History of Medicine," Chapter. 11, pp. 237–261, in Frank Huisman; John Harley Warner, eds. Locating Medical History: The Stories and Their Meanings (Johns Hopkins University Press, 2004).
Additional information
Publisher's Note
Springer Nature remains neutral with regard to jurisdictional claims in published maps and institutional affiliations.
About this article
Cite this article
Hérubel, JP.V.M. Clio's Non-education History Journal's (NEHJ): Broadening Journal Publishing for History of Higher Education. Pub Res Q 36, 553–569 (2020). https://doi.org/10.1007/s12109-020-09764-8
Keywords
Biblometric

Disciplines

History of higher education

History journals