Abstract
Over the years, the number of journals indexed in Scopus has increased, although it varies significantly between countries. The increasing proportion of international journals of a country provides new venues for papers from that country to be seen by other researchers worldwide. In this work, we evaluate the relationship of a country's scientific performance or publication success with both its journals' quantity and quality. The specific objective of the study is to identify the relationship between the country's publication success and the quantity and quality of those country's journals indexed in Scopus during 2005–2014. The publication success of 102 individual countries, measured by their scientific productivity, impact and collaboration indicators, the quantity of country's Scopus-indexed journals in 2014 (a total of 22,581 journals) as well as the quantity of its journals were investigated. Scopus-indexed journals are predominantly from Western Europe (48.9%) and North America (27.7%), with the United States and the United Kingdom dominate with a total 51%. The contribution from the peripheral countries is comparatively small, however there are a good number of contributions from the South-East Asian countries. Estonia is the fastest growing country in terms of having indexed journals in Scopus, following by Iran and Malaysia. Among the studied indices, it was found that publication success (total publications and total citations) of 102 countries are strongly correlated with quantity (number of indexed journals and number of documents published in indexed journals) and quality (citations per paper, SJR, h-index, CiteScore and SNIP) indicators of country's journals. We can conclude that the scientific productivity of a country depend critically on the number of journals indexed from that country in citation databases. The study provides a context with which the relative success of publications can be assessed, yielding new insights into the scientific impact of individual countries and the performance of journals that they published.
Access options
Buy single article
Instant access to the full article PDF.
USD 39.95
Price excludes VAT (USA)
Tax calculation will be finalised during checkout.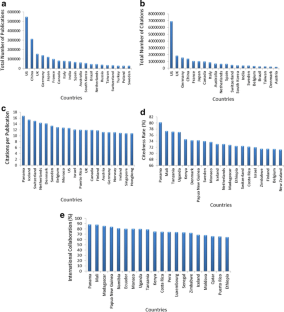 Notes
SCImago Journal Rank, developed by SCImago.

Source Normalized Impact per Publication, developed by CWTS.
References
Abrizah A, Zainab AN, Edzan NN, Koh AP. Citation performance of Malaysian scholarly journals in the Web of Science, 2006–2010. Ser Rev. 2013;39(1):47–55.

Basu A. Does a country's scientific productivity depend critically on the number of country journals indexed? Scientometrics. 2010;82(3):507–16.

Bornmann L, Leydesdorff L, Walch-Solimena C, Ettl C. Mapping excellence in the geography of science: an approach based on Scopus data. J Inform. 2011;5(4):537–46.

Bornmann L, Leydesdorff L. Macro-indicators of citation impacts of six prolific countries: incites data and the statistical significance of trends. PLoS ONE. 2013;8(2):e56768.

Cole S, Phelan T. The scientific productivity of nations. Minerva. 1999;37(1):1–23.

Erfanmanesh M, Nojavan F. Qualitative and quantitative status and international visibility of Iranian journals indexed in journal citation reports. Iran J Inf Process Manag. 2016;32(1):51–73.

Erfanmanesh, M. Status and quality of open access journals in Scopus. Collect Build. 2017. doi:10.1108/CB-02-2017-0007.

He ZL, Geng XS, Campbell-Hunt C. Research collaboration and research output: a longitudinal study of 65 biomedical scientists in a New Zealand university. Res Policy. 2009;38(2):306–17.

King DA. The scientific impact of nations. Nature. 2004;430:311–31.

Nejati A, Jenab SMH. A two-dimensional approach to evaluate the scientific production of countries (case study: the basic sciences). Scientometric. 2010;84(2):357–64.

Persson O, Glänzel W, Danell R. Inflationary bibliometric values: the role of scientific collaboration and the need for relative indicators in evaluative studies. Scientometrics. 2004;60(3):421–32.

Smith MJ, Weinberger C, Bruna EM, Allesina S. The scientific impact of nations: journal placement and citation performance. PLoS ONE. 2014;9(10):e109195.

Vinkler P. The evaluation of research by scientometric indicators. Oxford: Chandos Publishing; 2010.

Waltman L, Calero-Medina C, Kosten J, Noyons ECM, Tijssen RJW, Van Eck NJ, Wouters P. The Leiden ranking 2011/2012: data collection, indicators, and interpretation. J Am Soc Inf Sci Technol. 2012;63(12):2419–32.
Acknowledgement
The work of A. Abrizah was supported by the Ministry of Higher Education Malaysia (HIR-MOHE) UM.C/HIR/MOHE/FCSIT/11. Conceived the paper: AA. Designed the experiments: MAE, AA. Performed the experiments: MAE, MT. Analyzed the data: MT, AA. Contributed materials/analysis tools: MAE, MT. Wrote the paper: MAE, MT, AA. Data Collection: MAE.
About this article
Cite this article
Erfanmanesh, M., Tahira, M. & Abrizah, A. The Publication Success of 102 Nations in Scopus and the Performance of Their Scopus-Indexed Journals. Pub Res Q 33, 421–432 (2017). https://doi.org/10.1007/s12109-017-9540-5
Published:

Issue Date:

DOI: https://doi.org/10.1007/s12109-017-9540-5
Keywords