Abstract
Set in a period of heightened public debate in the 2000s and with predictions of the demise of printed books in the background, this study examines whether Australians turned to books in relation to some of the most heated international issues of the era: those associated with the wars on Iraq and Afghanistan. Analysis of the data reveals that over one and a half million books worth over AUS $50 million (AUS $50,213,000) which could be read directly in relation to debates about the wars were sold in the 6 years timeframe and far more if indirect reading is included. This research is one of the first major scholarly studies internationally to identify English-language contemporary reading patterns based on Nielsen BookScan sales data and is located in an illustrative timeframe (2003–2008): after the introduction of Nielsen BookScan in Australia and before the popularity of ebooks.
Access options
Buy single article
Instant access to the full article PDF.
US$ 39.95
Tax calculation will be finalised during checkout.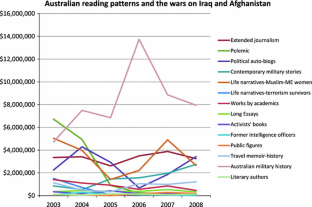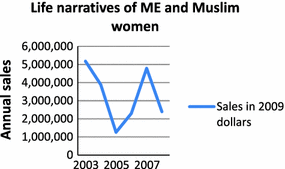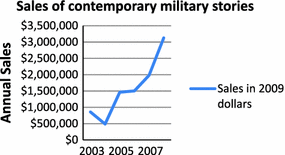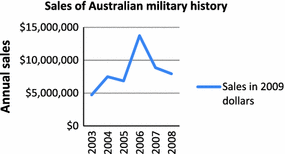 Notes
1.

All the figures derived from the Nielsen BookScan data are in Australian dollars, adjusted for inflation to 2009. The author thanks Nielsen BookScan for the opportunity to undertake this research.

2.

The final categories were: polemics; life narratives of Muslim and Middle-Eastern women; extended journalism; political autobiographies and biographies; contemporary military stories; Australian military history; life narratives of terrorism survivors (or their family members); works by academics; long essays; activists' books (i.e., which weren't polemics); former intelligence officers' accounts; terrorists and accused terrorists' personal stories; interventions by public figures without an association with the wars; travel memoir/history; literary authors; religion; other.
References
1.

Howard J. Lazarus rising: a personal and political memoir. Sydney: HarperCollins Australia; 2010. p. 378–83.

2.

Carter D. The ideas market: an alternative take on Australia's intellectual life, (Carlton, Vic., Melbourne University Publishing, 2004); David Carter, "The Mystery of the Missing Middlebrow. In: J Ryan, C Wallace-Crabbe (Eds.) Imagining Australia: literature and culture in the new new world. Cambridge: Harvard University Press; 2004. p. 173–201.

3.

Australian Bureau of Statistics (ABS). Book Publishers, Australia, 2003–2004. Canberra: Australian Bureau of Statistics; 2005. http://www.abs.gov.au/ausstats/abs@.nsf/mf/1363.0/.

4.

PriceWaterhouseCoopers. Cover to cover: a market analysis of the Australian book industry. Canberra: Department of Innovation, Industry, Science and Research; 2011. p. 9. http://www.innovation.gov.au/Industry/BooksandPrinting/BookIndustryStrategyGroup/Documents/PwCCovertoCover.pdf.

5.

Australian Bureau of Statistics. 2005.

6.

Wilkins A. Australian book market: an overview. Publ Res Q. 2008;24(3):149.

7.

ABS quoted in the Productivity Commission. Restrictions on the parallel importation of books: productivity commission research report. Melbourne: Productivity Commission; 2009. p. 2.7. http://www.pc.gov.au/projects/study/books/report.

8.

Productivity Commission. 2009: 2.7.

9.

Australian Bureau of Statistics. 2005.

10.

Malcolm Knox M. The bride stripped bare. Sydney: Sydney Morning Herald, Fairfax Media; 2004. http://www.smh.com.au/articles/2004/07/23/1090464851887.html.

11.

Whitlock G. Tainted testimony: the Khouri Affair. Australian Literary Studies 21, no. 4, October (2004): 165–177; Gillian Whitlock, Soft Weapons: Autobiography in Transit, (Chicago, University of Chicago Press, 2007). Graham Huggan proposes a more generous approach in Extreme Pursuits: Travel/Writing in an Age of Globalization, (Michigan, The University of Michigan Press, 2009): 164–169.

12.

Bronowski A. Forbidden Lie$. Film Finance Corporation Australia; New South Wales Film and Television Office; South Australian Film Corporation; Liberty Productions; Palace Films; Madman Entertainment 2008.

13.

Whitlock G. Soft weapons: autobiography in transit. Chicago: University of Chicago Press; 2007.

14.

Books by ABC reporters Eric Campbell (Absurdistan, Sydney, HarperCollins Australia, 2005) and Jonathan Harley (Lost in Transmission, Sydney, Bantam Australia 2004), were particularly popular, as was Leigh Sales' (Detainee 002: The Case of David Hicks, Carlton, Vic., Melbourne University Press, 2007). Works by Irris Makler (Our Woman in Kabul: A Memoir, Bantam Australia, Milsons Point, N.S.W., 2003), Sally Neighbour (In the Shadow of Swords, Pymble, N.S.W.: HarperCollins, 2004), and Paul McGeough (In Baghdad: A Reporter's War, Crows Nest, N.S.W., Allen and Unwin, 2003, and Manhattan to Baghdad: Despatches from the Frontline in the War on Terror, Crows Nest, N.S.W., Allen and Unwin, 2003) also sold strongly.

15.

US war correspondents present in the Australian top 5000 nonfiction lists included Anthony Shadid's Night Draws Near: Iraq's People in the Shadow of America's War (ABC Books, 2006), the Washington Post National Editor Rajiv Chandrasekaran's Imperial Life in the Emerald City: Inside Baghdad's Green Zone (Bloomsbury, 2007), and Chris Ayres' War Reporting for Cowards: Between Iraq and a Hard Place (John Murray Publishers, 2005). Other reporters examined the role of the CIA (e.g., Steven Coll, Ghost Wars: The Secret History of the CIA, Afghanistan and Bin Laden, Penguin, 2005) and the rise of privatised military and war profiteering (Jeremy Scahill, Blackwater: The Rise of the World's Most Powerful Mercenary Army, Profile Books, 2007 and William D. Hartung, How Much Money Did You Make on the War, Daddy? A Quick and Dirty Guide to War Profiteering in the Bush Administration, Bantam, 2005).

16.

Examples include George Monbiot's Heat: How to Stop the Planet Burning (Penguin, 2006); Raj Patel's Stuffed and Starved: Markets, Power and the Hidden Battle for the World, (Black Inc., 2007); Not on the Label: What Really Goes into the Food on Your Plate, (Penguin, 2004) by Guardian correspondent Felicity Lawrence; Rogue Economics by UK-Italian journalist Loretta Napoleoni (Allen and Unwin, 2008); Michael Norton (a former merchant banker)'s 365 Ways to Change the World: How to Make a Difference One Day at a Time (Penguin, 2006); and One No, Many Yeses: A Journey to the Heart of the Global Resistance Movement by Paul Kingsnorth (Simon & Schuster, 2003).

17.

Massing M. Our own thought police. In: Szanto A (Ed.) What orwell didn't know: propaganda and the new face of American politics. New York: PublicAffairs, a member of the Perseus Books Group; 2007. p. 176.

18.

Massing: 179–180.

19.

Massing: 180–183.

20.

Borghino J. Personal interview. Sydney; 2010.

21.

Lake M, Reynolds H, editors. What's wrong with Anzac? The militarisation of Australian history. Sydney: University of New South Wales; 2010.

22.

MacCaskill M. Personal interview. Sydney; 2010.

23.

Rose J. Rereading the English common reader: a preface to a history of audiences. J Hist Ideas. 1992;53:47–70.

24.

Examples of books by academics include, in alphabetical order, Andrew J. Bacevich, The Limits of Power: The End of American Exceptionalism, (Black Inc., 2008); William Blum, The Rogue State: A Guide to the World's Only Superpower (Zed Books, 2002); George Friedman, America's Secret War: Inside the Hidden Worldwide Struggle (Hachette Little, 2004); Chalmers Johnson, Blowback, The Sorrows of Empire: How the American People Lost (Hachette Little, 2002) and Nemesis: The Last Days of the American Republic (Scribe, 2007); Francis Fukuyama, After the Neocons: America at the Crossroads(Profile Books, 2006); Joseph Stiglitz and Linda Bilmes, The Three Trillion Dollar War: The True Cost of the Iraq Conflict (Penguin, 2008); and Fareed Zakaria, The Future of Freedom: Illiberal Democracy at Home and Abroad and The Post-American World (W.W. Norton, 2003). UK contributions included Lawless World: America and the Making and Breaking of Global Rules by Philippe Sands (Penguin, 2005); Why Do People Hate America? (Icon Books, 2002) and American Dream, Global Nightmare by Ziauddin Sardar and Merryl Wyn Davies (Icon Books, 2004); and Over There: How America Sees the Rest of the World, a special issue of Granta (2004).
About this article
Cite this article
Zwar, J. More than Michael Moore: Contemporary Australian Book Reading Patterns and the Wars on Iraq and Afghanistan. Pub Res Q 28, 325–339 (2012). https://doi.org/10.1007/s12109-012-9296-x
Keywords
Australia

Autobiography

Biography

English-language publishing

Journalism

Narrative non-fiction books

Polemics

Public debate

Reading patterns