Abstract
A political mismatch between professors and a large swath of the student population has been widely documented. This mismatch is salient within sociology, where left-leaning politics are mainstream and institutionalized. Further, extant research indicates that this political mismatch leads students outside of the left-leaning mainstream to perceive that their professors are politically biased and to have diminished classroom experiences. However, studies assessing the influence of students' religiosity, a foundational element of conservatism, on perceptions of political bias and negative classroom experiences is lacking. In response, this study analyzes survey data from a diverse sample of undergraduate students enrolled in sociology courses to explore the connection between students' religiosity and perceptions of and subsequent reactions to professors' political bias. Our results suggest that religiosity affects perceptions of and reactions to professors' biases through increased skepticism towards science and perceived ideological distance from professors. This process is found to be operant only among politically conservative and moderate students. The implications of our results for sociology are discussed.
This is a preview of subscription content, log in to check access.
Access options
Buy single article
Instant access to the full article PDF.
US$ 39.95
Price includes VAT for USA
Subscribe to journal
Immediate online access to all issues from 2019. Subscription will auto renew annually.
US$ 99
This is the net price. Taxes to be calculated in checkout.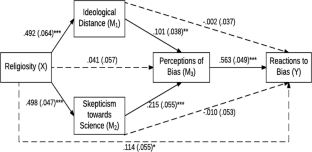 Notes
1.

Gerth and Mills (1946, p. 146)

2.

3.

4.

Linvill and Havice (2011) used religiosity as a demographic control variable, not as a theoretically important predictor of perceptions of bias.

5.

We also recruited students enrolled in two sociology courses at a small comprehensive university in the Southeast. These recruitment efforts yielded a small number (n = 19) of respondents that are included in our sample. We estimated supplemental models after omitting these respondents and found that the substantive conclusions drawn from our analysis were not sensitive to these cases.

6.

We also estimated a process model that included a measure of ideological distance created by taking the absolute value of the difference between students' political ideology and their perceptions of the political ideologies of their professors. Substantive conclusions derived from this alternative specification of ideological distance were consistent with those from the analysis reported here.

7.

In addition to the two indirect pathways that we posit and document there are five alternative indirect pathways linking religiosity to students' reactions to instructor biases. The bias corrected confidence intervals around the coefficients for each of these indirect paths contained zero indicating that these alternative pathways were not statistically significant.

8.

Students' self-reported political ideology is measured with a single item that asked participants to report their ideology on a 5-point scale that ranged from extremely liberal (=1) to extremely conservative (=5) with neither liberal nor conservative (e.g., moderate) as the center attribute (=3).

9.

We do not know from our data whether it is that religious and conservative students are more likely to encounter bias, detect bias, or perceive bias from their instructors, but it would be useful to find out in future research.
References
Al-Gharbi, M. (2018). Three strategies for navigating moral disagreements. https://heterodoxacademy.org/three-strategies-moral-disagreements/.

Arriaga, A. (2017). Political division soars on campus, survey finds. Web log. The Chronicle of Higher Education. May 1. https://www.chronicle.com/blogs/ticker/political-division-soars-on-campus-survey-finds/118061.

Berger, P. (2002). Whatever happened to sociology? First Things. Avaliable online at: https://www.firstthings.com/article/2002/10/whatever-happened-to-sociology.

Brow, M. V. (2016). Investigating the perceptions of intellectual diversity among socially conservative Christian seniors at elite U.S. colleges. Journal of Research on Christian Education, 25(1), 38–55.

Bullers, S., Reece, M., & Skinner, C. (2010). Political ideology and perceptions of bias among university faculty. Sociation Today, 8 (2).

Burawoy, M. (2005). For public sociology. American Sociological Review, 70(1), 4–28.

Calhoun, C., Aronczyk, M., Mayrl, D., & VanAntwerpen, J. (2007). The religious engagements of American undergraduates. Social Science Research Council.

Cofnas, N., Carl, N., & Woodley of Menie, M. A. (2018). Does activism in social science explain conservatives' distrust of scientists? The American Sociologist, 49,135–148.

Cox, D. (2017). College professors aren't killing religion. FiveThirtyEight. October 15. https://fivethirtyeight.com/features/college-professors-arent-killing-religion/.

Deflem, M. (2013). The structural transformation of sociology. Society, 50(2), 156–166.

Dixon, J. C., & McCabe, J. (2006). Competing perspectives in the classroom: the effect of sociology Students' perceptions of "balance" on evaluations. Teaching Sociology, 34, 111–125.

Downey, A. (2017). College freshmen are less religious than ever. Scientific American Blog Network. May 25. https://blogs.scientificamerican.com/observations/college-freshmen-are-less-religious-than-ever/.

Ecklund, E. H., & Scheitle, C. P. (2007). Religion among academic scientists: distinctions, disciplines, and demographics. Social Problems, 54(2), 289–307.

Feagin, J. (2001). Social justice and sociology: Agendas for the twenty-first century. American Sociological Review, 66, 1–20.

Fingerhut, H. (2017). Republicans skeptical of colleges' impact on U.S., but most see benefits for workforce preparation. Pew Research Center. July 20. http://www.pewresearch.org/fact-tank/2017/07/20/republicans-skeptical-of-colleges-impact-on-u-s-but-most-see-benefits-for-workforce-preparation/.

Fobes, C., & Kaufman, P. (2008). Critical pedagogy in the sociology classroom: challenges and concerns. Teaching Sociology, 36, 26–33.

Gauchat, G. W. (2008). A test of three theories of anti-science attitudes. Sociological Focus, 41(4), 337–357.

Gauchat, G. (2012). Politicization of science in the public sphere: a study of public Trust in the United States, 1974 to 2010. American Sociological Review, 77(2), 167–187.

Gerth, H. H., & Wright Mills, C. (Eds.). (1946). From Max Weber: Essay in sociology. Oxford: New York.

Gross, N., & Fosse, E. (2012). Why are professors liberal? Theory and Society, 41(2), 127–168.

Gross, N., & Simmons, S. (2007). The social and political views of American professors. Unpublished manuscript, Department of Sociology, Harvard University and Department of Political Science, George Mason University. Doi: http://www.conservativecriminology.com/uploads/5/6/1/7/56173731/lounsbery_9-25.pdf.

Hayes, A.F. (2013). The PROCESS macro for SPSS and SAS (version 2.16) [software]. Available from http://processmacro.org/download.html.

Horowitz, D. (2007). Indoctrination U: The left's war against academic freedom. New York: Encounter Books.

Horowitz, M., Haynor, A., & Kickham, K. (2018). Sociology's sacred victims and politics of knowledge: moral foundations theory and disciplinary controversies. The American Sociologist. https://doi.org/10.1007/s12108-018-9381-5.

Inbar, Y., & Lammers, J. (2012). Political diversity in social and personality psychology. Perspectives on Psychological Science, 7(6), 645–654.

Kelly-Woessner, A., & Woessner, M. C. (2006). My professor is a partisan hack: how perceptions of a professors political views affect student course evaluations. PS: Political Science and Politics, 39(03), 495–501.

Kelly-Woessner, A., & Woessner, M. (2008). Conflict in the classroom: considering the effects of partisan difference on political education. Journal of Political Science Education, 4(3), 265–285.

Klein, D. B., & Stern, C. (2006). Sociology and classical liberalism. The Independent Review, 11(1), 37–52.

Klein, D. B., & Stern, C. (2008). Liberal versus conservative stinks. Society, 45(6), 488–495.

La Noue, G. R. (2017). Promoting a campus culture of policy debates. Academic Questions, 30(4), 476–483.

Langbert, M., Quain, A. J., & Klein, D. B. (2016). Faculty voter registration in economics, history, Journalism, Law, and Psychology. Econ Journal Watch, 13(3), 422–451.

Linvill, D. L. (2011). The relationship between student identity development and the perception of political bias in the college classroom. College Teaching, 59(2), 49–55.

Linvill, D. L., & Grant, W. J. (2017). The role of student academic beliefs in perceptions of instructor ideological bias. Teaching in Higher Education, 22(3), 274–287.

Linvill, D. L., & Havice, P. A. (2011). Political Bias on campus: understanding the student experience. Journal of College Student Development, 52(4), 487–496.

Linvill, D. L., & Mazer, J. P. (2011). Perceived ideological bias in the college classroom and the role of student reflective thinking: a proposed model. Journal of the Scholarship of Teaching and Learning, 11(4), 90–101.

Linvill, D. L., & Mazer, J. P. (2013). The role of student aggressive communication traits in the perception of instructor ideological bias in the classroom. Communication Education, 62(1), 48–60.

Mariani, M. D., & Hewitt, G. J. (2008). Indoctrination U.? Faculty ideology and changes in student political orientation. PS: Political Science and Politics, 41(04), 773–783.

Martin, C. C. (2016). How ideology has hindered sociological insight. The American Sociologist, 47,115–130.

Nichols, L. T. (2012). Renewing sociology: integral science, solidarity and loving kindness. Sociological Focus, 45(4), 261–273.

Nichols, L. T. (2015). Editor's introduction: the symposium on American sociology. The American Sociologist, 46, 1–10.

Paternoster, R., Brame, R., Mazerolle, P., & Piquero, A. (1998). Using the correct statistical test for the equality of regression coefficients. Criminology, 36(4), 859–866.

Rothman, S., Robert Lichter, S., & Nevitte, N. (2005). Politics and professional advancement among college faculty. The Forum, 3(1).

Rushe, S. N., & Jason, K. (2011). You have to absorb yourself in it': using inquiry and reflection to promote student learning and self-knowledge. Teaching Sociology, 39, 338–353.

Saad, L. (2018). Conservative lead in U.S. ideology is down to single digits. Gallup.com. Gallup News. January 11. https://news.gallup.com/poll/225074/conservative-lead-ideology-down-single-digits.aspx.

Smith, B. L. R., Mayer, J. D., & Fritschler, A. L. (2008). Closed minds? Politics and ideology in American universities. New York: Brookings Institution Press.

Smith, C. (2014). The sacred project of American sociology. New York: Oxford University Press.

Sweet, S. (2009). Politicizing sociology through a bill of rights learning module. Teaching Sociology, 37, 177–187.

Wills, J. B., Brewster, Z. W., Brauer, J., & Ray, B. (2013). Political ideological distance between sociology students and their instructors: the effects of students' perceptions. Sociation Today, 11(1), 1–13.

Woessner, M., & Kelly-Woessner, A. (2009). I think my professor is a democrat: considering whether students recognize and react to faculty politics. PS: Political Science and Politics, 42(02), 343–352.

Woessner, M., & Kelly-Woessner, A. (2014). Reflections on academic liberalism and conservative criticism. Society, 52(1), 35–41.

Yair, O., & Sulitzeanu-Kenan, R. (2014). Biased judgment of political bias: perceived ideological distance increases perceptions of political bias. Political Behavior, 37(2), 487–507.

Yancey, G., Reimer, S., & Oconnell, J. (2015). How academics view conservative Protestants. Sociology of Religion, 76(3), 315–336.

Zipp, J. F., & Fenwick, R. (2006). Is the academy a liberal hegemony? The political orientations and educational values of professors. Public Opinion Quarterly, 70(3), 304–326.
Acknowledgements
The authors wish to thank David Merolla and Lawrence Nichols for helpful suggestions on earlier drafts of this paper. The authors are also grateful to their colleagues who encouraged their students to participate in this study.
Appendix
Appendix
About this article
Cite this article
Wills, J.B., Brewster, Z.W. & Nowak, G.R. Students' Religiosity and Perceptions of Professor Bias: Some Empirical Lessons for Sociologists. Am Soc 50, 136–153 (2019). https://doi.org/10.1007/s12108-018-9388-y
Keywords
Professor bias

Political ideology

Religiosity

Ideologica l distance

Science distrust

Sociology students