Abstract
Schwannoma-like pleomorphic adenoma is a rare variant of the common benign salivary neoplasm, pleomorphic adenoma. This entity's cytomorphology closely mimics a schwannoma, potentially making a diagnosis of cytologic preparations or of surgical specimens a challenge. To the best of our knowledge, there are only six previous reports of schwannoma-like pleomorphic adenoma with eight total cases in the English language literature prior to the addition of the two cases detailed in this report. Our report includes what we believe to be the first documented case of this entity occurring in the submandibular gland. One of our cases occurred in the submandibular gland of a 90-year-old woman and the other occurred in the left parotid gland of a 40-year-old woman. We also examine the diagnostic considerations used to differentiate these two entities.
This is a preview of subscription content, log in to check access.
Access options
Buy single article
Instant access to the full article PDF.
US$ 39.95
Price includes VAT for USA
Subscribe to journal
Immediate online access to all issues from 2019. Subscription will auto renew annually.
US$ 99
This is the net price. Taxes to be calculated in checkout.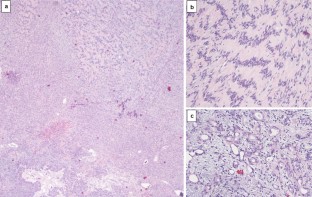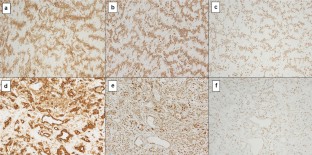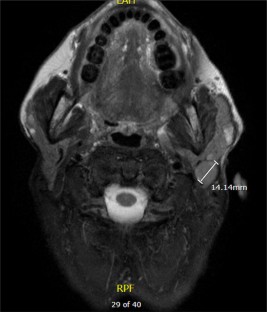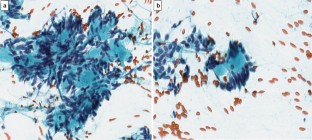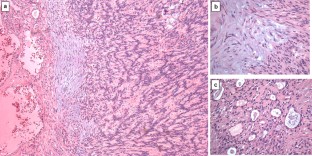 References
1.

Tille JC, Reychler H, Hamoir M, Schmitz S, Weynand B. Schwannoma-like pleomorphic adenoma of the parotid. Rare Tumors. 2011;3(4):e40.

2.

Eveson JW, Cawson RA. Salivary gland tumours. A review of 2410 cases with particular reference to histological types, site, age, and sex distribution. J Pathol. 1985;146:51–8.

3.

Seifert G, Donath K, Schafer R. Lipomatous pleomorphic adenoma of the parotid gland. Classification of lipomatous tissue in salivary glands. Pathol Res Pract. 1999;195:247–52.

4.

Di Palma S. Carcinoma ex pleomorphic adenoma, with particular emphasis on early lesions. Head Neck Pathol. 2013;7(suppl 1):S68–76.

5.

Richmon JD, Wahl CE, Chia S. Coexisting facial nerve schwannoma and monomorphic adenoma of the parotid gland. Ear Nose Throat J. 2004;83(3):166–9.

6.

Gross B, Carlson M, Moore E. The intraparotid facial nerve schwannoma: a diagnostic and management conundrum. Am J Otolaryngol. 2012;33(5):497–504.

7.

Kim YC, Park HJ, Cinn YW, Vandersteen DP. Benign glandular schwannoma. Br J Dermatol. 2001;145(5):834–7.

8.

Ducatman B, Scheithaur B. Malignant peripheral nerve sheath tumors with divergent differentiation. Cancer. 1984;54:1049.

9.

Tarjan G. Schwannoma including epithelial elements mimicking pleomorphic adenoma of the submandibular gland on fine-needle cytology: the first case report. Diagn Cytopathol. 2015;43:395.

10.

Holliday AC, Mazloom SE, Coman GC, Kolodney MS, Chavan RN, Grider DJ. Benign glandular schwannoma with ancient change. Am J Dermatopathol. 2016. https://doi.org/10.1097/DAD.0000000000000739.

11.

Kapila K, Mathur S, Verma K. Schwannomas: a pitfall in the diagnosis of pleomorphic adenomas on fine-needle aspiration cytology. Diagn Cytopathol. 2002;27(1):53–9.

12.

Takeda Y, Shimono M. Pleomorphic adenoma with nuclear palisading of modified myoepithelial cells: histopathologic and immunohistochemical study. Bull Tokyo Dent Coll. 1999;40(1):27–34.

13.

Rossi ED, Faquin WC, Baloch Z, et al. The Milan System for Reporting Salivary Gland Cytopathology: analysis and suggestions of initial survey. Cancer Cytopathol. 2017;125:757–66.

14.

Chandra SR, Karim F, Yeshwant BR. Divergent schwannoma-like phenotype in a pleomorphic adenoma. Head Neck Pathol. 2017;11(4):567–74.

15.

Matsuyama A, Hisaoka M, Hasimoto H. PLAG1 expression in mesenchymal tumors: an immunohistochemical study with special emphasis on the pathogenetical distinction between soft tissue myoepithelioma and pleomorphic adenoma of the salivary gland. Pathol Int. 2012;62(1):1–7.

16.

Merino MJ, LiVolsi VA. Pleomorphic adenomas of the parotid gland resembling mesenchymal tumors. Oral Surg Oral Med Oral Pathol. 1977;44(3):405–10.

17.

Kajor M, Gierek T, Markowski J, Pajak J. Schwannomalike mixed tumor of the parotid gland: a case report. Acta Cytol. 2006;50(5):529–30.

18.

Lombardi M, Socciarelli F, Finin G, Leonardi A, Bartolazzi A. Schwannoma-like pleomorphic adenoma: a case report with review of the literature. Head Neck Pathol. 2014;8(2):178–81.

19.

Jo VY, Fletcher CD. p63 immunohistochemical staining is limited in soft tissue tumors. Am J Clin Pathol. 2011;136(5):762–6.

20.

Fehlings MG, Nater A, Zamorano JJ, Tetreault LA, Varga PP, Gokaslan ZL, et al. Risk factors for recurrence of surgically treated conventional spinal schwannomas: analysis of 169 patients from a multicenter international database. Spine. 2016;41(5):390–8. https://doi.org/10.1097/BRS.0000000000001232.

21.

Zernial O, Springer IN, Warnke P, et al. Long-term recurrence rate of pleomorphic adenoma and postoperative facial nerve paresis (in parotid surgery). J Craniomaxillofac Surg. 2007;35:189–92.

22.

Abe M, et al. A case of pleomorphic adenoma of the parotid gland with multiple local recurrences through facial to cervical regions. Open J Stomatol. 2014;4:441–5.

23.

Redaelli de Zinis LO, Piccioni M, Antonelli AR, Nicolai P. Management and prognostic factors of recurrent pleomorphic adenoma of the parotid gland: personal experience and review of the literature. Eur Arch Otorhinolaryngol. 2007;265(4):447–52.
Acknowledgements
The authors would like to acknowledge Dr. Kasturi Das, MD for her assistance with the cytopathologic interpretation of these cases.
Ethics declarations
Conflict of interest
The authors have nothing to disclose.
Additional information
Publisher's Note
Springer Nature remains neutral with regard to jurisdictional claims in published maps and institutional affiliations.
About this article
Cite this article
Roth, S.H., Faquin, W.C., Gimenez, C. et al. Schwannoma-Like Pleomorphic Adenoma: Two Cases and a Review of the Literature. Head and Neck Pathol 14, 166–172 (2020). https://doi.org/10.1007/s12105-019-01036-y
Received:

Accepted:

Published:

Issue Date:
Keywords
Pleomorphic adenoma

Schwannoma

Benign

Spindle cell lesion

Fine-needle aspirate

Cytopathology

Parotid gland

Submandibular gland

Schwannoma-like pleomorphic adenoma