Abstract
A case of non-keratinizing, EBV-positive (chromogenic EBER-in situ hybridization), carcinoma with a hitherto undescribed nodular whorling architecture is presented. The patient is a 55 year old male with 2 months history of dermatomyositis who was diagnosed with T1N0M0 non-keratinizing nasopharyngeal carcinoma. The patient received radiotherapy with complete response. The tumor cells predominantly displayed spindle cell morphology, strongly expressed low-molecular weight cytokeratins (AE1-3), p63 and p40. There was no evidence of recurrence or disease progression on follow-up after 16 months which included post treatment biopsy, MRI and PET-CT scans.
This is a preview of subscription content, log in to check access.
Access options
Buy single article
Instant access to the full article PDF.
US$ 39.95
Price includes VAT for USA
Subscribe to journal
Immediate online access to all issues from 2019. Subscription will auto renew annually.
US$ 99
This is the net price. Taxes to be calculated in checkout.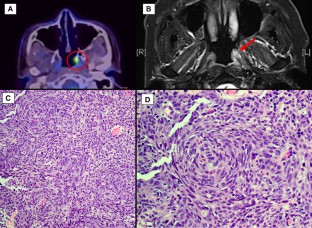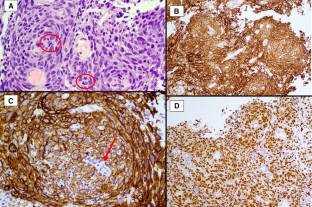 References
1.

Petersson F. Nasopharyngeal carcinoma: a review. Semin Diagn Pathol. 2015;32(1):54–73. https://doi.org/10.1053/j.semdp.2015.02.021.

2.

Petersson F, Vijayadwaja D, Loh KS, Tan KB. Reticular and myxoid non-keratinizing nasopharyngeal carcinoma: an unusual case mimicking a salivary gland carcinoma. Head Neck Pathol. 2014;8(3):364–8. https://doi.org/10.1007/s12105-013-0512-6.

3.

Petersson F. Non-keratinizing nasopharyngeal carcinoma with adenomatous differentiation. Head Neck Pathol. 2018. https://doi.org/10.1007/s12105-018-0991-6.

4.

Petersson F. al. WHO classifiction of head and neck tumours. Lyon: IARC Press; 2017.

5.

Bohan A, Peter JB. Polymyositis and dermatomyositis (second of two parts). N Engl J Med. 1975;292(8):403–7. https://doi.org/10.1056/NEJM197502202920807.

6.

Bohan A, Peter JB. Polymyositis and dermatomyositis (first of two parts). N Engl J Med. 1975;292(7):344–7. https://doi.org/10.1056/NEJM197502132920706.

7.

Lundberg IE, Tjarnlund A, Bottai M, Werth VP, Pilkington C, Visser M, et al. 2017 European League Against Rheumatism/American College of Rheumatology classification criteria for adult and juvenile idiopathic inflammatory myopathies and their major subgroups. Ann Rheum Dis. 2017;76(12):1955–64. https://doi.org/10.1136/annrheumdis-2017-211468.

8.

Di Rollo D, Abeni D, Tracanna M, Capo A, Amerio P. Cancer risk in dermatomyositis: a systematic review of the literature. G Ital Dermatol Venereol. 2014;149(5):525–37.

9.

Hill CL, Zhang Y, Sigurgeirsson B, Pukkala E, Mellemkjaer L, Airio A, et al. Frequency of specific cancer types in dermatomyositis and polymyositis: a population-based study. Lancet. 2001;357(9250):96–100. https://doi.org/10.1016/S0140-6736(00)03540-6.

10.

Yosipovitch G, Tan A, LoSicco K, Manabat CG, Kannagra A, Carroll C, et al. A comparative study of clinical characteristics, work-up, treatment, and association to malignancy in dermatomyositis between two tertiary skin centers in the USA and Singapore. Int J Dermatol. 2013;52(7):813–9. https://doi.org/10.1111/j.1365-4632.2011.05449.x.

11.

Ang P, Sugeng MW, Chua SH. Classical and amyopathic dermatomyositis seen at the National Skin Centre of Singapore: a 3-year retrospective review of their clinical characteristics and association with malignancy. Ann Acad Med Singapore. 2000;29(2):219–23.

12.

Teoh JW, Yunus RM, Hassan F, Ghazali N, Abidin ZA. Nasopharyngeal carcinoma in dermatomyositis patients: a 10-year retrospective review in Hospital Selayang, Malaysia. Rep Pract Oncol Radiother. 2014;19(5):332–6. https://doi.org/10.1016/j.rpor.2014.02.005.

13.

Tang MM, Thevarajah S. Paraneoplastic Dermatomyositis. A 12-year retrospective review in the department of dermatology hospital Kuala Lumpur. Med J Malaysia. 2010;65(2):138–42.

14.

Wong KO. Dermatomyositis: a clinical investigation of twenty-three cases in Hong Kong. Br J Dermatol. 1969;81(7):544–7.

15.

Hu WH. [Nasopharyngeal carcinoma (NPC) with dermatomyositis–an analysis of 30 cases]. Zhonghua Zhong Liu Za Zhi. 1986;8(2):133–5.

16.

Peng JC, Sheen TS, Hsu MM. Nasopharyngeal carcinoma with dermatomyositis. Analysis of 12 cases. Arch Otolaryngol Head Neck Surg. 1995;121(11):1298–301.

17.

Ee HL, Ng PP, Tan SH. Exacerbation of amyopathic dermatomyositis in Orientals: a high alert for nasopharyngeal carcinoma. Australas J Dermatol. 2004;45(1):77–8.

18.

Loh KS, Petersson F. Nonexophytic nasopharyngeal carcinoma: high frequency of advanced lymph node and distant metastasis. Otolaryngol Head Neck Surg. 2011;145(4):594–8. https://doi.org/10.1177/0194599811411141.

19.

Chang YS, Tyan YS, Liu ST, Tsai MS, Pao CC. Detection of Epstein-Barr virus DNA sequences in nasopharyngeal carcinoma cells by enzymatic DNA amplification. J Clin Microbiol. 1990;28(11):2398–402.

20.

Mutirangura A, Pornthanakasem W, Theamboonlers A, Sriuranpong V, Lertsanguansinchi P, Yenrudi S, et al. Epstein-Barr viral DNA in serum of patients with nasopharyngeal carcinoma. Clin Cancer Res. 1998;4(3):665–9.
Ethics declarations
Conflict of interest
The author has no conflict of interest. No funding was received.
Ethical Approval
It is my institution's policy not to require formal ethical approval for reports on up to two patients.
Additional information
Publisher's Note
Springer Nature remains neutral with regard to jurisdictional claims in published maps and institutional affiliations.
About this article
Cite this article
Petersson, F. EBV-Associated Non-keratinizing Nasopharyngeal Carcinoma with Prominent Spindled Cell and Whorling Patterns: A Previously Unreported Histological Variant in a Patient Presenting with Dermatomyositis. Head and Neck Pathol 14, 203–207 (2020). https://doi.org/10.1007/s12105-019-01019-z
Received:

Accepted:

Published:

Issue Date:
Keywords
Nasopharynx

Carcinoma

Whorling

Epstein–Barr virus