Abstract
We report on a case in which a blanching, unobtrusive oral growth proved to be a systemic threat. A blind, epileptic child presented with a bleeding oral floor mass of 4 weeks. Biopsy showed small, dilated vascular spaces with reactive fibroblasts. MRI indicated distribution of expansile lesions in the mandible, cranial base, and right orbit that had possibly contributed to the patient's years-long neurologic deficits. A subsequent bone scan indicated lesions in multiple axial bones. Histologic markers confirmed the presentation of a rare cystic vascular pathology. Cystic Angiomatosis is a disease of intraosseous vascular malformations with occasional visceral involvements. Oral and craniomaxillofacial cases are especially rare and presentations can involve neuropsychiatric deficits, sensory issues, and mucosal bleeding. While clinicians are often dismissive of intraoral bleeding because of the prevalence of periodontal disease, careful evaluation is nonetheless critical to rule out underlying diseases with a possibly significant systemic involvement.
This is a preview of subscription content, log in to check access.
Access options
Buy single article
Instant access to the full article PDF.
US$ 39.95
Price includes VAT for USA
Subscribe to journal
Immediate online access to all issues from 2019. Subscription will auto renew annually.
US$ 99
This is the net price. Taxes to be calculated in checkout.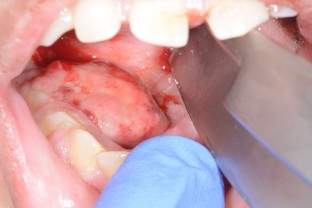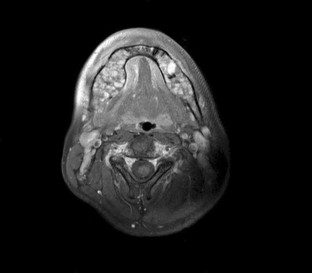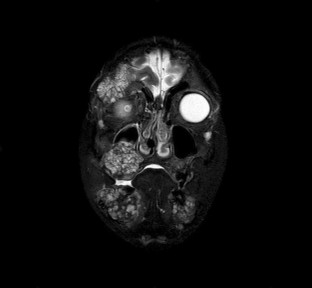 References
1.

Najm A, Soltner-Neel E, Le Goff B, Guillot P, Maugars Y, Berthelot J-M. Cystic angiomatosis, a heterogeneous condition: four new cases and a literature review. Medicine. 2016;95:e5213. Singh Grewal P, editor. Wolters Kluwer Health.

2.

Hossein Mortazavi S, Khodayari A, Khojasteh A, Abbas FM, Mehrdad L, Kiani MT, et al. Massive craniofacial intraosseous vascular malformation resembling cystic angiomatosis: report of 2 cases and review of the literature. J Oral Maxillofac Surg. 2011;69:204–14.

3.

Beeram RK, Seelam S. Massive craniofacial cystic angiomatosis and extra-skeletal angiomatosis: a unique case report and brief review of literature. J Oral Maxillofac Surg, Med, Pathol. 2016;28:122–7.

4.

Shivaram GM, Pai RK, Ireland KB, Stevens KJ. Temporal progression of skeletal cystic angiomatosis. Skelet Radiol. 2007;36:1199–204.

5.

Bauschard MJ, Hatch JL, Liogier-Weyback LER, Vandergrift WA, McRackan TR, Zheng X, Bi C, Marissa Brooks and DSH. Intracranial complications from temporal bone cystic angiomatosis. Otol Neurotol. 2017;38:e1.

6.

Marcucci G, Masi L, Carossino AM, Franchi A, Capanna R, Sinigaglia L, et al. Cystic bone angiomatosis: a case report treated with aminobisphosphonates and review of the literature. Calcif Tissue Int. 2013;93:462–71.

7.

Luz J, Zweifel D, Hüllner M, Bühler M, Rücker M, Stadlinger B. Oral manifestation of Langerhans cell histiocytosis: a case report. BMC Oral Health. 2018;18:106.

8.

Chen L, Chen Z, Wang Y. Langerhans cell histiocytosis at L5 vertebra treated with en bloc vertebral resection: a case report. World J Surg Oncol. 2018;16:96.

9.

Leah P, Dower A, Vescovi C, Mulcahy M, Al Khawaja D. Clinical experience of intracranial chordoma—A systematic review and meta-analysis of the literature. J Clin Neurosci. 2018;53:6–12.

10.

Yakkai Y, van Overbeeke JJ, Santegoeds R, van Engeland M, Temel Y. Chordoma. The entity. Biochim Biophys Acta—Rev Cancer. 2014;1846:655–69.

11.

Silve C, Jüppner H. Ollier disease. Orphanet J Rare Dis. 2006;1:1–6.

12.

Mandonnet E, Anract P, Martin E, Roujeau T, Spena G, Cormier-Daire V, et al. Brain and skull base MRI findings in patients with Ollier-Maffucci disease: a series of 12 patient-cases. Clin Neurol Neurosurg. 2017;160:147–51.

13.

Pavanello M, Piatelli G, Ravegnani M, Consales A, Rossi A, Nozza P, et al. Cystic angiomatosis of the craniocervical junction associated with Chiari I malformation. Child's Nerv Syst. 2007;23:697–700.

14.

Stephens LC, Schultheiss TE, Price RE, Ang KK, Peters LJ. Radiation apoptosis of serous acinar cells of salivary and lacrimal glands. Cancer. 1991;67:1539–43.

15.

Tucker JR, Xu L, Sturgis EM, Mohamed ASR, Hofstede TM, Chambers MS, et al. Osteoradionecrosis in patients with salivary gland malignancies. Oral Oncol. 2016;57:1–5.

16.

Owosho AA, Estilo CL, Huryn JM, Yom SK. Pentoxifylline and tocopherol in the management of cancer patients with medication-related osteonecrosis of the jaw: an observational retrospective study of initial case series. Oral Surg, Oral Med, Oral Pathol Oral Radiol. 2016;122:455–9.
Ethics declarations
Conflict of interest
The authors declare that they have no conflict of interest.
Ethical Approval
The study is a retrospective study of the clinical course of a patient seen at our institution. However, all procedures performed in studies involving human participants were nonetheless in accordance with the ethical standards of the institutional and with the 1964 Helsinki declaration and its later amendments or comparable ethical standards.
Informed Consent
Informed consent was obtained from all individual participants included in the study.
About this article
Cite this article
Sun, H.B., Lin, S., Shimel, B. et al. Vascular Floor of Mouth Mass with Unanticipated Intracranial, Orbital, and Vertebral Associated Involvements. Head and Neck Pathol 14, 199–202 (2020). https://doi.org/10.1007/s12105-019-01017-1
Received:

Accepted:

Published:

Issue Date:
Keywords
Vascular neoplasm

Epilepsy

Blindness

Cystic angiomatosis