Abstract
Upfront interval sectioning (cutting unstained slides between H&E levels) is used at our institution for biopsies at all sites except the gastrointestinal tract. Very limited data exists in the literature for the need for interval sectioning, and we are aware of no data at all for the head and neck. Biopsies from the larynx, oral cavity, pharynx, and sinonasal tract at our institution have had 5 levels cut. Levels 1, 3, and 5 or levels 2 and 5 had been stained with hematoxylin and eosin (H&E), depending on the subsite, and the remaining slides saved for possible later use. We retrospectively evaluated the use of unstained slides at these sites for clinical utility and efficiency by analyzing 3 years of cases from 1/1/2014 to 12/30/2016. A cutoff of 10% utilization was considered justification for continued upfront unstained slide cutting. We collected 706 larynx, 572 oral cavity, 184 pharynx, and 85 sinonasal tract biopsies over 3 years. The overall rate of unstained slide usage was 18.2%. Usage rates were significantly different by site: 7.8% (55/706) for larynx, 21.9% (125/572) for oral cavity, 30.6% (26/85) for sinonasal tract and 40.8% (75/184) for pharynx (p < 0.0001). The most common stain ordered in the pharynx was p16 immunohistochemistry (59.7%), but it was Grocott methenamine silver staining in the larynx (74.5%), oral cavity (70.4%), and sinonasal tract (35.1%). Usage of unstained slides was lowest for the larynx, and review of the biopsies with unstained slides utilized showed that the lesion was present on the 3rd H&E level in all cases. Removing this practice would have translated to saving 1,378 unstained slides. Upfront interval sectioning makes practical sense for biopsies from most sites in the head and neck, especially the pharynx, but our data suggests it can reasonably be forgone at least for biopsies of the larynx.
This is a preview of subscription content, log in to check access.
Access options
Buy single article
Instant access to the full article PDF.
US$ 39.95
Price includes VAT for USA
Subscribe to journal
Immediate online access to all issues from 2019. Subscription will auto renew annually.
US$ 99
This is the net price. Taxes to be calculated in checkout.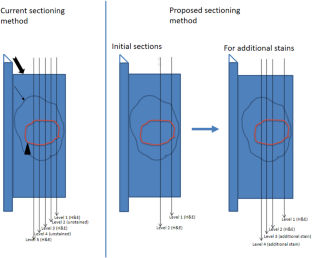 References
1.

Hameed O, Humphrey PA. Immunohistochemical evaluation of prostate needle biopsies using saved interval sections vs new recut sections from the block a prospective comparison. Am J Clin Pathol. 2009;131(5):683–8.

2.

Salaria S, Self C, Abbuhl M, Hameed O, Gellert L. Elimination of cutting and saving unstained sections of GI biopsy specimens yields significant benefits with no untoward effects on quality. Poster presented at: USCAP 2016 Annual Meeting; March 12–18, 2018; Seattle, WA.

3.

Martínez-Menchón T, Sánchez-Pedreño P, Martínez-Escribano J, Corbalán-Vélez R, Martínez-Barba E. Cost analysis of sentinel lymph node biopsy in melanoma. Actas Dermosifiliogr. 2015;106(3):201–7.

4.

Engvad B, Poulsen MH, Staun PW, Walter S, Marcussen N. Histological step sectioning of pelvic lymph nodes increases the number of identified lymph node metastases. Virchows Arch. 2014;464(1):45–52.

5.

Schilling D, Hennenlotter J, Gakis G, et al. Prospective assessment of histological serial sectioning of pelvic lymph nodes in prostate cancer: a cost-benefit analysis. BJU Int. 2012;110(6B):166–71.

6.

Thomsen JB, Christensen RK, Sørensen JA, Krogdahl A. Sentinel lymph nodes in cancer of the oral cavity: is central step-sectioning enough? J Oral Pathol Med. 2007;36(7):425–9.

7.

Kim CH, Soslow RA, Park KJ, et al. Pathologic ultrastaging improves micrometastasis detection in sentinel lymph nodes during endometrial cancer staging. Int J Gynecol Cancer. 2013;23(5):964–70.

8.

Younis RT, Hesse SV, Anand VK. Evaluation of the utility and cost-effectiveness of obtaining histopathologic diagnosis on all routine tonsillectomy specimens. Laryngoscope. 2001;111(12):2166–9.

9.

Chakrabarty A, Franks AJ. Temporal artery biopsy: is there any value in examining biopsies at multiple levels? J Clin Pathol. 2000;53(2):131–6.

10.

Grimes MM, Karageorge LS, Hogge JP. Does exhaustive search for microcalcifications improve diagnostic yield in stereotactic core needle breast biopsies? Mod Pathol. 2001;14(4):350–3.

11.

Lewis JS, Beadle B, Bishop JA, et al. Human papillomavirus testing in head and neck carcinomas: guideline from the College of American Pathologists. Arch Pathol Lab Med. 2017;142(5):559–97.
Acknowledgements
We would like to thank Craig W. Self, BS and Mary F. Abbuhl, MS for general administrative support and for their assistance with Cerner Copath functions and searches.
About this article
Cite this article
Saab-Chalhoub, M.W., Lewis, J.S. Utility and Practicality of Multi-level Sectioning and Upfront Unstained Slide Cutting in Head and Neck Biopsies: A Critical Analysis. Head and Neck Pathol 13, 613–617 (2019). https://doi.org/10.1007/s12105-019-01016-2
Received:

Accepted:

Published:

Issue Date:
Keywords
Head and neck biopsies

Histology

Lab management

Quality improvement

Multi-level sectioning

Unstained slides