Abstract
Human papillomavirus (HPV)-related multiphenotypic sinonasal carcinoma (HMSC) is a distinct, newly-described sinonasal tract neoplasm characterized by a salivary gland tumor-like appearance with myoepithelial and ductal cells, frequent surface squamous dysplasia, and relatively indolent behavior. When considering a diagnosis of HMSC, aggressive high-grade salivary gland carcinomas, particularly those with a basaloid morphology such as basal cell adenocarcinoma and adenoid cystic carcinoma, enter the differential diagnosis. The full morphologic and immunophenotypic profile of HMSC continues to be unraveled. In this series of ten cases, we demonstrate that this tumor has consistent, strong immunohistochemical expression of LEF-1 yet lacks nuclear expression of β-catenin, and also has consistent yet variable expression of MYB protein. While LEF-1 expression may be a useful diagnostic adjunct, it can also be a pitfall, as other salivary tumors such as basal cell adenocarcinoma have been previously shown to express LEF-1. Additionally, MYB protein expression is not a discriminatory marker when trying to separate HMSC from adenoid cystic carcinoma.
This is a preview of subscription content, log in to check access.
Access options
Buy single article
Instant access to the full article PDF.
US$ 39.95
Price includes VAT for USA
Subscribe to journal
Immediate online access to all issues from 2019. Subscription will auto renew annually.
US$ 99
This is the net price. Taxes to be calculated in checkout.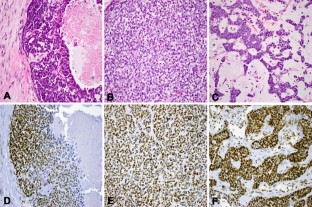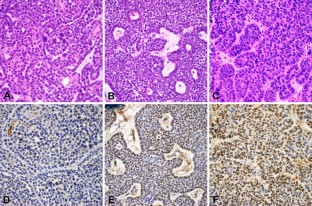 References
1.

Bishop JA, Andreasen S, Hang JF, et al. HPV-related Multiphenotypic sinonasal carcinoma: an expanded series of 49 cases of the tumor formerly known as HPV-related carcinoma with adenoid cystic carcinoma-like features. Am J Surg Pathol. 2017;41:1690–701.

2.

Bishop JA, Ogawa T, Stelow EB, et al. Human papillomavirus-related carcinoma with adenoid cystic-like features: a peculiar variant of head and neck cancer restricted to the sinonasal tract. Am J Surg Pathol. 2013;37:836–44.

3.

Andreasen S, Bishop JA, Hansen TV, et al. Human papillomavirus-related carcinoma with adenoid cystic-like features of the sinonasal tract: clinical and morphological characterization of six new cases. Histopathology. 2017;70:880–8.

4.

Bilodeau E, Acquafondata M, Barnes EL, et al. A comparative analysis of LEF-1 in odontogenic and salivary tumors. Hum Pathol. 2015;46:255–9.

5.

Jo VY, Sholl LM, Krane JF. Distinctive patterns of CTNNB1 (β-Catenin) alterations in salivary gland basal cell adenoma and basal cell adenocarcinoma. Am J Surg Pathol. 2016;40:1143–50.

6.

Sato M, Yamamoto H, Hatanaka Y, et al. Wnt/β-catenin signal alteration and its diagnostic utility in basal cell adenoma and histologically similar tumors of the salivary gland. Pathol Res Pract. 2018;214(4):586–92.

7.

Kawahara A, Harada H, Abe H, et al. Nuclear β-catenin expression in basal cell adenomas of salivary gland. J Oral Pathol Med. 2011;40:460–6.

8.

Schmitt AC, Griffith CC, Cohen C, Siddiqui MT. LEF-1: diagnostic utility in distinguishing basaloid neoplasms of the salivary gland. Diagn Cytopathol. 2017;45:1078–108.

9.

Seethala RR. Basaloid/blue salivary gland tumors. Mod Pathol. 2017;30:84–95.

10.

Zhan T, Rindtorff N, Boutros M. Wnt signaling in cancer. Oncogene. 2017;36:1461–73.

11.

MacDonald BT, Tamai K, He X. Wnt/beta-catenin signaling: components, mechanisms, and diseases. Dev Cell. 2009;17:9–26.

12.

Arce L, Yokoyama NN, Waterman ML. Diversity of LEF/TCF action in development and disease. Oncogene. 2006;25:7492–504.

13.

Grumolato L, Liu G, Haremaki T, et al. β-Catenin-independent activation of TCF1/LEF1 in human hematopoietic tumor cells through interaction with ATF2 transcription factors. PloS Genet. 2013;9:e1003603.

14.

Persson M, Andren Y, Mark J, et al. Recurrent fusion of MYB and NFIB transcription factor genes in carcinomas of the breast and head and neck. Proc Natl Acad Sci. 2009;106:18740–4.

15.

Brayer KJ, Frerich CA, Kang H, Ness SA. Recurrent fusions in MYB and MYBL1 define a common, transcription factor-driven oncogenic pathway in salivary gland adenoid cystic carcinoma. Cancer Discov. 2016;6:176–87.

16.

Mitani Y, Liu B, Rao PH, Borra VJ, Zafereo M, Weber RS, Kies M, Lozano G, Futreal PA, Caulin C, El-Naggar AK. Novel MYBL1 gene rearrangements with recurrent MYBL1-NFIB fusions in salivary adenoid cystic carcinomas lacking t(6;9) translocations. Clin Cancer Res. 2016;22:725–33.

17.

West RB, Kong C, Clarke N, et al. MYB expression and translocation in adenoid cystic carcinomas and other salivary gland tumors with clinicopathologic correlation. Am J Surg Pathol. 2011;35:92–9.

18.

Brill LB 2nd, Kanner WA, Fehr A, et al. Analysis of MYB expression and MYB-NFIB gene fusions in adenoid cystic carcinoma and other salivary neoplasms. Mod Pathol. 2011;24:1169–76.

19.

Shah AA, Lamarre ED, Bishop JA. Human papillomavirus-related multiphenotypic sinonasal carcinoma: a case report documenting the potential for very late tumor recurrence. Head Neck Pathol. 2018. https://doi.org/10.1007/s12105-018-0895-5.

20.

Mahajan A. Practical issues in the application of p16 immunohistochemistry in diagnostic pathology. Hum Pathol. 2016;51:64–74.

21.

Wadsworth B, Bumpous JM, Martin AW, et al. Expression of p16 in sinonasal undifferentiated carcinoma (SNUC) without associated human papillomavirus (HPV). Head Neck Pathol. 2011;5:394–64.

22.

Bishop JA, Guo TW, Smith DF, et al. Human papillomavirus-related carcinoma of the sinonasal tract. Am J Surg Pathol. 2013;37:185–92.

23.

Jour G, West K, Ghali V, et al. Differential expression of p16(INK4A) and cyclin D1 in benign and malignant salivary gland tumors: a study of 44 cases. Head Neck Pathol. 2013;7:224.
Funding
No funding was obtained for this research.
Ethics declarations
Conflict of interest
Authors have no conflicts of interest or disclosures as it pertains to this manuscript.
Ethical Approval
All procedures performed in studies involving human participants were in accordance with the ethical standards of the institutional and/or national research committee and with the 1964 Helsinki declaration and its later amendments or comparable ethical standard.
About this article
Cite this article
Shah, A.A., Oliai, B.R. & Bishop, J.A. Consistent LEF-1 and MYB Immunohistochemical Expression in Human Papillomavirus-Related Multiphenotypic Sinonasal Carcinoma: A Potential Diagnostic Pitfall. Head and Neck Pathol 13, 220–224 (2019). https://doi.org/10.1007/s12105-018-0951-1
Received:

Accepted:

Published:

Issue Date:
Keywords
Human papillomavirus

Multiphenotypic sinonasal carcinoma

Adenoid cystic carcinoma

Carcinoma with adenoid cystic-like features

LEF-1

MYB