Abstract
Myxomas are a rare benign neoplasm of uncertain mesenchymal cell origin, typically involving the heart. Laryngeal myxomas are uncommon, and are usually misdiagnosed as laryngeal polyp. To the best of our knowledge, there are only nine reported cases in the English literature. We report a case of a laryngeal myxoma presenting clinically as a left vocal cord polyp in a 77 year old male, and review the literature related to this rare entity.
Access options
Buy single article
Instant access to the full article PDF.
US$ 39.95
Tax calculation will be finalised during checkout.
Subscribe to journal
Immediate online access to all issues from 2019. Subscription will auto renew annually.
US$ 79
Tax calculation will be finalised during checkout.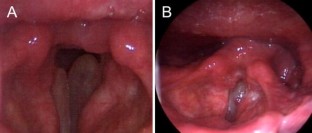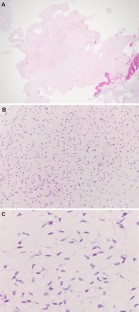 References
1.

Chen KT, Ballecer RA. Laryngeal myxoma. Am J Otolaryngol. 1986;7(1):58–9.

2.

Stout AP. Myxoma, the tumor of primitive mesenchyme. Ann Surg. 1948;127(4):706–19.

3.

Sena T, Brady MS, Huvos AG, Spiro RH. Laryngeal myxoma. Arch Otolaryngol Head Neck Surg. 1991;117(4):430–2.

4.

Baruah P, Jha DN, Karak AK, Kumar R. Laryngeal myxoma. J Laryngol Otol. 2001;115(3):231–2.

5.

Tsunoda K, Nosaka K, Housui M, Murano E, Ishikawa M, Imamura Y. A rare case of laryngeal myxoma. J Laryngol Otol. 1997;111(3):271–3.

6.

Andrews T, Kountakis SE, Maillard AA. Myxomas of the head and neck. Am J Otolaryngol. 2000;21(3):184–9.

7.

Batsakis JG. Myxomas of soft tissues and the facial skeleton. Ann Otol Rhinol Laryngol. 1987;96(5):618–9.

8.

Nakamura A, Iguchi H, Kusuki M, Yamane H, Matsuda M, Osako S. Laryngeal myxoma. Acta Otolaryngol. 2008;128(1):110–2.

9.

Idrees MT, Hessler R, Terris D, Mixson C, Wang BY. Unusual polypoid laryngeal myxoma. Mt Sinai J Med. 2005;72(4):282–4.

10.

Altman KW. Vocal fold masses. Otolaryngol Clin North Am. 2007;40(5):1091–108.

11.

Hadley J, Gardiner Q, Dilkes M, Boyle M. Myxoma of the larynx: a case report and a review of the literature. J Laryngol Otol. 1994;108(9):811–2.

12.

Espiard S, Bertherat J. Carney complex. Front Horm Res. 2013;41:50–62.

13.

Orliaguet O, Pépin JL, Veale D, Kelkel E, Pinel N, Lévy P. Hunter's syndrome and associated sleep apnoea cured by CPAP and surgery. Eur Respir J. 1999;13(5):1195–7.

14.

Kim KM, Kim SC, Jeong HJ, Kie JH. Myxoma: life-threatening benign nonepithelial tumor of the larynx. Yonsei Med J. 1997;38(3):187–9.
Acknowledgments
The authors thank Jill M. Kramer, DDS, PhD of SUNY at Buffalo and Claudine Alexis MBA, MS at Department of Pathology Hofstra North Shore-LIJ School of Medicine for critical reading of this manuscript.
About this article
Cite this article
Ritchie, A., Youngerman, J., Fantasia, J.E. et al. Laryngeal Myxoma: A Case Report and Review of the Literature. Head and Neck Pathol 8, 204–208 (2014). https://doi.org/10.1007/s12105-013-0485-5
Received:

Accepted:

Published:

Issue Date:
Keywords
Myxoma

Larynx

Vocal cord

Laryngeal myxoma

Polyp