Abstract
Human papillomavirus (HPV) testing is now recommended as part of the work up for patients with oropharyngeal squamous cell carcinoma (OPSCC) and those patients with cervical lymph node metastasis of unknown origin. The laboratory testing strategy should accurately assess the presence or absence of oncogenic HPV infection in routinely collected tumour samples that are subject to standard fixation protocols, alcohol-fixed cytological preparations and formalin-fixed tissue samples. The HPV status should correlate with biologically relevant outcome measures such as overall, disease-specific and disease-free survival. Whilst increased expression of p16 by immunohistochemistry is considered to be a surrogate marker of oncogenic HPV infection and is a validated independent prognostic biomarker, only HPV specific tests provide definitive evidence of the aetiological agent. We provide an overview of HPV testing in OPSCC, justifying the use of HPV specific tests. We examine the analytical accuracy of HPV specific tests against the 'reference' test—high risk HPV mRNA in fresh tissue—and contrast this with the performance of p16 immunohistochemistry as a stand alone test. We highlight the added value of HPV specific tests in prognostication, clinical trial design, and population-based disease surveillance. We consider that HPV specific testing is the starting point for developing increasingly informative biomarker panels in the context of 'stratified medicine'. We briefly frame test information in the context of disclosure of HPV status to patients. We conclude that only a testing strategy that includes HPV specific tests can deliver more effective care for patients with OPSCC. The international head and neck oncology community should work together to clearly define the minimum requirements for assigning a diagnosis of HPV-related OPSCC in order to ensure consistent reporting of this emerging and increasingly prevalent disease.
This is a preview of subscription content, log in to check access.
Access options
Buy single article
Instant access to the full article PDF.
US$ 39.95
Tax calculation will be finalised during checkout.
Subscribe to journal
Immediate online access to all issues from 2019. Subscription will auto renew annually.
US$ 79
Tax calculation will be finalised during checkout.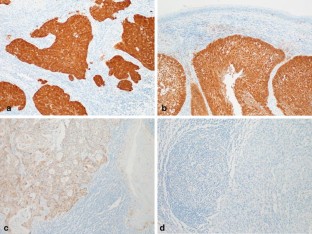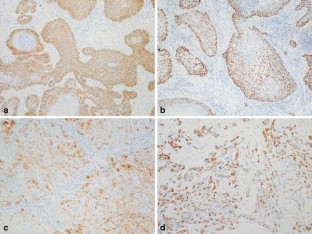 References
1.

Marur S, D'Souza G, Westra WH, Forastiere AA. HPV-associated head and neck cancer: a virus-related cancer epidemic. Lancet Oncol. 2010;11(8):781–9.

2.

Braakhuis BJ, Brakenhoff RH, Meijer CJ, Snijders PJ, Leemans CR. Human papilloma virus in head and neck cancer: the need for a standardised assay to assess the full clinical importance. Eur J Cancer. 2009;45(17):2935–9.

3.

Leemans CR, Braakhuis BJ, Brakenhoff RH. The molecular biology of head and neck cancer. Nat Rev Cancer. 2011;11(1):9–22.

4.

van Houten VM, Snijders PJ, van den Brekel MW, Kummer JA, Meijer CJ, van Leeuwen B, et al. Biological evidence that human papillomaviruses are etiologically involved in a subgroup of head and neck squamous cell carcinomas. Int J Cancer. 2001;93(2):232–5.

5.

Wiest T, Schwarz E, Enders C, Flechtenmacher C, Bosch FX. Involvement of intact HPV16 E6/E7 gene expression in head and neck cancers with unaltered p53 status and perturbed pRb cell cycle control. Oncogene. 2002;21(10):1510–7.

6.

Smeets SJ, Hesselink AT, Speel EJ, Haesevoets A, Snijders PJ, Pawlita M, et al. A novel algorithm for reliable detection of human papillomavirus in paraffin embedded head and neck cancer specimen. Int J Cancer. 2007;121(11):2465–72.

7.

Schache AG, Liloglou T, Risk JM, Filia A, Jones TM, Sheard J, et al. Evaluation of human papilloma virus diagnostic testing in oropharyngeal squamous cell carcinoma: sensitivity, specificity, and prognostic discrimination. Clin Cancer Res. 2011;17(19):6262–71.

8.

Shi W, Kato H, Perez-Ordonez B, Pintilie M, Huang S, Hui A, et al. Comparative prognostic value of HPV16 E6 mRNA compared with in situ hybridization for human oropharyngeal squamous carcinoma. J Clin Oncol. 2009;27(36):6213–21.

9.

Perrone F, Gloghini A, Cortelazzi B, Bossi P, Licitra L, Pilotti S. Isolating p16-positive/HPV-negative oropharyngeal cancer: an effort worth making. Am J Surg Pathol. 2011;35(5):774–777; author reply 777–778.

10.

Singhi AD, Westra WH. Comparison of human papillomavirus in situ hybridization and p16 immunohistochemistry in the detection of human papillomavirus-associated head and neck cancer based on a prospective clinical experience. Cancer. 2010;116(9):2166–73.

11.

Thavaraj S, Stokes A, Guerra E, Bible J, Halligan E, Long A, et al. Evaluation of human papillomavirus testing for squamous cell carcinoma of the tonsil in clinical practice. J Clin Pathol. 2011;64(4):308–12.

12.

Schlecht NF, Brandwein-Gensler M, Nuovo GJ, Li M, Dunne A, Kawachi N, et al. A comparison of clinically utilized human papillomavirus detection methods in head and neck cancer. Mod Pathol. 2011;24(10):1295–305.

13.

Begum S, Cao D, Gillison M, Zahurak M, Westra WH. Tissue distribution of human papillomavirus 16 DNA integration in patients with tonsillar carcinoma. Clin Cancer Res. 2005;11(16):5694–9.

14.

Harris SL, Thorne LB, Seaman WT, Hayes DN, Couch ME, Kimple RJ. Association of p16(INK4a) overexpression with improved outcomes in young patients with squamous cell cancers of the oral tongue. Head Neck. 2011;33(11):1622–7.

15.

Ang KK, Harris J, Wheeler R, Weber R, Rosenthal DI, Nguyen-Tan PF, et al. Human papillomavirus and survival of patients with oropharyngeal cancer. N Engl J Med. 2010;363(1):24–35.

16.

Lewis JS Jr, Thorstad WL, Chernock RD, Haughey BH, Yip JH, Zhang Q, et al. p16 positive oropharyngeal squamous cell carcinoma:an entity with a favorable prognosis regardless of tumor HPV status. Am J Surg Pathol. 2010;34(8):1088–96.

17.

Junor E, Kerr G, Oniscu A, Campbell S, Kouzeli I, Gourley C et al. Benefit of chemotherapy as part of treatment for HPV DNA-positive but p16-negative squamous cell carcinoma of the oropharynx. Br J Cancer. 2011;106(2):358–65.

18.

Gillison ML. Human papillomavirus and prevention and therapy of head and neck cancer. In: Harrison LB, Sessions RB, Hong WK, editors. Head and neck cancer a multidisciplinary approach. Philadelphia: Lippincott Williams and Wilkins; 2009. p. 905–17.

19.

Begum S, Gillison ML, Nicol TL, Westra WH. Detection of human papillomavirus-16 in fine-needle aspirates to determine tumor origin in patients with metastatic squamous cell carcinoma of the head and neck. Clin Cancer Res. 2007;13(4):1186–91.

20.

Wadsworth B, Bumpous JM, Martin AW, Nowacki MR, Jenson AB, Farghaly H. Expression of p16 in sinonasal undifferentiated carcinoma (SNUC) without associated human papillomavirus (HPV). Head Neck Pathol. 2011;5(4):349–54.

21.

Pai RK, Erikson J, Pourmand N, et al. p16(INK4a) immunohistochemical staining may be helpful in distinguishing branchial cleft cysts from cystic squamous cell carcinomas originating in the oropharynx. Cancer. 2009;117:108–19.

22.

Cao D, Begum S, Ali SZ, Westra WH. Expression of p16 in benign and malignant cystic squamous lesions of the neck. Hum Pathol. 2010;41(4):535–9.

23.

Masand RP, El-Mofty SK, Ma XJ, Luo Y, Flanagan JJ, Lewis JS Jr. Adenosquamous carcinoma of the head and neck: relationship to human papillomavirus and review of the literature. Head Neck Pathol. 2011;5(2):108–16.

24.

Bishop JA, Westra WH. Human papillomavirus-related small cell carcinoma of the oropharynx. Am J Surg Pathol. 2011;35(11):1679–84.

25.

Shuman AG, Wolf GT. Human papillomavirus status in head and neck cancer: the ethics of disclosure. Cancer. 2010;116(18):4221–6.
About this article
Cite this article
Robinson, M., Schache, A., Sloan, P. et al. HPV Specific Testing: A Requirement for Oropharyngeal Squamous Cell Carcinoma Patients. Head and Neck Pathol 6, 83–90 (2012). https://doi.org/10.1007/s12105-012-0370-7
Received:

Accepted:

Published:

Issue Date:
Keywords
Oropharynx

Squamous cell carcinoma

Human papillomavirus

Molecular diagnosis