Abstract
Xeroderma pigmentosum (XP) is a rare autosomal recessive defect in DNA endonuclease activity that is associated with the development of cutaneous malignancies, at sun exposed sites, including basal cell carcinoma, squamous cell carcinoma, and melanoma. Squamous cell carcinomas are also known to target the anterior tongue. Patients sometimes develop angiosarcomas, and these invariably arise from sun-exposed skin. A biopsy was taken from a large mass arising in the anterior tongue of an 11-year-old girl with XP and a history of cutaneous basal cell carcinomas. The histopathologic findings demonstrated a high grade epithelioid neoplasm resembling a poorly differentiated squamous cell carcinoma, but the immunohistochemical profile (AE1/AE3 negative, p63 negative, CD31 positive, CD34 positive) established the diagnosis of angiosarcoma. Angiosarcoma is an XP-related tumor that usually arises in sun-exposed skin but can also arise in the oral cavity. For patients with XP who develop epithelioid neoplasms of the oral cavity, epithelioid angiosarcoma should be considered in the differential diagnosis.
Access options
Buy single article
Instant access to the full article PDF.
US$ 39.95
Tax calculation will be finalised during checkout.
Subscribe to journal
Immediate online access to all issues from 2019. Subscription will auto renew annually.
US$ 79
Tax calculation will be finalised during checkout.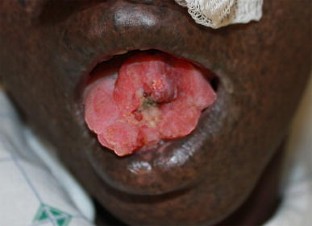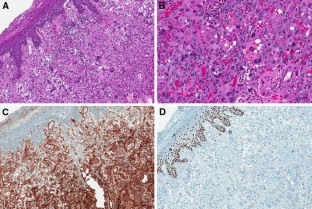 References
1.

Kraemer KH, Lee MM, Scotto J. Xeroderma pigmentosum. Cutaneous, ocular, and neurologic abnormalities in 830 published cases. Arch Dermatol. 1987;123:241–50.

2.

Hoeijmakers JHJ. DNA damage, aging, and cancer. N Engl J Med. 2009;361:1475–85.

3.

Arora R, Sharma A, Gupta R, Vijayaraghavan M. Cutaneous angiosarcoma in a patient with xeroderma pigmentosum. Indian J Pathol Microbiol. 2008;51:504–6.

4.

Marcon I, Collini P, Casanova M, Meazza C, Ferrari A. Cutaneous angiosarcoma in a patient with xeroderma pigmentosum. Pediatr Hematol Oncol. 2004;21:23–6.

5.

Ludolph-Hauser D, Thoma-Greber E, Sander C, Sommerhoff CP, Röcken M. Mast cells in an angiosarcoma complicating xeroderma pigmentosum in a 13-year-old girl. J Am Acad Dermatol. 2000;43:900–2.

6.

De Silva BD, Nawroz I, Doherty VR. Angiosarcoma of the head and neck associated with xeroderma pigmentosum variant. Br J Dermatol. 1999;141:166–7.

7.

Leake J, Sheehan MP, Rampling D, Ramani P, Atherton DJ. Angiosarcoma complicating xeroderma pigmentosum. Histopathology. 1992;21:179–81.

8.

Bacchi CE, Silva TR, Zambrano E, et al. Epithelioid angiosarcoma of the skin: a study of 18 cases with emphasis on its clinicopathologic spectrum and unusual morphologic features. Am J Surg Pathol. 2010;34:1334–43.

9.

Lin CF, DeFrias D, Lin X. Epithelioid angiosarcoma: a neoplasm with potential diagnostic challenges. Diagn Cytopathol. 2010;38:154–8.

10.

Mobini N. Cutaneous epithelioid angiosarcoma: a neoplasm with potential pitfalls in diagnosis. J Cutan Pathol. 2009;36:362–9.

11.

Terada T. Angiosarcoma of the oral cavity. Head Neck Pathol. 2011;5:67–70.

12.

Chen S-Y, Takeuchi S, Urabe K, et al. Overexpression of phosphorylated-ATF2 and STAT3 in cutaneous angiosarcoma and pyogenic granuloma. J Cutan Pathol. 2008;35:722–30.

13.

Fanburg-Smith JC, Furlong MA, Childers ELB. Oral and salivary gland angiosarcoma: a clinicopathologic study of 29 cases. Mod Pathol. 2003;16:263–71.
About this article
Cite this article
Olson, M.T., Puttgen, K.B. & Westra, W.H. Angiosarcoma Arising from the Tongue of an 11-Year-Old Girl with Xeroderma Pigmentosum. Head and Neck Pathol 6, 255–257 (2012). https://doi.org/10.1007/s12105-011-0303-x
Received:

Accepted:

Published:

Issue Date:
Keywords
Xeroderma pigmentosum

Angiosarcoma

Head and neck cancer

Squamous cell carcinoma