Abstract
The P22 bacteriophage group is a subgroup of the λ phage supercluster, comprised of the three major sequence types Sf6, P22, and CUS-3, based on their capsid proteins. Our goal is to investigate the extent to which structure–function relationships are conserved for the viral coat proteins and I-domains in this subgroup. Sf6 is a phage that infects the human pathogen Shigella flexneri. The coat protein of Sf6 assembles into a procapsid, which further undergoes maturation during DNA packaging into an infectious virion. The Sf6 coat protein contains a genetically inserted domain, termed the I-domain, similar to the ones present in the P22 and CUS-3 coat proteins. Based on the P22 example, I-domains play important functional roles in capsid assembly, stability, viability, and size-determination. Here we report the 1H, 15N, and 13C chemical shift assignments for the I-domain of the Sf6 phage coat protein. Chemical shift-based secondary structure prediction and hydrogen-bond patterns from a long-range HNCO experiment indicate that the Sf6 I-domain adopts a 6-stranded β-barrel fold like those of P22 and CUS-3 but with important differences, including the absence of the D-loop that is critical for capsid assembly and the addition of a novel disordered loop region.
This is a preview of subscription content, log in to check access.
Access options
Buy single article
Instant access to the full article PDF.
US$ 39.95
Price includes VAT for USA
Subscribe to journal
Immediate online access to all issues from 2019. Subscription will auto renew annually.
US$ 99
This is the net price. Taxes to be calculated in checkout.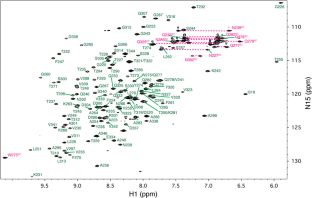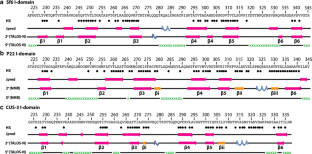 References
Casjens SR, Grose JH (2016) Contributions of P2- and P22-like prophages to understanding the enormous diversity and abundance of tailed bacteriophages. Virology 496:255–276

Cavanagh J, Fairbrother WJ, Palmer AG III, Rance M, Skelton NJ (2006) Protein NMR spectroscopy principles and practice. Protein NMR spectroscopy, 2nd edn. Elsevier Inc., Amsterdam

Cole C, Barber JD, Barton GJ (2008) The Jpred 3 secondary structure prediction server. Nucl Acids Res 36:W197–W201

Cordier F, Grzesiek S (1999) Direct observation of hydrogen bonds in proteins by interresidue 3HJNC' scalar couplings. J Am Chem Soc 121:1601–1602

D'Lima NG, Teschke CM (2015) A molecular staple: d-loops in the I-domain of bacteriophage P22 coat protein make important intercapsomer contacts required for procapsid assembly. Virology 89:10569–10579

Parent KN, Tang J, Cardone G, Gilcrease EB, Janssen ME, Olson NH, Casjens SR, Baker TS (2014) Three-dimensional reconstructions of the bacteriophage CUS-3 virion reveal a conserved coat protein I-domain but a distinct tailspike receptor-binding domain. Virology 464–465:55–66

Rizzo AA, Suhanovsky MM, Baker ML, Fraser LC, Jones LM, REmpel DL, Gross ML, Chiu W, Alexandrescu AT, Teschke CM (2014) Multiple functional roles of the accessory I-domain of bacteriophage P22 coat protein revealed by NMR structure and CryoEM modeling. Structure 22:830–841

Shen Y, Bax A (2015) Protein structural information derived from NMR chemical shift with the neural network program TALOS-N. Methods Mol Biol 1260:17–32

Tripler TN, Maciejewski MW, Teschke CM, Alexandrescu AT (2015) NMR assignments for the insertion domain of bacteriophage CUS-3 coat protein. Biomol NMR Assign 9:333–336

Vranken WF, Boucher W, Stevens TJ, Fogh RH, Pajon A, Llinas M, Ulrich EL, Markley JL, Ionides J, Laue ED (2005) The CCPN data model for NMR spectroscopy: development of a software pipeline. Proteins 4:687–696
Acknowledgments
We thank Dr. Mark Maciejewski for help in setting up NMR experiments, Anne R. Kaplan for help in data processing and analysis, and Drs. A.D. Schuyler, M.R. Gryk, and J.C. Hoch for use of the computational platform NMRbox (http://nmrbox.org/). This work was supported by NIH Grant R01 GM076661.
Ethics declarations
Ethical standards
All experiments complied with all laws of the United States of America.
Conflict of interest
The authors declare no conflict of interest.
About this article
Cite this article
Tripler, T.N., Teschke, C.M. & Alexandrescu, A.T. NMR assignments for the insertion domain of bacteriophage Sf6 coat protein. Biomol NMR Assign 11, 35–38 (2017). https://doi.org/10.1007/s12104-016-9716-5
Received:

Accepted:

Published:

Issue Date:
Keywords
Structure homology

Protein dynamics

Intrinsically disordered proteins

Icosahedral particles

Conserved folding motifs