Abstract
Telomerase is a ribonucleoprotein enzyme that adds telomeric DNA fragments to the ends of chromosomes. This enzyme is the focus of substantial attention, both because its structure and mechanism of action are still poorly studied, and because of its pivotal roles in aging and cellular proliferation. The use of telomerase as a potential target for the design of new anticancer drugs is also of great interest. The catalytic protein subunit of telomerase (TERT) contains an N-terminal domain (TEN) that is essential for activity and processivity. Elucidation of the structure and dynamics of TEN in solution is important for understanding the molecular mechanism of telomerase activity and for the design of new telomerase inhibitors. To approach this problem, in this study we report the 1H, 13C, and 15N chemical shift assignments of TEN from Ogataea polymorpha. Analysis of the assigned chemical shifts allowed us to identify secondary structures and protein regions potentially involved in interaction with other participants of the telomerase catalytic cycle.
This is a preview of subscription content,
to check access.
Access this article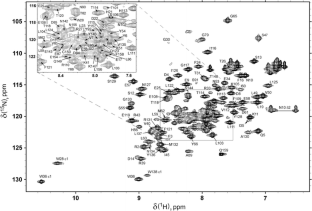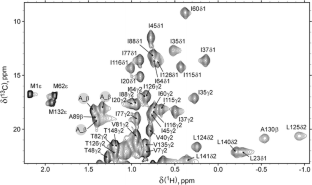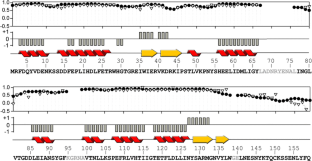 Similar content being viewed by others
Abbreviations
IPTG:

Isopropyl-thio-β-d-galactoside

TEN:

Telomerase N-terminal domain

TER:

Telomerase RNA

TERT:

Telomerase reverse transcriptase subunit

TEV:

Tobacco Etch Virus nuclear-inclusion-a endopeptidase
References
Akiyama BM, Parks JW, Stone MD (2015) The telomerase essential N-terminal domain promotes DNA synthesis by stabilizing short RNA–DNA hybrids. Nucleic Acids Res 43:5537–5549. doi:10.1093/nar/gkv406

Armanios MY et al (2007) Telomerase mutations in families with idiopathic pulmonary fibrosis. New Engl J Med 356:1317–1326. doi:10.1056/Nejmoa066157

Beattie TL, Zhou W, Robinson MO, Harrington L (1998) Reconstitution of human telomerase activity in vitro. Curr Biol: CB 8:177–180

Berjanskii MV, Wishart DS (2005) A simple method to predict protein flexibility using secondary chemical shifts. J Am Chem Soc 127:14970–14971. doi:10.1021/ja054842f

Blackburn EH, Collins K (2011) Telomerase: an RNP enzyme synthesizes DNA. Cold Spring Harb Perspect Biol. doi:10.1101/cshperspect.a003558

Delaglio F, Grzesiek S, Vuister GW, Zhu G, Pfeifer J, Bax A (1995) NMRPipe: a multidimensional spectral processing system based on UNIX pipes. J Biomol NMR 6:277–293

Gillis AJ, Schuller AP, Skordalakes E (2008) Structure of the Tribolium castaneum telomerase catalytic subunit TERT. Nature 455:633–637. doi:10.1038/nature07283

Harkisheimer M, Mason M, Shuvaeva E, Skordalakes E (2013) A motif in the vertebrate telomerase N-terminal linker of TERT contributes to RNA binding and telomerase activity and processivity. Structure 21:1870–1878. doi:10.1016/j.str.2013.08.013

Huang Y, Liang P, Liu D, Huang J, Songyang Z (2014) Telomere regulation in pluripotent stem cells. Protein Cell 5:194–202. doi:10.1007/s13238-014-0028-1

Jacobs SA, Podell ER, Cech TR (2006) Crystal structure of the essential N-terminal domain of telomerase reverse transcriptase. Nat Struct Mol Biol 13:218–225. doi:10.1038/nsmb1054

Kim NW et al (1994) Specific association of human telomerase activity with immortal cells and cancer. Science 266:2011–2015

Lai CK, Mitchell JR, Collins K (2001) RNA binding domain of telomerase reverse transcriptase. Mol Cell Biol 21:990–1000. doi:10.1128/MCB.21.4.990-1000.2001

Lingner J, Hughes TR, Shevchenko A, Mann M, Lundblad V, Cech TR (1997) Reverse transcriptase motifs in the catalytic subunit of telomerase. Science 276:561–567

Mitchell M, Gillis A, Futahashi M, Fujiwara H, Skordalakes E (2010) Structural basis for telomerase catalytic subunit TERT binding to RNA template and telomeric DNA. Nat Struct Mol Biol 17:513–518. doi:10.1038/nsmb.1777

O'Connor CM, Lai CK, Collins K (2005) Two purified domains of telomerase reverse transcriptase reconstitute sequence-specific interactions with RNA. J Biol Chem 280:17533–17539. doi:10.1074/jbc.M501211200

Ravin NV et al (2013) Genome sequence and analysis of methylotrophic yeast Hansenula polymorpha DL1. BMC Genomics 14:837. doi:10.1186/1471-2164-14-837

Rouda S, Skordalakes E (2007) Structure of the RNA-binding domain of telomerase: implications for RNA recognition and binding. Structure 15:1403–1412. doi:10.1016/j.str.2007.09.007

Ruden M, Puri N (2013) Novel anticancer therapeutics targeting telomerase. Cancer Treat Rev 39:444–456. doi:10.1016/j.ctrv.2012.06.007

Schmidt JC, Dalby AB, Cech TR (2014) Identification of human TERT elements necessary for telomerase recruitment to telomeres. eLife. doi:10.7554/eLife.03563

Shen Y, Delaglio F, Cornilescu G, Bax A (2009) TALOS plus: a hybrid method for predicting protein backbone torsion angles from NMR chemical shifts. J Biomol NMR 44:213–223. doi:10.1007/s10858-009-9333-z

Smekalova EM, Petrova OA, Zvereva MI, Dontsova OA (2012) Hansenula polymorpha TERT: a telomerase catalytic subunit isolated in recombinant form with limited reverse transcriptase activity. Acta Naturae 4:70–73

Smekalova EM et al (2013) Specific features of telomerase RNA from Hansenula polymorpha. RNA 19:1563–1574. doi:10.1261/rna.038612.113

Tsakiri KD et al (2007) Adult-onset pulmonary fibrosis caused by mutations in telomerase. Proc Natl Acad Sci USA 104:7552–7557. doi:10.1073/pnas.0701009104

Xu Y, He K, Goldkorn A (2011) Telomerase targeted therapy in cancer and cancer stem cells. Clin Adv Hematol Oncol 9:442–455

Zvereva MI, Shcherbakova DM, Dontsova OA (2010) Telomerase: structure, functions, and activity regulation. Biochemistry (Moscow) 75:1563–1583. doi:10.1134/S0006297910130055
Acknowledgments
The Russian Science Foundation (Grant 14-14-00598) supported NMR studies. Russian Foundation for Basic Research (Grant 15-54-74005 EMBL_a) supported protein cloning, expression and purification. The authors are grateful for the opportunity to use the NMR facilities acquired with the support from the Russian Government Program of Competitive Growth of Kazan Federal University among World's Leading Academic Centers.
About this article
Cite this article
Polshakov, V.I., Petrova, O.A., Parfenova, Y.Y. et al. NMR assignments of the N-terminal domain of Ogataea polymorpha telomerase reverse transcriptase. Biomol NMR Assign 10, 183–187 (2016). https://doi.org/10.1007/s12104-015-9663-6
Received:

Accepted:

Published:

Issue Date:

DOI: https://doi.org/10.1007/s12104-015-9663-6
Keywords