Abstract
Carbon catabolite repression (CCR) allows bacteria to selectively assimilate a preferred compound among a mixture of several potential carbon sources, thus boosting growth and economizing the cost of adaptability to variable nutrients in the environment. The RNA-binding catabolite repression control (Crc) protein acts as a global post-transcriptional regulator of CCR in Pseudomonas species. Crc triggers repression by inhibiting the expression of genes involved in transport and catabolism of non-preferred substrates, thus indirectly favoring assimilation of preferred one. We report here a nearly complete backbone and stereospecific 13C methyl side-chain chemical shift assignments of Ile (δ1), Leu and Val of Crc (~ 31 kDa) from Pseudomonas syringae Lz4W.
This is a preview of subscription content,
to check access.
Access this article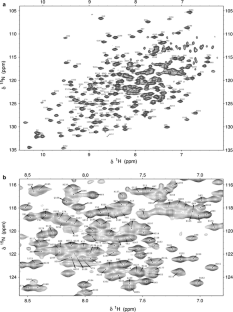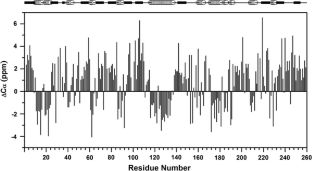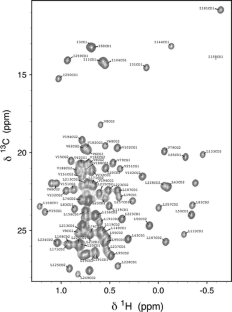 Similar content being viewed by others
References
Gardner KH, Kornat DR, Rosen MK, Kay LE (1996) An (H)C(CO)NH-TOCSY pulse scheme for sequential assignment of protonated methyl groups in an otherwise deuterated 15N,13C-labeled proteins. J Biomol NMR 8:351–356

Goddard TD and Kneller DG (2008) SPARKY 3, http://www.cgl.ucsf.edu/home/sparky University of California, San Francisco

Görke B, Stülke J (2008) Carbon catabolite repression in bacteria: many ways to make the most out of nutrients. Nat Rev Microbiol 6:612–624

Goto NK, Gardner KH, Mueller GA, Willis RC, Kay LE (1999) A robust and cost-effective method for the production of Val, Leu, Ile(δ1) methyl-protonated 15N-,13C-,2H labeled proteins. J Biomol NMR 13:369–374

Keller R (2004) The computer aided resonance assignment tutorial. ISBN 3-85600-112-3

Linares JF, Moreno R, Fajardo A, Martínez-Solano L, Escalante R, Rojo F, Martínez JL (2010) The global regulator Crc modulates metabolism, susceptibility to antibiotics and virulence in Pseudomonas aeruginosa. Environ Microbiol 12:3196–3212

Loria JP, Rance M, Palmer AG (1999) Transverse-relaxation-optimized (TROSY) gradient-enhanced triple-resonance NMR spectroscopy. J Magn Reson 141(1):180–184

Milojevic T, Grishkovskaya I, Sonnleitner E, Djinovic-Carugo K, Bläsi U (2013) The Pseudomonas aeruginosa catabolite repression control Protein, Crc, is devoid of RNA binding activity. PLoS ONE 8(5):e64609

Moreno R, Marzi S, Romby P, Rojo F (2009) The Crc global regulator binds to an unpaired A-rich motif at the Pseudomonas putida alkS mRNA coding sequence and inhibits translation initiation. Nucleic Acids Res 37(22):7678–7690

Moreno R, Fonseca P, Rojo F (2011) Two small RNAs, CrcY and CrcZ, act in concert to sequester the Crc global regulator in Pseudomonas putida, modulating catabolite repression. Mol Microbiol 83(1):24–40

Muhandiram DR, Xu GY, Kay LE (1993) An enhanced-sensitivity pure absorption gradient 4D 15N, 13C-edited NOESY experiment. J Biomol NMR 3:463–470

Neri D, Szyperski T, Otting G, Senn H, Wüthrich K (1989) Stereospecific nuclear magnetic resonance assignments of the methyl groups of valine and leucine in the DNA-binding domain of the 434 repressor by biosynthetically directed fractional 13C labeling. Biochemistry 28:7510–7516

Pandiyan A, Ray MK (2013) Draft genome sequence of the Antarctic psychrophilic bacterium Pseudomonas syringae strain Lz4W. Genome Announc 1(3):e00377-13

Rojo F (2010) Carbon catabolite repression in Pseudomonas: optimizing metabolic versatility and interactions with the environment. FEMS Microbiol Rev 34:658–684

Sahu B, Ray MK (2008) Auxotrophy in natural isolate: minimal requirements for growth of the Antarctic psychrotrophic bacterium Pseudomonas syringae Lz4W. J Basic Microbiol 48:38–47

Sambrook J, Fritsch EF, Maniatis T (1989) Molecular cloning: a laboratory manual. CSH Press, Cold Spring Harbor

Sonnleitner E, Abdou L, Haas D (2009) Small RNA as global regulator of carbon catabolite repression in Pseudomonas aeruginosa. Proc Natl Acad Sci USA 106(51):21866–21871

Wei Y, Zhang H, Gao ZQ, Xu JH, Liu QS, Dong YH (2013) Structural analysis of global metabolic regulator Crc from Pseudomons aeruginosa. IUBMB Life 65(1):50–57

Wishart DS, Sykes BD (1994) The 13C chemical shift index: a simple method for the identification of protein secondary structure using 13C chemical shift data. J Biomol NMR 4:171–180

Wishart DS, Bigam CG, Yao J, Abildgaard F, Dyson JH, Oldfield E, Markley JL, Sykes BD (1995) 1H, 13C and 15N chemical shift referencing in biomolecular NMR. J Biomol NMR 6:135–140

Wolff JA, MacGregor CH, Eisenberg RC, Phibbs PV Jr (1991) Isolation and characterization of catabolite repression control mutants of Pseudomonas aeruginosa PAO. J Bacteriol 173(15):4700–4706
Acknowledgments
Authors acknowledge Ms. V. Aarti and central instrumentation facility of CCMB for assisting and facilitating various experiments. R.S. and B.S. acknowledge research fellowships from Council of Scientific and Industrial Research (CSIR).
About this article
Cite this article
Sharma, R., Sahu, B., Ray, M.K. et al. Backbone and stereospecific 13C methyl Ile (δ1), Leu and Val side-chain chemical shift assignments of Crc. Biomol NMR Assign 9, 75–79 (2015). https://doi.org/10.1007/s12104-014-9548-0
Received:

Accepted:

Published:

Issue Date:

DOI: https://doi.org/10.1007/s12104-014-9548-0
Keywords