Abstract
We report the almost complete assignment of 1H, 13C and 15N nuclei in the 137-residue his-tagged fasciclin domain protein (Fdp) from Rhodobacter sphaeroides. Fdp is homologous to fasciclin I domains, including Drosophila FAS1 and M. tuberculosis MPB70 and plays a role in cell adhesion.
Access options
Buy single article
Instant access to the full article PDF.
US$ 39.95
Tax calculation will be finalised during checkout.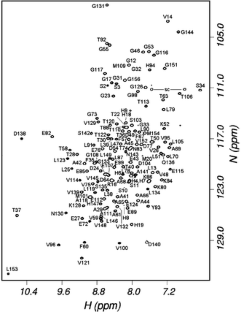 References
Adachi H, Tsujimoto M (2002) FEEL-1, a novel scavenger receptor with in vitro bacteria-binding and angiogenesis-modulating activities. J Biol Chem 277:34264–34270

Carr MD, Bloemink JM, Nebtten E, Whelan AO, Gordon SV, Kelly G, Frenkiel TA, Hewinson G, Williamson RA (2003) Solution structure of the Mycobacterium tuberculosis complex protein MPB70: From tuberculosis pathogenesis to inherited human corneal disease. J Biol Chem 278:43736–43743

Clout NJ, Tisi D, Hohenester E (2003) Novel fold revealed by the structure of a FAS1 domain pair from the insect cell adhesion molecule fasciclin I. Structure 11:197–203

Elkins T, Zinn K, McAllister L, Hoffmann FM, Goodman CS (1990) Genetic analysis of a Drosophila neural cell adhesion molecule: Interaction of Fasciclin-I and Abelson tyrosine kinase mutations. Cell 60:565–575

Gillan L, Matei D, Fishman DA, Gerbin CS, Karlan BY, Chang DD (2002) Periostin secreted by epithelial ovarian carcinoma is a ligand for αvβ3 and αvβ5 integrins and promotes cell motility. Cancer Res 62:5358–5364

Kim JE, Kim SJ, Lee BH, Park RW, Kim KS, Kim IS (2000) Identification of motifs for cell adhesion within the repeated domains of transforming growth factor beta-induced gene, βig-h3. J Biol Chem 275:30907–30915

McAllister L, Goodman CS, Zinn K (1992) Dynamic expression of the cell adhesion molecule Fasciclin-I during embryonic development in Drosophila. Development 115:267–276

Nagai S, Matsumoto J, Nagasuga T (1981) Specific skin-reactive protein from culture filtrate of Mycobacterium bovis BCG. Infect Immun 31:1152–1160

Shi HZ, Kim Y, Guo Y, Stevenson B, Zhu JK (2003) The Arabidopsis SOS5 locus encodes a putative cell surface adhesion protein and is required for normal cell expansion. Plant Cell 15:19–32

Wiker HG, Harboe M, Nagai S (1991) A localization index for distinction between extracellular and intracellular antigens of Mycobacterium tuberculosis. J Gen Microbiol 137:875–884
Acknowledgements
We thank Lee Higgins and Richard Tunnicliffe for help. This research was supported by a White Rose studentship grant. The authors are members of the North of England Structural Biology Centre (NESBIC).
About this article
Cite this article
Moody, R.G., Phillips-Jones, M.K. & Williamson, M.P. NMR assignment of the Rhodobacter sphaeroides fasciclin-1 domain protein (Fdp). Biomol NMR Assign 1, 11–12 (2007). https://doi.org/10.1007/s12104-007-9011-6
Received:

Accepted:

Published:

Issue Date:
Keywords
Fasciclin

NMR assignments

Adhesion