Abstract
The dearth of research on the relationship between a defendant's race and the severity of sanction in misdemeanor cases is concerning, given that these cases comprise the majority of criminal cases in the U.S. The extant literature on the subject is mixed. Some studies find a noteworthy relationship between race and severity of punishment, while others report that the association is weak or in the opposite direction of what would be expected based on racial bias. It is important to study this issue further, as the consequences of a misdemeanor arrest and conviction can be significant and can have adverse consequences for an individual in society. This study contributes to the literature by creating an ordinal scale ranging from low to high severity to measure the different types of punishments typically imposed on misdemeanor defendants. The data on misdemeanor defendants were obtained from the case management system of the prosecutor's office from three counties in a large Florida jurisdiction. Results show that the odds of receiving a less severe sanction are 24.5% higher for Black than White misdemeanor defendants. However, while Black defendants are sanctioned more leniently overall, they are less likely than Whites defendants to be convicted and more likely to receive a no-sanction outcome for their misdemeanor crimes.
This is a preview of subscription content,
to check access.
Access this article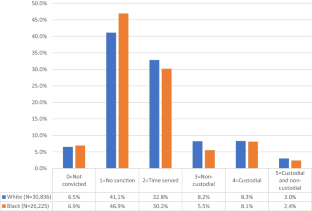 Data Availability
Data are not available due to the agreement between the research institution and partner prosecutorial agency. Only aggregate results can be reported.
References
Adams, K., & Cutshall, C. R. (1987). Refusing to prosecute minor offenses: The relative influence of legal and extralegal factors. Justice Quarterly, 4(4), 595–609.

Albonetti, C. A. (1991). An integration of theories to explain judicial discretion. Social Problems, 38(2), 247–266.

Austin, T. L. (1985). Does where you live determine what you get? A case study of misdemeanor sentencing. Journal of Criminal Law & Criminology, 76(2), 490–511.

Boland, B. (1983). The prosecution of felony arrests. Bureau of Justice Statistics.

Bontrager, S., Bales, W., & Chiricos, T. (2005). Race, ethnicity, threat, and the labeling of convicted felons. Criminology, 43(3), 589–622.

Brennan, P. K. (2006). Sentencing female misdemeanants: An examination of the direct and indirect effects of race/ethnicity. Justice Quarterly, 23(1), 60–95.

Burkhart, W. R., Melnicoe, S., Schmidt, A. K., McKay, L. J., & Martorana, C. (1982). The effects of the exclusionary rule: A study in California. National Institute of Justice.

Bushway, S., Johnson, B. D., & Slocum, L. A. (2007). Is the magic still there? The use of the Heckman two-step correction for selection bias in criminology. Journal of Quantitative Criminology, 23(2), 151–178.

Clear, T. R. (2007). Imprisoning communities: How mass incarceration makes disadvantaged Neighborhood worse. Oxford University Press.

Court Statistics Project. (2018). State court caseload digest: 2016 data. Williamsburg: National Center for State Courts.

D'Alessio, S. J., & Stolzenberg, L. (2009). Racial animosity and interracial crime. Criminology, 47(1), 269–296.

Eisenstein, J., Flemming, R. B., & Nardulli, P. F. (1999). The contours of justice: Communities and their courts. University Press of America.

Federal Bureau of Investigation. (2019). Crime in the United States, 2019. Department of Justice, Uniform Crime Report. Retrieved (12/2/22) from https://ucr.fbi.gov/crime-in-the-u.s/2019/crime-in-the-u.s.-2019/topic-pages/tables/table-29

Feeley, M. (1979). The process is the punishment: Handling cases in a lower criminal court. Russell Sage.

Galvin, M. A., Davidson, K. M., & Kleiman, M. (2022). Substance involvement and probation outcomes: Evidence from a cohort study. Journal of Drug Issues, 52(3), 329–348.

Gigerenzer, G., & Todd, P. (1999). Fast and frugal heuristics. In G. Gigerenzer & P. Todd (Eds.), Simple heuristics that make us smart (pp. 1–17). Oxford University Press.

Hartley, R., Maddan, S., & Spohn, C. (2007). Prosecutorial discretion: An examination of substantial assistance departures in federal crack cocaine and powder cocaine cases. Justice Quarterly, 24(3), 382–407.

Hawkins, D. F. (1987). Beyond anomalies: Rethinking the conflict perspective on race and criminal punishment. Social Forces, 65(3), 719–745.

Henry, T. K. S. (2021). The Black effect: Reimagining racial threat through a Black absolute status lens. Crime & Delinquency, 67(8), 1241–1264.

Jamieson, K., & Blowers, A. (1993). A structural examination of misdemeanor court disposition patterns. Criminology, 31(2), 243–262.

Johnson, B. D., & Dipietro, S. M. (2012). The power of diversion: Intermediate sanctions and sentencing disparity under presumptive guidelines. Criminology, 50(3), 811–850.

Johnson, B. D., Ulmer, J., & Kramer, J. (2008). The social context of guidelines circumvention: The case of the U.S. district courts. Criminology, 46(3), 737–783.

Kelling, G. L., & Bratton, W. J. (1998). Declining crime rates: Insiders' views of the New York City story. Journal of Criminal Law & Criminology, 88(4), 1217–1232.

King, N. (2013). Three directions for future research into sentencing discretion. Justice Quarterly, 30(2), 223–230.

Kohler-Hausmann, I. (2014). Managerial justice and mass misdemeanors. Stanford Law Review, 66(3), 611–694.

Kramer, J. H., & Ulmer, J. T. (2009). Sentencing guidelines: Lessons from Pennsylvania (p. 120). Lynne Rienner Publishers.

Kutateladze, B. L., Andiloro, N. R., & Johnson, B. D. (2016). Opening Pandora's box: How does defendant race influence plea bargaining? Justice Quarterly, 33(3), 398–426.

LaFree, G. D. (1980). The effect of sexual stratification by race on official reactions to rape. American Sociological Review, 45(5), 842–854.

Leiber, M. J., & Blowers, A. N. (2003). Race and misdemeanor sentencing. Criminal Justice Policy Review, 14(4), 464–485.

Levine, H. (2017). Unjust and unconstitutional: 60,000 Jim Crow marijuana arrests in Mayor de Blasio's New York. Drug Policy Alliance & Marijuana Arrest Research Project.

Lum, C., & Nagin, D. S. (2017). Reinventing American policing: A seven-point blueprint for the 21st century. Crime and Justice, 46(1), 339–393.

Lynch, M. (2019). Focally concerned about focal concerns: A conceptual and methodological critique of sentencing disparities research. Justice Quarterly, 36(7), 1148–1175.

Medwed, D. S. (2012). Prosecution complex: America's race to convict and its impact on the innocent. NYU Press.

Morenoff, J. D., & Harding, D. J. (2014). Incarceration, prisoner reentry, and communities. Annual Review of Sociology, 40(1), 411–429.

Munoz, E. A., & Freng, A. B. (2008). Age, racial/ethnic minority status, gender and misdemeanor sentencing. Journal of Ethnicity in Criminal Justice, 5(4), 29–57.

Munoz, E. A., & Sapp, S. G. (2003). Racial/ethnic misdemeanor sentencing disparities: Additional evidence for contextual discrimination. Journal of Ethnicity in Criminal Justice, 1(2), 27–46.

Murakawa, N., & Beckett, K. (2010). The penology of racial innocence: The erasure of racism in the study and practice of punishment. Law & Society Review, 44(3–4), 695–730.

Natapoff, A. (2018). Punishment without crime: How our massive misdemeanor system traps the innocent and makes America more unequal. Basic Books.

Nelson, J. F. (1994). A dollar or a day: Sentencing misdemeanants in New York State. Journal of Research in Crime and Delinquency, 31(2), 183–201.

Pager, D. (2007). Marked: Race, crime, and finding work in an era of mass incarceration. University of Chicago Press.

Pager, D., Goldstein, R., Ho, H., & Western, B. (2022). Criminalizing poverty: The consequences of court fees in a randomized experiment. American Sociological Review, 87(3), 529–553.

Petersen, N., & Omori, M. (2020). Is the process the only punishment?: Racial ethnic disparities in lower-level courts. Law & Policy, 42(1), 56–77.

Rose, D., & Clear, T. R. (1998). Incarceration, social capital, and crime: Implications for social disorganization theory. Criminology, 36(3), 441–480.

Sampson, R. J., Raudenbush, S. W., & Earls, F. (1997). Neighborhoods and violent crime: A multilevel study of collective efficacy. Science, 277(5328), 918–924.

Sapir, Y. (2003). Neither Intent nor Impact: A critique of the racially-based selective prosecution jurisprudence and a reform proposal. Harvard Black Letter Law Journal, 19, 127–180.

Shackford, S. (2018). Innocent until proven guilty, but only if you can pay. Reason, 50(4), 22–29.

Simes, J. T. (2018). Place and punishment: The spatial context of mass incarceration. Journal of Quantitative Criminology, 34(2), 513–533.

Spohn, C. (2000). Thirty years of sentencing reform: The quest for a racially neutral sentencing process. In J. Horney (Ed.), Policies, processes, and decisions of the criminal justice system (Vol. 3, pp. 427–501). National Institute of Justice.

Spohn, C., & Cederblom, J. (1991). Race and disparities in sentencing: A test of the liberation hypothesis. Justice Quarterly, 8(3), 305–327.

Steffensmeier, D., & Demuth, S. (2001). Ethnicity and judges' sentencing decisions: Hispanic-Black-White comparisons. Criminology, 39(1), 145–178.

Steffensmeier, D., Ulmer, J., & Kramer, J. (1998). The interaction of race, gender, and age in criminal sentencing: The punishment cost of being young, black, and male. Criminology, 36(4), 763–798.

Steffensmeier, D., Painter-Davis, N., & Ulmer, J. (2017). Intersectionality of race, ethnicity, gender, and age on criminal punishment. Sociological Perspectives, 60(4), 810–833.

Stevenson, M., & Mayson, S. (2018). The scale of misdemeanor justice. Boston University Law Review, 98(3), 732–777.

Substance Abuse and Mental Health Services Administration. (2011). Results from the 2010 National Survey on Drug Use and Health: Summary of national findings. NSDUH Series H-41, HHS Publication No. No. SMA 11-4658. Substance Abuse and Mental Health Services Administration.

Travis, J., Western, B., & Redbum, F. S. (2014). The growth of incarceration in the United States: Exploring causes and consequences. National Academies Press.

Union, A. C. L. (2013). The war on marijuana in Black and White: Billions of dollars wasted on racially biased arrests. American Civil Liberties Union.

Vigorita, M. S. (2001). Prior offense type and the probability of incarceration: The importance of current offense type and sentencing jurisdiction. Journal of Contemporary Criminal Justice, 17(2), 167–193.

Walsh, A. (1987). The sexual stratification hypothesis and sexual assault in light of the changing conceptions of race. Criminology, 25(1), 153–173.

Western, B. (2002). The impact of incarceration on wage mobility and inequality. American Sociological Review, 67(4), 526–546.

Wilson, J. Q., & Kelling, G. (1982). Broken windows: Police and neighborhood safety. The Atlantic, 246, 29–38.
Funding
The John D. and Catherine T. MacArthur Foundation, Grant/Award Number: G-1706-152065.
Additional information
Publisher's Note
Springer Nature remains neutral with regard to jurisdictional claims in published maps and institutional affiliations.
Rights and permissions
Springer Nature or its licensor (e.g. a society or other partner) holds exclusive rights to this article under a publishing agreement with the author(s) or other rightsholder(s); author self-archiving of the accepted manuscript version of this article is solely governed by the terms of such publishing agreement and applicable law.
About this article
Cite this article
Moricette, P., Stolzenberg, L. & D'Alessio, S.J. Race and the Sanctioning of Misdemeanor Defendants. Am J Crim Just 48, 345–367 (2023). https://doi.org/10.1007/s12103-023-09724-w
Received:

Accepted:

Published:

Issue Date:

DOI: https://doi.org/10.1007/s12103-023-09724-w
Keywords